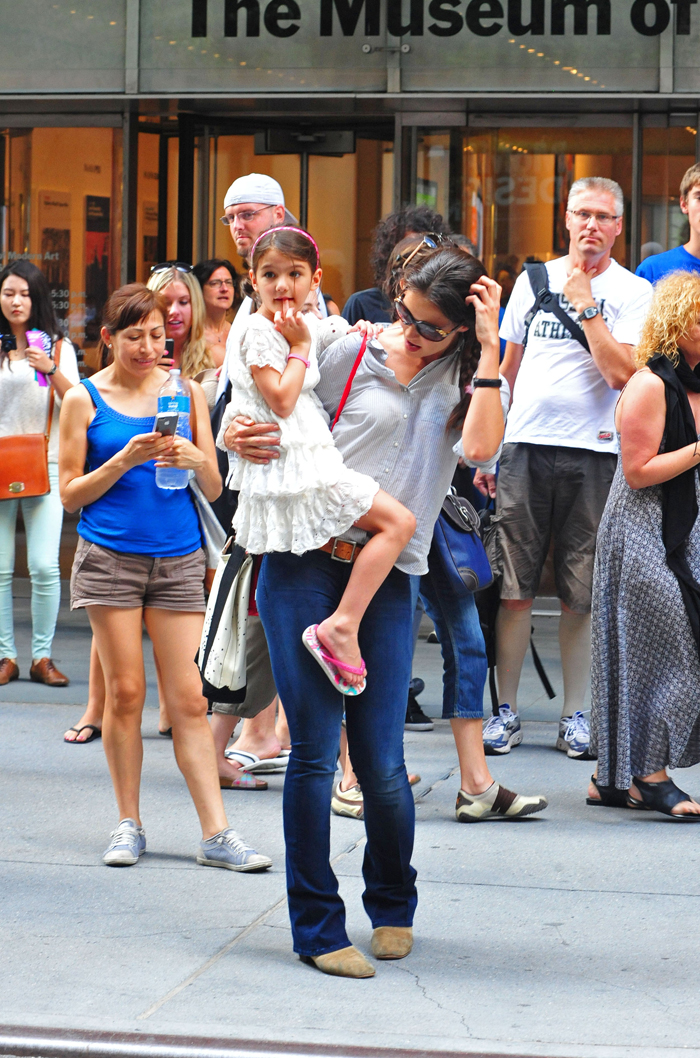 Yesterday, Katie Holmes and Suri Cruise visited the Museum of Modern Art in New York City along with the Sculpture Garden, where Suri was spotted "singing, smiling and skipping back and forth, never far from her mom – or a bodyguard." After their educational adventure, Suri and Katie waited outside the museum for a cab. Over the past few weeks, Katie's been moving away from using a private car and trying to get Suri used to taking a more plebian form of transportation. It's not the subway, of course, but that would be a fairly impossible endeavor when it comes to the throngs of paparazzi who follow them. If you're wondering why Katie is holding Suri as they stand on the curb, the below photos might provide a good indication of just how intimidated Suri was in the presence of all of those paps and tourists.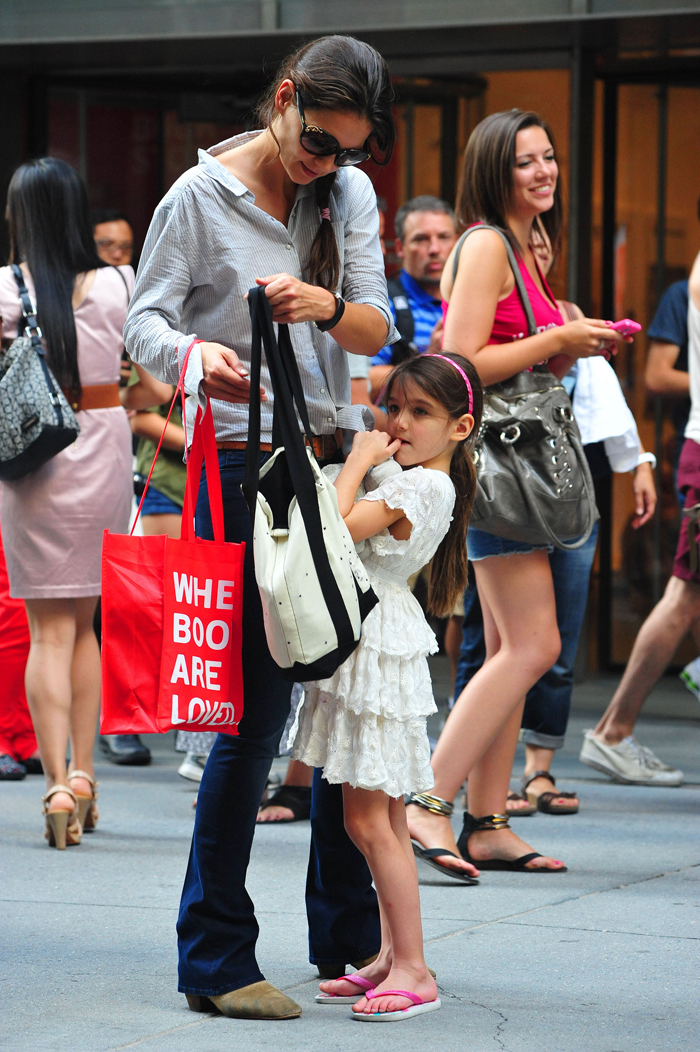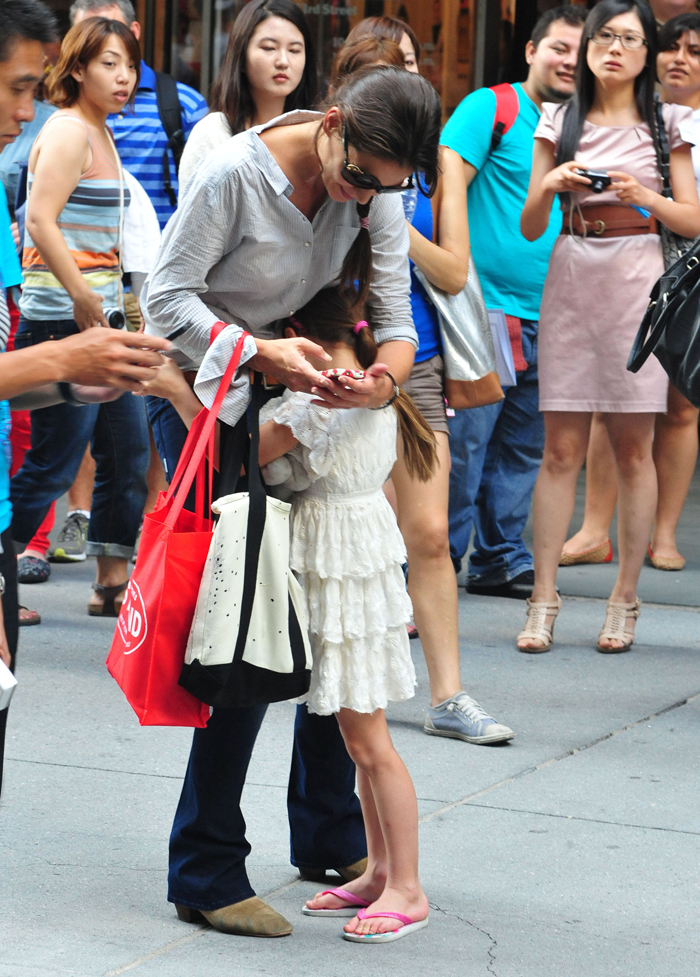 Meanwhile, Tom's team is still leaking details about he and Suri's fabulous Disney World mini-break last week. Not only did Tom shell out thousands of dollars to spoil the hell out of his child, but he also managed to secure a night in Cinderella's Castle Suite, which "cannot be booked at any price." But when Tom put in a request? Of course Tom got what he wanted — but he was probably wondering why more slave labor wasn't involved:
Not everyone gets to step into Cinderella's shoes.

Suri Cruise was the envy of children everywhere as she toured Disney World with dad Tom Cruise last week.

But perhaps the best part of the 6-year-old's adventure has been staying in one of Disney's most coveted rooms, Cinderella's Castle Suite. The room cannot be booked at any price, but it's often used by Disney for charity events and promotions, so the mystery of what it's like to spend a night inside is part of its appeal. Suri – who wore an Ariel costume while exploring the park last Monday – loves princesses and even celebrated her 3rd birthday with a Beauty and the Beast-themed cake, so visiting the suite must have been a dream come true for the young fan.

Four stories above the Magic Kingdom sits Cinderella's Castle Suite, which is decorated as a 17th-century chamber, with a sitting room, bedchamber and bathroom off a private marble-floored foyer. Staying in the suite includes access to a 24-hour concierge, ready to make your wish his command. Originally conceived as an apartment for Walt Disney and his family to stay in while in Florida (unfortunately, Walt died in 1966, five years before Disney World opened), two queen-sized beds and a pullout couch can accommodate up to six people.

The suite's layout may sound modest, but its details are extraordinary. In the foyer, a mosaic of Cinderella's coach was made with more than 30,000 tiles, including 3,400 that are 24-carat gold and more than 120 white gold pieces. In the bedchamber, a 600-lb. antique limestone fireplace utilizes fiber optics to create the likeness of a "fire" with glowing embers, two custom designed 8-ft. tall headboards display "C" for Cinderella, and a painting of the Disney princess that uses special effects to magically transform into a television.

In the sitting room, stained glass windows tell the story of Cinderella's journey from pauper to princess. In the garden-themed bathroom, dome ceilings display a night sky full of twinkling stars, three mosaics – which feature a glass slipper, a crystal pumpkin and a mouse looking up toward the castle – made of Italian glass contain more than 30,000 tiles, each hand-cut and placed by Disney artists.
[From People]
Certainly, this would be the ultimate dream come true, and you can see some really amazing photos of the suite, which is located on the fourth floor of the world-famous Disney World castle, here. But obviously, Tom isn't just looking to make his child's wildest dreams come true. Instead, he's making a very clear statement — Daddy gives you the life of a princess, and then Mommy makes you take a cab. So nefarious.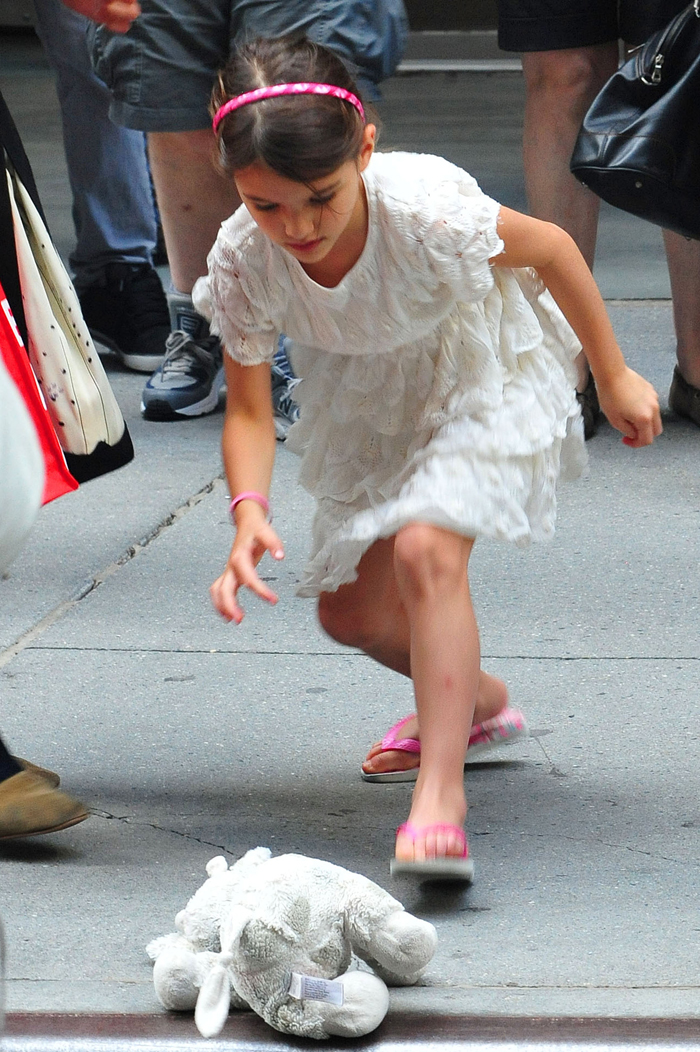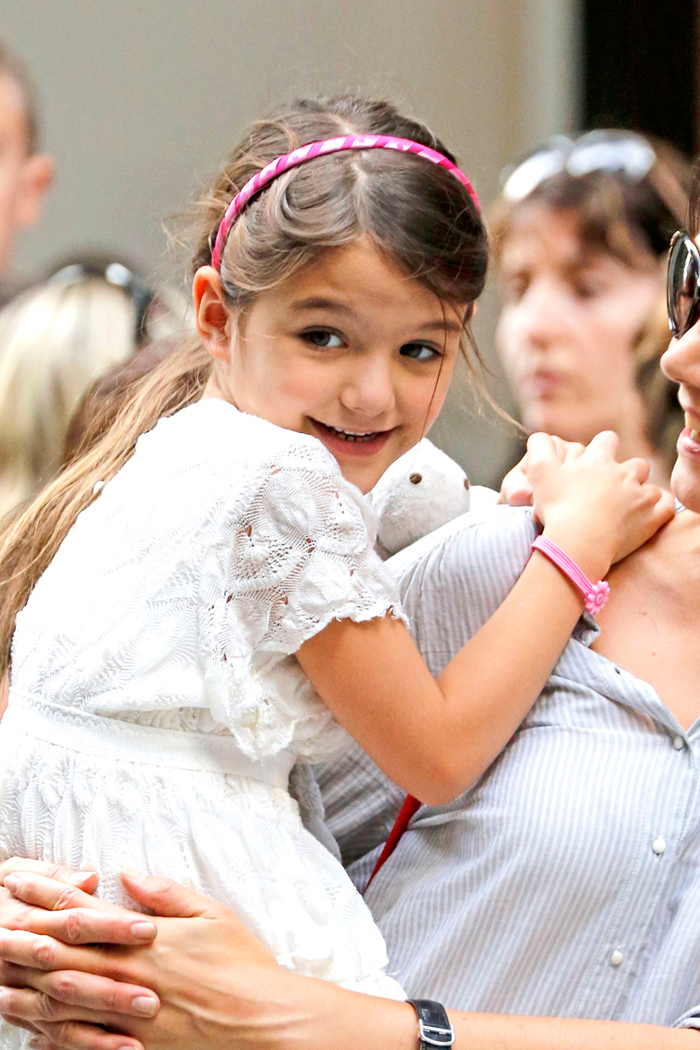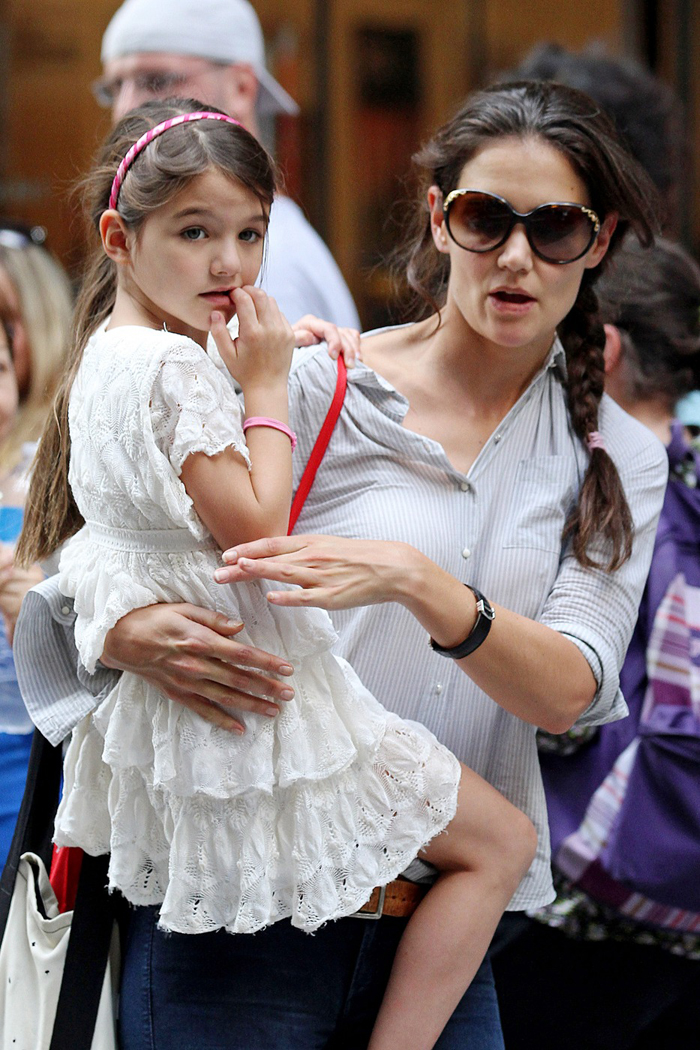 Photos courtesy of Fame/Flynet and Pacific Coast News