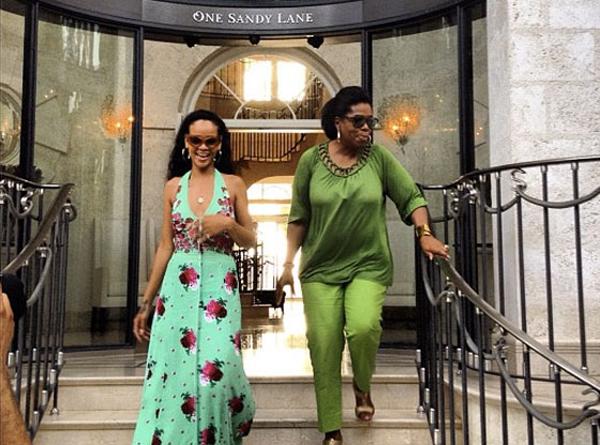 These days, it always amazes me when the bigger pop stars sit down for an interview with Oprah, as if Oprah is still "a thing" when (clearly) very few poople watch OWN, and the network itself is shuttling steadily towards its own impending doom. But alas, now Rihanna has done an interview, which was conducted in RiRi's own native Barbados, with O; and of course, the subject of Chris Brown came up. At one point, Rihanna also says, "I'm super-duper afraid of the pedestal that comes with fame," which is just more of the same crap Rihanna always says about learning to ignore the attention while she has one finger on the mouse to post her latest batch of bikini and boozing photos on Twitter and Facebook.
Anyway, I don't mean to make light of the fact that Chris Brown beat the living hell out of his girlfriend three ago, but I do find it strange that Rihanna characterizes the incident as, "I lost my best friend." She's still very conflicted about what happened, right?
Rihanna broke into tears about Chris Brown in a recent interview with Oprah.

Turns out not even Oprah can end an interview with Rihanna without asking the singer about Chris Brown. In promo clips for an upcoming interview, the "Rude Boy" singer is seen crying after the TV host asks her about her relationship with Brown, who brutally assaulted her in 2009.

"It was embarrassing," Rihanna said. "It was humiliating. I lost my best friend. I was resentful. I held a grudge. I was dark."

Her interactions with Brown continue to set the tabloid world on fire. Rumors that the two had begun dating again were bolstered by her decision to release his-and-her remixes they collaborated on. Rihanna appeared on the remix to his "Turn Up the Music," and Brown provided a sex-laced verse on the "Birthday Cake" remix.

The TV legend said she had expected Rihanna to be an edgy "badass," but found that the 24-year-old singer defied all her expectations.

Oprah and Rih also chatted about the singer's native Barbados, where the interview took place. The full conversation airs on OWN during "Oprah's Next Chapter," at 9 pm on Sunday, August 19th.
[From HuffPo]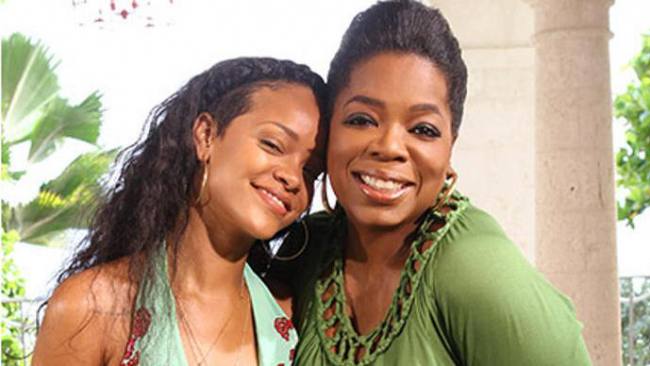 Meanwhile, the battle over Rihanna's finances continues unabated. In 2009, there were whisperings that Rihanna was actually broke (to the tune of only having $20,000 because allegedly, she was "not properly funded by her record label Def Jam"). Then last year, Rihanna reportedly listed her mansion as a "short sale" on the market. Now RiRi has sued her former accountants for taking too high of a commission (which she agreed to beforehand) as well as "mismanag[ing] her dough and fail[ing] to inform her that her 2009 "Last Girl on Earth" tour was losing cash." Honestly? I obviously don't know the entire situation, but it sounds like RiRi's accountants tried to warn her years ago, and Rihanna basically ignored them. Also, exactly where does Jay-Z (as her manager) figure into this huge mess, hmm?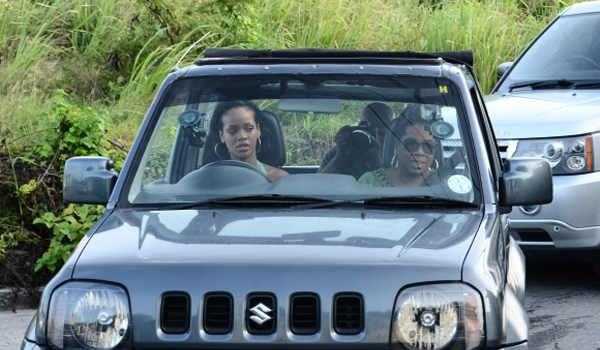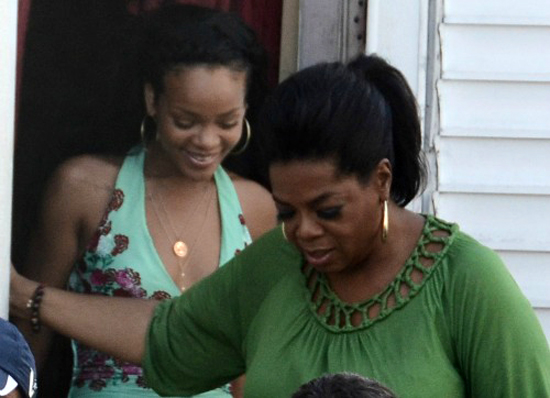 Photos courtesy of OWN