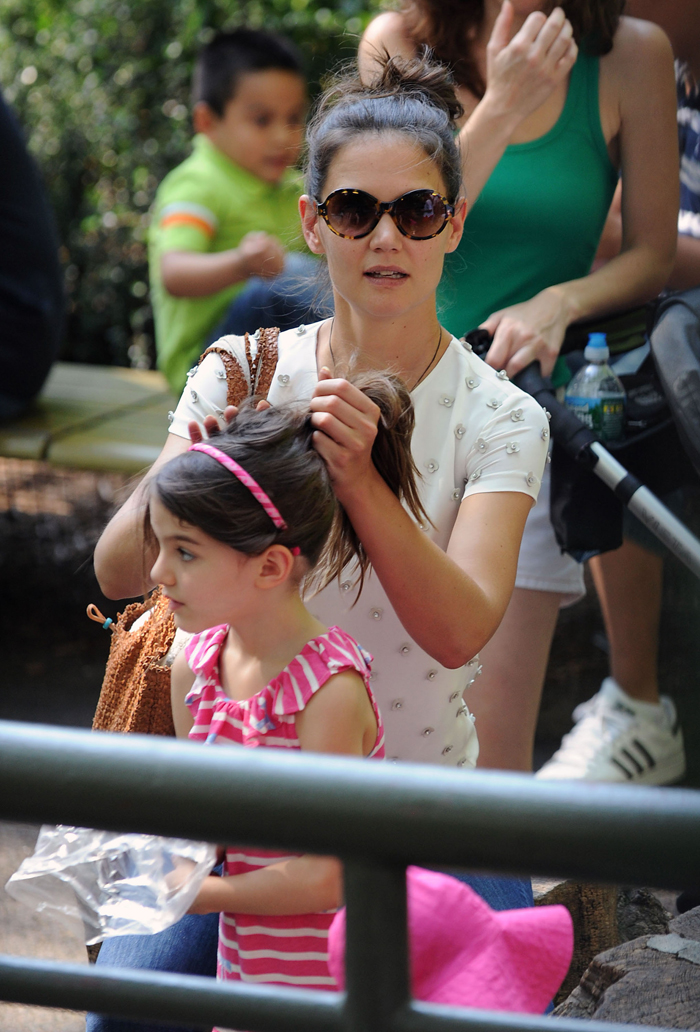 Here's the weekly roundup of Tom Cruise-Katie Holmes news, which just keeps on coming albeit at a slower pace now that the dust has settled somewhat. So what have Katie and Suri been up to lately now that the summer is rolling to a close and school will begin in very short order? Well, they spent several days in Katie's hometown of Toledo, Ohio, (not the photos shown here from NYC) which is part of Katie's plan to help keep Suri grounded. They skipped Daddy's private jet and flew commercial. They went to the mall, where they shopped at the Gap and ate at Auntie Anne's pretzels (which Tom would have died to acknowledge), and a bystander noted that "Katie seemed tired but was very polite and kind" and "looked happy." Oh, and Suri finally got that puppy she wanted! Sort of … the girls visited the mall's Build-A-Bear shop where Suri plucked up a German Shepherd kit. You can see those photos here, and Suri reportedly named her new doggie "Sara."
Meanwhile, a moving van was spotted outside Tom and Katie's former home in Beverly Hills, so we can draw our own conclusions there. There's also a semi-new article in Radar about how Suri has adjusted quite well to Tom and Katie's split because now her parents "aren't fighting with each other because they haven't seen each other and so Suri has been protected from any uncomfortable situations." The article also goes on to state that Suri hasn't really missed Tom that much because (as I have already suspected for some time), Suri is used to her dad being away filming for months at a time. So in regards to not seeing Tom that often, Suri doesn't really know the difference because he's never really been around in the first place. Now, at least he's paying some one-on-one attention to her on occasion even though he's spoiling the hell out of her. Hopefully, that won't include cult indoctrination, but you know he'll try.
This week's issue of In Touch has a bizarre article about how Katie (sort of) feels bad for publicly humiliating Tom by surprising him with the divorce. At the same time, Katie realizes that her covert plan was the only way she could get out (especially since the situation was so extreme, and she was monitored to the point where she had to use burner phones). Still, Katie realizes that Tom's massive ego was very hurt, and she's hoping that her apology will work a bit of magic for whatever future full-custody revenge Tom has in store for the future. Will it work though?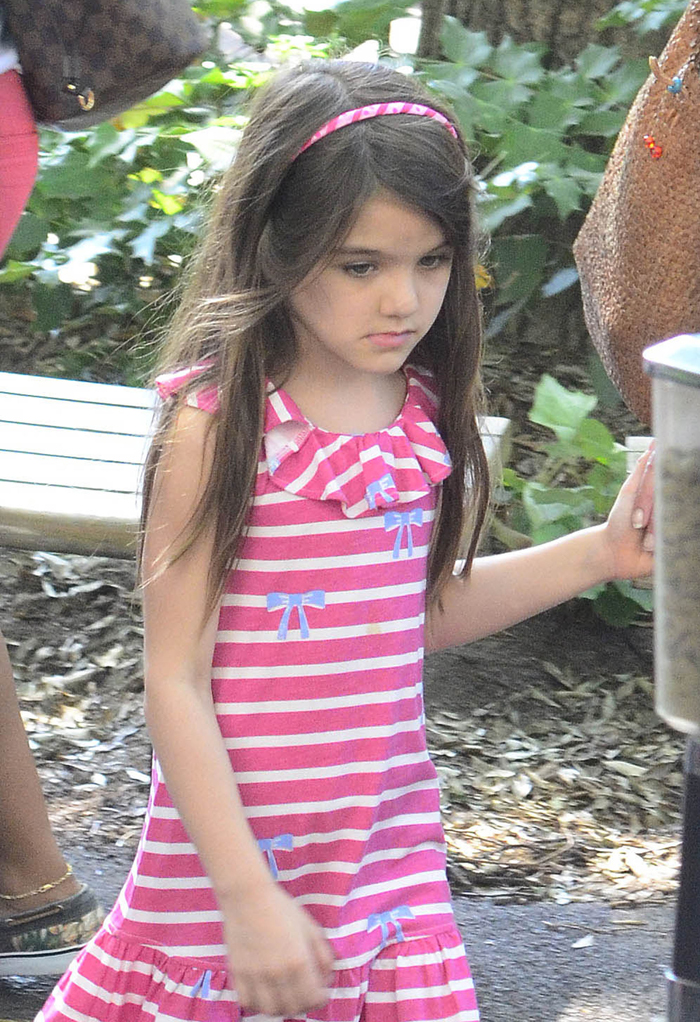 Giving her powerful husband fair warning that she was leaving him would probably have hobbled Katie Holmes' attempt to make a quick, clean break. But while Katie's swift action — which left manipulative megastar Tom Cruise shell-shocked — may have led to a divorce that was reached in record time, a source close to Tom, 50, claims that Katie regreats humiliating him so profoundly and publicly. Says the source, "Katie has apologized him."

The thought of Katie falling under Tom's spell again is chilling. but the 33-year-old actress may have good reasons for appearing to back down. Because they share custody of Suri, 6, the former couple still speak often, which, a friend of Katie's tells In Touch, can be pretty awkward.

"Tom rarely misses a chance to bring up their relationship," says the friend, "or say something catty." Furthermore, Katie can't ignore — or compete with — the transparent, full-scale campaign Tom's been waging to win his daughter's heart. "He's not parenting her; he's entertaining her," a source close to the couple snipes.

Katie is fully aware that Tom's older children — Isabella, 19, and Connor, 17 — turned away from their mother, Nicole Kidman, after the pair's split. Despite the fat that she spends far more time with Suri than Tom does, she must be concerned that their vulnerable daughter will prefer the exciting lifestyle he provides. Smoothing things over with him puts her on safer ground.

The source clsoe to Tom reports that Katie told him that "She feels bad about the way everything unfolded, and she's sorry that she embarrassed him." That may be salve to Tom's wounded ego, but Katie's apology won't lead to a real reconciliation. "I doubt they'll ever be friends," the source says.
[From In Touch, print edition, August 16, 2012]
Sadly and at this point, I have absolutely no faith in Tom as a decent human being. He aims to win every contest at all costs, and to him, Suri is a contest as well. So I don't think Katie's apology will work any huge progress in deterring him from trying to win Suri's favor, but maybe Katie has more mind games in store for the future too. God knows she's overdue to play some mind games with him, right?
This week's Enquirer has an article about how Katie has supposedly spent $100,000 on clothes and beauty products since she left Tom because she's "ready to join the 'Sex and the City' club." While I don't doubt that Katie is probably dying to have some really good sex (after being married to Tom for five years, who wouldn't want that?), she probably hasn't committed such a pricey splurge. She is, after all, now on a budget. Yes, Katie looks much younger now that she's shed the Gollum influence, but she didn't need to blow $100,000 to get there. There are also a few details about how Katie's confidence coach is really a specialist in cult deprogramming, which I totally believe.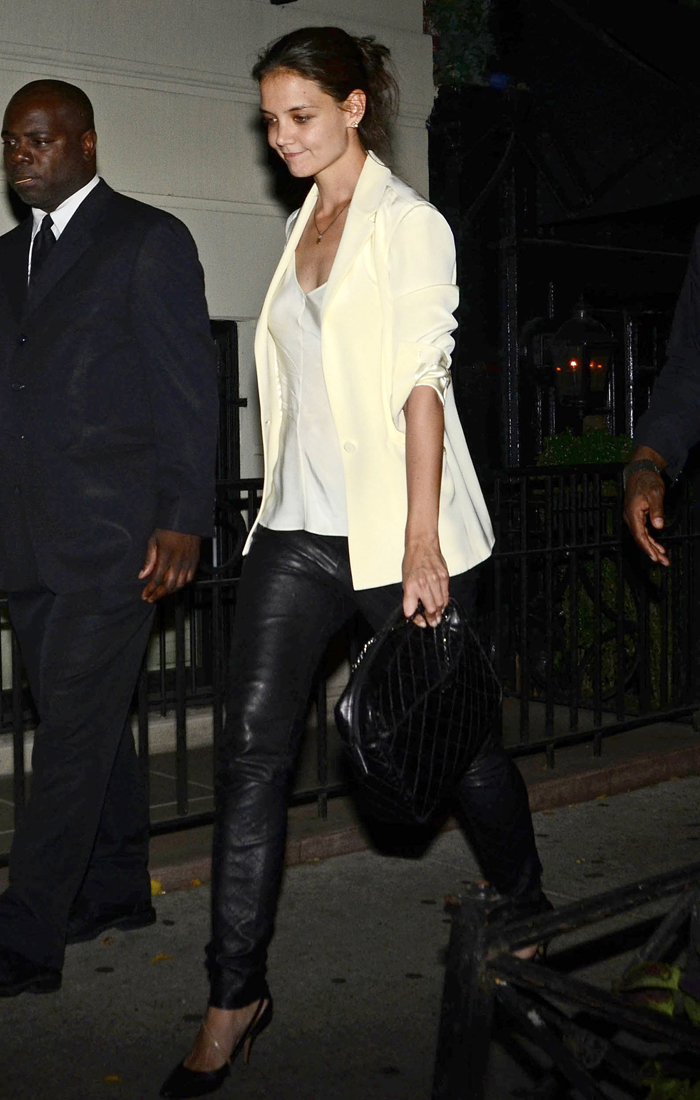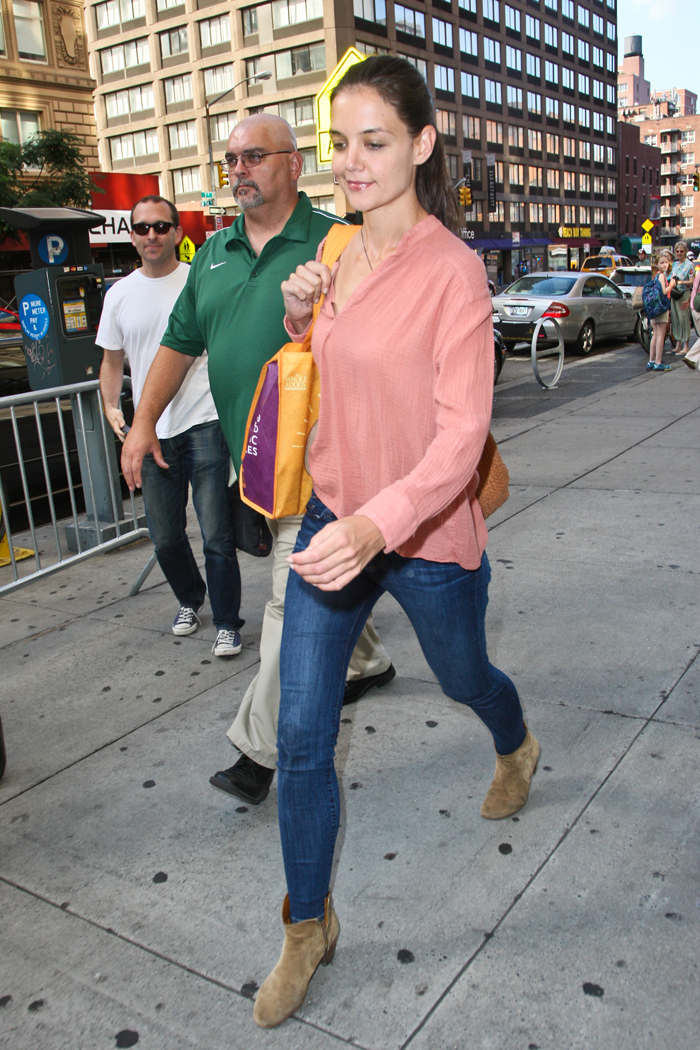 Photos courtesy of Fame/Flynet and WENN