Katie Holmes hires 'confidence coach' to cope with stress of divorce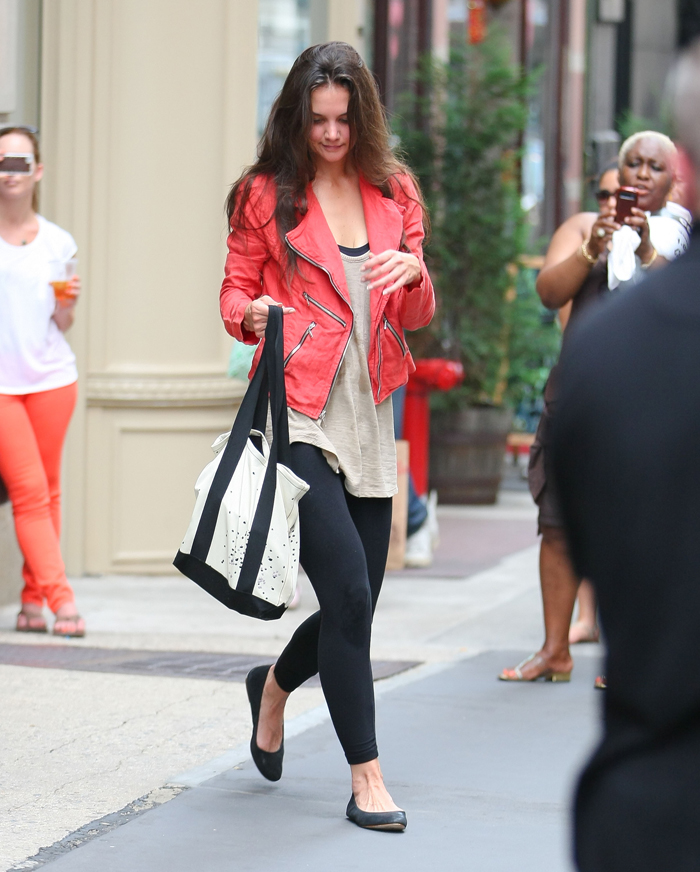 When Katie Holmes decided to spring divorce papers on Tom Cruise in early July, were were all shocked at her sudden display of independence and, for lack of a better word, sentience. Quite simply, Katie appeared quite compelled to protect herself and daughter Suri from the specter of Scientology, but in the weeks that have followed, we've watched as Tom has proceeded to chip away at Katie's air of parental authority as he has spoiled the hell out of his poor daughter.
Has this demonstration on Tom's part somehow disadvantaged Katie's own sense of self, as a parent or otherwise? The Mail has published a new report that pushes forth the theory that Katie is now seeking some public relations help via a "confidence and life coach." Could this be shorthand for … a therapist? Because with or without the aid of psychiatric intervention, I would assume that there would be a fair amount of PTSD involved after five years of being married to a verbally abusive tyrant like Tom Cruise. Let alone the fact that Katie was forced to overcome the CO$ demands that she not be able to freely discipline her own child, right? Here's the story: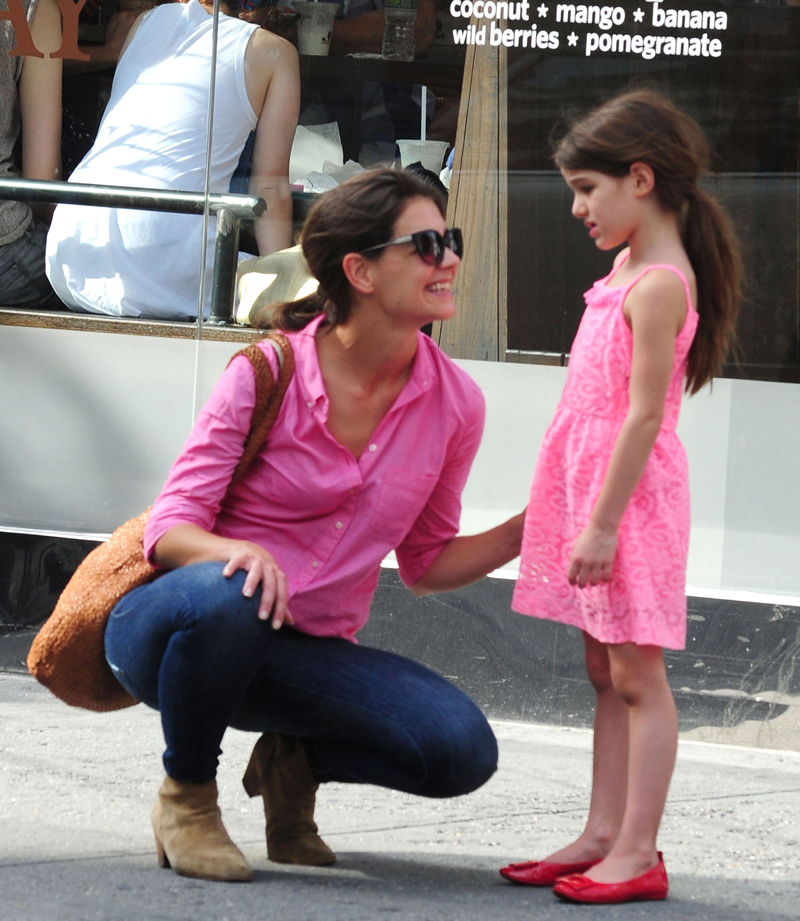 After shocking the world by calling time on her five-year marriage to Tom Cruise in June, Katie Holmes was looking positively radiant.

But while her six-year-old daughter Suri travelled to Disneyworld Florida to spend some quality time with her dad last week, the 33-year-old actress cut a lonely figure as she walked through the streets of New York. Evidently missing her sidekick, the actress seemed to have the weight of the world on her shoulders following the stress of her recent divorce.

And despite being on top of the world just a matter of weeks ago, the brunette beauty is now said to be suffering a crisis of confidence at the reality of facing life alone as a single mother.

A source told Grazia: 'She foresaw an incredible golden future for her and Suri, free of Tom and Scientology. But the glow and radiance that surrounded Katie post-split seem to have evaporated. Katie is keen to find her own voice so she has sought professional help and has employed a confidence and life coach who she's been seeing once a week to help her regain who she once was.'

It is thought the star's confidence was rocked when Suri returned from her lavish trip to Florida, where Tom didn't hold back on treating her to a whole host of elaborate gifts.

With Katie trying to create a more normal lifestyle for the youngster, including visits to the zoo and meals from street vendors instead of fancy restaurants, the actress is said to be concerned that the couple's daughter may be living two very different existences.

And to add to her woes, Katie is reportedly 'terrified' of returning to Los Angeles, where the Church of Scientology – the controversial religion to which Tom belongs – is based.

This comes after reports surfaced of unidentified figures, believed to be from the church, 'staking out' Katie's New York apartment in the days immediately following her split from the 50-year-old actor.

Just two weeks ago, the former "Dawson's Creek" actress cancelled a planned trip to LA, where she was due to attend a gala for the Dizzy Feet Foundation, an organisation she set up three years ago to support dance education for underprivileged kids in the US.

The source added to Grazia: 'In the end Katie just couldn't do it – she just didn't seem to have the confidence and was too scared to set foot in LA, where she feared her every move would be watched. 'She really never anticipated life post-Tom would be like this and we're all hoping it turns round for her soon.'
[From Daily Mail]
I believe this story, and most of us would have issues overcoming the (inexplicably) powerful stance of Tom Cruise in Hollywood — particularly when one is the #1 enemy of their ex-husband who just happens to be Tom. Quite simply, Tom will use his connections to make life in Hollywood hell for Katie, and she is wise to stick around in NYC for as long as possible. She doesn't even need Tom anymore — she's got a new role on Broadway! So yes, Katie should get some serious, extensive therapy and stay in New York for the forseeable future.
On a somewhat related note, Tom's (first) ex-wife, Mimi Rogers, was on the red carpet at the Hope Springs premiere, and an enterprising journalist at Us Weekly asked Mimi about Katie leaving Tom. Mimi responded as such: "I wish them both the best. There's not much else to say." So she's not taking sides, which is wise. This news arrives in sharp contrast to the reports that Nicole Kidman would be steadfastly (if pushed) siding with Tom in the TomKat divorce. Then again, Mimi doesn't have any children to worry about like Nicole does. Strange stuff, indeed.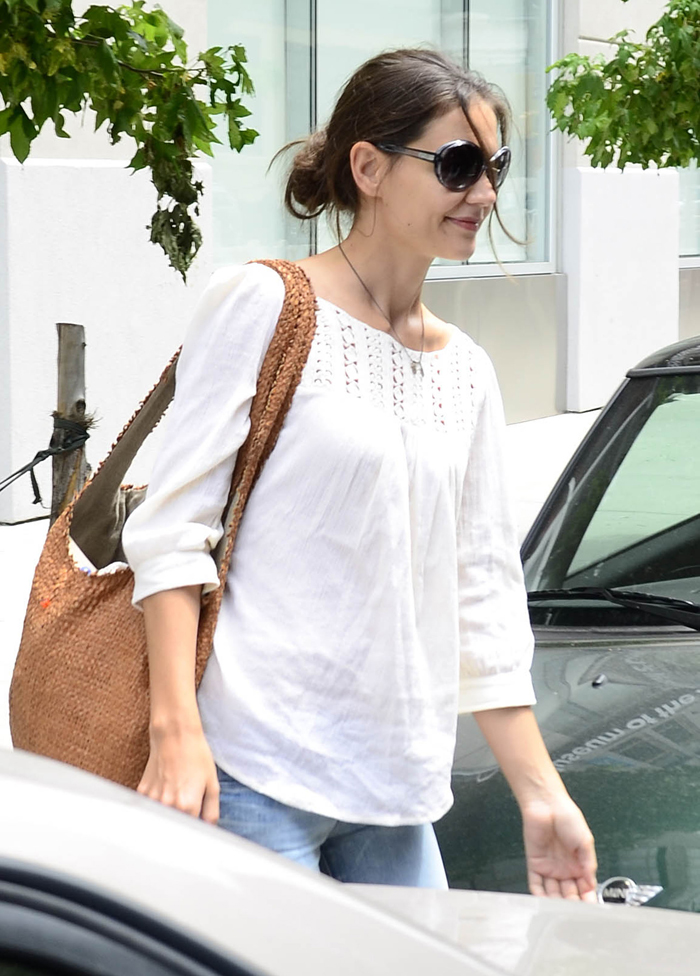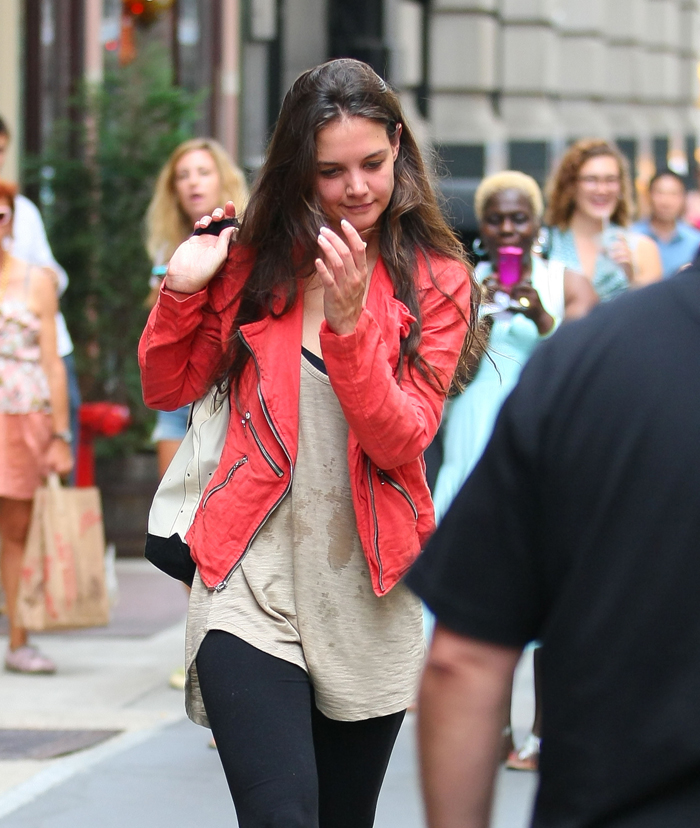 Photos courtesy of Fame/Flynet
Written by Bedhead

Posted in Katie Holmes

- Mariah Carey lip synced on American Idol [CDAN]
- Colin Firth is looking good [Lainey Gossip]
- Internet celebrity charged with murder! [D-Listed]
- What is Paz Vega wearing? [Go Fug Yourself]
- New bachelors on The Bachelorette [Reality Tea]
- Goodbye to The Office [Pajiba]
- Bachelor Sean's fiance cheats on him [Evil Beet]
- Britney Spears out with her man [Popsugar]
- Nina Dobrev works it [Popoholic]
- Cindy Crawford needs to lay off the 'tox [Celebslam]
- Who said it: Carrie Bradshaw or The Dalai Lama? [Buzzfeed]
58 Responses to "Katie Holmes hires 'confidence coach' to cope with stress of divorce"