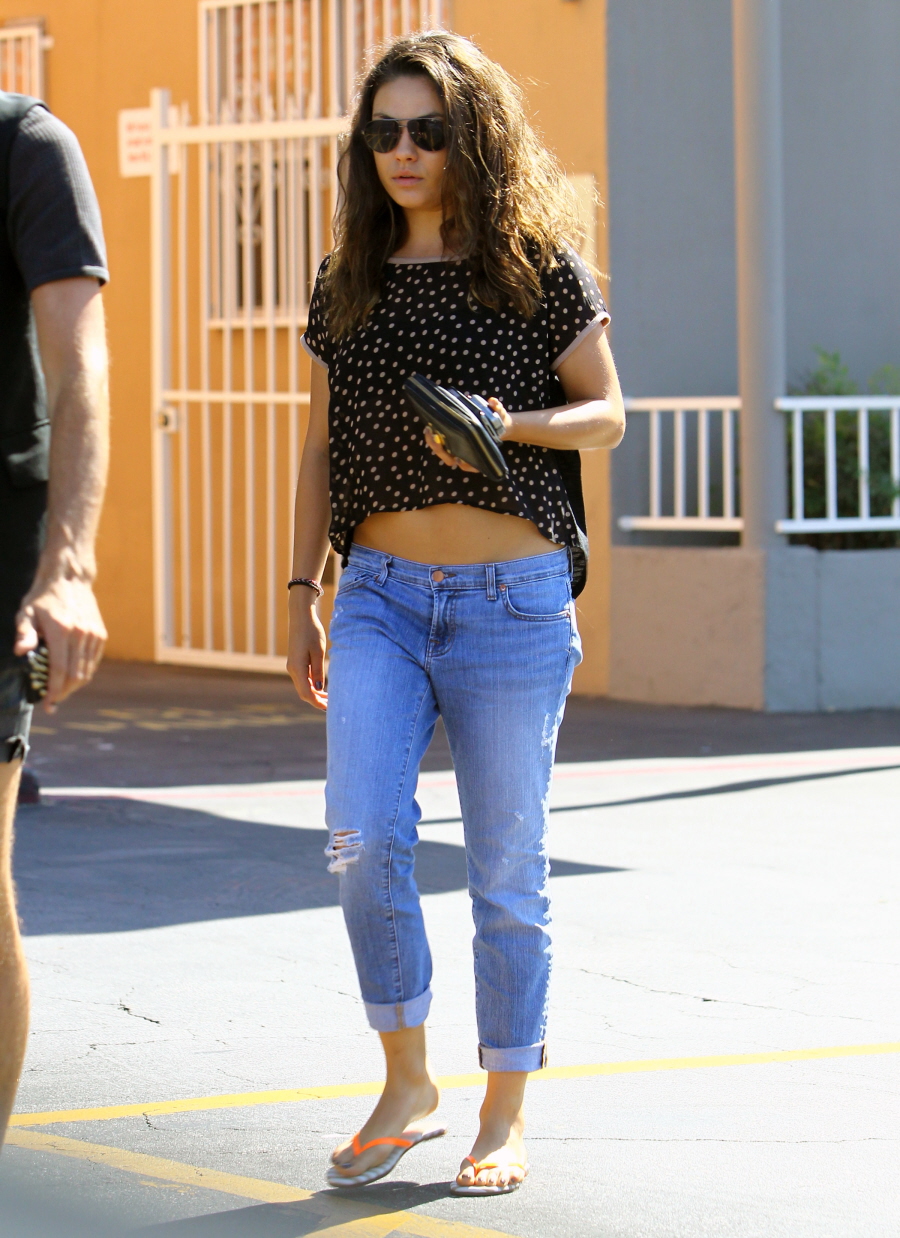 Here are some new photos of Mila Kunis leaving a nail salon yesterday in LA. Ugh, I can't believe belly shirts are coming back. Why is everything so mid-90s nowadays? Between Miley Cyrus's grunge aesthetic and Mila's belly shirt, I feel like I should be watching the first season of Friends right now, in between listening to Pearl Jam. As for Mila's figure – she's been working out a lot lately (she keeps getting pap'd outside of her gym), so I guess she successfully shed those ten pounds that were so noticeable several months ago. I'm not being facetious either – Mila is such a petite girl that when she gained a few pounds, practically every blog took note of it. Her face looked kind of puffy for a while too, making me think that perhaps her body was rejecting The Kutcher, but the puff seems to have gone down (perhaps the early Kutcher injections acted as an inoculation). Also: I would love to have her flat tummy. GAH. WHY ARE YOU WASTING IT ON KUTCHER?!
Speaking of… as Celebitchy covered last week, Mila and Ashton Kutcher were photographed together at an LA Dodgers game… with HER parents. Did CB mention that? Gross. I can't even imagine what that was like… "Mom, I'd like you to meet my new boyfriend… Ashton Kutcher." My mom would not be impressed at all. Anyway, Us Weekly has some new details on the outing:
Mila Kunis wanted her parents, Mark and Elvira, to bond with old friend turned new beau Ashton Kutcher, and she thought a ball game would be just the trick. She took them to an LA Dodgers home game against the San Francisco Giants, where she scored them seat right behind the dugout.

"They were loving Dodger Dogs and pretzels," a ballpark staffer says of the foursome, who sang "Take Me Out to the Ballgame" together.

The couple "kissed several times and Mila would cover their faces with his cap," says a witness. "It was really cute!" After years of staying in the just-friends zone, "things are going really well… they're seriously obsessed with each other."
[From Us Weekly, print edition]
"Seriously obsessed with each other"? Gross. WTF, Mila Kunis? Does she even realize that she could do so, SO much better? She seems to have a real problem with dating kind of douchey dudes. Not that Mac was douchey… but Mac had issues, right? And then Justin Timberlake – I mean, I know some of you don't believe that Mila and JT hooked up on the downlow, but LOOK WHO SHE'S WITH NOW. If she'll let Ashton Kutcher become her official, she'll totally fool around with JT quietly.
Mila's friend is super-fancy, isn't he? His shorts are… amazing.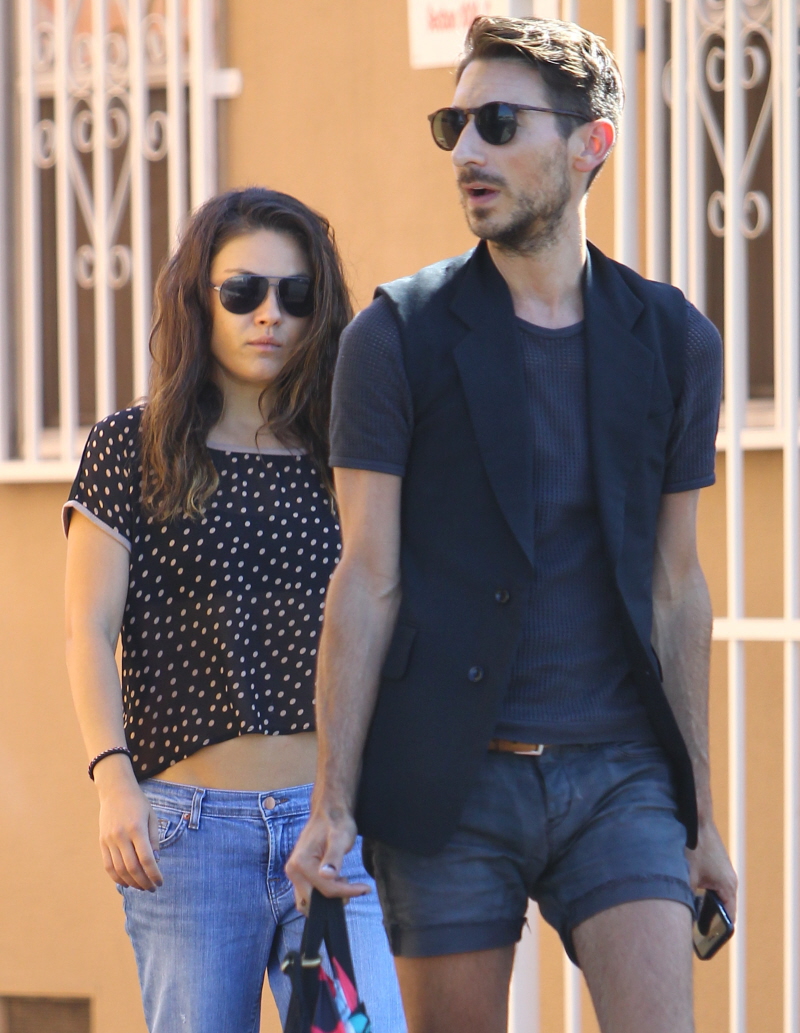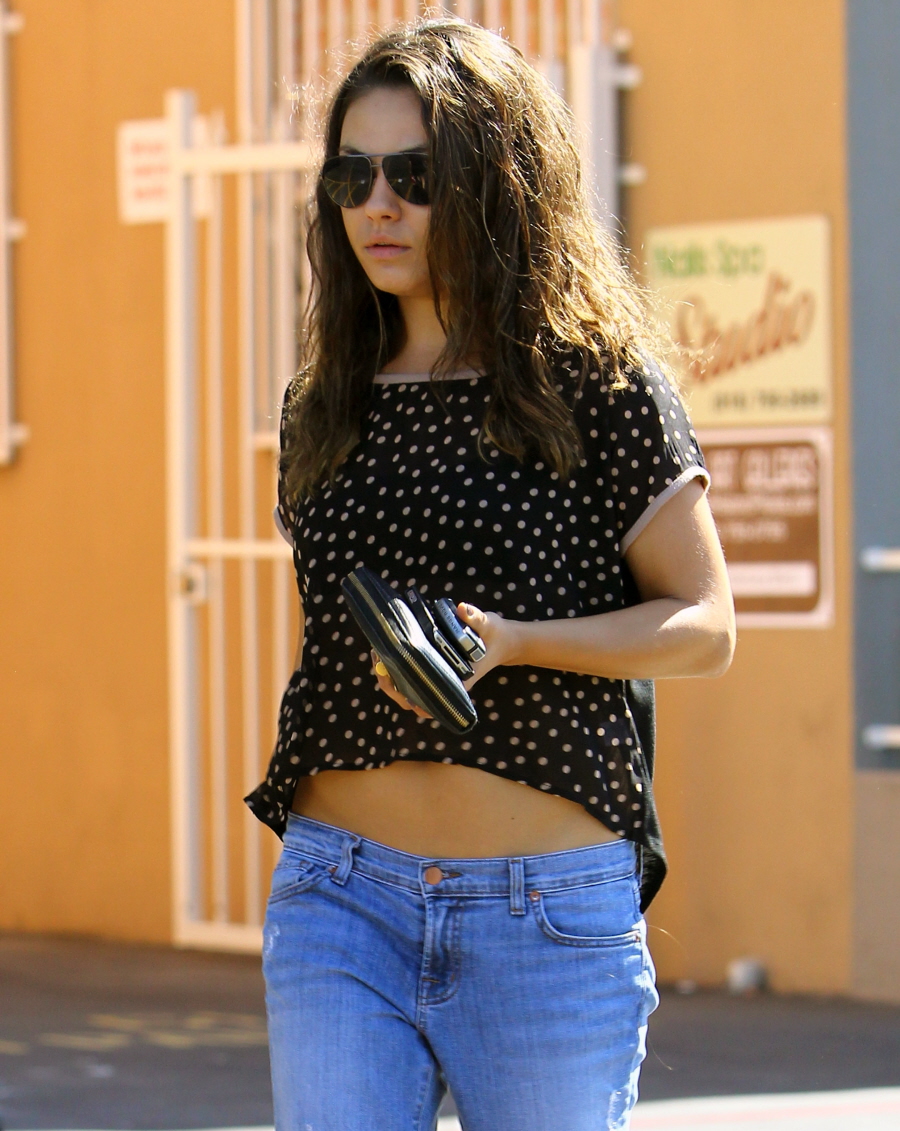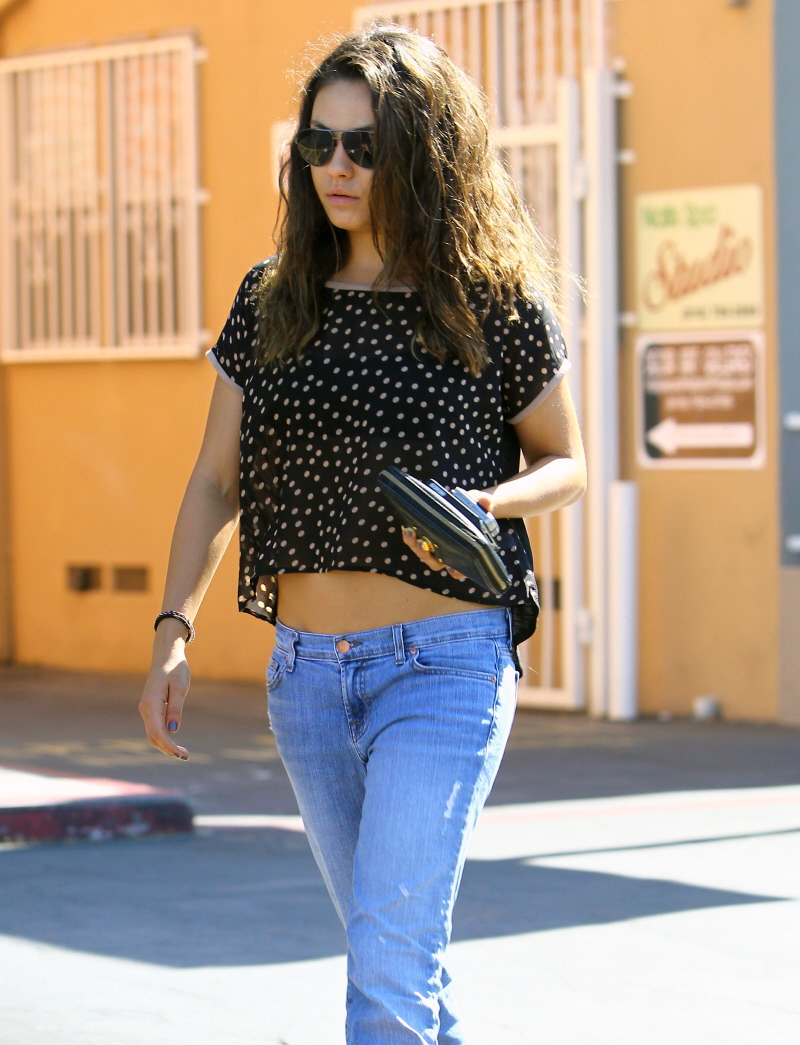 Photos courtesy of Fame/Flynet.