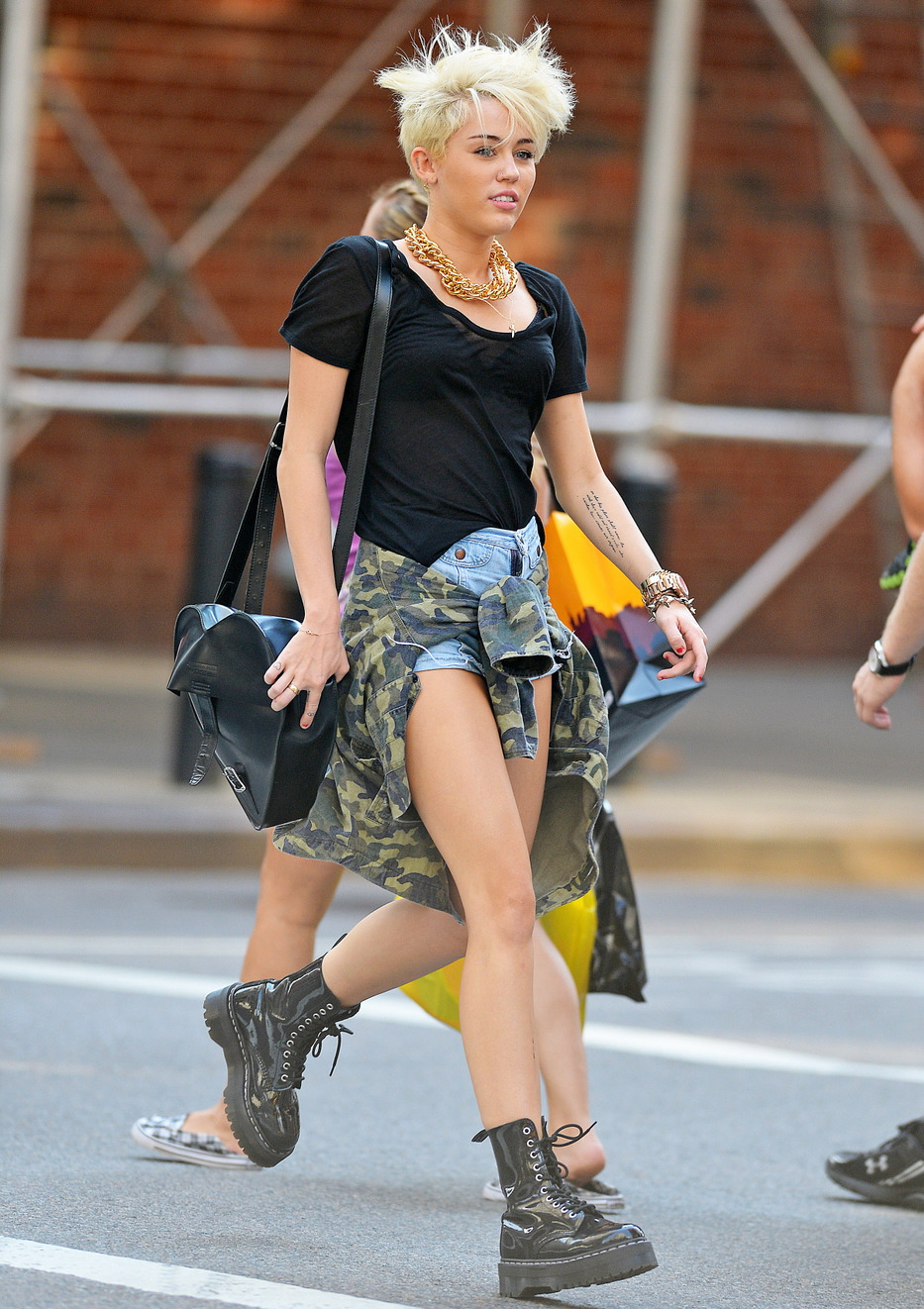 These Miley Cyrus photos just gave me such a heavy dose of nostalgia. I don't consider myself old or anything, but I definitely came of age in the 1990s, and most of pop-culture references are from my teenage years, which was so firmly rooted in the Clinton administration and everything Seattle. For all of those people who are too young to remember this: THIS is what most girls looked like in the 1990s. Everything that Miley is wearing – the jean shorts, the Doc Martens, the camo jacket tied around the waist… ah, the 1990s. You could also replace the camo with flannel, and basically Miley would be at a Nirvana concert in 1994. I never cut my hair as short as Miley's, but I had the recent bittersweet memory of peroxiding my former BFF's hair this exact shade of blonde… while I was drunk and we were in this tiny little bathroom, laughing our asses off. Ah, memories.
Anyway, 90s nostalgia aside, people are "worried" about Miley. Because she's done such a complete change-up with her look, and because she's partying. Because no 19 year old is allowed to experiment with her look and go out partying.
Is Miley Cyrus following in Rihanna's hard-partying footsteps? She strutted to several downtown hot spots Thursday in a sheer black top, short shorts and her newly shorn blond haircut. After dinner at La Esquina, Cyrus headed to The Darby, where spies saw her being playful with a girlfriend, giving her pecks on the lips.

"She was trying to get everyone's attention," said one.

Cyrus then popped up at 1Oak, where she met up with her fiancé, Liam Hemsworth, and joined owner Scott Sartiano's table.
A 19-year-old going out with friends and faking lesbianism for attention? *clutches pearls* That sounds a lot like what I was doing my sophomore year of college, when I was 19 years old too.
Meanwhile, Miley and Charlie Sheen were tweeting each other. Which worries more than anything else. Miley started it, apparently, tweeting something about Charlie being the bomb, and Charlie responed, "Idk,w/that new haircut Miles…You're the [bomb icon.] Come watch the show at my place! XO." The tweets were later deleted, probably because Charlie then called Miley and invited her formally over to his place, in which case we really do need to worry about Miley.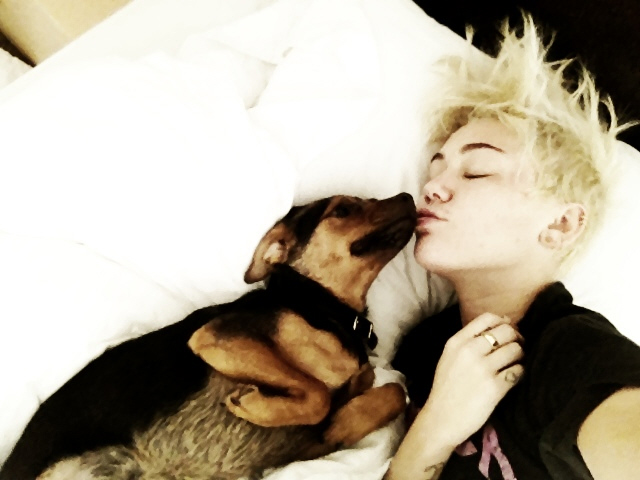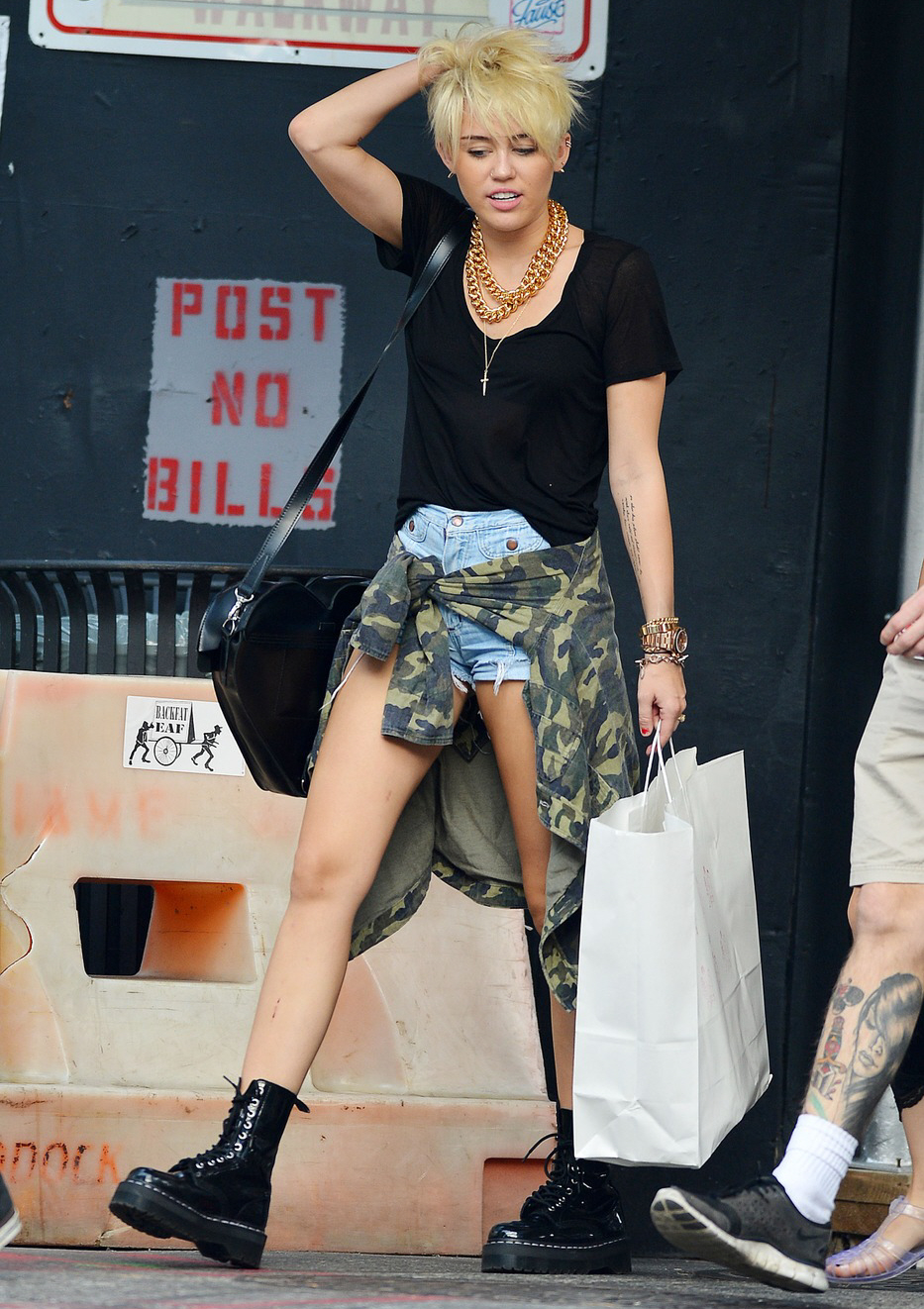 Photos courtesy of Pacific Coast News and Miley's Twitter.