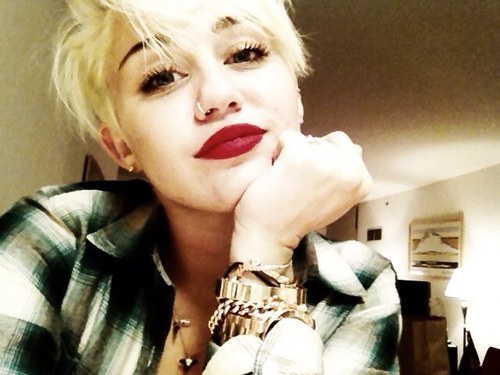 r
Miley Cyrus has been tweeting photos of her new platinum asymmetric pixie cut since she got it just four days ago. To me she comes across like a normal 19 year-old experimenting with her look and sharing it online, only some people are concerned about her. Radar has quotes from a random psychologist who claims that Miley's behavior is reminiscent of what Britney went through when she shaved her head in 2007. They're both former child star singers who cut off their hair, but I don't see it beyond that. Here's more: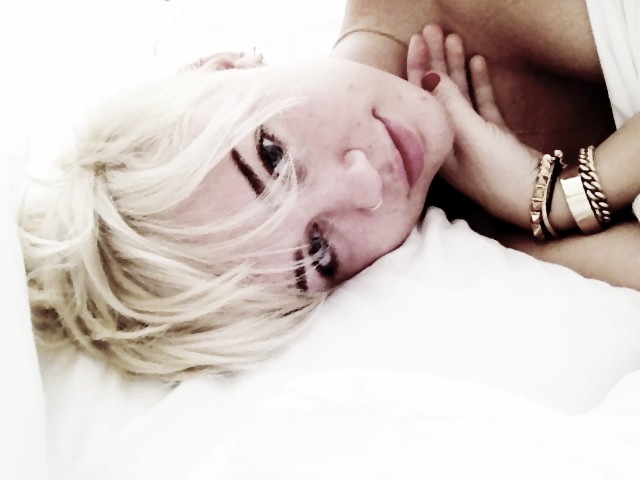 "Miley Cyrus seems stuck in a set of compulsive behaviors that cry out for attention," Los Angeles-based psychologist Dr. Seth Meyers, who has not treated the Hannah Montana star, told RadarOnline.com in an exclusive interview.

"Miley Cyrus' parade of unusual and provocative behavior recently reminds me of Britney Spears' downward spiral in the past," explained Meyers, referring to The X Factor judge's meltdown in 2007 when she suddenly shaved all her hair off.

"The apparent recent marks on her wrist, the drastic haircut, and an undeniably fledgling career suggest to me that Miley is overwhelmed with anxiety, feeling lost and uncertain about her future. Her loved ones should keep a close eye on her in case her impulsive behavior continues and gets worse, potentially putting her at risk of self-harm," he warned.

Wild child Miley got her headline-making haircut from Beverly Hills stylist Chris McMillan, who created Jennifer Aniston's iconic 'Rachel' cut in the 90s.
The only evidence Radar offers as evidence that Miley is cutting herself are photos of light scratches on her wrist. As commenters on Radar point out Miley has a new puppy. She has several dogs and it's more likely that one of her dogs scratched her.
Miley is 19 years old. When I was 19 I pierced my nose, wore combat boots, and got tattoos that I thankfully had the foresight to put in places that clothing covers. We didn't have The Internet or cell phones and our cameras weren't digital so we didn't take as many pictures, which is sad really. I wish I had more photos from college. What I'm saying is that if I were famous with a worldwide platform people would probably say I was crazy at 19 too, and look I turned out fine and now spend my days gossiping. Maybe I'm not the best example, but I don't see the big deal about Miley's cute new hair. She didn't freak out and shave it in front of the paparazzi like Britney, she hired a celebrity hairdresser to give her an avant-garde new cut. She should let up on the tweeting, though, she gave it up once in the past and she should realize that she needs to step away for a while. It does look like she's going through something, but it seems more like normal insecurity and affirmation-seeking than a breakdown.