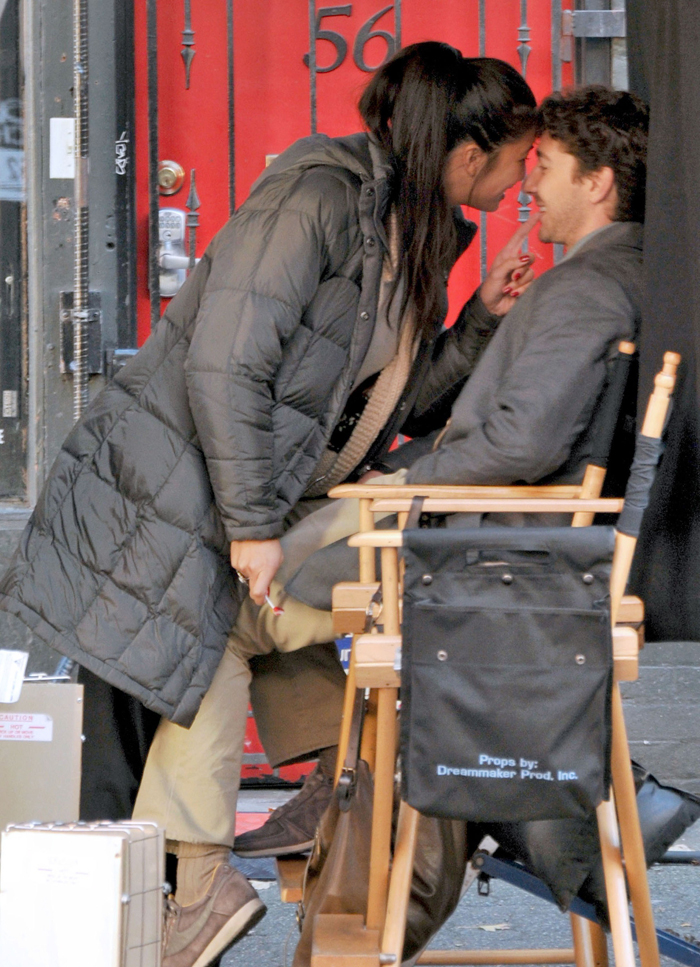 Since Lawless hits movie theaters tomorrow, the Shia LaBeouf interviews just keep on coming. Once again, I have dug deeper into the past in an effort to come up with some photos of Shia looking relatively decent and unlike the Hipster Unabomber in a suit. As such, these photos are from last November on the set of The Company You Keep, where it appears that girlfriend Karolyn Pho was keeping some rather intimate company with Shia. They were even smooching in front of the paps too.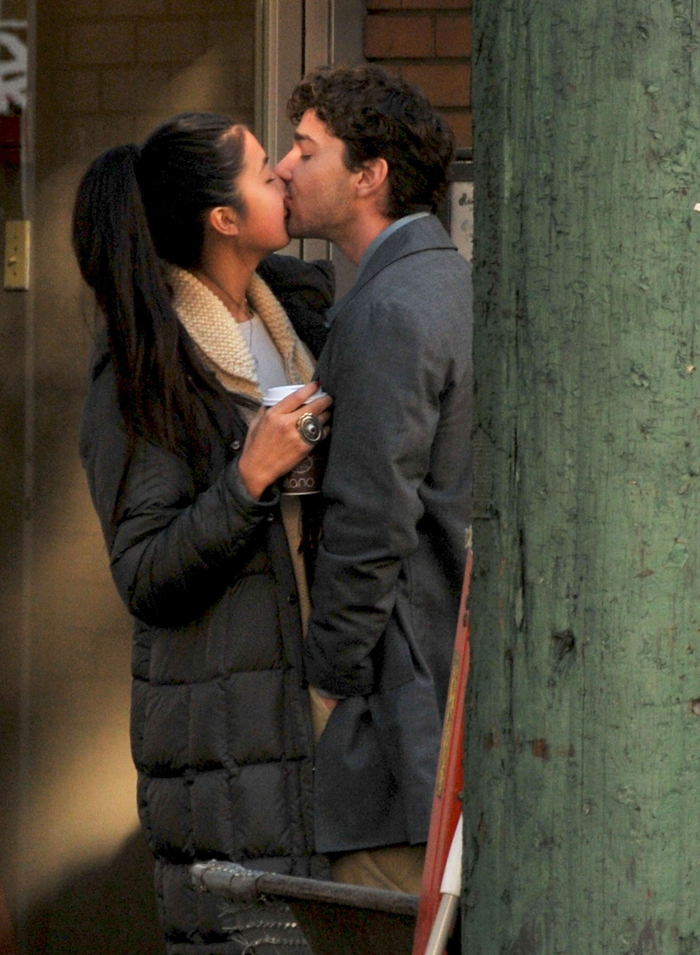 So I guess these two are really into each other even though I often wonder what Karolyn sees in Shia, but she seems to have a great sense of humor over his current hair situation. However, Shia's latest interviews are only becoming more and more outrageous, and now he's not just talking about getting into character by dropping acid on a movie set or bragging about how he'll have actual sex in Lars Von Trier's N*mphomaniac. Now Shia is saying that he auditioned for the role by sending him video tape of himself and Karolyn doing it. And Von Trier apparently liked what he saw too. This is getting grosser by the moment:
When Shia LaBeouf took a role in Lars von Trier's latest movie N*mphomaniac eyebrows were raised due to the director's previous experimentation with putting real sex on film.

Until now it seemed that LaBeouf took an occupational risk in joining the movie, but if the actor's to be believed then he actively looked out for a sexed up role, and involved girlfriend Karolyn Pho!

LaBeouf told Chelsea Lately host Chelsea Handler: "I don't know what it's gonna be until I get out there. I know he's a very dangerous director, I know we're trying to do something different. It's not your typical film. It's about what it's about."

So far this seems to be Shia's line on the matter; Lars von Trier is dangerous, and Shia LaBeouf likes dangerous. In liking a bit of carnal satisfaction, Shia's hardly alone in the male or female population but here's where things get more than a little weird.

The Lawless actor told Handler: "I sent him [von Trier] videotapes of me and my girlfriend having sex and that's how I got the job."
[From Entertainmentwise]
I hope Shia's joking. Do you think that he's joking? I don't know. This reminds me of how Christina Ricci famously had her agent send very risque photos to the director of Black Snake Moan so she could land the role of sexed-up Rae, but obviously, Shia would be a more extreme example of this practice. I actually think Shia would do this, and who knows if his girlfriend is down with it or not. In photos, they always seem to be a couple that's very in tune with each other, but Radar Online says that the N*mphomaniac business is threatening to tear them apart:
Despite putting on a brave face at the Lawless premiere last week, Shia LaBeouf's "method" acting is destroying his relationship with girlfriend Karolyn Pho, RadarOnline.com is exclusively reporting.

The 26-year-old actor's volatile romance with the up-and-coming designer hit the skids after the complex actor agreed to star in N*mphomaniac, the controversial movie by daring Danish filmmaker Lars von Trier.

Shia has confirmed that he is expected to perform a real sex scene in the flick with one of his co-stars and Karolyn isn't happy with it.

"They've been on the rocks ever since Shia agreed to star in N*mphomaniac," a source close to the couple revealed. "Karolyn gets that Shia likes to go method and appreciates his artistic integrity. However, she thinks performing a real sex scene in a movie is going too far. It's difficult for her to understand why it can't be simulated – just like in other films.

"She wants him to do the film, because Shia was desperate to work with Lars – he's such a hero of his. And she doesn't mind if he strips off completely – she had no qualms about the Sigur Ros music video.

"But Karolyn doesn't want him having sex with somebody else – simple. She's begged Shia to ask Lars if it's possible to make the scenes appear real, rather than shoot them real," the source revealed.
[From Radar Online]
I can believe that Karolyn is generally okay with Shia's "method" ways (including that music video where he drops trou), but no one could blame her if she doesn't want Shia to actually have sex with someone else on camera. C'mon, the audience doesn't really need to think sex is fully happening to enjoy the film, right? Who cares. I'm of the opinion these days that Von Trier is not only a reactionary drama queen but also a huge perv. Because how does this make him any better than Michael Bay asking his lead actresses to wash his Ferrari? Oh right … when Von Trier does something, it's ART.
Oh, and Shia has also admitted to Fox News that he scared Mia Wasikowska while they were filming Lawless. He claims that it was his intensity in "playing up my alpha male" that freaked her out because, you know, he's so method and she's so "very soft." I don't know — Mia was actually so freaked out that she called her attorney to try and extricate herself from the entire production. Maybe Shia was just so sloppy drunk from drinking all that moonshine on set, and he was probably coming off as an aggressive drunk. If so, Mia had the right to feel uneasy as a result.
Incidentally, here's a photo of Shia's sexy mom (who he is clearly not having sex with), Shayna, at the Lawless premiere. She's the lady on the right. I wonder how she feels about Shia having actual sex in his upcoming Von Trier movie?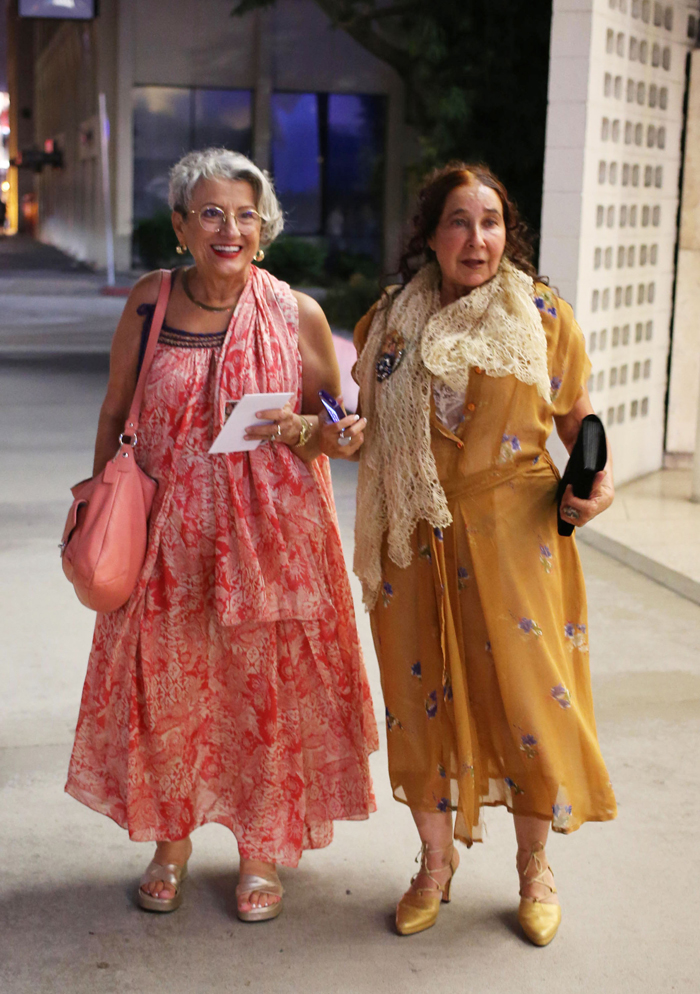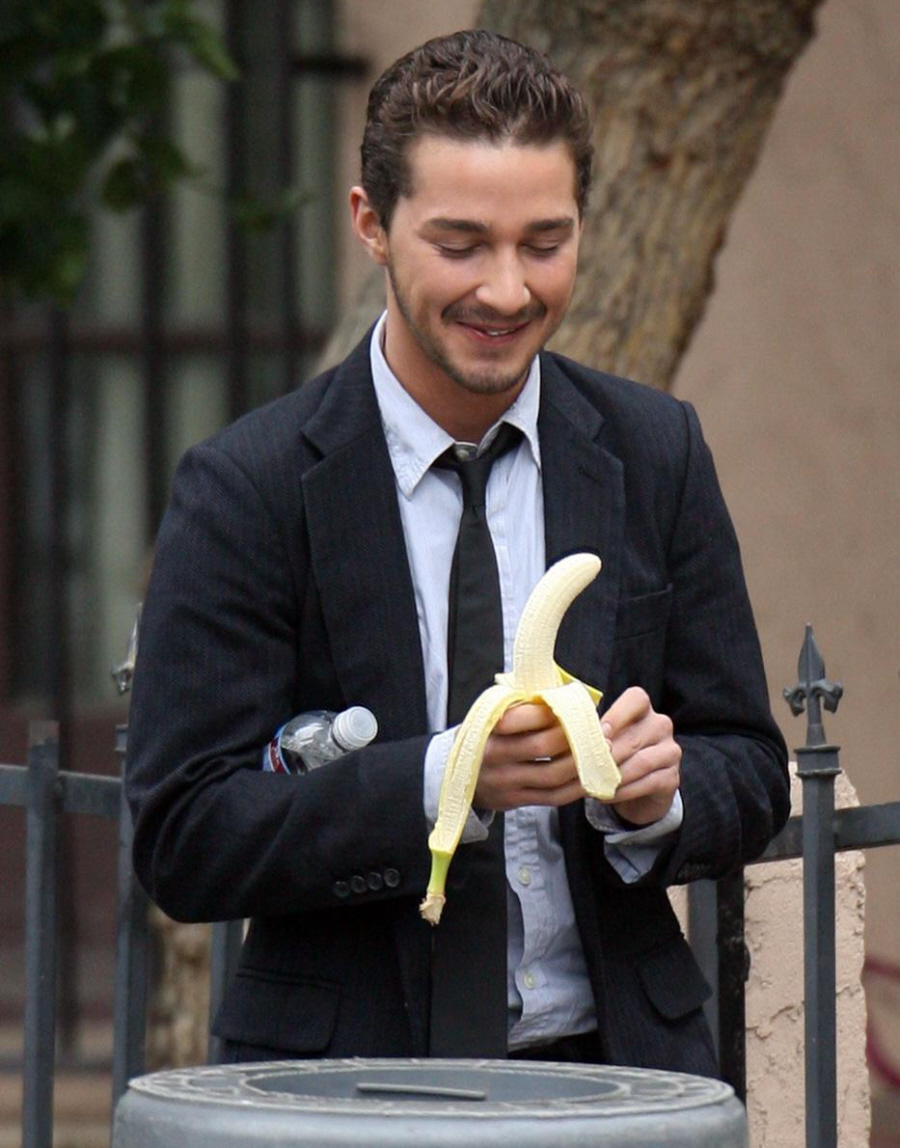 Photos courtesy of Fame/Flynet, Pacific Coast News, and WENN