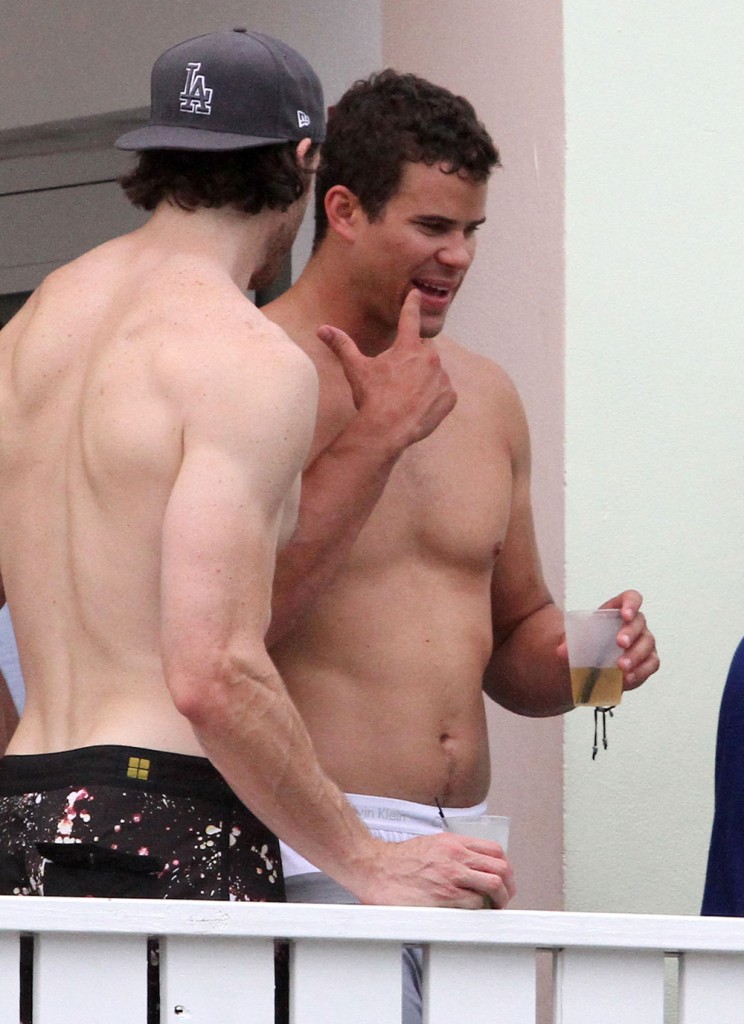 The last time we paid any amount of attention to Kris "basketball" Humphries' personal life, he was being accused of impregnating a women he tried to deny ever dating, even though there were plenty of photos of the two of them together on vacation, and he gave her courtside seats to his games. It turns out the woman was just leaking the fake pregnancy stories to TMZ in an attempt to get back at Humphries, who had threatened to sue her for going public with their relationship.
Kris is still trying to play the wronged party when it comes to his long-over marriage to Kim Kardashian, and that involves making it look like he's pining away for her when in reality he's boning randoms and trying to keep it casual. The divorce between Kris and Kim will never end, and Kris is reportedly trying to drag it out for as long as possible. Well that strategy may backfire on him, because he's facing more trouble in his personal life. A chick is suing Kris for giving her herpes! Hahaha. All of this (allegedly) went down in 2010 before Kris met Kim, but it's still bad news for his divorce I would guess, since he and his lawyer are quick to deny the accusations. They don't deny that he hooked up with her though. Here's that story. (Note that this is NOT the same girl who made the pregnancy accusation. This woman is named Kyla, that other woman was named Myla, lol!)
Kris Humphries has just been sued by a woman who claims he gave her herpes … TMZ has learned.

Kayla Goldberg claims she met Kris in August, 2010 at the Newsroom Cafe on Robertson Blvd in L.A. — long before Kris met Kim Kardashian. The two flirted, exchanged numbers, and Kayla claims that night they met up at Trousdale nightclub on the Sunset Strip.

According to the suit, Kris came on to Kayla, touching, kissing and dancing with her. Kayla claims he took her to his hotel and they had sex multiple times … including oral sex. The suit claims during a portion of the sexual encounter Kris did not wear a condom.

The lawsuit claims Kris did not inform Kayla he had herpes — and she claims in the suit that he did indeed have the disease.

Kayla says a week later she was diagnosed with herpes. Her symptoms included a sore throat, fever, body aches and immobilizing pain, as well as extreme vaginal irritation and painful lesions on her genitalia.

She's suing for sexual battery claiming Kris knew he had herpes when they hooked up and didn't tell her.

Kayla — who put her full name in the lawsuit — is suing for unspecified damages. – From TMZ

---

"Kris was recently accused by another woman of giving her Herpes, this happened within the last two months," a source close to the NBA star tells RadarOnline.com exclusively. "Kris tested negative for it though and for any other sexually transmitted disease and he is absolutely steadfast that he has never given anyone Herpes. Kris plans on vigorously fighting the lawsuit filed against him by Kayla Goldberg and is considering counter-suing her for defamation."

As previously reported, Goldberg alleges that she met Humphries at The Newsroom Cafe in Los Angeles on August 31, 2010 and that the two went on to have unprotected sex in his hotel room at the Thompson Hotel.

"Once Kayla Goldberg and Kris Humphries arrived at his hotel room they had sexual intercourse more than once, becoming intimate partners," the court documents assert. "During their interactions Humphries also performed oral sex on Goldberg….Defendant Humphries did not at any time inform Plaintiff that he was infected with the incurable venereal disease, Herpes Simplex Virus."

Goldberg claims she was "free of any venereal diseases at the time she commenced her intimate relationship with Kris Humphries…Goldberg developed symptoms of herpes about or around four to five days after the first sexual encounter with Humphries. These symptoms included sore throat, fever, body aches and immobilizing pain, extreme pain, extreme vaginal irritation and painful lesions on her genitalia. A doctor officially diagnosed Goldberg with Herpes on September 8, 2010, through an examination and swab test."

Humphries is currently embroiled in a legal battle with his estranged wife, Kim Kardashian to end their 72-day-marriage. Kardashian is now dating Kanye West.

"Kris will take the advice of his lawyers, but he absolutely wants to take legal action against Kayla Goldberg for her actions and this lawsuit," the insider reveals. – From Radar
Of course Kris is threatening to sue, he threatened to sue that Myla chick when she dared tell TMZ that she was seeing him. I believe this lawsuit, because I don't think anyone would go through all the trouble of using their full name and suing unless it was true. I could be wrong. Celebrities, even d-listers like this tool, attract frivolous lawsuits. Also, read that Radar story carefully, another woman accused Kris of giving her herpes within the last two months, so he knows he doesn't have it because he took a test at that time. That's a bit suspect. If the other woman was that Myla chick, I could see how she would make it up to get under his skin, but come on. This guy is a douche of the highest order. He's not denying sleeping with this woman, he's denying giving her herpes. How often is he hooking up with random chicks to have not one but two go public with these type of accusations? These are the tip of the iceberg of randoms.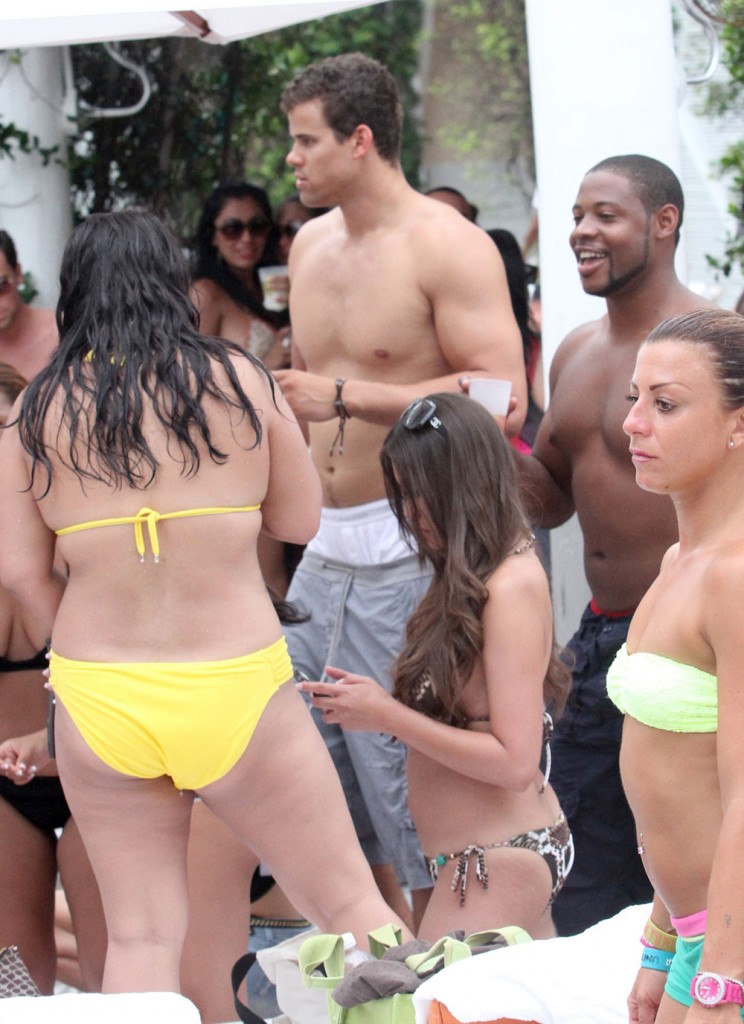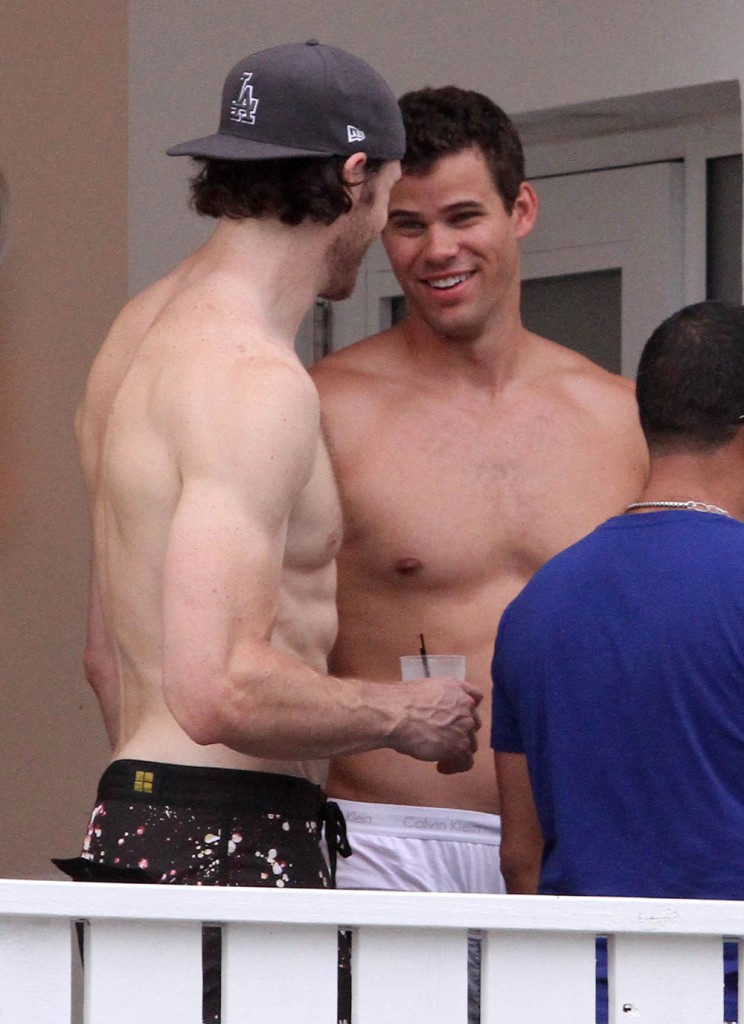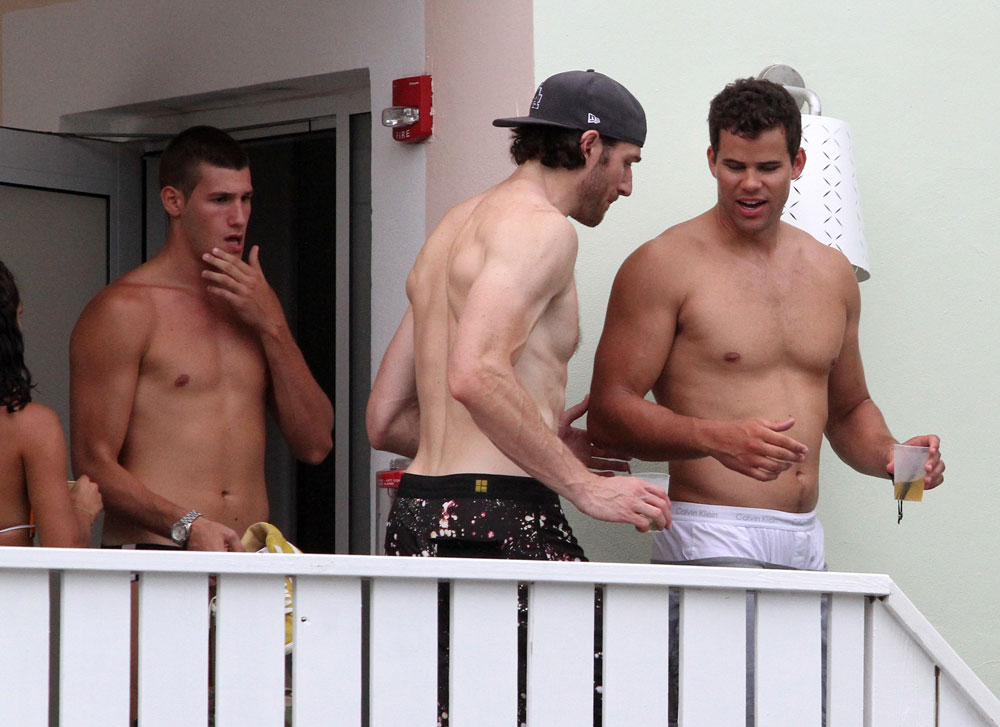 Kris is shown partying in Miami on 7-15-12. I wonder how many chicks he gave the herp to there. Credit: BRJ/FameFlynet