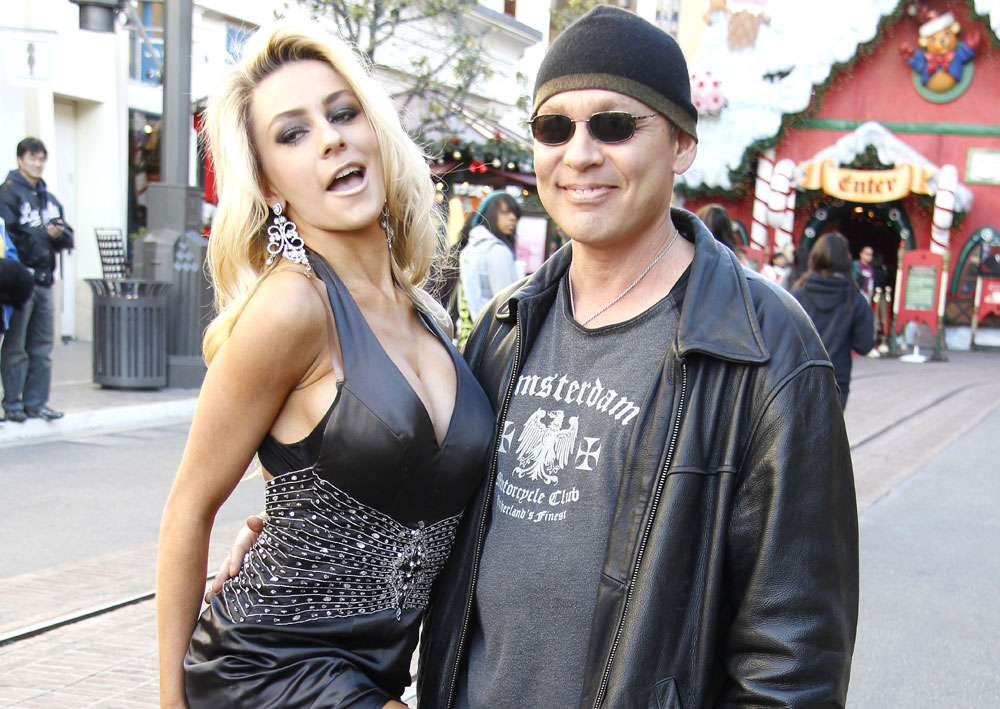 We haven't covered Courtney Stodden much lately, as we frankly got a little tired of her antics. As you likely remember and wish you could forget, Courtney is known for marrying a little-known 51 year-old actor when she was just 16. There was a lot of speculation that she was lying about her age for publicity, because people didn't want to believe that her parents would be so hungry for fame that they would sign off on her marriage to a guy as old as her dad. They did, she was really 16, and she's since turned 18. In the interim she's of course tried desperately to be noticed by acting like an oversexed kitten in heat. She's also tried to land some kind of reality show, and she was moderately successful in that she'll appear on the upcoming season of VH1's "Couple's Therapy" with her husband, Doug Hutchinson. So now that she's 18, what's next for Courtney? P0rn of course, which seems like a logical next career step for her. I'm not even being sarcastic. Here's more, thanks to TMZ:
Courtney Stodden turned 18 years old today … which means she can vote … or play the lotto … or accept any one of the FOUR offers she's already received to be a HARDCORE P0RN STAR.

Stodden — who married a 50-year-old actor when she was 16 — has been shamelessly teasing her lady parts for years … exploiting the hell out of her underage sexuality in the hopes of staying famous.

Now that she's "legal" — at least 4 p0rno companies are hoping she puts her money (and a whole lot more) where her mouth is … offering her lucrative XXX contracts.

One of the companies is Brazzers.com … which says it wants to "showcase [her] talents" by featuring her in a scene with male porn star Keiran Lee … who Brazzers describes as the man with the "million dollar p3n1s."

Stodden also got an offer from Babes.com … which says it already penned a porno movie specifically for Courtney based on her real life experience. The flick is called, "Happily Humping My Hubby."
Courtney called into TMZ Live to discuss her potential new career, and she sounded super proud that she'd been "flooded" with "offers." She said "I guess you could say that I'm free to, you know, put it all out there without any, you know, problems." In response to whether she would go forward and do p0rn, she said "I'm not going to say 'yes,' and I'm not going to say 'no.'" Then she got all giggly when Harvey joked that it sounded like a 'yes' to him. As to what her 53 year-old husband thinks about her potential new venture, she said "He seems a little frightened… like his little kitten has been unleashed. He's asking me questions about it, and I tell him the same thing I'm telling you." Yeah, she's just figuring out who will pay her the most money and then she's going to go for it. I bet her marriage will be over just as soon as she hits the big time, but I could be wrong. Doug could end up being as much of a pimp as her mom is. Hell Tooms might even star with her, since his TV career is floundering. Meanwhile Courtney's parents are divorcing. I guess her mom moved out to L.A. to manage her daughter's career and left her husband back in Washington. What does Courtney's mom think about her daughter starring in blue movies? She's probably fine with it as long as she gets her cut.
This photo is of Courtney "without makeup" according to her. Other photos are from 6-20-12 (yellow dress) and 12-6-11 (black dress). Credit: PCNPhotos and WENN.com