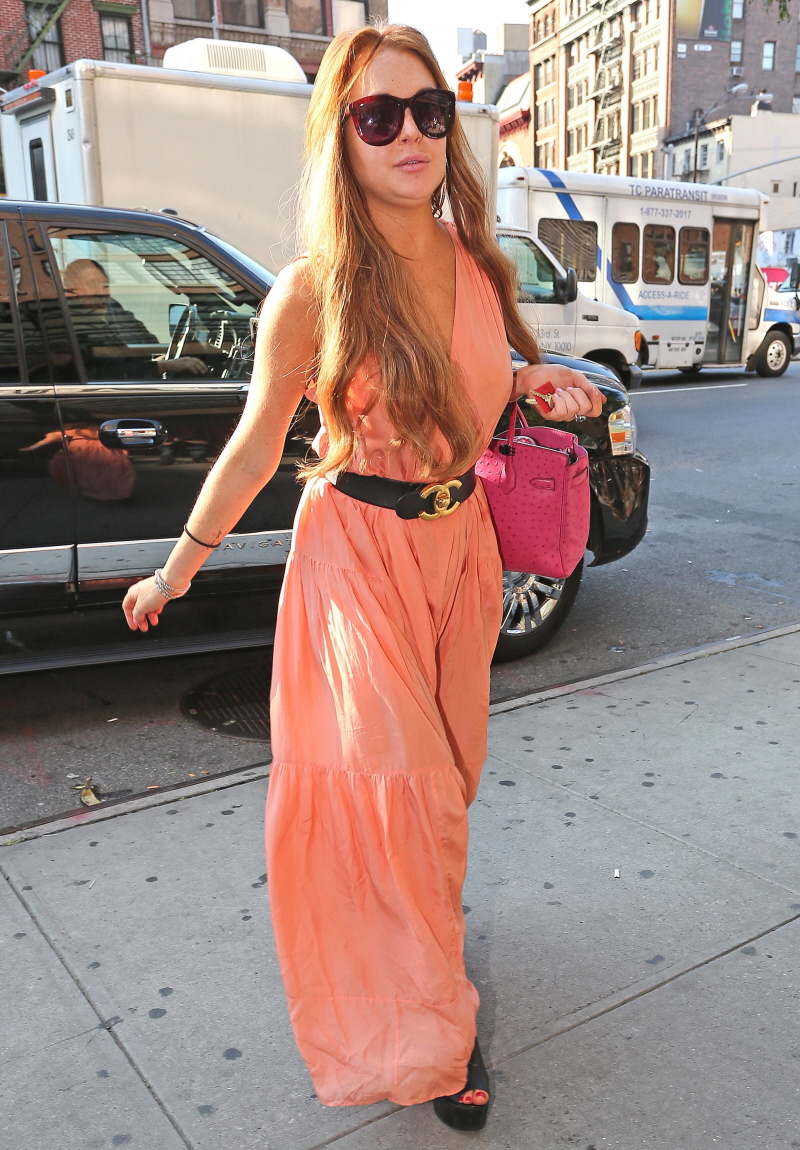 And just like that… CRACK ATTACK! These are some new photos of Lindsay Lohan in New York. Lindsay's been all over the place lately, back and forth from New York to LA, and she stopped in Atlanta for a bit to film her cameo in Scary Movie 5 (which only got done after more than a week's worth of crack drama, of course). But Lindsay finished her cameo (cough) and has now returned to New York, where Fame/Flynet notes that she put in an appearance at Fashion Week. I can't imagine it was an appearance at any respectable runway show, but I'll keep my eye on that. As for how Lindsay looks… well, her walking pneumonia cleared up in a hurry, didn't it?
Meanwhile, remember how Lindsay had an unpaid bill for her stay at the Marmont over the summer? She had charged and used services which accumulated to $46,000. Which she didn't pay, and thus, she was kicked out. When the story went wide, Lindsay first blamed Lifetime and the producers of Liz & Dick (she thought they should pay), and then she claimed she could pay for it herself. Which was weird, because she had already been kicked out of the Marmont, and if she could have paid her bill, she would have, right? The Marmont is her most favorite crack den of all. Anyway, The Enquirer claims that The Cracken's good friend Lady Gaga has offered to pay for it:
Reaching out to one of Hollywood's truly troubled souls, Lady Gaga – after hearing Lindsay Lohan had run up a staggering $46,000 bill she couldn't cough up Chateau Marmont – offered to pay it off in full.

But here's the heart-tugging kicker: Gaga, who's worth an estimated $150 million, told LiLo it wasn't a loan, but a gift – so she'd no longer be banned from the swanky celeb hangout!

Said an insider: "Lady Gaga's had many meals and sleepovers with her pal Lindsay at Chateau Marmont, and she wants that tradition to continue. But Lindsay, despite being enormously grateful, turned Gaga's generous offer down, saying she'd resolve it herself."
[From The Enquirer, print edition]
"She'd resolve it herself" = Lindsay would hustle one of her mysterious benefactors/johns to pay the bill. Or maybe that's what Lady Gaga is at this point – one of Lindsay's "benefactors". Ugh.
Anyway, I think it's interesting that we really don't know where Lindsay is staying at this point. Will the Marmont ever let her back in? Who is paying her bills in NYC? Is she fencing more stolen jewelry?
PS… I want to rip that Chanel belt off of her.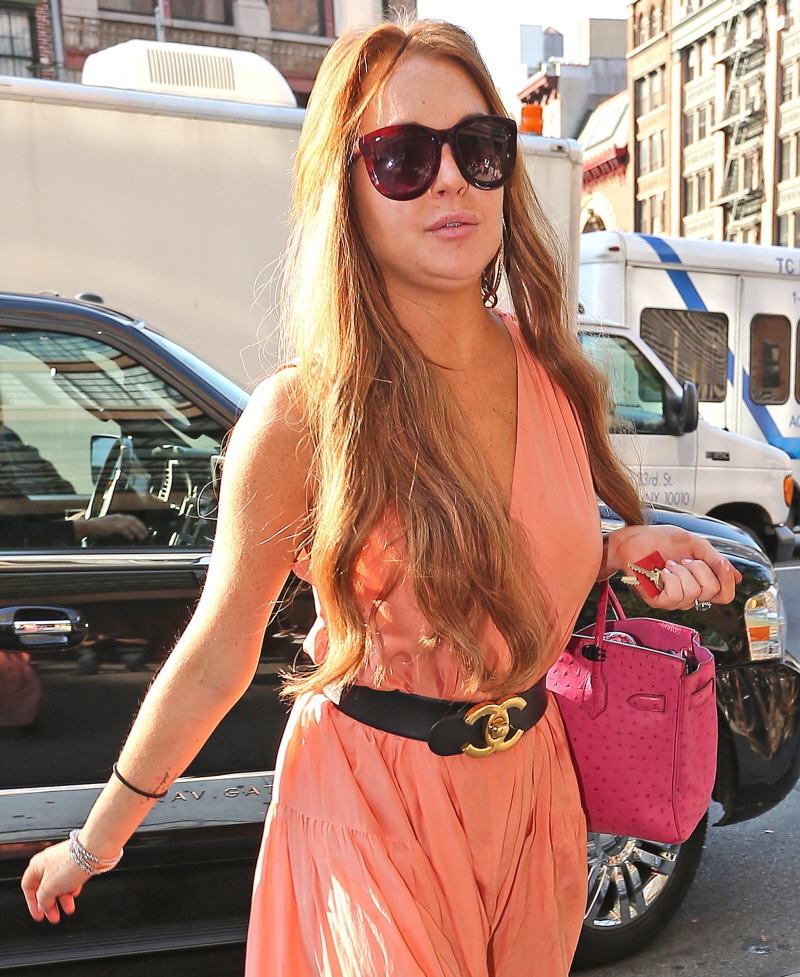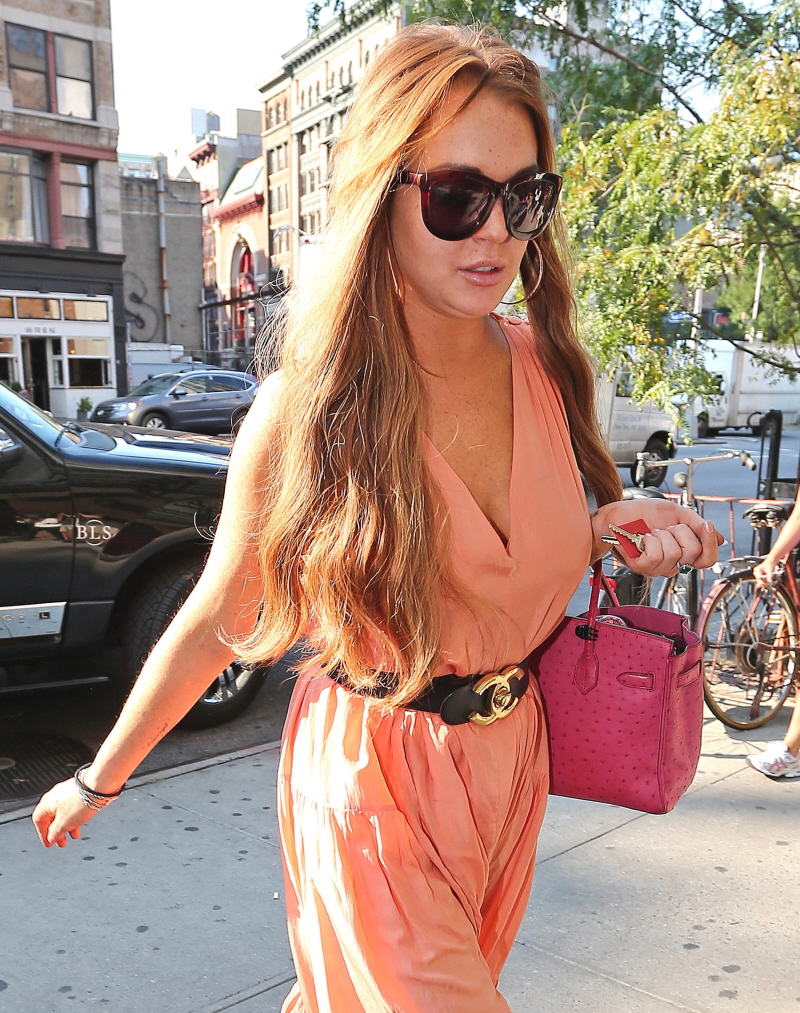 Photos courtesy of Fame/Flynet.