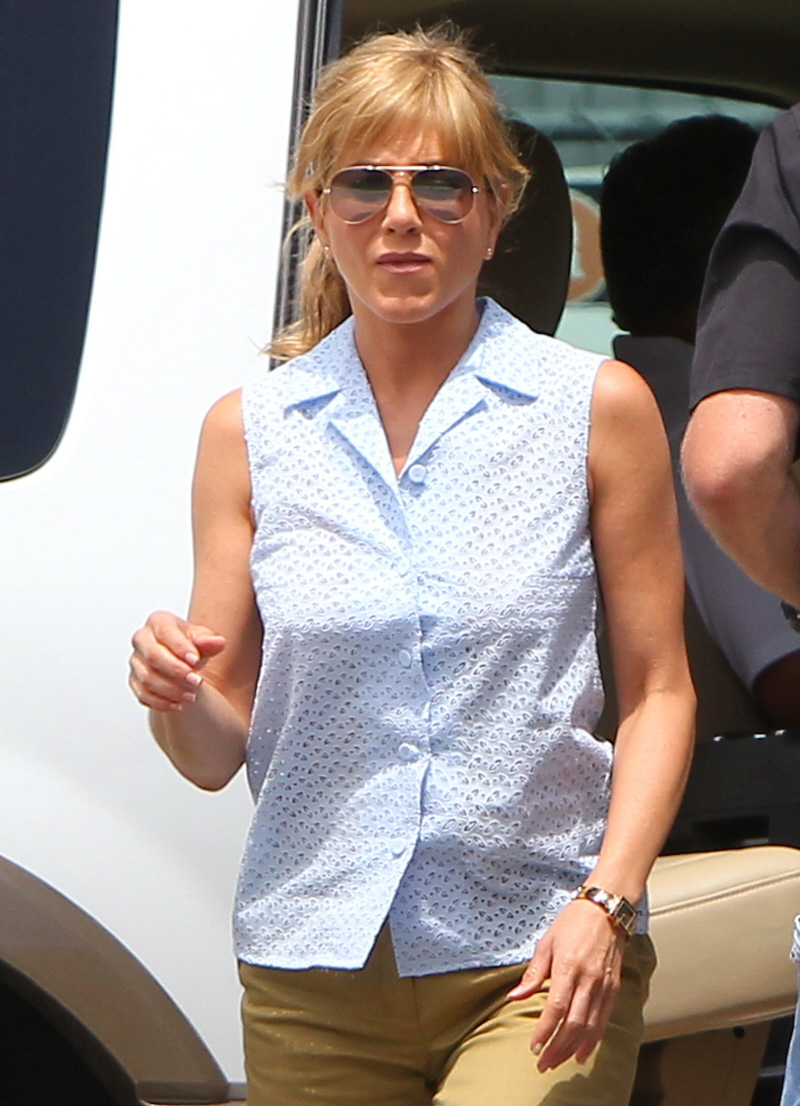 The tabloids love to run stories about Jennifer Aniston's beauty treatments. They love to run those stories just as much as they love to talk about the state of her womb. Beauty-treatment stories are so popular, I kind of wonder why Jennifer didn't choose to "spoof" them in her somewhat idiotic Smartwater commercial. I guess she just felt like getting people to talk about her womb some more? Anyway, Jennifer claimed recently that she only spends $200 a month on beauty treatments. Which I feel comfortable saying is total bullsh-t. Now In Touch Weekly (the tabloid that usually resides deep within Aniston's ass) claims that she's been spotted getting $2000 treatments at a fancy Beverly Hills spa!
Jennifer Aniston is sparing now expense to look breathtaking for her upcoming nuptials with Justin Theroux. The 43-year-old, who has yet to reveal her wedding date, recently plunked down close to $2000 for a Customized Rejuvenation Treatment at Mila Moursi Skin Care in Beverly Hills. The luxe facial, which runs 90 minutes, minimizes fine lines and wrinkles and rejuvenates sun-damaged skin.

"Our leading ladies like to get the treatment," says a staffer. Jen's been a regular at Mila Moursi since August, when she got engaged.
[From In Touch Weekly, print edition]
I would love to hear more details about what you get for $2000. They better be wrapping your face in gold and diamonds for that kind of money. So… which do you believe: that Jennifer was full of it when she claimed to only spend $200 a month on beauty treatments, or that she's really just like you, a girl on a budget who uses old fashioned beauty treatments like Vaseline and prayer?
Menawhile, there's a hilarious (and absolutely fictitious) story about what kind of wedding gown Aniston will wear:
If we were betting men we'd put money on Angelina Jolie being the bride who'd want a black gown for her big day, but nope it's actually Brad Pitt's ex Jennifer Aniston who apparently wants a less than conventional dress!

Jen, who's planning her wedding to fiance Justin Theroux, has chosen her theme for her big day according to insiders. Not only have the happy couple decided on a theme they've also apparently bought forward the wedding!

A source has told Now magazine that Jen and Justin are planning to get married as soon as this Christmas! And to set aside her second wedding from her first to Brad, she'd set on some pretty unusual touches: "Jen wants to flip the script on her wedding to Brad, which was very traditional, in favour of something smaller, cooler and weirder – and it doesn't get much weirder than a black-themed do. She's even talking about a black wedding dress!"

Although Jen loves her LBD's, apparently the colour choice could actually be down to the groom: "It's Justin's favourite colour and it's important to them both to stand out visually."

According to the source her team thinks a black wedding would look fab in photos, which has encouraged her even more. It seems like the plans are well underway as they've allegedly already told their friends to keep December free for their big day in New York.

"That was a huge decision as most of Jen's friends are in LA, but she's determined to make it as different as possible to her Malibu wedding to Brad. Plus she's already had one wedding, so she's letting Justin have the final say on this."
Black is Justin's favorite color? Okay, I'll buy that. It would crack me up if Justin somehow managed to make Aniston into some kind of goth biker-chick bride. You know that won't happen, though – she isn't changing for him, HE is changing for HER. Pretty soon Justin will be getting the $2000 facials.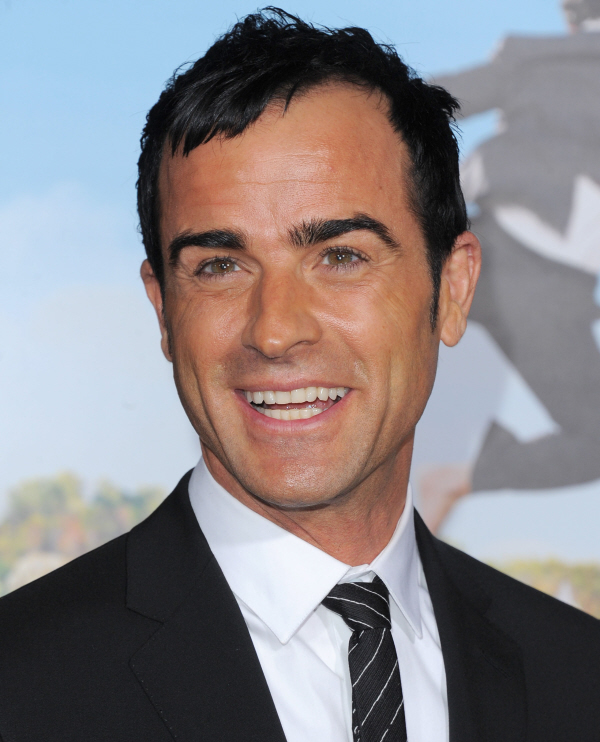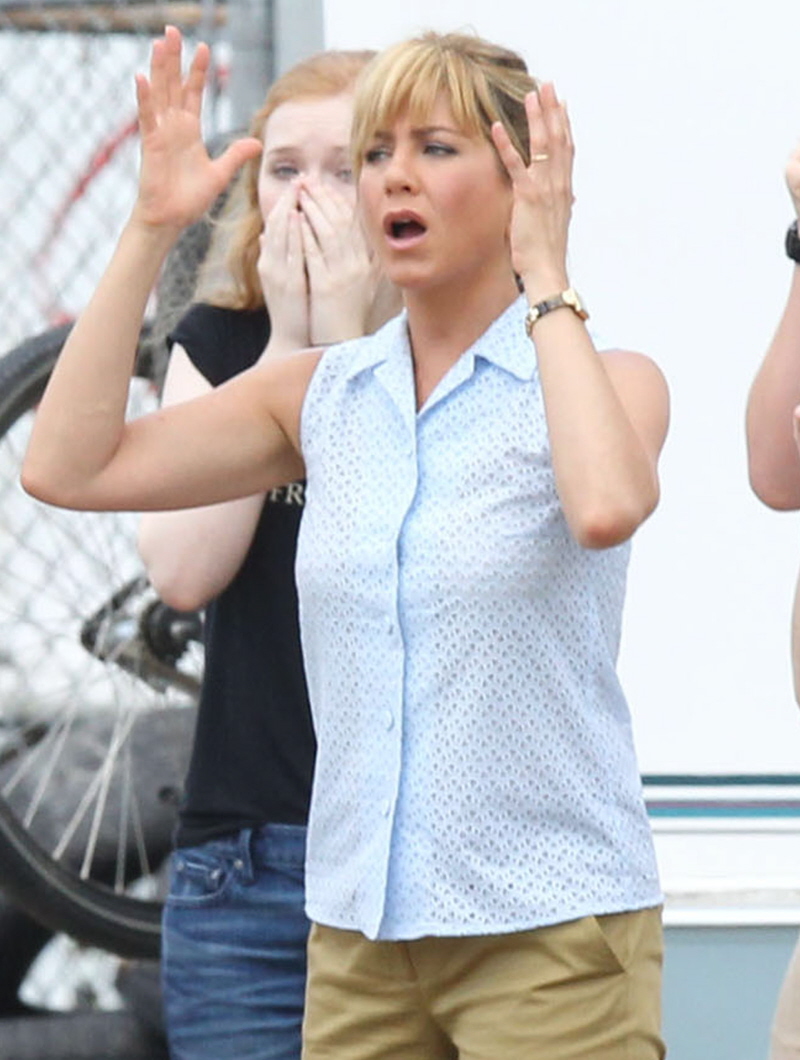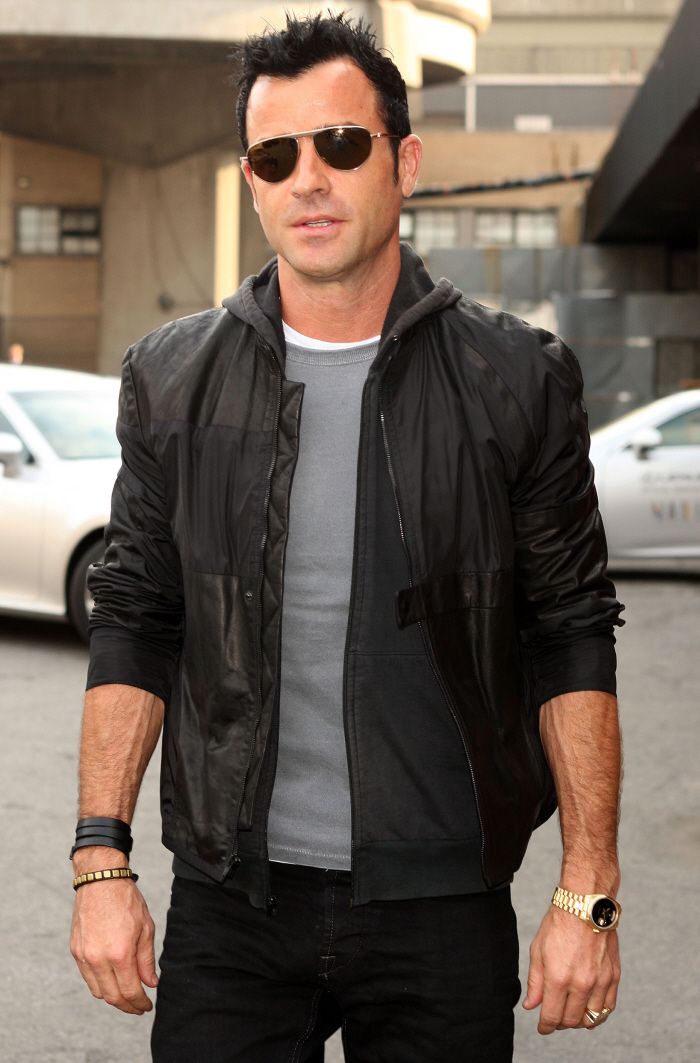 Photos courtesy of Fame/Flynet and WENN.