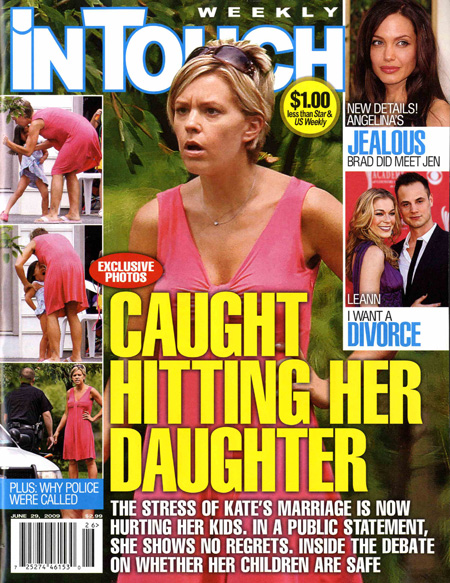 We've seen Kate Gosselin spanking her children. In Touch ran a cover in 2009 (above) featuring Kate smacking one of her sextuplets, Leah, when the girl was five. In response to those photographs, Kate said "Whether the paparazzi are there or not, I am a mother first. I love my children and when they misbehave, I discipline them as I deem appropriate for the situation." Just prior to those photos coming out, a former staffer of Kate's told The National Enquirer that she regularly used a plastic spoon to hit the children, very hard, for minor offenses. According to the source, Kate would make sure she smacked the kids off camera so that it wouldn't be shown on "Kate Plus 8." I guess Kate is conscious of how she looks with the cameras around even though she tried to play like she doesn't pay attention to them.
A new book is coming out on Kate Gosselin, and it may paint her in an even worse light than we've seen on her show. The author supposedly had access to the diaries Kate used as source material for her books. In unpublished entries, Kate admits using a wooden spoon on her children she nicknamed "the spanker," and being afraid that she would do real harm to them. If this is true it's too late now:
"She was beating 2-year-old babies in diapers," reporter Robert Hoffman, who claims he found secret journals that Kate used to help her write her books, Multiple Bles8ings and EightLittle Faces, told Star magazine.

According to Hoffman, the former Kate Plus 8 star kept detailed notes on her computer about using a wooden spoon to hit her children, yanking them around by their hair, and punishing them for transgressions as minor as trying to climb out of a crib or not adjusting to potty training quickly enough.

"I don't judge somebody for spanking, but what Kate wrote in her journal is just absolute violence," Hoffman tells Star exclusively.

He adds that Kate's lawyers attempted to block his forthcoming book, Kate Gosselin: How She Fooled the World.

Kate's own words may indict her, claims Hoffman. One example: When three of her children helped themselves to M&Ms without permission, she allegedly wrote, "I really, really lost it! I pulled Collin up by the hair, and I spanked them so hard!"

Kate, 37, also utilizes a wooden spoon, which she calls The Spanker, claims Hoffman.

"She uses that Spanker on a daily basis for anything and everything. The spanking entries are endless," he alleges.

Kate herself often worried about her excessive physicality, allegedly writing in the diary that she told her ex-husband, Jon Gosselin, that she "felt like I may hurt his children," and that she preferred it when the kids were "out of her sight" whenever she flew off the handle, because then she knew "that they are safe."

In another frightening entry, claims Hoffman, Kate wrote that she was so incensed after Collin threw a tantrum, "I sent him to his crib and whipped him into it very hard…I never felt that I may really seriously injure a child, but today was that day."
It must be really hard to deal with six two year-olds and two six year-olds, and maybe Kate's many nannies were not in her bitchy employ at that point. Still, there is no excuse for using a spoon to spank a two year-old child. I've discussed my thoughts on corporal punishment in these older stories on Kate smacking her kids. You can read more there, but I'll just say now that I don't think it works longterm, that it's more for the adult letting off steam than for the child, and that it teaches children that violence is an acceptable response to conflict. That said, I would not get all up in arms about a light smack on the butt. When is it ever acceptable to smack a toddler hard with a spoon like that though?
Also, how did this author get access to Kate's personal diaries on her computer? If this is all true, and I'm guessing it is, I bet that Jon Gosselin was pretty helpful in providing source material.