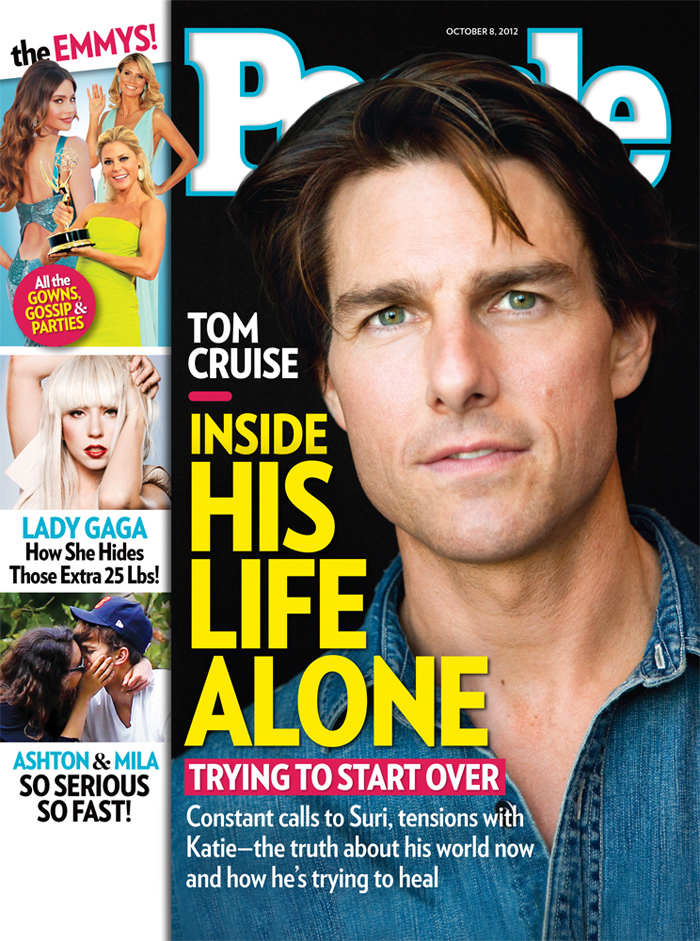 Please excuse me, but I just have to laugh at this story. After Tom Cruise's team made such a huge deal about Katie Holmes "playing the media" by taking Suri out in public, Tom's making his own little deal with the (CO$) devil yet again. As we've already heard, Tom is very upset that people have noticed he hasn't seen Suri in nearly two months, and Tom's lawyer, Burt Fields, took great pains last week to issue a statement about how Tom talks on the phone to Suri every single day, and he just can't help that he's been away all this time on another continent.
Yes, Tom has been busy working in London on All You Need Is Kill, but he's also been spending a lot of time out on the town and partying until 2:30 a.m. with his "mystery ladies" or whatever his team wants us to call them. He also went yachting in Croatia for several days too, which was either just for fun or to pimp Scientology. A lot of this "partying" has taken place during weekends when he could have easily opted to take his private jet and visit Suri instead. Further, I don't buy for a moment that Tom Cruise — who is still, for better or worse, one of the most powerful men in Hollywood — couldn't find a way to postpone this movie while the sh-t hit the fan in his private life. Suri needed him to be there for her first day of school, but he was nowhere to be seen. Hell, even if he had to lose millions of dollars to get out of this movie, he could afford it. The guy could retire now and still live like a king for the rest of his life. So no sympathy for Tom there, right? Well, his team has now planted a cover story in People that takes us "inside his life alone" to share how miserable Tom is without Suri. Like it's not his fault that he has other priorities or something: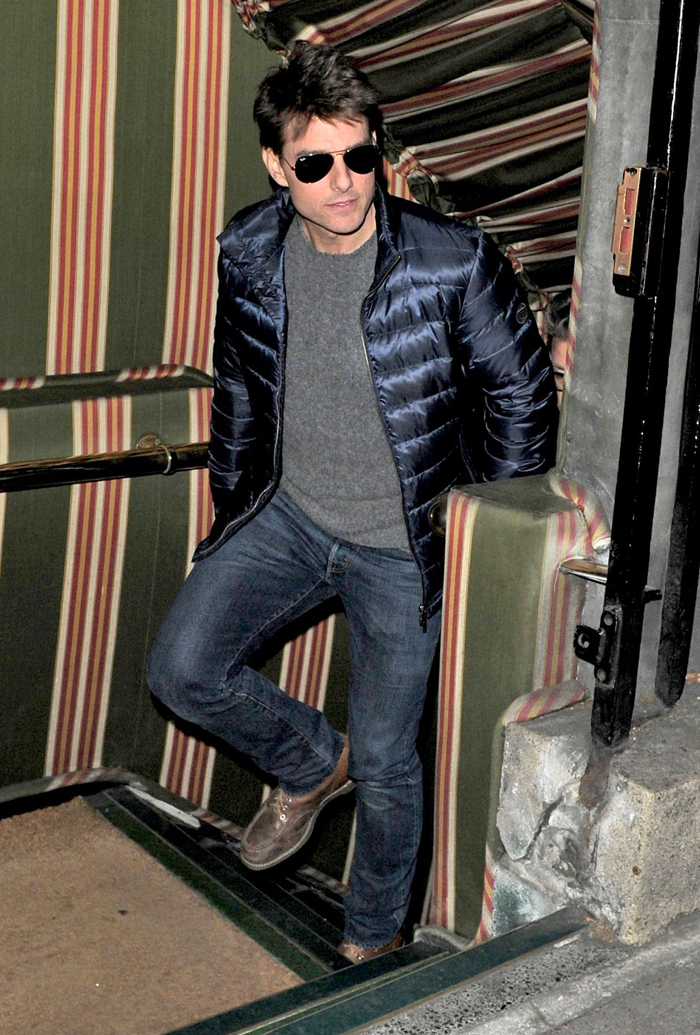 Tom Cruise is dealing with a new — and very unexpected — reality.

Based in London since mid-August, where he is deep in pre-production for the sci-fi action film All You Need Is Kill, the 50-year-old actor has been unable to see his 6-year-old daughter for nearly two months. (The pair were last together on Aug. 5, following a Walt Disney World vacation.)

"I've got to see her," an emotional Cruise told a friend recently. "I miss her."

Several sources tell PEOPLE in this week's cover story that the actor's rigorous film commitments — which he made well before his ex, Katie Holmes, filed for divorce and sole custody on June 29 — have presented an exceptional challenge in terms of seeing Suri.

With Suri now based full time in New York City, where Holmes enrolled her in Manhattan's private Avenues school, she has far less flexibility to visit him on set than under her previous home-school arrangement. Several sources say that a planned visit to London in mid-September was called off.

Still, the newly minted first-grader is a fixture in her father's life, speaking with him several times a day.

"I can tell you that I haven't had a meeting with Tom that was not interrupted by a phone call with his daughter," says his friend, screenwriter Christopher McQuarrie.
[From People]
The message here? Bad Katie. She went and enrolled Suri in an actual school with an actual schedule! That was clearly against the rules, no? Again, Tom can always find a few days to hop his happy CO$ ass on a plane and see his kid. It doesn't need to be some protracted extravaganza where he waves at the paps, flies Suri to Cinderella's castle suite, and invites a tabloid reporter along for the ride. But I guess that's the only way Tom is willing to be a father to Suri. He just doesn't get it, you know? Even after Katie left him, he still doesn't get that his absence (away for months at a time and only swooping in for a pre-premiere weekend set of photo ops) could be part of the problem. Like I've said before, Tom wasn't around for Suri while he and Katie were married, so there's no reason for him to understand how important it is to be physically present for Suri now. As for this pity party for Tom, I don't buy it at all. If he wanted to see Suri, he'd find a way to fly and see her no matter what. Instead, Tom's only performing pre-production duties for this latest movie (the cameras aren't even rolling yet!), and he's still dragging his lift-adorned feet. Poor little Tom.
As a side note, Page Six reports that Brooklyn was kind to Katie and Suri over the weekend when they went flea marketing with a bodyguard in tow, and nobody bothered them. The girls reportedly looked "relaxed and happy," and I'm sure Suri was relieved to not have flashbulbs popping in her eyes.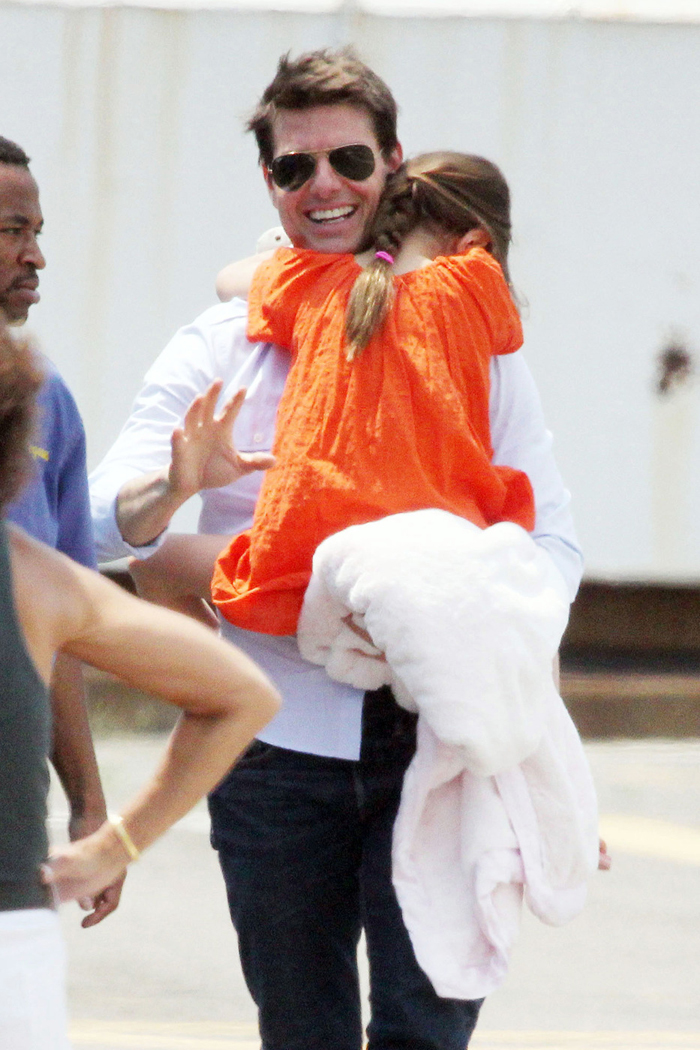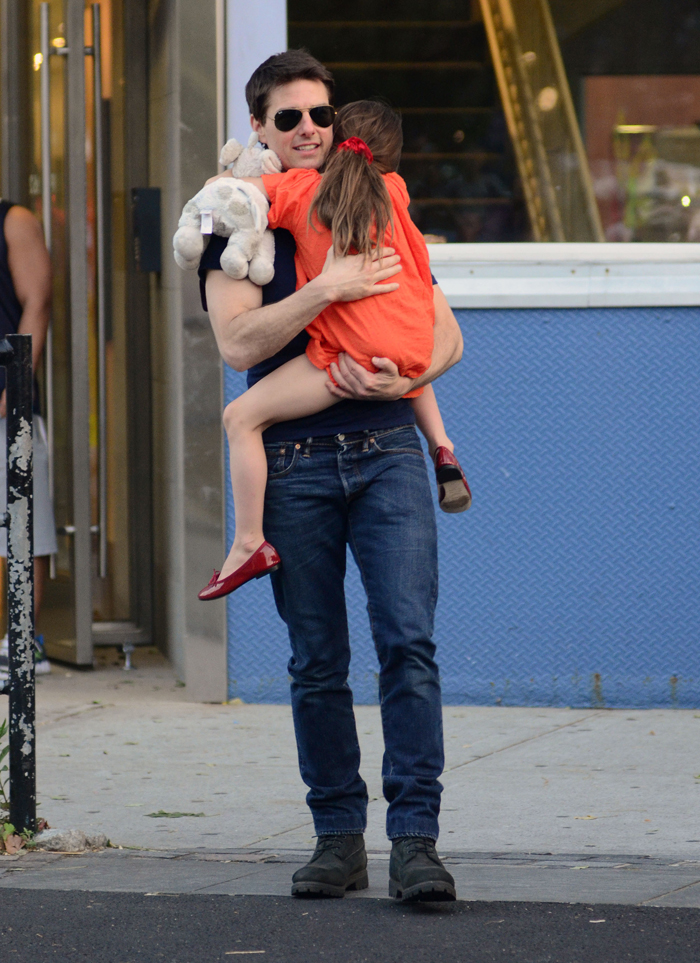 Photos courtesy of Fame/Flynet, Pacific Coast News, and WENN