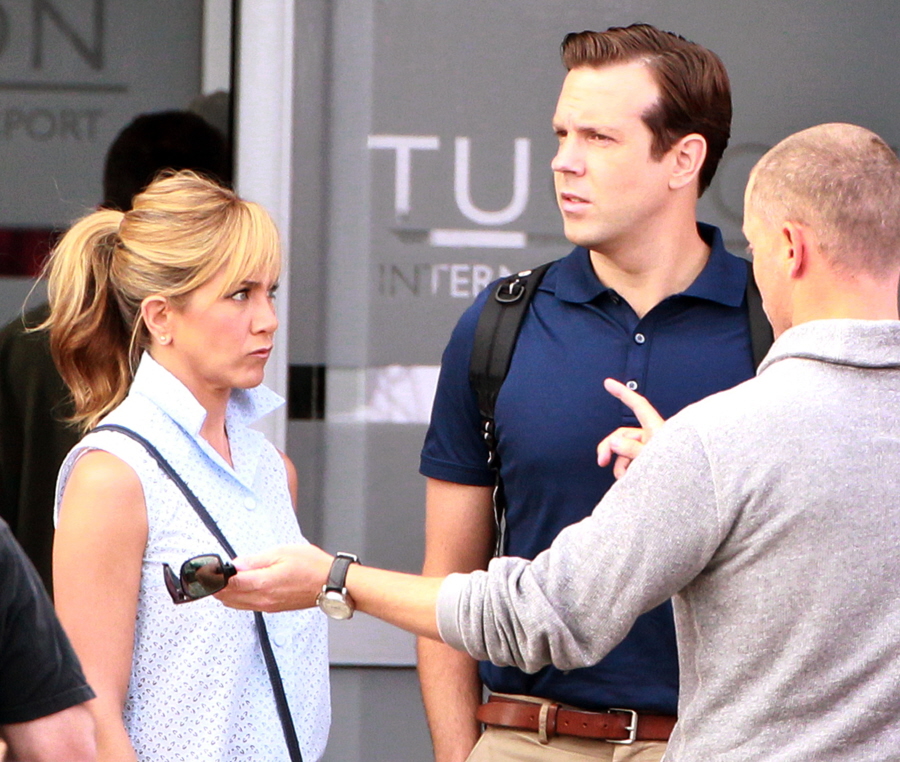 These are some new photos of Jennifer Aniston and Jason Sudeikis filming We're the Millers in Albuquerque, NM. This film production has been all over the place, right? And it keeps going and going. It's not like they're making Citizen Kane or anything. Hopefully, they'll be wrapping this up in the next few weeks, because otherwise… it just seems weird that they would be working this much on what seems like a dumb comedy. As for Aniston's facial expressions, she's sort of cracking me up. I don't know if she was being photographed while "acting" in a scene, or if she's being given some piece of direction or what.
In other Aniston news, last week's National Enquirer claimed that Jennifer might be getting a very special engagement present from Justin Theroux. Who she pretty much hasn't seen since they got engaged a month ago.
JENNIFER Aniston is set to get a big, expensive present from fiancé Justin Theroux if this latest report is to be believed.

According to American tabloid the National Enquirer, the actor and writer paid a visit to a Beverly Hills Tiffany's after a business lunch looking to find a gift for the actress, and immediately fell for a beautiful platinum heart pendant covered with sparkling sapphires.

"Justin thought the necklace was a couple of thousand – and went into shock when the saleswoman told him it was just more than $15,000," a source said.

"He took a big gulp, pondered a minute, then said, 'Oh what the hell!'

"He told the woman to wrap the bauble, saying he'd save it for a special occasion."
I know exactly the Tiffany's pendant that they're discussing. It's a beautiful piece that I daydream about constantly. At the end of the day, I'd probably prefer the Tiffany sapphire (or diamond!) encrusted teardrop though. Anyway, I think it's a little bit weird that Justin shelled out however much for Jennifer's engagement ring (which we still haven't seen) and then immediately went shopping for another piece of jewelry for Jennifer. Sure, some men are like that – wonderful men who love to give jewelry! But is Justin one of those dudes? It seems out of character for this hipster.
And here's the latest St. Jude's Hospital ad, which includes many celebrities singing "Hey Jude". Jennifer is in there, as is Jon Hamm and Keith Urban, etc.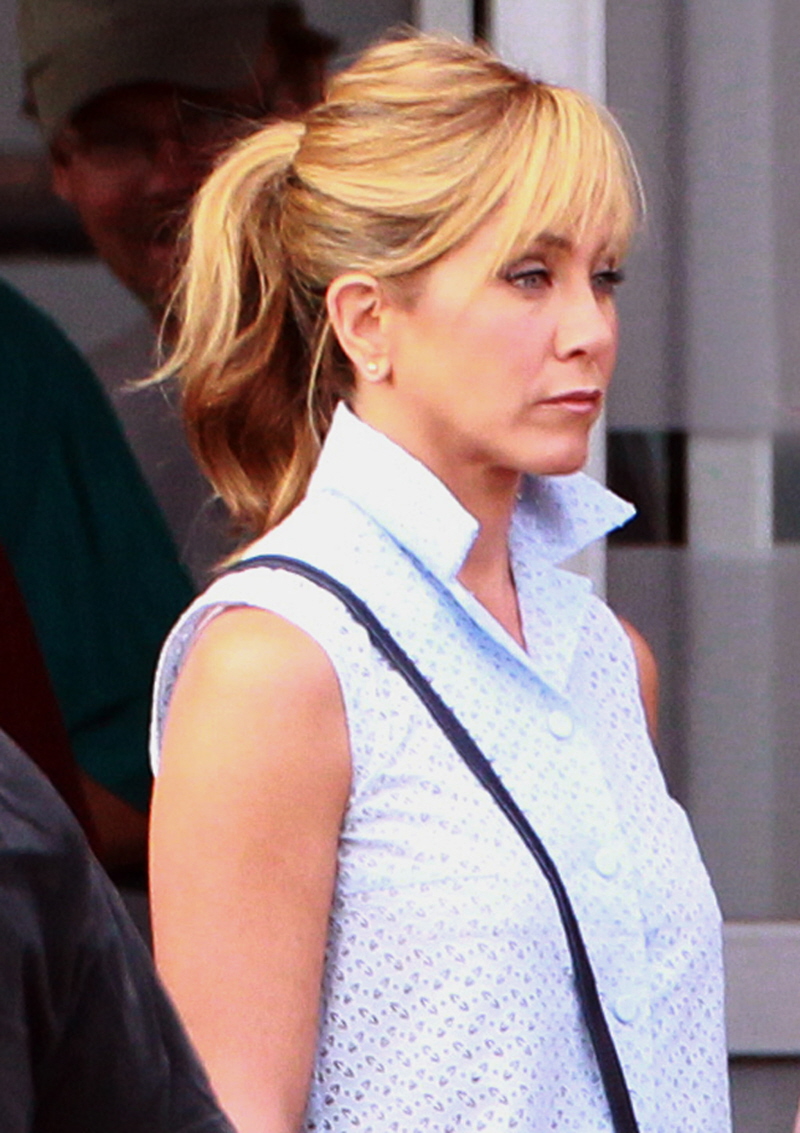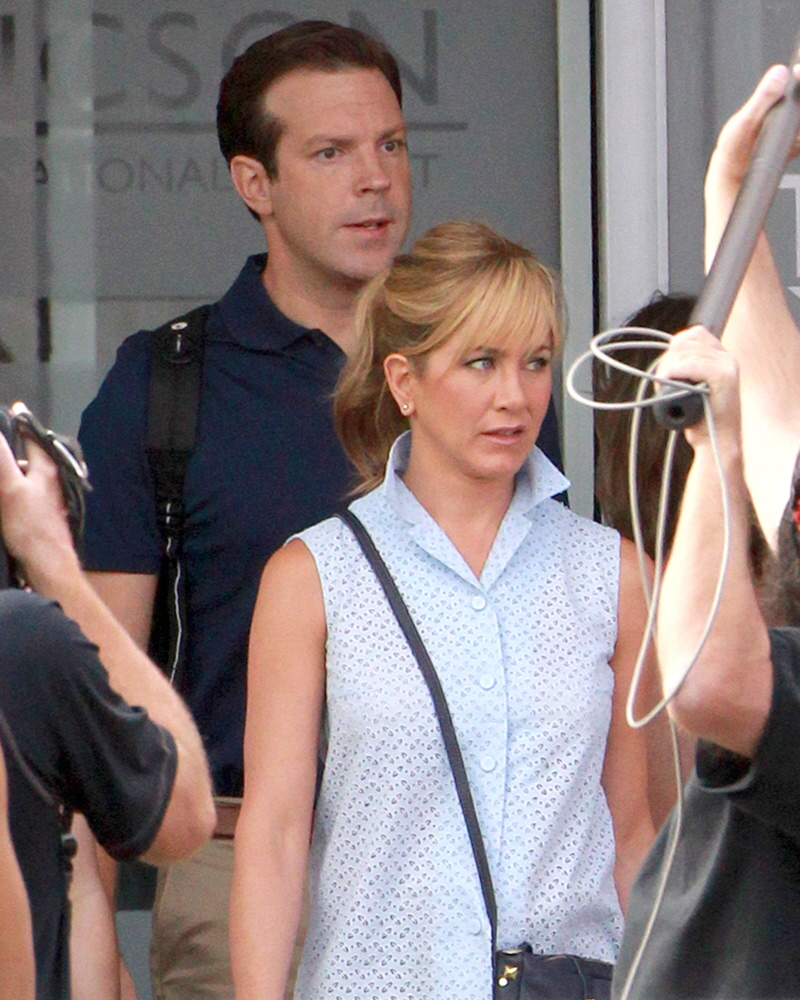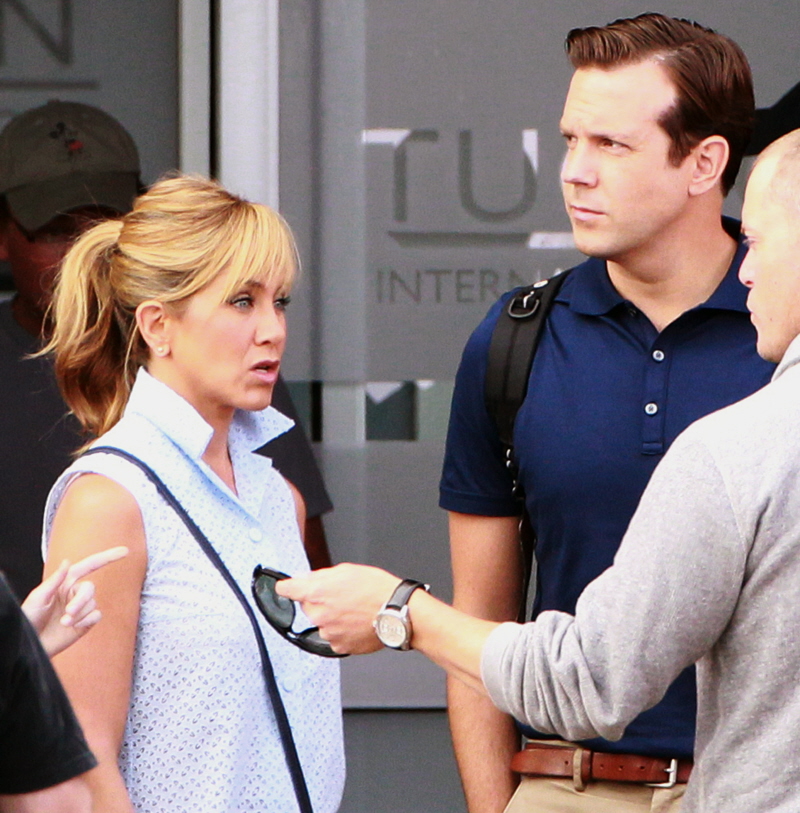 Photos courtesy of Fame/Flynet.