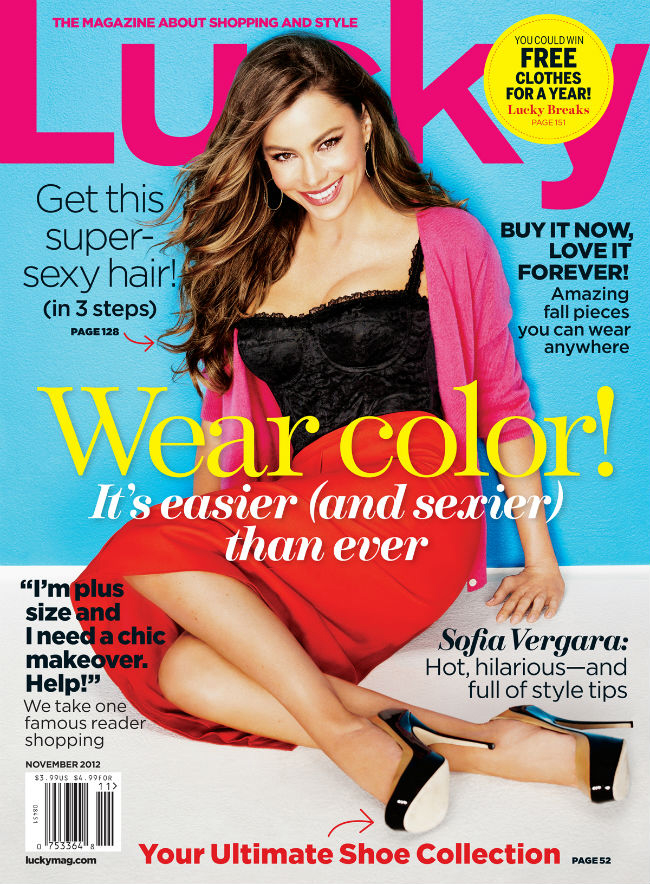 Sofia Vergara covers the November issue of Lucky Mag, and my goodness, it is a doozy. The photos aren't anything special or anything – Sofia's a pretty woman, and she consistently looks great in pictorials. But the interview is surprisingly revealing, even for Sofia, who often spends her interviews talking about her body, her career and her Colombian background with an enormous amount of candor. In this piece, Sofia discusses her fiance, Nick Loeb, as well as her love of luxury and yes, she talks about her boobs. Forever and always. Some highlights:
On Nick Loeb: "We are f-cking professionals at doing nothing. We like to sit around on the beach and drink wine and talk sh-t."

Wedding plans: "Maybe we will just have a little dinner on Capri."

She loves luxury: "I love luxury. I love yachts. I love planes. I love trips," Vergara admits. "I can live without all of them, and I have, but I am not going to apologize and pretend I don't love luxury, because I do."

Her engagement ring: "It is perfection. If it was bigger, it would be too big to wear. But if it was smaller, I would not like."

The idea of having another kid with Loeb: "He is younger than me, 37, and he never had them. So if he wants one, maybe I will have."

She's not opposed to getting a breast lift: "[My boobs] are such a pain in the ass, but I was never insecure about them. But I never think, 'Oh, I'm so spectacular.' I want to show all this off while I still have it. I already know I am going to get a breast lift. Then, maybe one day, when I am done with being sexy, I will just get rid of them."

She kind of hates Gisele Bundchen and her smaller boobs: "I know [my breasts] have opened doors for me, let's be real. But I so hate when I see Gisele and she is wearing a tiny little tank top with no bra, like, 'Oh, I just threw this on, I look so cute.' If I wore that I would look like I was pregnant, or a fat stripper."

Turning 40: "Turning 40 is horrible. People that say it isn't are full of s**t."
See? This is a lot of candor from a celebrity who is known for candor. I've never heard Sofia talk about her willingness to have another kid with Nick Loeb – she always seemed like, before now, she didn't want to do the motherhood thing again. I always thought that was one of the reasons why she and Nick didn't make that much sense – he wanted babies and a wife (and hookers?) while Sofia wanted a luxury vacation and lots and lots of mojitos.
As for Sofia's comment, "If I wore that I would look like I was pregnant, or a fat stripper" – I know EXACTLY how she feels. There are just some clothes that the large-breasted cannot pull off, because we will look A) fat, B) trashy, C) pregnant or D) all of the above. Most large-breasted ladies learn this early on, when our friends are like, "Ugh, padded bras!" and we're like "Ugh, I guess I need to go up to the DD." We cannot wear high-necked shirts. We can't wear belly shirts. We can't show too much cleavage. It's always about balance for the large-breasted. *plays tiny violin*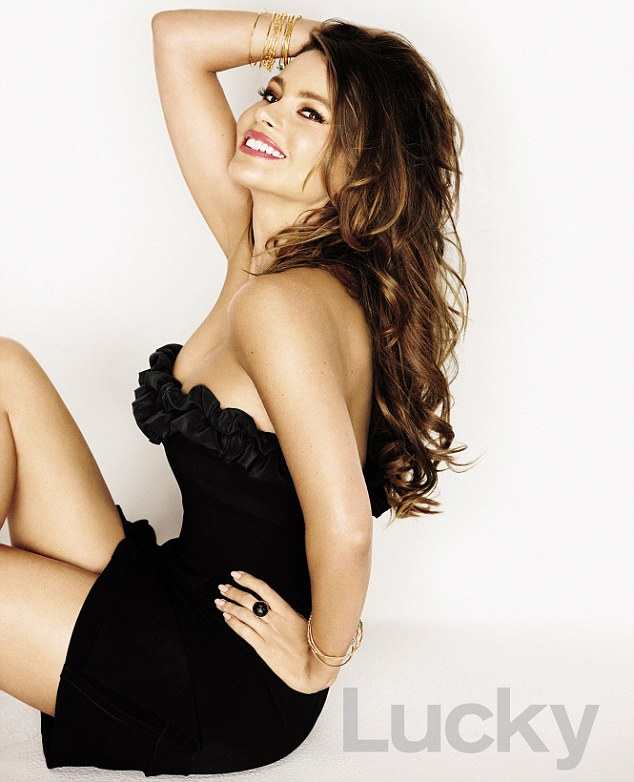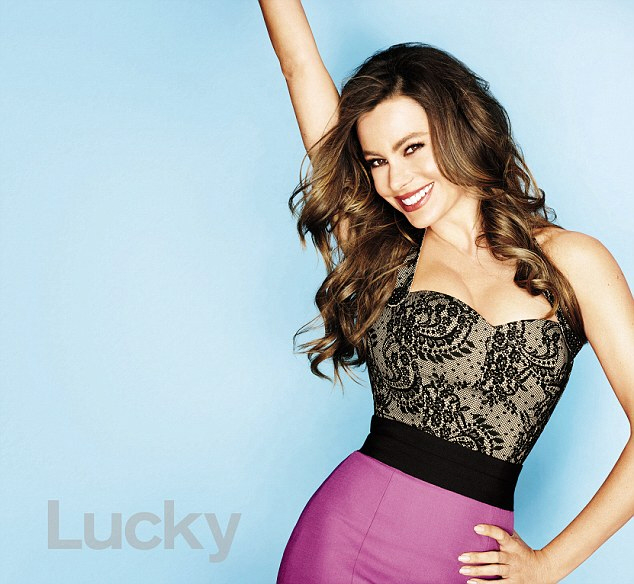 Photos courtesy of Lucky Mag.