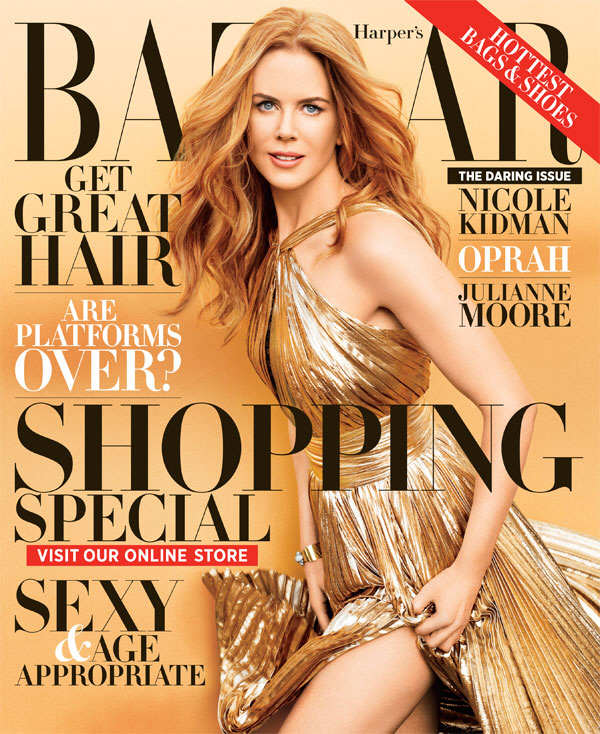 UGH! Terry Richardson photographed Nicole Kidman for the November cover of Harper's Bazaar. Gross, right? Nicole Kidman, who is trying to simultaneously prove that A) she's just a down-home Nashville mom with two small daughters and B) that she's still the sexiest, coolest actress around. Can those Two Nicoles exist simultaneously? Can The Two Nicoles co-exist in a monster-truck-themed Terry Richardson photo shoot? Ugh. Anyway, you can read Nicole's full Bazaar piece here, and here are some highlights:
Taking on roles: "I attach, I attach so deeply that it's quite scary for me. I'm drawn to the psychology of really interesting, flawed people."

She's reserved: "Yeah, I'm different than what they think I'm going to be," she says of her perceived hauteur. "I'm reserved. I'm more of an introvert than an extrovert."

Landing in New York in 1989: "I grew up with the song 'New York, New York,'?" Nicole says. "I just remember getting off the plane and being completely overwhelmed." She started auditioning, once for Ophelia in Hamlet at the Public Theater, directed by Kevin Kline, who she idolized. "I just crammed Ophelia into my brain. I felt very glad I trod the boards in front of Kevin Kline."

The early years with Tom Cruise: Her career began an upswing, and later that year she met Cruise on the set of Days of Thunder. So started the period she now refers to as "fame by association." In those early years, "it was like, 'I'm here and I'm clutching onto your arm, and it all feels a little overwhelming and really strange,' " she recalls. "And I was shy. Deeply shy. I didn't feel comfortable at all. But I felt very comfortable at home."

Her career post-divorce: "I started to do what I've been doing since I was 14, with some gravitas." It paid off: The supernatural thriller The Others was a hit, and she earned an Oscar for her portrayal of Virginia Woolf in The Hours. "Having your work be the basis of fame, that's a far more stable feeling."

Fame and work: "I don't really celebrate fame because I get enough attention. I'm willing to step aside. And when I work, I work. Wholeheartedly." Not surprisingly, Nicole has nothing to say publicly on Cruise's divorce from Katie Holmes, characterizing her recent turn back in the gossip mill as "very, very fleeting. I'm not caught up in any of it. It's not really a part of my life."

The mythical work-family balance: "I'd love to say that it's easy, but it isn't. I miss them so much when I'm away. And so I limit the amount of time away through no other reason than I just love, I love them. But that's my personality. I get 3 A.M. panics because I'm so attached."

Her family, being married to Keith: "Time goes by so fast now, and having raised two little kids who are now adults and two new children in the world, it's fleeting." However, she has found permanence in her relationship with Urban. The couple, who met in 2005, have been married for six years. "He just gave me confidence," she observes, "through just being very kind to me and understanding me, opening me up to trying things, my sexuality, those sorts of things." After the adventure of Cruise, she characterizes Urban as "more like an ocean; he took me out." She has always appreciated "a bigger, stronger personality; that's what I've been drawn to. I need protection. Everyone wants to feel someone's got their back."

On the red carpet: "I make sure to wear comfortable dresses," she explains, "because I want to be able to go out afterward and, you know, bend." Her most famous look is the now legendary chartreuse Dior dress she wore to the Oscars in 1997. "It's packed in a box with tissue paper, and it will be donated to a museum." As for her other couture pieces, "whichever daughter loves clothes more will get dibs on all those. But I keep them in the same way that I'd keep a painting."

Body image: "[It bothers me] Less as you get older. All of that other stuff becomes less important. Like, I've always had a little belly. I mean, now that I'm 45, they don't say, 'Oh, she's pregnant!' as much. But I've got skinny arms and legs, and then I've got a little belly." But who cares when your legs go for miles? "In high, high shoes, that helps! Like a minx."

Is she daring? "I would hate to go back and think, I wish I'd been a little braver"
Well… sigh. I know the Kidman fan-girls are going to hit me for saying this, but I think Nicole is really full of it in this interview. She wants to be seen as more easy-going and relaxed and devil-may-care, but really… Nicole can't hide what she is. It's written all over her marble-like Botox-face. She's neurotic, she cares too much, she's a perfectionist, and she's very tightly-wound. I actually rolled my eyes at "I make sure to wear comfortable dresses." Botox, please. Nicole is all about the BIG fashion moments, and historically speaking, she cares more about the dress than her own comfort. Why can't she own that? Is it not mom-friendly enough if she admits that she flat-out LOVES fashion and loves to have a high-impact moment on the red carpet?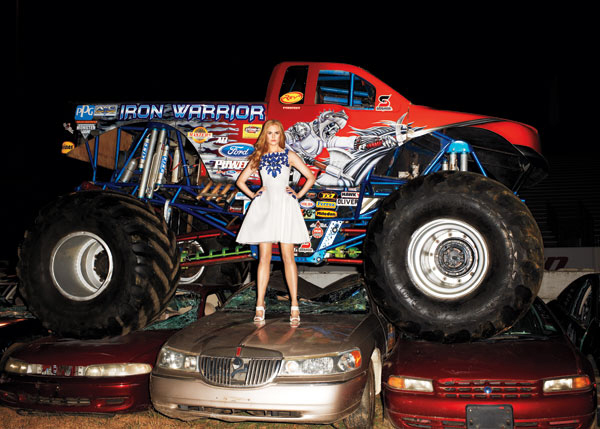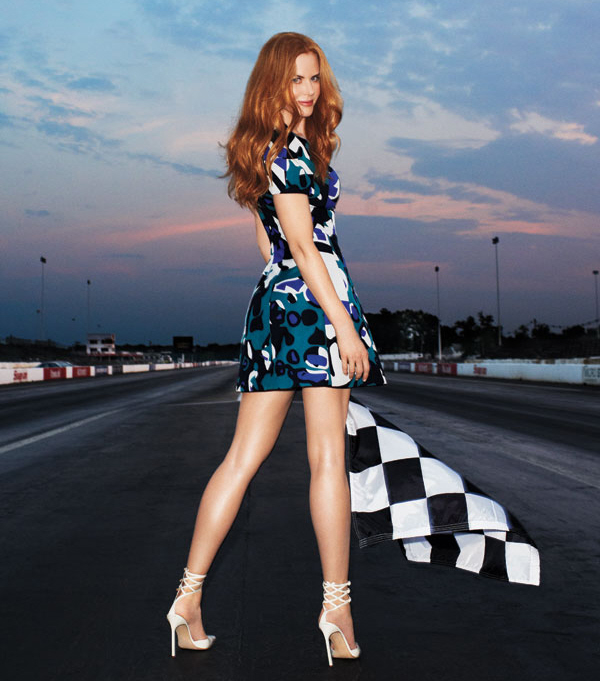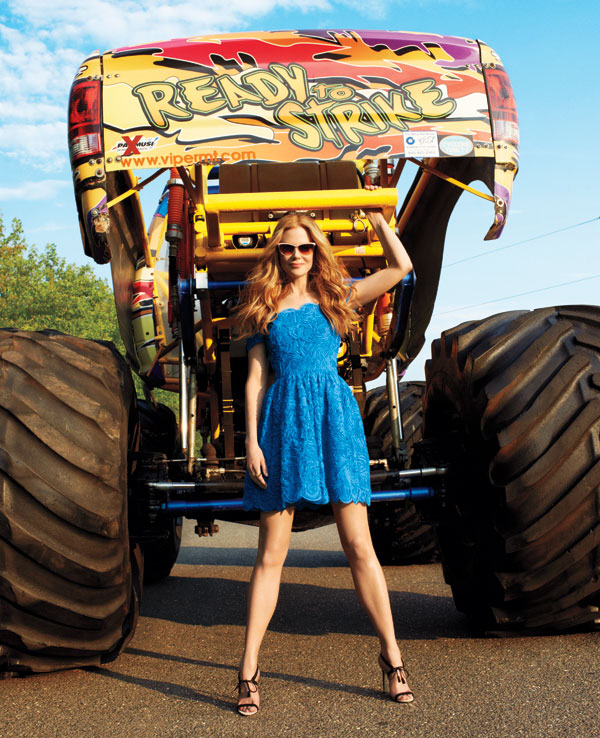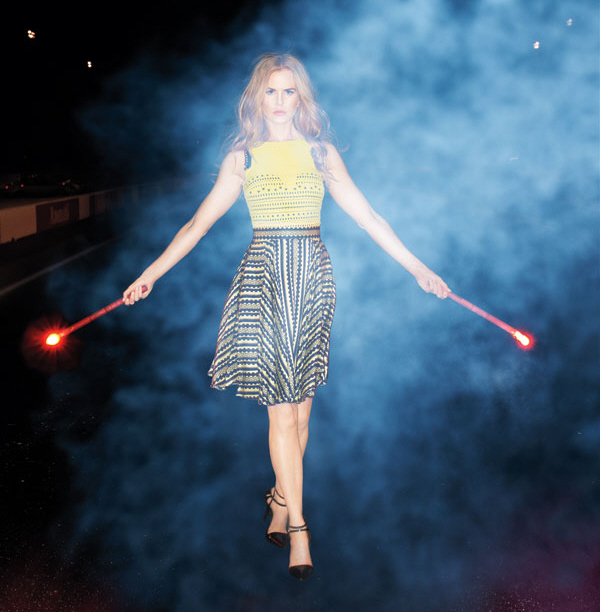 Photos courtesy of Terry Richardson/Bazaar.