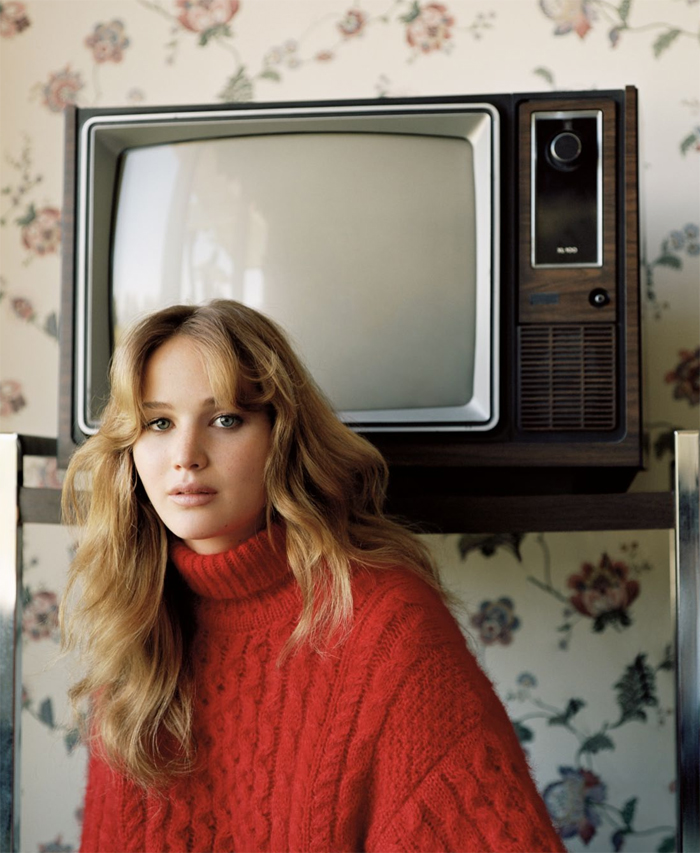 Last Friday, we covered Jennifer Lawrence's November Vogue UK cover and part of the shoot, and some of you didn't see why I characterized the shoot as slightly trashy. So I'll clarify and say the shoot was (to me) trashy not because it looked slutty or anything but because it seemed underdone (fashion-wise and the styling too) on the part of the magazine. Trashy in the sense that it was a lazy shoot especially for a Vogue cover feature and because the cover itself (which was lovely) stood in such sharp contrast to the social media-esque nature of the editorial. My opinion was only based upon a sliver of the shoot itself. Now the rest of the editorial has been revealed, and it is indeed a parade of bad sweaters, "that wallpaper," and awful winged bangs.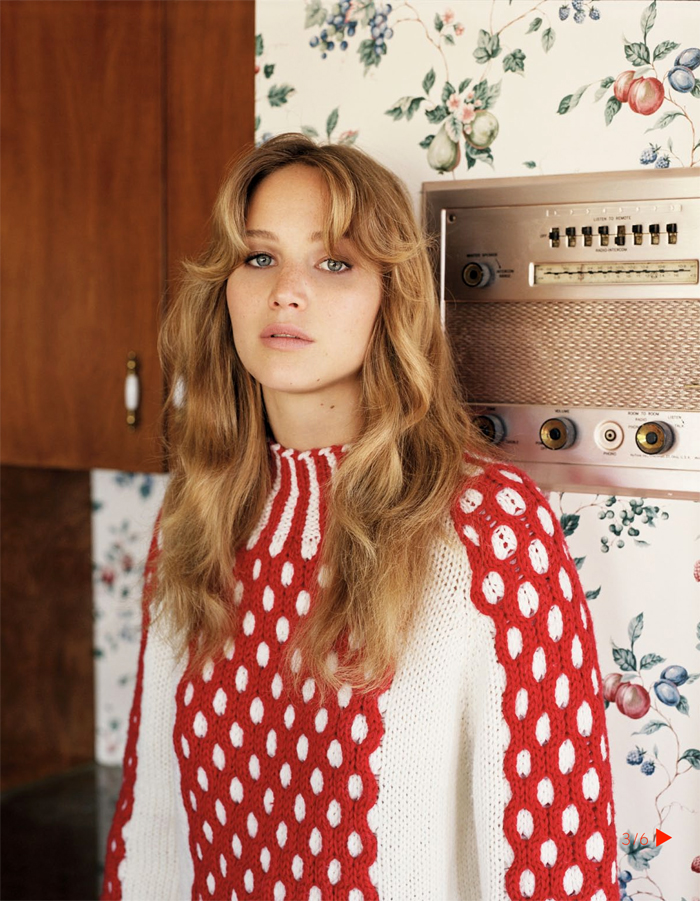 However, Jennifer's full interview is much more promising than the tiny excerpt that we covered last week. Among other things, Jennifer talks about making fart jokes with Michael Fassbender on the set of X-Men: First Class, and she also discusses the criticism she has received for parading a healthy figure in Hollywood. That second issue goes back to those terrible remarks about how Jennifer was allegedly too "beefy" to play Katniss in The Hunger Games, and her response at the time was "they are criticizing me for looking normal." That little kertuffle occurred back in early April, and JLaw hasn't fallen into the trap of dieting her way into a size 2 just yet, so I'm pretty sure she meant what she said (unlike Lady Gaga, who claimed empowerment after she gained a bit of weight and then proceeded to lose it all within a few weeks) and won't turn into a stick insect. The Vogue UK interviewer notes that Jennifer indulged in "five slices of deep crust [pizza] with ranch dressing on the side" for dinner, but it's not like the girl has just lucked out with an impossibly quick metabolism. She goes to the gym within reason. Before I ramble on much longer, here are those excerpts:
On the pressure to lose weight in Hollywood: "Oh God, yes, I'm so tired of the lollipops. I mean, if I looked like that I wouldn't be tired of it, obviously. But it's hilarious, the way I'm supposedly the overweight one? Like, they got me at the movies yesterday and the caption read somethin glike 'Curvy star cannot wait to dig into tub of popcorn." I mean, c'mon! I'm just a normal girl who likes to eat. At least they got me using my hands."

On being a role model: "[T]here's a responsibility I'm aware of. In one sense, luckily, it comes naturally because I can't stay out beyond midnight. I don't really have an exciting life. But if you mean, am I a natural leader? No. It's funny, my friends were joking about how I was so not the person who's in charge of taking turns to go in the hot tub. I just appear that way."

On reading material: As Donald Sutherland, one of her co-stars, recently put it, she's a "wonder" — akin, in his eyes, to Laurence Olivier. Sutherland, by the way, was so astounded she had never read Anna Karenina, he gave her a copy on set. "And do you know what? I feel like a pretentious pr-ck for saying it, but it really is my favorite book," says Lawrence. "Like that quote that goes, 'Respect fills the empty place where love should be'? If I had a Myspace, I'd do that as my ad."

Stanley Tucci on JLaw: "Jennifer is extraordinary. She's one of the few people her age who has that sort of maturity without being cynical. She's also got this amazing sense of technique without sacrificing any spontaneity. I mean that takes most of us 50 years to learn!"

Michael Fassbender on JLaw: "Whether one is working with Jennifer or watching her on-screen, one can't take one's eyes of her. Her performances are intelligent and logical through what seems to be a natural intuition — she's both aloof and intelligent. Oh, and she's got filthy mouth!"

JLaw on Fassy: "Oh God, Michael, now he really is an artist. Me, I'm just like this idiot girl who doesn't even know what she's doing. He doesn't have any bullsh-t, you know. I can't stand this bullsh-t — even if it's real. Like it's a job, right, and if you can't say a 'who farted?' joke in an emotional scene… I mean, come on! Let's all hang out together! Let's relax! We all fart, right?"

James McAvoy on JLaw: "She's a great role model because she doesn't prostitute herself but at the same time she doesn't take herself too seriously. She takes herself and her profession as seriously as she needs to, but she has a sense of perspective on her life. Yes, she's young, but she's a woman. You know how some actors are still girls or boys? Well, she's very much a woman, and a strong woman at that."

On fame: "Look, you watch these little freedoms being eroded away, like being able to pump gas in peace or whatever, but it's here, and it comes and goes and leaves… My parents raised me to hold down a job, they instilled the work ethic in me. What this is is a job, and that's what I'm doing, hopefully, my job. As far as jobs go, I'd say I was pretty lucky."
[From Vogue UK, print edition, November 2012]
HA. I wonder if Jennifer truly made a fart joke in front of Fassbender. I bet she did. But he doesn't really fart, right? Because he's, you know, physically perfect in every way. I'm not even as crazy about Fassy as Kaiser is (although — little known fact — I was the one to introduce the wonder of Fassy to Kaiser), but the dude is impossible to cut up. And Jennifer probably managed to actually fart in front of him too … while wearing body paint. She really does lead a charmed life, you know?
Beyond the bodily functions issue, Jennifer really does give a candid interview. As Fassy notes, she does appear to curse like a sailor, but I don't see the need in calling her out for it. She seems to drop dirty words into conversation much in the manner of Chris Evans; that is JLaw speaks "without much of a filter and naturally leans towards the profane." Unlike Kristen Stewart, who seems to do it to sound like a rebel.
Here's the rest of the Vogue UK shoot, which I guess I just don't understand. Why did they do this to her? These sweaters are like a tribute to Burt Convy.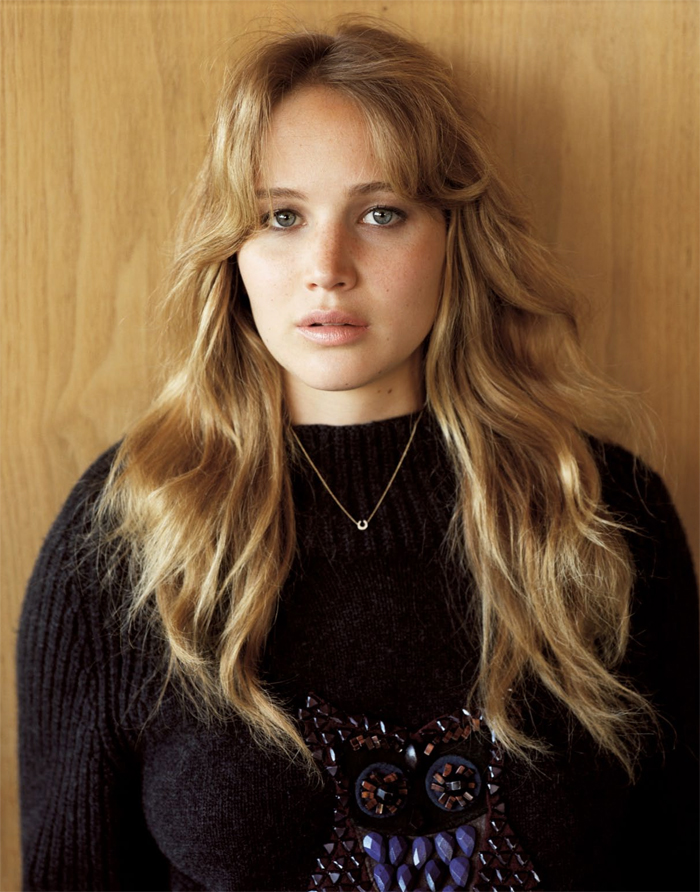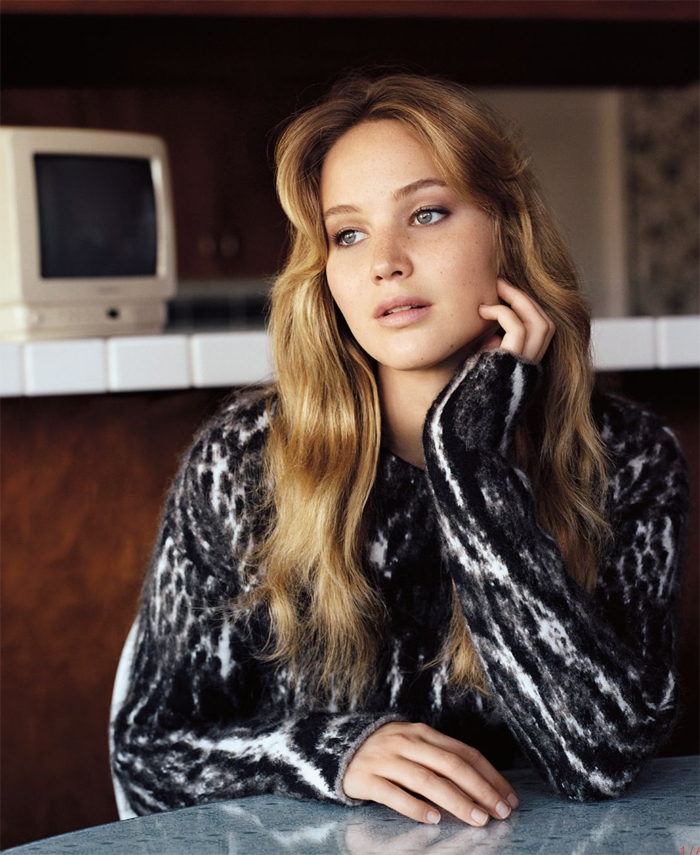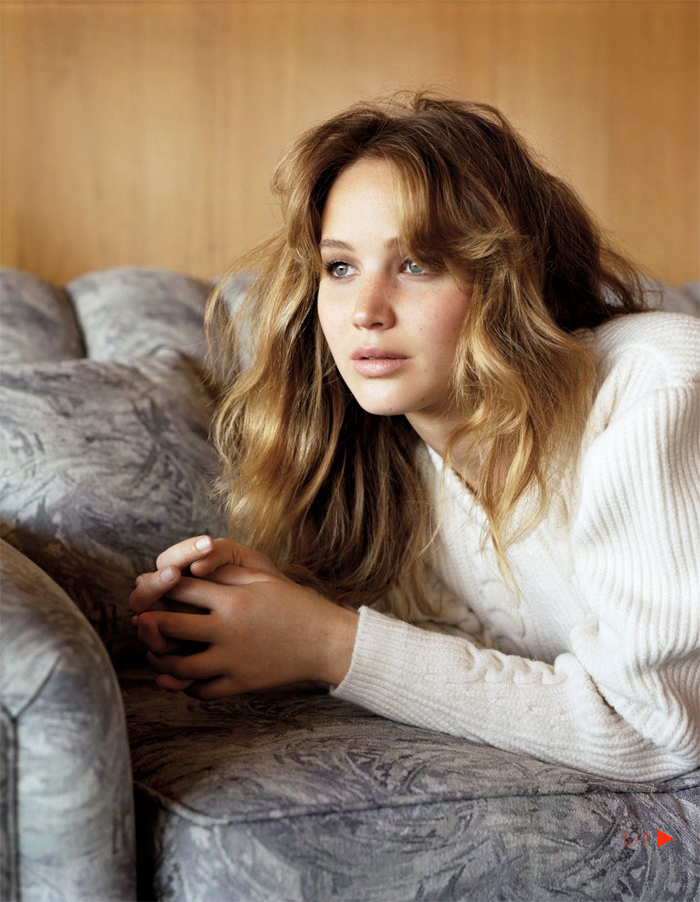 Photos courtesy of Vogue UK