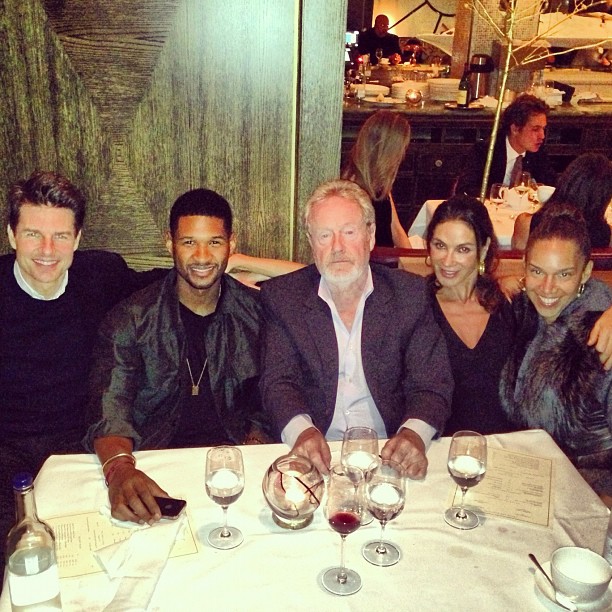 Ugh. Here's a photo from Usher's Twitter page of him having dinner with Tom Cruise and Ridley Scott in London over the weekend. Remember those 2007 rumors about Usher converting to Scientology? Usher is definitely in the thick of it now, and I hate to sound rude, but to quote Stephen King in The Stand, "No big loss."
Today's episode of Tom Cruise insanity revolves around Tom's misguided belief that he can bend time and space just because regularly sits for auditing sessions while holding tin cans and has duly paid his way into an OT Level VIII position in the CO$. The information comes via Marty Rathbun's book, The Scientology Reformation: What Every Scientologist Should Know, which has already received some suspiciously negative reviews from interested parties, i.e. CO$ trolls trying to keep their stats up.
Marty's words are consistent with both former Sea Org member John Brousseau's report on "The Hole" (where CO$ execs are disciplined after disappointing David Miscavige) as well as the Vanity Fair story detailing Nazanin Boniadi's experience with the Tom Cruise wife audition process. Among other things, Marty alleges that Cruise physically assaulted CO$ members at the direction of Miscavige — which we've already heard buzzings about a few years ago but not in this detail. In addition, Marty provides his firsthand account of the evening where Tom yelled at Naz for disrespecting Miscavige because he was mumbling, and she inquired, "Excuse me?" If you'll remember correctly, Naz had already been forced to entertain Miscavige for hours at Tom's Telluride compound; Tom had ignored her physical pain that she was suffering from intense menstrual cramps and bruising after she fell off a snowmobile. All that mattered to Tom was making Dave happy, and when Naz failed to show Dave the proper "respect," Tom had one of his underlings remove her from the premises and disciplined for months afterward for her "crimes." Here is an even more detailed account from that evening: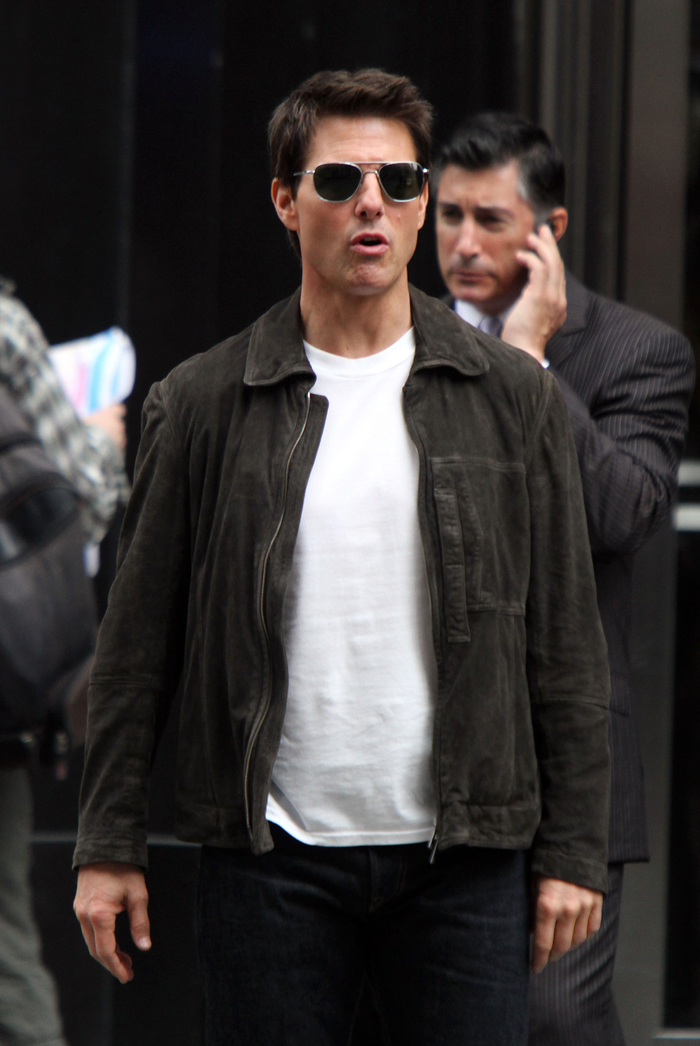 Excerpt from Chapter 8: The Gates Of Hell

…Miscavige's reaction to my escape was chilling. He ordered John Brousseau, his resident handyman – and the architect of most of the Tom Cruise vehicle and home upgrades – to install prison bars on all windows in the Hole so that no one else could escape.

With me out of the way, Miscavige's madness was unbridled. He began to tell Tom Cruise tales of having to physically beat the degraded beings in his environment to keep them in line. Cruise followed suit, doing the same to his own staff. Michael Doven, his long-time personal assistant, started receiving regular physical abuse from Tom. Another of Tom's staff – a woman – was grabbed and slammed up against a file cabinet by Cruise for failing to show him proper respect. He railed and screamed, like Miscavige, when he discovered a near-microscopic chip in a drinking glass handed to him by one of his staff. He was convinced the degraded beings were steadily sabotaging him, stalking him like the zombies from Night of the Living Dead. Tom even physically abused the one-time international spokesperson for Scientology, one Tommy Davis.

Miscavige was happy to have Tom ape his own psychotic behavior. He once briefed the inhabitants of the Hole that Tom was fully informed of their conspiracies to destroy Miscavige. He told the assembled that Tom promised to come to the Hole to give Yager, Ray Mithoff (the highest scriptural authority in Scientology) and the former executor of Mr. Hubbard's will, Norman Starkey, black eyes if their confessions were not to Dave's liking. In order to prevent the world's biggest star from having to do Dave's dirty work, the leadership within the Hole decided they had better do it first. The eighty staff went into a frenzy of punching and kicking the trio, fattening the lips and blackening the eyes of all three.

By mid-to-late 2004 Tom was so locked in to Miscavige's spell he was incapable of comfortable socialization with the outside world, at least on an intimate basis. He asked his best friend Dave to help him find a good-looking Scientologist wife, so he would not wind up with another degraded being like his previous two wives…

…During this same trip, Nazanin (the Miscavige chosen Scientologist wife-to-be for Cruise, Nazanin Boniadi) apparently "disrespected" Miscavige in front of Cruise, by seeking to clarify his trademark staccato comments a couple of times. This prompted Cruise to begin showing Nazanin his ugly, "big-being" side. Tom took her into his home office to give her a "reality adjustment" in front of Tommy Davis, who remained quiet the entire time.

Sitting across from Tom at a wide table – like an employee set down for a tongue-lashing from the boss – Nazanin could hardly believe what she was hearing. Tom looked at her like a frustrated, overworked executive, let down by a degraded-being underling. Then he gave her the intense, laser-focus stare. "You don't get it. It goes like this," Tom explained. He raised his hand above his head, palm downward. "First, there is LRH." Moving his hand down a couple of inches, he continued: "Then there is COB (David Miscavige)." He brought his hand down to his own hairline, highlighting the intensity and seriousness of his words: "Then there is me."

Nazanin looked at him stoically, hiding her shock at Cruise's performance of his best Jack Torrance – the psychotic killer played by Jack Nicholson in the film The Shining.

"Dave and me, we're big beings. We are surrounded by DB's (degraded beings). DBs can't help but try to destroy big beings. That's just the way it is in this universe. You have to understand this. This is LRH, man. It's the plight of the big being getting jumped on by all the degraded beings. You gotta be unreasonable to survive around a big being like me. You can't be weak. You gotta be strong to protect the big being from all the degraded beings." Cruise slammed his fist on the table, veins popping out of his neck from the intensity of his tirade.
[From Mark "Marty" Rathbun's Place]
As awful as this sounds for Naz to have endured (and then she was forced into harsh physical labor where she was made to listen to Tom's Medal of Valor speech on a loop), just think of how terrible it was for Katie to be married to the screamer for five years. Seriously, this is how Tom Cruise thinks of everyone who isn't himself or David Miscavige. All of those people who buy Tom Cruise's movie tickets? Degraded beings. Katie Holmes and Suri? Degraded beings. There, I said it. There will be no crisis of faith for Tom over Scientology. He does not blame Scientology for his divorce. Tom Cruise is a "big being," and all the rest of us cannot help but stand in his way and try to ruin life for him. One day, he and Dave will climb in their little spaceship of love and fly away, and we'll all regret making fun of Tom and his lifts.
Oh, and here's a bit of gossip about Tommy Davis, the former head of the Celebrity Centre who went missing a few months ago. Everyone sort of assumed that he'd been tossed into "The Hole" or shipped off to another location for punishment, but Davis has supposedly fled the CO$ and has been bunking with Rathbun, unofficially. And another one bites the dust.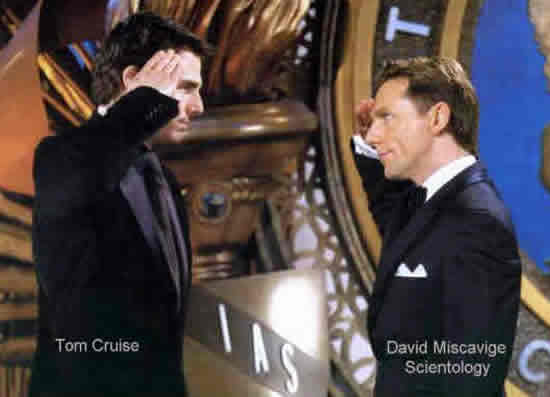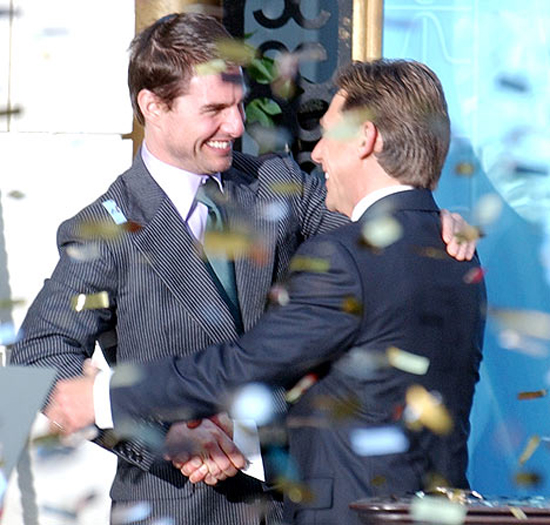 Photos courtesy of Twitter and WENN