Here are some photos of Miley Cyrus and Liam Hemsworth grabbing some coffee together on Wednesday. Would you ever guess that Miley is becoming a Bridezilla? A new story in this week's Star says that is precisely the case, and I suppose it makes sense for Miley to focus on the details of her wedding when she has little else going on in her life right now. She's so lucky like that. I'd also love to spend all of my time doing my hair and playing with my dogs, plus a few hours of pilates on a daily basis. But Miley also has a huge extravaganza to plan since she and and Liam became engaged after in June. Of course in August, Miley was all about having "a long engagement," which sounds like a great idea considering their young age, but I honestly thought that Miley was bluffing. I think she really wants to tie this one down, and Star says she's planning a three-wedding extravaganza for next summer. Here we go, y'all:
Miley Cyrus' motto os "Go big, or go home!" The 19-year-old diva is planning not one but three weddings to Liam Hemsworth, Star has learned. The source says one will be at their home in Los Angeles, another in her native Tennessee and yet a third in Liam's homeland of Australia next year. "Miley is planning to wear a different dress at each one," says a friend, who adds the wedding budget is already more than $1 million. Miley revealed that Liam, 22, popped the question in May with a 3.5-carat rock after she sang a favorite song of his, titled "Lilac Wine." "I'm like, 'He's looking at me funny!' And then I knew," she said.
[From Star, print edition, November 1, 2012]
Three weddings and three dresses seems rather excessive, but I guess that's just par for the course for celebrity weddings. Why the rush for next summer though? Maybe Liam thinks that Miley will finally stop tweeting about their bidness once they get married. HAhaha. He must really dig her though, right? I mean, he asked her to get married. Still, I think they're far too young to be rushing into marriage. It's hard enough to stay married (in Hollywood, no less) when one gets married later in life. There's really no use in upping the odds for a divorce by getting hitched before one's personality fully develops.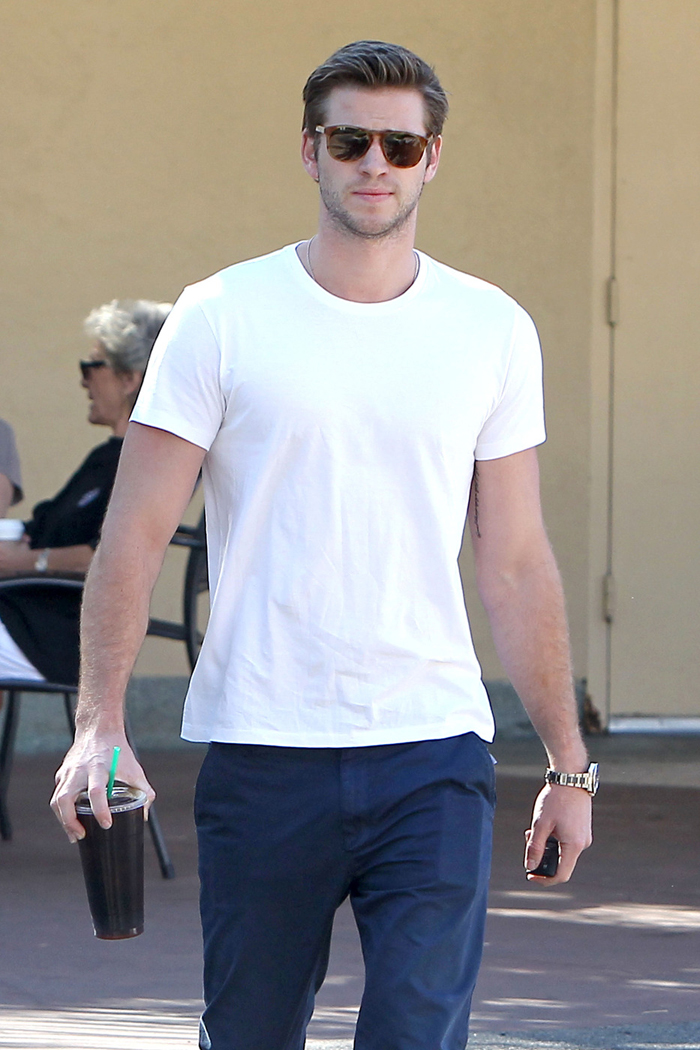 Photos courtesy of Pacific Coast News