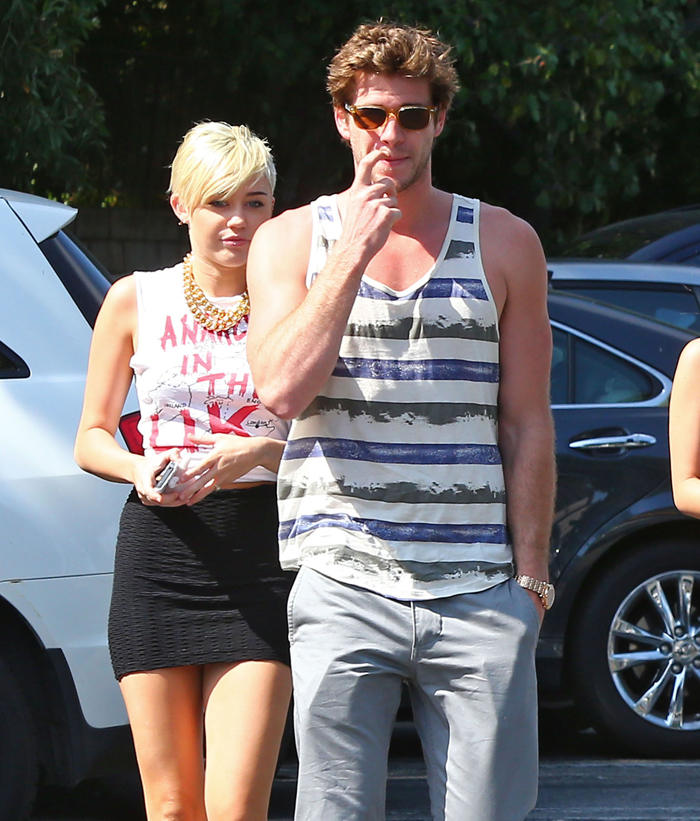 A few weeks ago, Kaiser reported some mild teenage drama that Miley Cyrus had stirred up on her Twitter account. Basically, Miley was going through vaguely existential doubts and decided to express them in a very emo manner, and a lot of people assumed that she was complaining about Liam not being loving enough or some such nonsense. Kaiser's theory is that these tweets weren't really about Liam at all and may have even been about something as random as Miley's new haircut. The theory is quite plausible, and I've sort of been wondering how long it will be before Miley give in and gets some hair extensions. This week's issue of Star would beg to differ and presents that story that Liam thinks the tweets really were all about him, and now he wants Miley to stop talking about their love life on Twitter. He even allegedly wants her to stop tweeting altogether (which poses the question of how Miley would fill her time — but she'd probably just squeeze in another daily pilates classs). Let's review the tweets in question, shall we?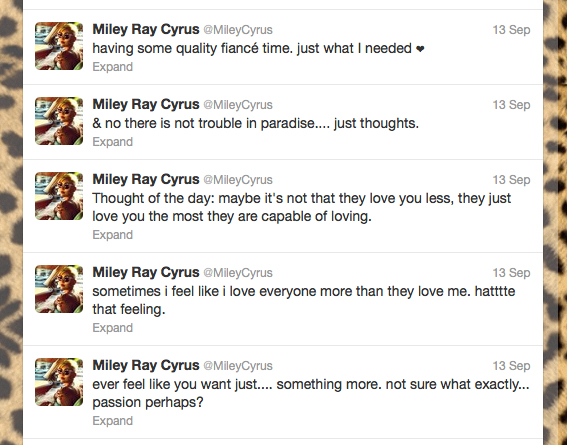 Liam Hemsworth has had enough of fiance Miley Cyrus' Twitter obsession, especially since she used it to take a dig at their relationship on Sept. 13.

"Ever feel like you want just … something more. Not sure what exactly … passion perhaps?" And while Miley, 19, later tried to backtrack, tweeting, "no there is not trouble in paradise … just thoughts," and insider begs to differ.

"Miley's tweet was such a huge insult to Liam. She tried to pass it off like it had nothing to do with him, but it totally affected him, no matter what she tries to say."

In fact, the singer may have been using the open forum to get a rise out of Liam, 22. "She was trying to get his attention, but she just ended up making him pull away from her more," continues the pal. "He thinks she's acting like an immature schoolgirl, and he wants her to get off Twitter completely."
[From Star, print edition, October 8, 2012]
I think the problem isn't really that these tweets could have been about Liam because — who knows? — Miley may or may not have been passive-aggressively tweeting about wanting more attention from her man. The more likely problem, in Liam's eyes, is probably that people assumed the tweets were about him. If this story is true, I could believe that he may have felt attacked or insulted even if Miley didn't mean to direct any of her angst in his direction. She could have simply been talking about "artistic" "passion" or something. God knows that Miley's likely felt a little lost lately without a set career since her adolescence was spent in such a structured environment.
On a related note, I've noticed the general trend that Miley seems to walk behind Liam quite a bit, and he's often got his hands in his pockets while hers swing free. There's nothing necessarily wrong with that if Liam is not one of those naturally affectionate types of guys. If this bothers Miley, however, and she feels that public affection as the mysterious missing "passion" in her life, she needs to realize that Liam just is the way he is. Marrying someone certainly won't make them more publicly affectionate.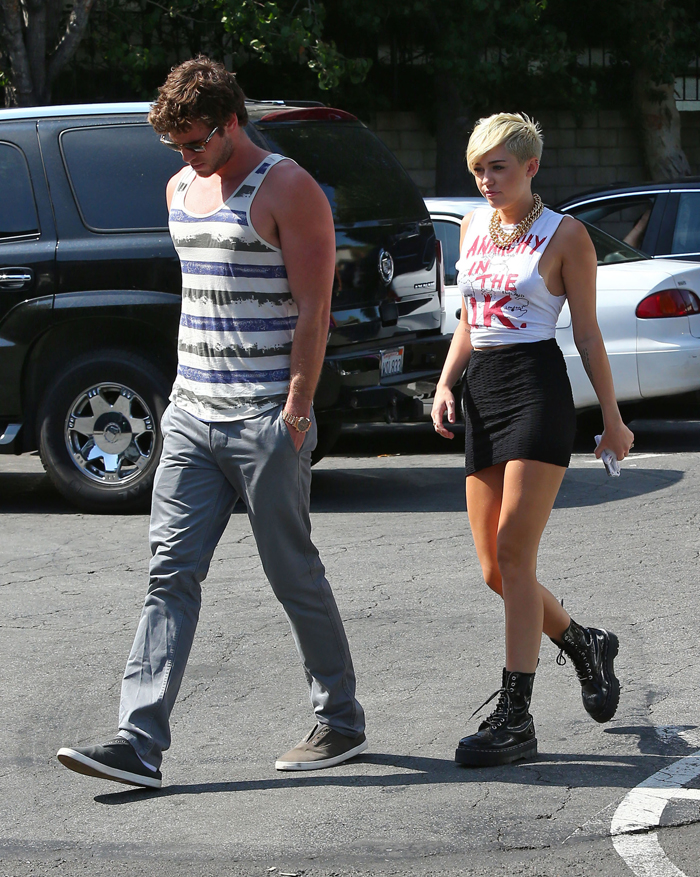 Photos courtesy of Fame/Flynet and Twitter