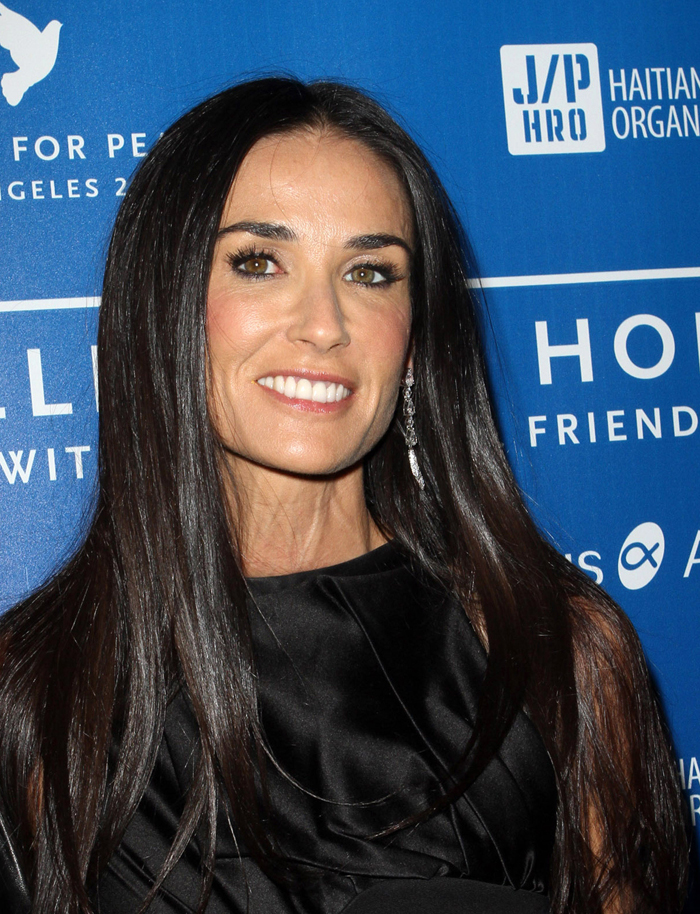 I don't even know what to do with Demi Moore anymore. If I were in her shoes, I think I'd look for a successful businessman in the financial sector or the hotel business (not Andre Balazs) to date. Someone who would appreciate and cherish a woman like Demi and who would encourage her to embrace her experience and maturity instead of grinding on 20-something young things in nightclubs.
But that's not what Demi wants. She desires a new coupling that would, in her eyes, be equal to or even better (again, in her eyes) her union with Ashton Kutcher. We've already heard that Demi finds Ashton's new relationship with Mila Kunis to be quite hurtful, and People magazine even saw fit to print a cover story about Demi's jealous and frustrated attitude about the situation. So I guess it would be a logical extension to believe this new Enquirer story about how Demi wants to one-up Ashton with her own new power coupling. Her intended target? Grumpy chihuahua Leonardo DiCaprio. Really: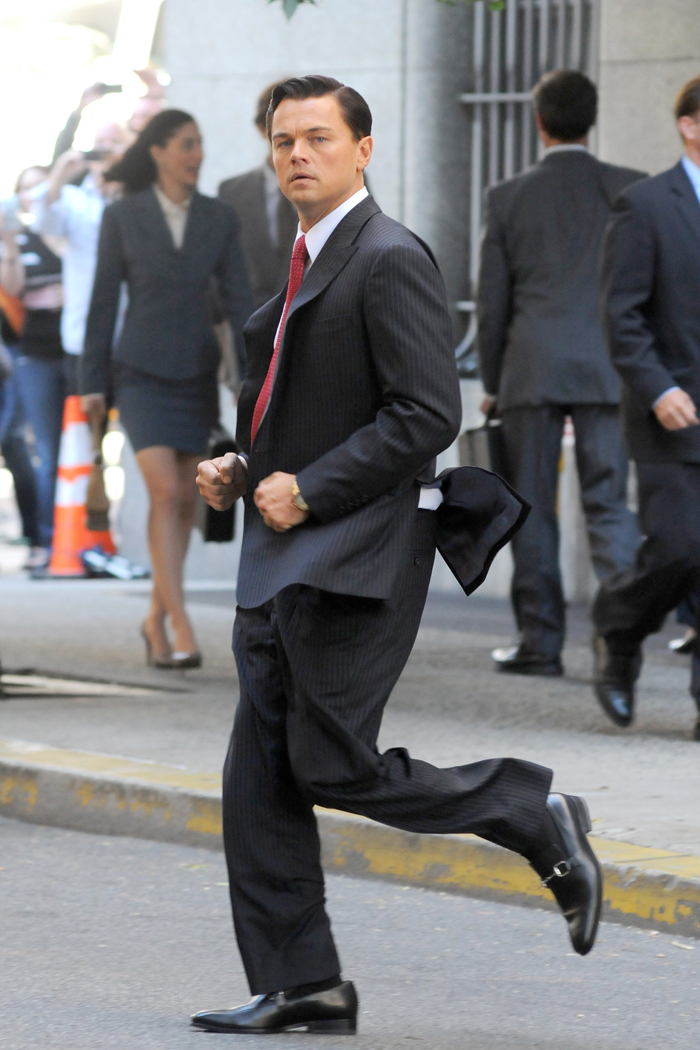 Demi Moore is so desperate for love she's trying to woo back one-time lover Leonardo DiCaprio — but he wants nothing to do with her, say sources.

The 49-year-old actress, who's still reeling from her painful split from "Two and a Half Men" hunk Ashton Kutcher, has been e-mailing and calling Leo, hoping to reignate the spark they shared more than 15 years ago, the sources add. And she apparently doesn't even care that he's in a serious relationship with sexy Victoria's Secret model Erin Heatherton!

As The Enquirer exclusively reported in 1997, Leo spent the night with Demi in her and former husband Bruce Willis' Malibu home during a time when the couple's marriage was on its last legs. But insiders say Demi is making WAY more out of it than it was — and Leo has no desire to visit the past.

"Demi is so lonely and hungry for love," a source revealed. "After all these years, she's romanticized what really amounted to just a fling. She's infatuated with Leo becoming Hollywood's hottest power couple. She's lonely and facing her 50th birthday this month, so she's looking to rejuvenate her love life and career."

According to the source, Demi has been spending more time in New York recently, where 37-year-old heartthrob Leo is filming The Wolf of Wall Street. Unfortunately for Demi, Leo is giving her the big-time blow off," continued the source. "He won't even get together with her for coffee!"

Demi has been struggling since her six-year marriage to Ashton fell apart last November, and she's devastated that he's moved on to a hot-and-heavy marriage with his "That '70s Show" co-star Mila Kunis. She entred rehab in early 2012 for prescription pill and eating disorder-related problems following a physical and emotional meltdown.

"Demi's dream is to find a young, successful guy who can help elevate her back to her past glory," added the source. "But she's barking up the wrong tree with Leo. He idolized her when he was in his 20s and fresh off the blockbuster success of Titanic, but now Leo thinks Demi is too old. He doesn't want to get tangled up in her messy life."
[From Enquirer, print edition, November 12, 2012]
Oh, Demi. One must wonder whether, in addition to all of her insecurities, there might be a bit of an ego raging below the surface if Demi really thinks that Leo would forsake the Victoria's Secret catalog while deciding whmo to sleep with. Demi must realize that she's not a basketball-loving model. Leo likes young, blonde models who don't smother him and simply follow him whenever and wherever he deems appropriate.
Meanwhile, TMZ is reporting that Demi and Ashton have still made no movement towards divorce even though they've been separated for a year. They've not given their lawyers any reason to think they want to file, and there have been no discussions on how marital assets shall be divided. This all supports the theory (already discussed by Kaiser) that Demi and Ashton were never married in the first place. It makes sense.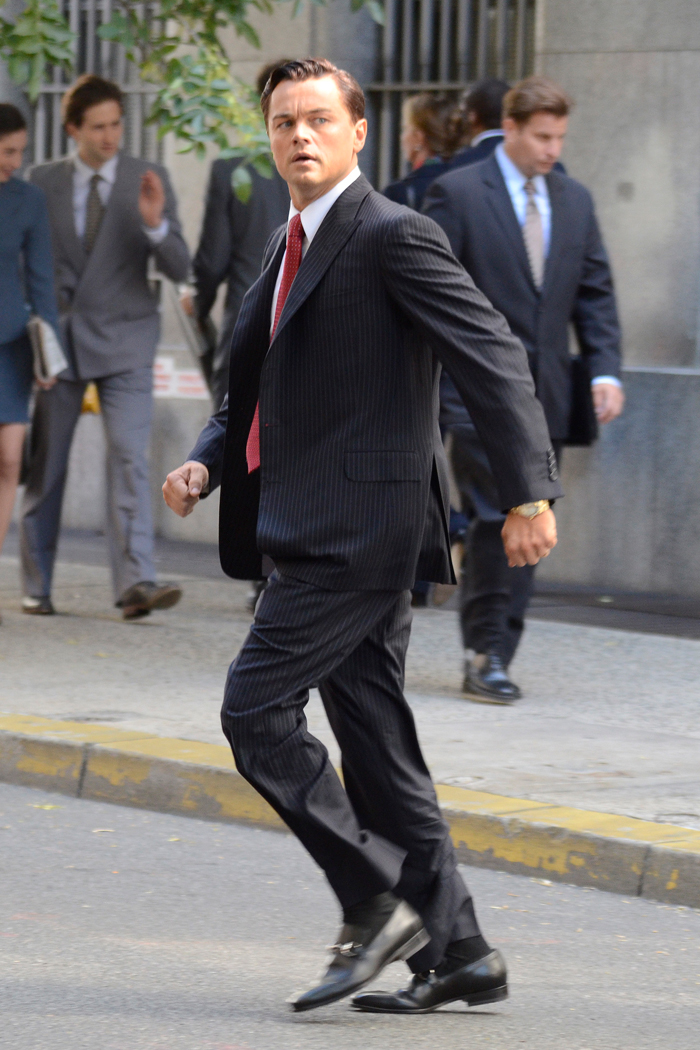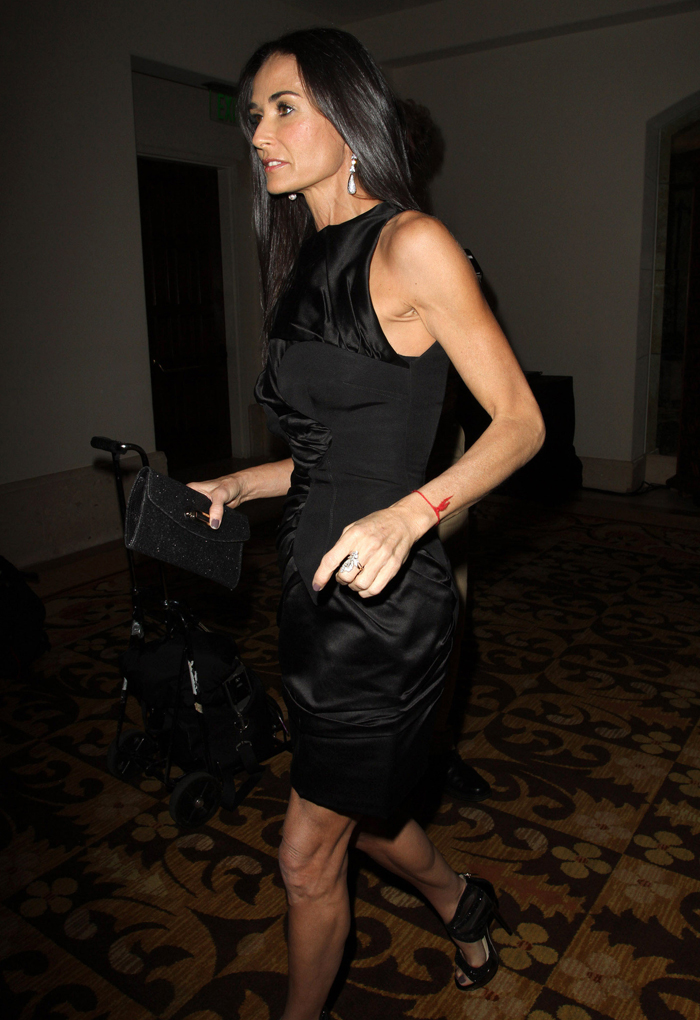 Photos courtesy of WENN