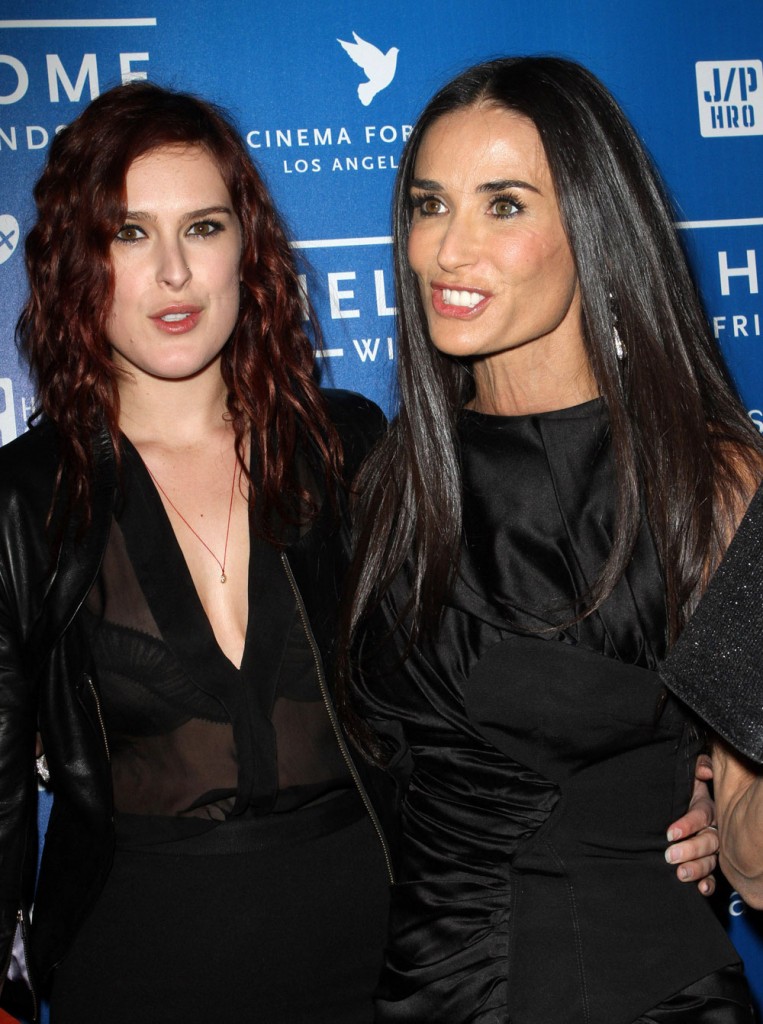 More details are coming out about Demi Moore's emergency hospitalization, and they paint a picture of a woman who is out of control and in desperate need of help. It's sad what we're learning and I'm really hoping that this is a wake up call for Demi and that she can get healthy both physically and mentally.
First of all, there are reports on both E! Online and Radar that Demi suffered some kind of seizure prior to being rushed to hospital. The official story is the old standby "exhaustion," but we've heard it's a "substance abuse" issue, the substances of which are unknown. E! reports that Demi was "acting like she was suffering from a seizure" before paramedics were called to her home. Radar agrees with that account, and adds that she's "being treated for anorexia, among other substance abuse issues." They quote a source who says "Demi is in getting treated for anorexia, as well as other issues that caused her seizure."
It sounds like prescription drug abuse or some kind of drug interaction, legal or otherwise, although that's just speculation. People Magazine has a story about Demi's "wild night out" with her daughter Rumer, 23, prior to her hospitalization. It sounds like they're mildly calling Demi out, which is similar to what they did in 2010 when it first came out that Ashton was cheating. They claim that Demi wasn't seen drinking, but that she was grinding and fawning over a 90210 actor named Ryan Rottman. People never mentions Rottman's age, but he's all of 27. He also has dark hair and the same type of "pretty boy" looks as Ashton used to have. Here's People's story:
Wearing a short black skirt and striped sweater, the actress, 49, arrived at Beacher's Madhouse at The Roosevelt Hotel just after 11 p.m. on Jan. 11.

"When she first arrived, she kept to herself … but she started loosening up and getting into party mode," an onlooker tells PEOPLE about Moore, who sipped Red Bull at the hot spot. "She seemed really happy to be out with her daughter's friends."

Though she was not seen downing any alcohol, Moore, who split from husband Ashton Kutcher, 33, last November, appeared to be lapping up male attention – especially from 90210 actor Ryan Rottman.

"She found ways to touch him all night, and at one point when he was in front of her, she was grinding on his butt," the onlooker said, adding that "his shirt came unbuttoned, and she started tickling his bare chest playfully."

When she wasn't flirting with Rottman, Moore stuck close to her daughter, and stayed until the nightspot closed.

The mother-daughter duo also had an awkward encounter with Kutcher at a CAA/Grey Goose Pre-Golden Globes bash at Soho House Jan. 13. Kutcher arrived at the party after his ex, but the former couple generally avoided any contact.

Willis, however, did spend some cordial, friendly time chatting with him before going back to hanging out with her mom.
[From People]
This is a woman who can't let go of her "sexy" image and who is behaving inappropriately around her daughter and her daughter's friends. I still feel bad for Demi though. She's obviously in a lot of pain since her marriage ended and adding drugs on top of all that is only making it that much worse for her. Plus, I'm not surprised to hear that she's anorexic. She really looks it, although she's a little healthier lately. The black dress photos below are from January 14th and she's put on a little much needed weight since her last public appearance, in the red dress on October 18th.
Do you think Ashton is going to rush to be by Demi's side? I really do. He's been down in Brazil partying with young chicks but he still really wants some kind of relationship with his stepdaughters and I think he'll fly back to see Demi. Plus, it's the right thing to do.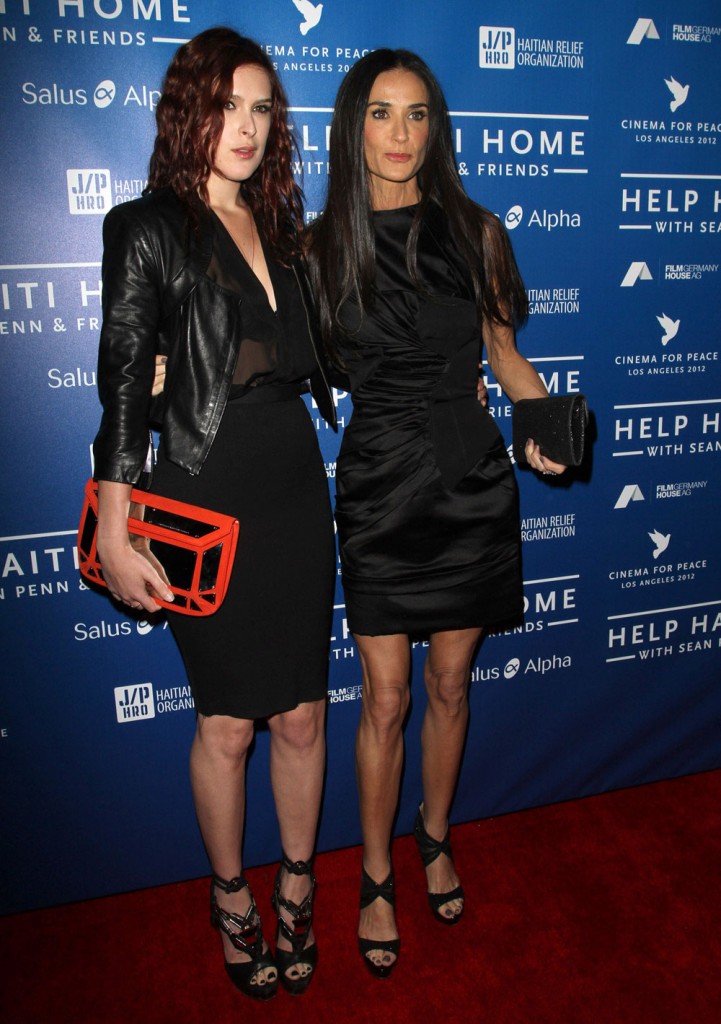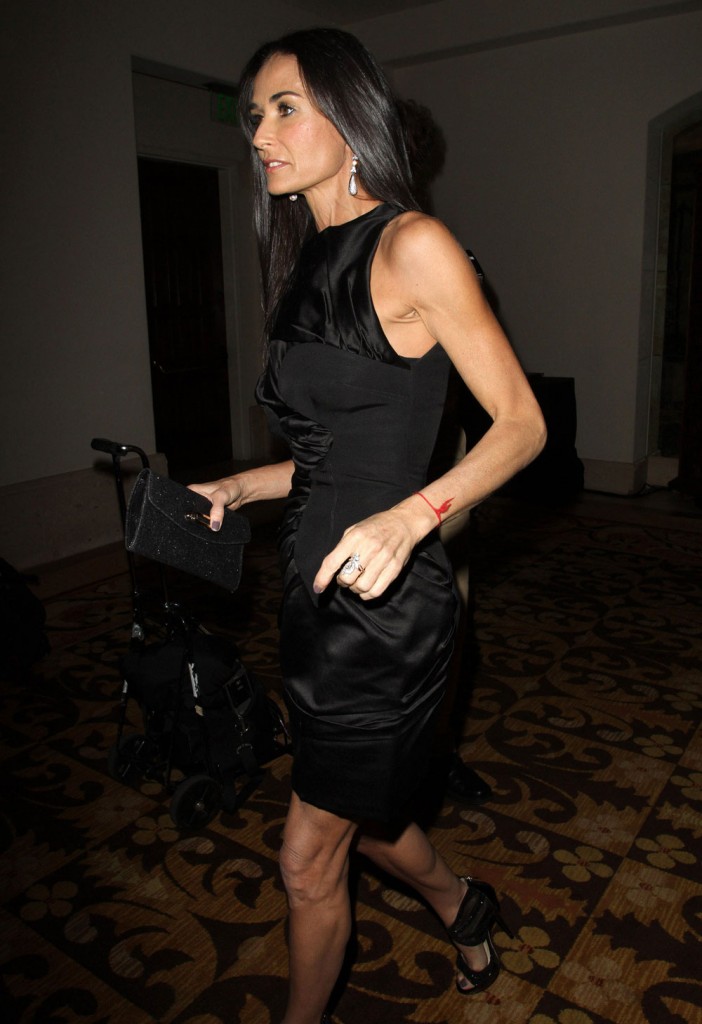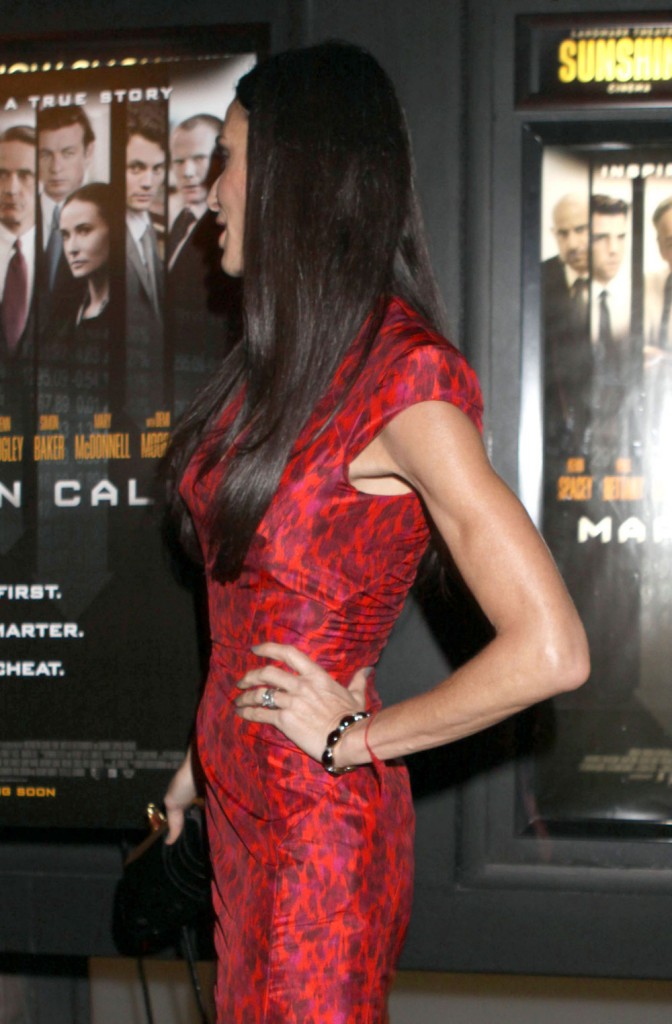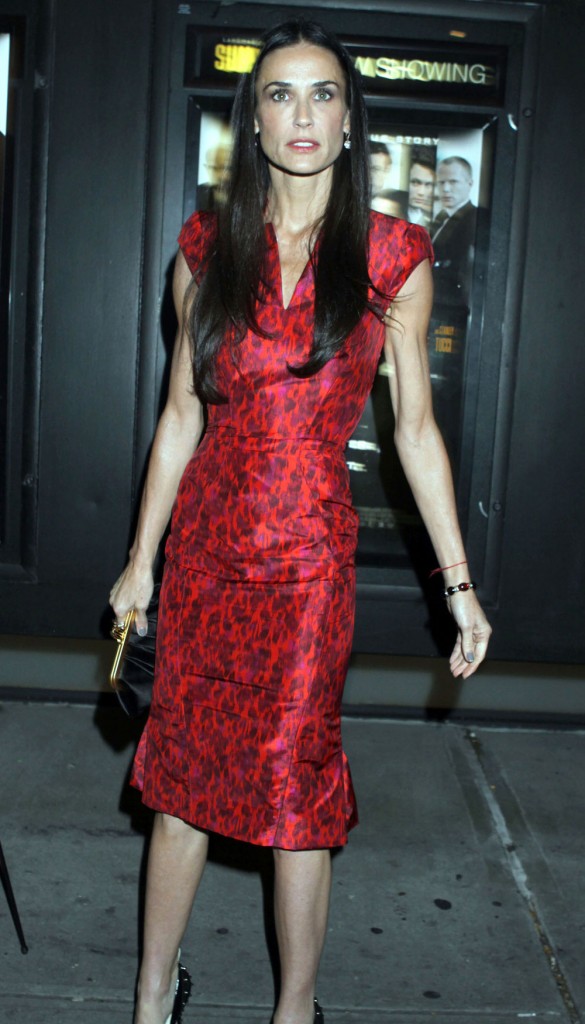 Photo credit: WENN and Fame Pictures