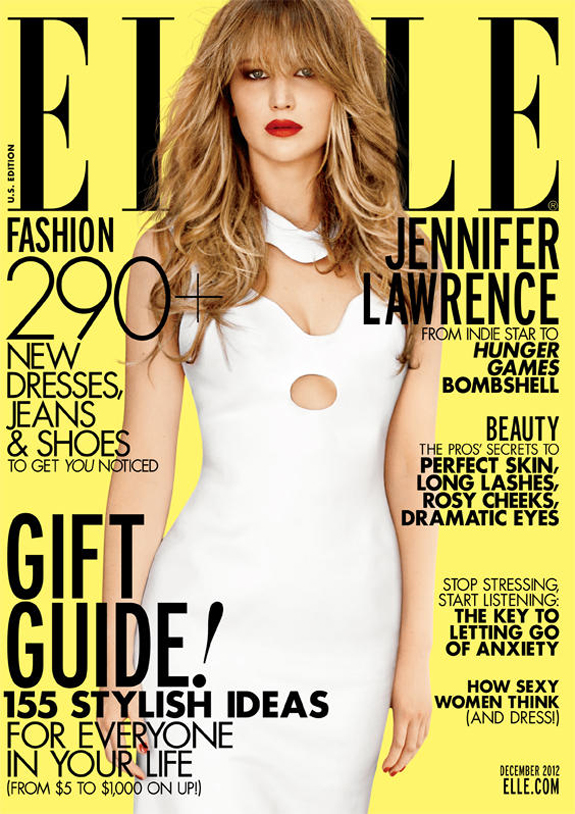 Yesterday, we covered Jennifer Lawrence's latest, big-haired Elle photoshoot, and I neglected to mention that she was wearing a white Balenciaga dress on the cover of the magazine. Honestly though? The dress doesn't even matter because JLaw's lips and extensions are taking center stage. Not to mention the body that just won't quit.
Speaking of Jennifer's body (not the dreadful movie starring Megan Fox), parts of the Elle interview have leaked, and sure enough, JLaw is talking about what a fattie she is again. Or at least, she's paying more lip service to how Hollywood standards dictate that she's definitely a "heavier" actress because she's not a "lollipop"; instead, she eats like a real person and occasionally indulges in five deep-dish slices of pizza with ranch on the side for dinner. For shame, right? To me, Jennifer's stance is far different from that of Cheryl Cole and Lady Gaga, who seem to be saying, "I shouldn't be called fat because I'm a certain size, but I don't mind if you bully people who really are fat." Instead, Jennifer is saying, "they are criticizing me for looking normal," (in response to critics calling her "beefy") and she is well aware that dropping to a size 2 would only encourage fans of Katniss to do the same. Here are some excerpts from the Elle interview: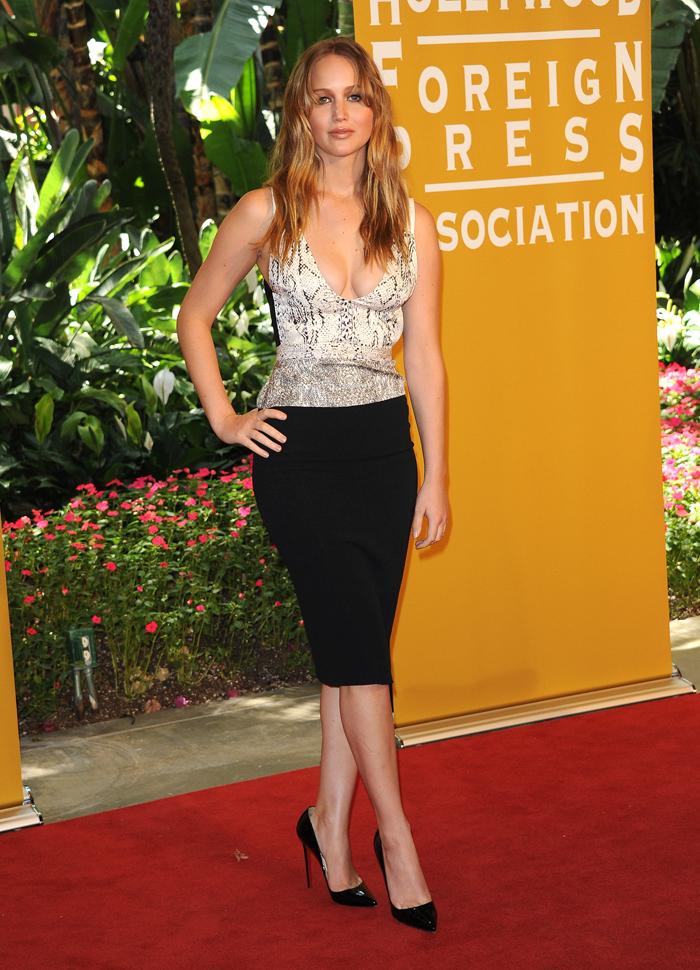 On her body: "In Hollywood, I'm obese. I'm considered a fat actress. I'm Val Kilmer in that one picture on the beach. I eat like a caveman. I'll be the only actress who doesn't have anorexia rumors. I'm never going to starve myself for a part. I keep waiting for that one role to come along that scares me enough into dieting, and it just can't happen. I'm invincible."

Why she won't starve herself: "I don't want little girls to be like, 'Oh, I want to look like Katniss, so I'm going to skip dinner.' That's something that I was really conscious of during training, when you're trying to get your body to look exactly right. I was trying to get my body to look fit and strong, not thin and underfed."

On Nicholas Hoult: "[My boyfriend] is honestly my best friend, and hopefully I'm his best friend too. He's my favorite person to be around and he makes me laugh harder than anybody. We can eat Cheetos and watch beach volleyball and we turn into perverted Homer Simpsons, like, 'Oh, she's got a nice ass.' I never thought we'd have such different opinions on asses."

She hasn't bought a mansion yet: "Ten million dollars and I'm still living in my parents' condo. I've always lived in a tiny rat-infested apartment in New York, or a little condo in L.A., or a normal house in [her native] Kentucky. I think it would be very bizarre to live in a big mansion by myself."
[From Elle]
On that last note, we once posted photos of Jennifer's $600,000 condo that her parents paid for before she was famous, so I guess that's why she refers to it as her condo. The place is a 2BR nook in Santa Monica, and I think Jennifer does live there by herself, but it's nice that she hasn't splashed out on some huge, overwrought mansion. If I were an actress, this is what I'd do too. Get a little place that's just big enough, and throw the rest in the bank.
Here are some photos of Jennifer leaving the gym after training for Catching Fire. There is no possible justification for describing her as "beefy" in my book — she's healthy and toned, and quite frankly, she could probably kick all our asses in one hot minute.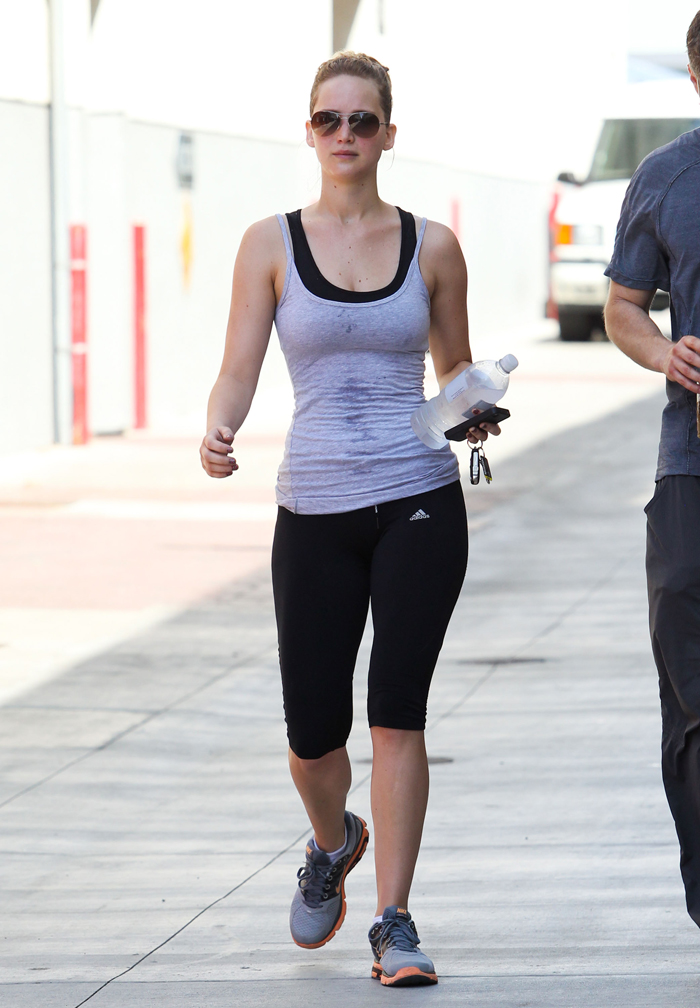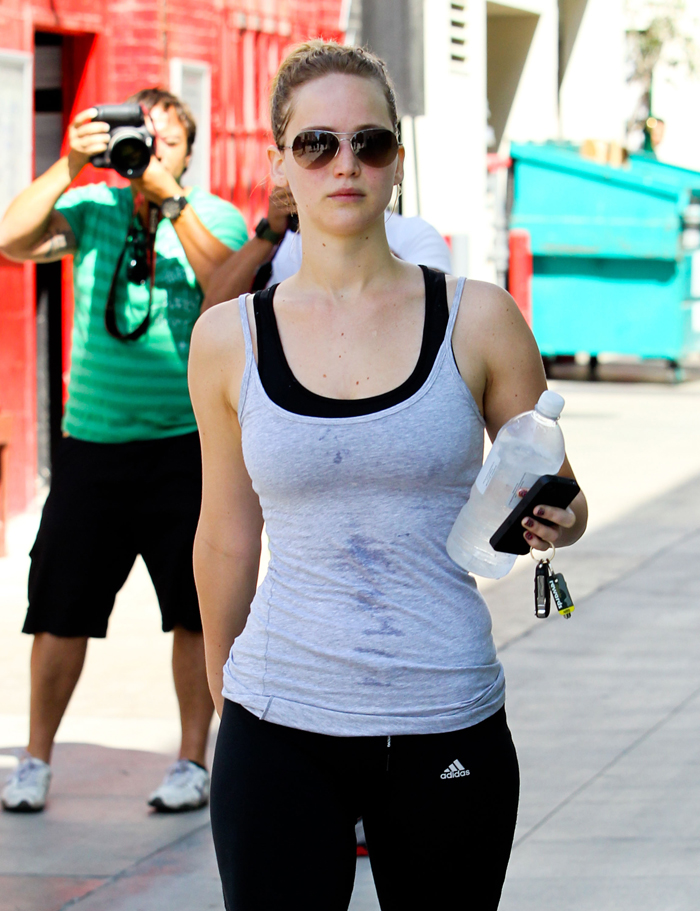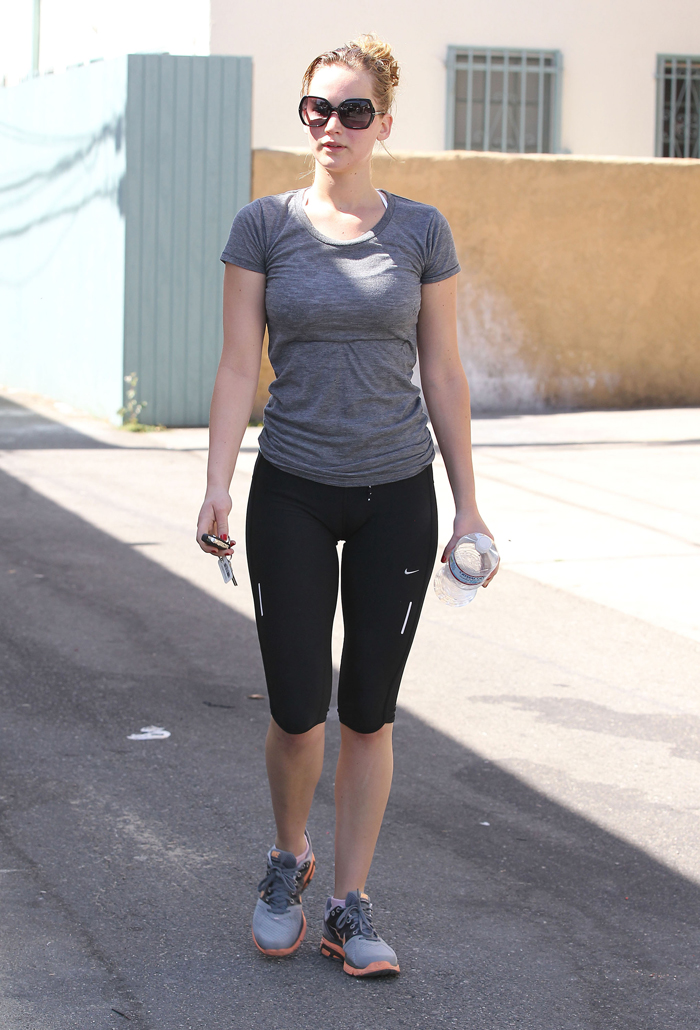 Photos courtesy of Elle, Fame/Flynet, and WENN