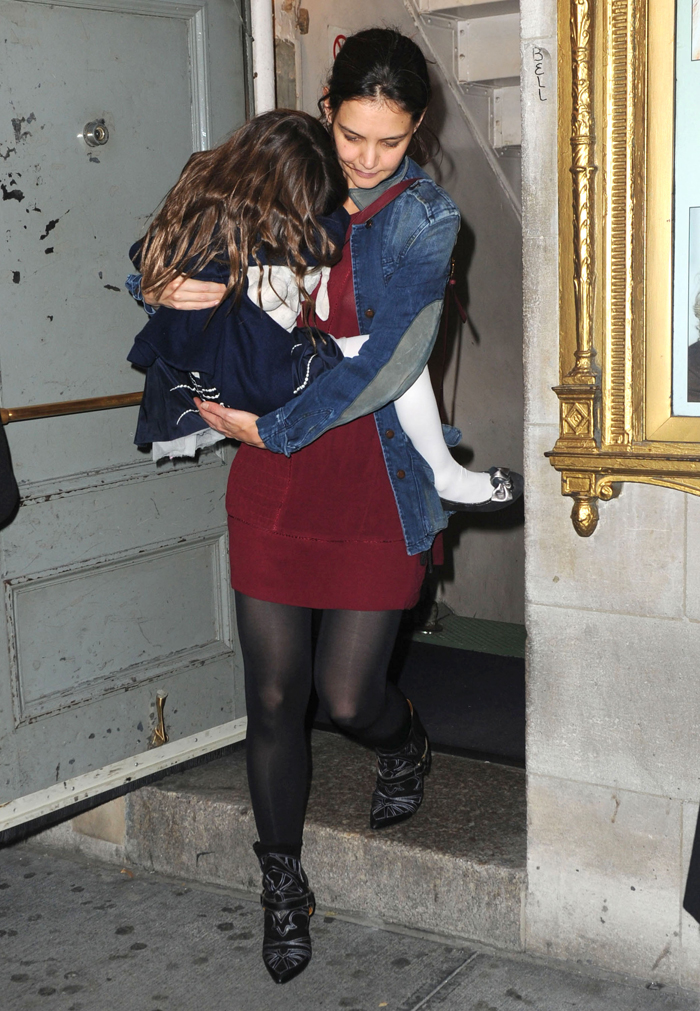 Here are some photos of Katie Holmes and Suri Cruise arriving at the Music Box theater (where Dead Accounts is playing) on Saturday evening. It must not go unnoticed that Suri has been dutifully wearing a coat ever since Katie officially took over the "full legal custody" parenting reins. Suri's even walking on her own a great deal when she's not hiding her face from the everpresent photogs. A lot of people complain about how Katie carries Suri in a lot of these pap photos, but it's a much better alternative than, say, letting her be blinded by the flashbulbs and walking into a stop sign, no? Or out into NYC traffic. Just saying. This little girl does love her grannysmith apples though.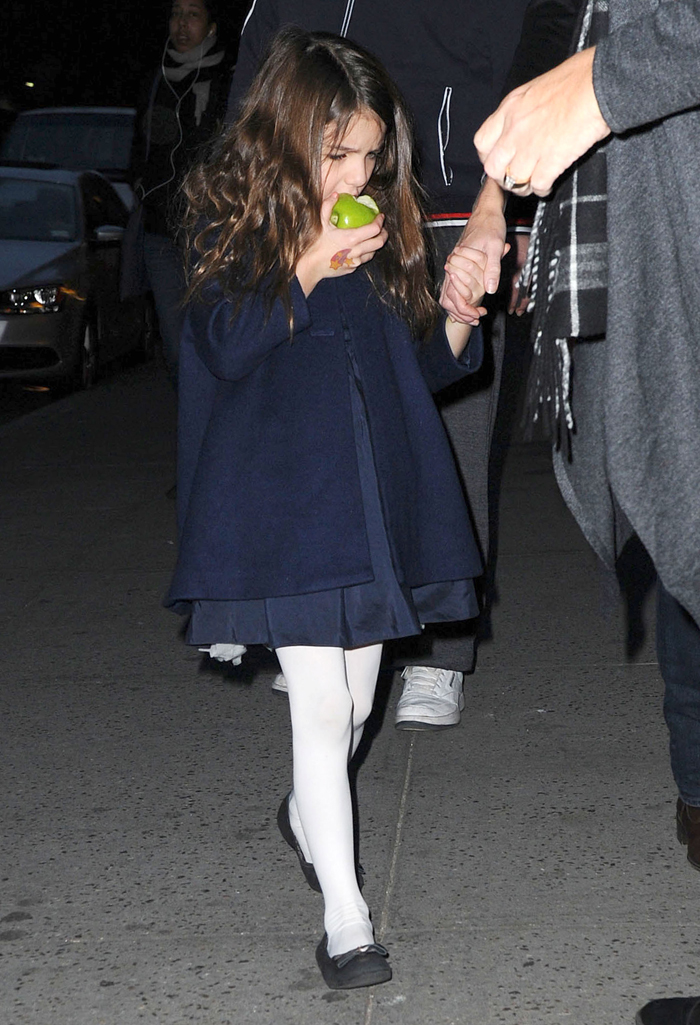 A new story in this week's In Touch would have us believe that Katie has bestowed a new name upon Suri, but it's not nearly as nefarious as it sounds. Instead, Katie now calls Suri "Sara" in public for security purposes, which makes sense because Suri isn't exactly one of the countless "Avas" that run amuck through celeb and non-celeb name circles these days. Here are the details:
In Touch has learned that Katie Holmes has a new name for her daughter Suri.

A source close to Katie explains that she's been calling Suri "Sara" in public "so as not to attract attention."

The 6-year-old with the unique — and internationally recognizable — moniker is trying to avoid "privacy issues," the source further tells In Touch. "Everyone in the world knows Suri Cruise, so if Katie or a babysitter says, 'Suri,' people immediately look to find her."

Katie was recently overheard referring to her daughter as "Sara" to her Dead Accounts co-stars at rehearsals and luckily, the first-grader seems to love her other name! In August, Suri was seen at a Build-A-Bear Workshop requesting that her stuffed animal be named "Sara" — and she even specified no h so she and the doll would have the same number of letters in their names.

The source says the high-security measure taken to shelter Suri is "no different than celebrities checking into hotels under a different name."
[From In Touch Weekly]
I personally think that it's a great idea to call Suri by a different name in this regard. Tom will probably be spooked by it because he'll think Katie's just taking a dig at the name he likely picked out for her (because Tom was in charge of everything in the relationship), but Suri is actually a dimunitive name of Sara, so it makes sense as an alias. It's certainly better than Cage Hunt for crying out loud.
Earlier in the day, Katie was out by herself and showed off some new fug booties, this time in black. I'm not complaining because Katie loves her booties, but as for this dress … just no.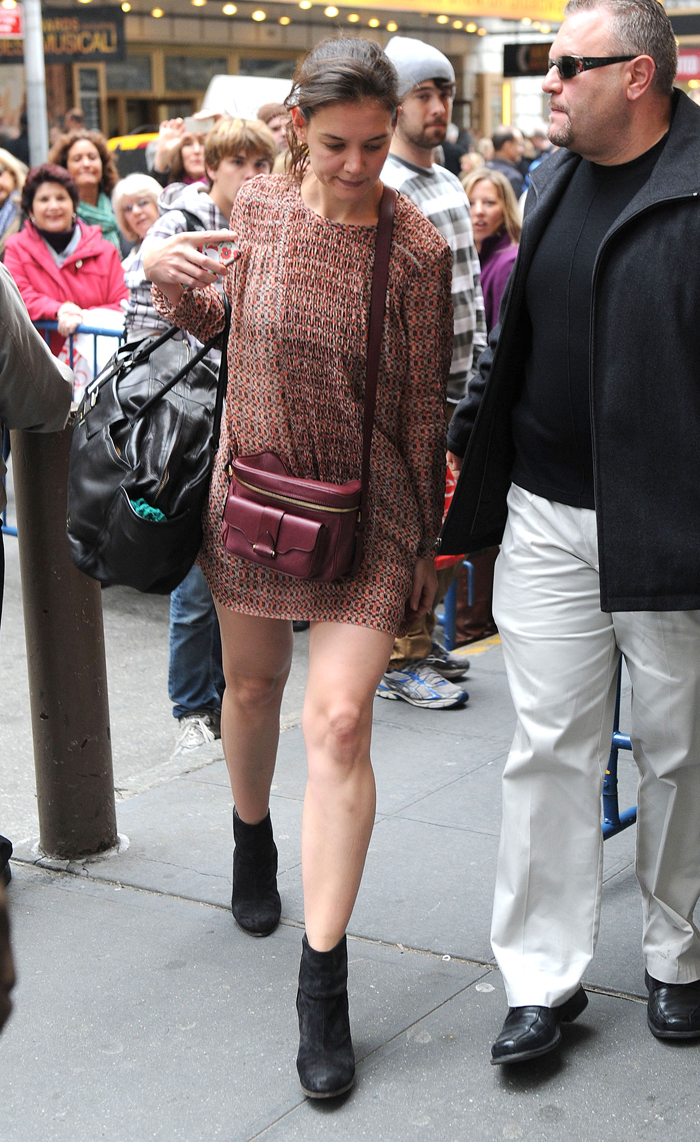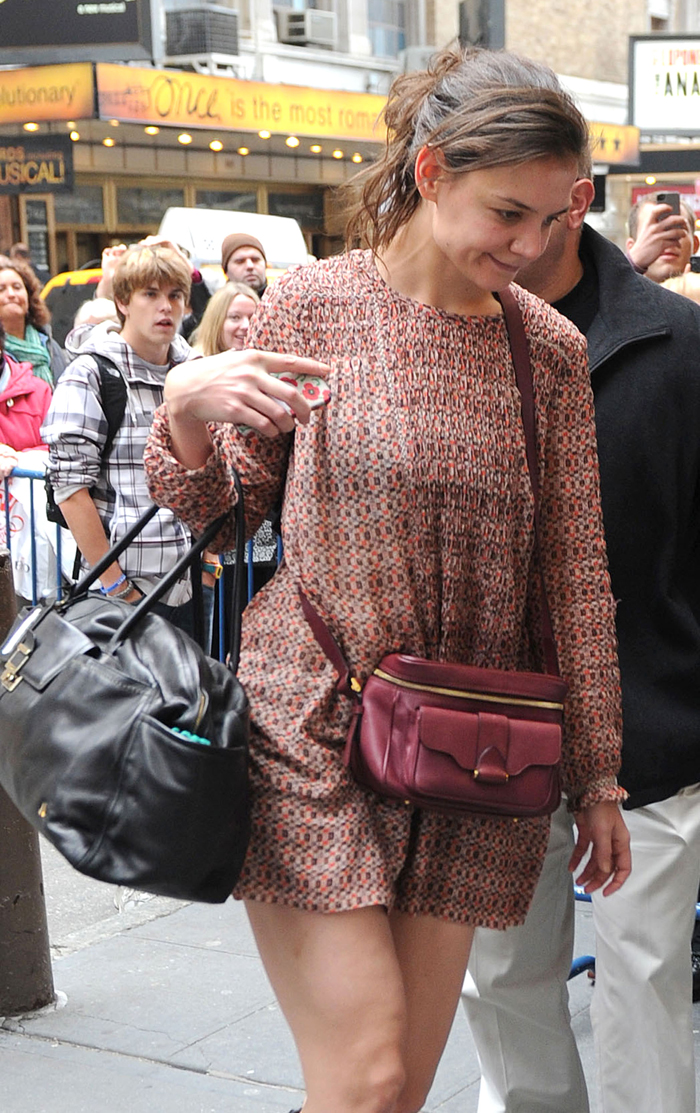 Photos courtesy of Fame/Flynet