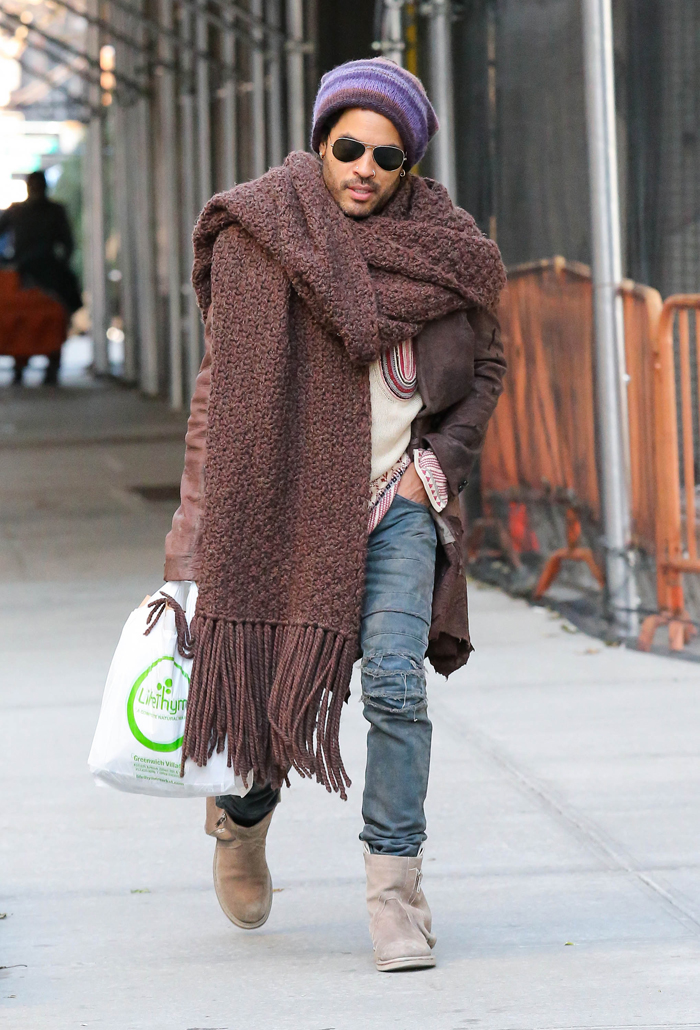 Here are some photos of Lenny Kravitz nomadically wandering the streets of New York City on Friday. Please don't ask me exactly how Lenny manages to look burning hot as he wears the largest scarf in the entire universe because there is simply no way that I can answer that question in good faith. Why question what IS? Oh, Lenny. He could look good while frolicking in a mountain of sewage.
Lenny is actually enjoying a bit of precious downtime after performing at the halftime show for the New York Jets on Thanksgiving. He's actually a huge Joe Namath fan and gave an interview to NY Mag's Vulture blog about his childhood memory of tossing the ball with Joe, who was his across-the-street neighbor. While I haven't included those portions of the discussion (it's sort of an "inside sports" thing), the full interview is available here. In the meantime, here are some excerpts about Lenny's experience on the set of The Butler, which features co-stars Jane Fonda (who plays Nancy Reagan) and Oprah Winfrey. In an odd move, he reveals a massive crush on Jane! Also, Lenny has been tipped to play Marvin Gaye in an upcoming biopic: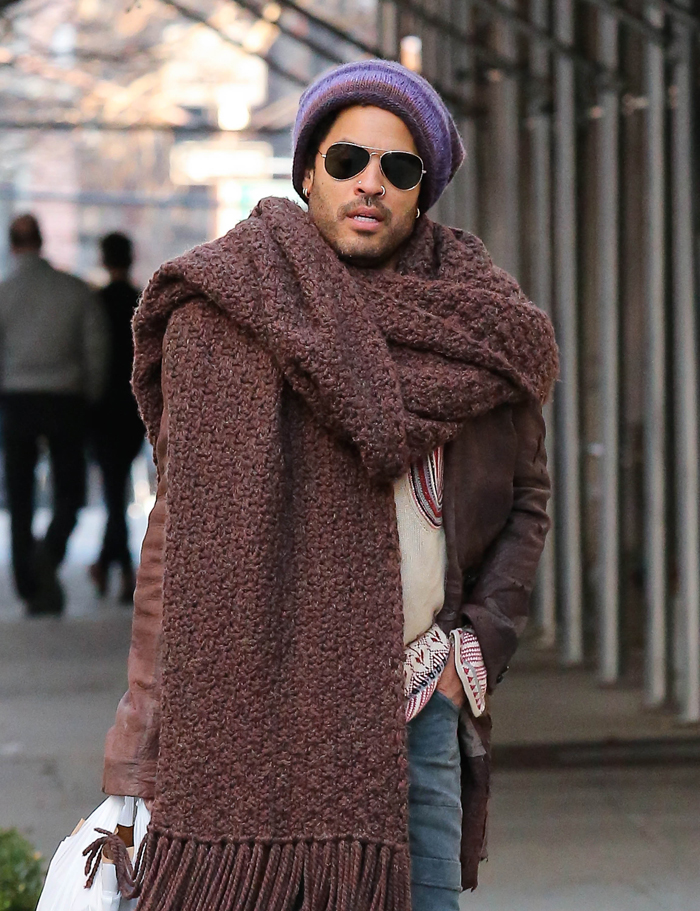 On the Jets halftime show, which benefited Sandy victims: "It was not about me. I did lose all my musical equipment, all of my touring equipment in a facility in Hoboken, New Jersey — 20 years worth of things. But, you know, those are material things. That doesn't match somebody losing their home and being in the cold and not being able to live. I feel for anybody that was affected by this storm. I've been traveling on the road — I'm coming to NYC tonight."

On working with Oprah: "She can be so down to earth and regular, just blend in. We were all there to be actors, you know? Very low key about it. And very dedicated to giving the best performance and doing whatever that took."

He loves Jane Fonda: "Ohhhh, I have a big crush on Jane Fonda. No, no, she's still hot — very hot. And what an amazing actress. She's very humble. It was an honor to be in her presence."

On his type of woman: "I grew up around strong women, so I'm very attracted to that. My mother, my grandmother, my aunts — they were the people in the family that were so strong and supportive. I'm used to that kind of character."

Has Hunger Games changed his fan base? "Um, well, I have eight-year-old kids coming up to me who know me as Cinna and have no idea that I make music."

Are the rumors true about his Marvin Gaye role? "I have been working with Julien [Temple, director], and that's all I can say right now. We'll be shooting next year. There'll be more to come, information-wise, very shortly."

Will he change his singing voice for the role? "It's hardcore, and I'm approaching with a lot of respect. I'm going to have to change everything. It's going to take a lot. I wouldn't say I'm scared, but it's a great challenge."
[From Vulture]
Certainly, the choice of Lenny to play Marvin Gaye won't be nearly as controversial as Amy Adams playing Janis Joplin. Rather, Lenny seems like a natural choice for the role to play the crooner; even though he'll undoubtedly have to adjust his singing voice, Lenny's got the sex appeal to play Marvin in spades. This will be one to watch for sure.
Here's a photo (from Lenny's Twitter page) of the hot one with Jane Fonda on the set of The Butler. I've also included a few more photos from the set where Lenny's wearing face prosthetics to make him look heavier.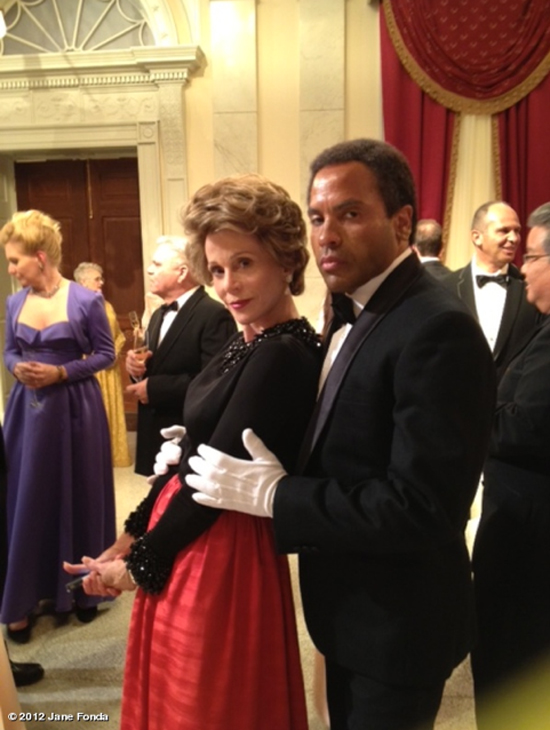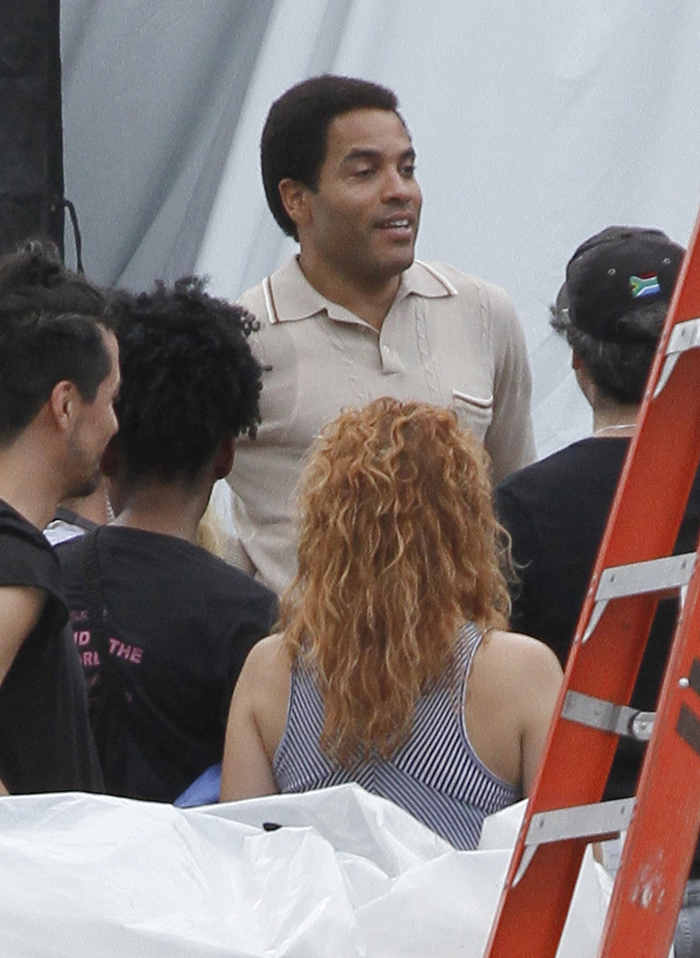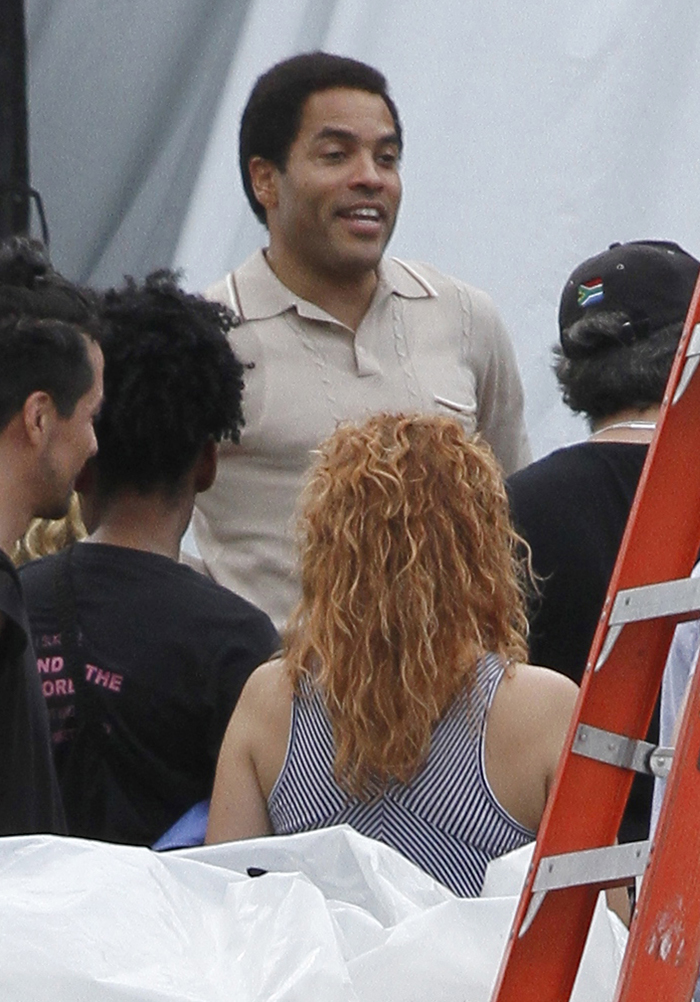 Photos courtesy of Fame/Flynet and Instagram