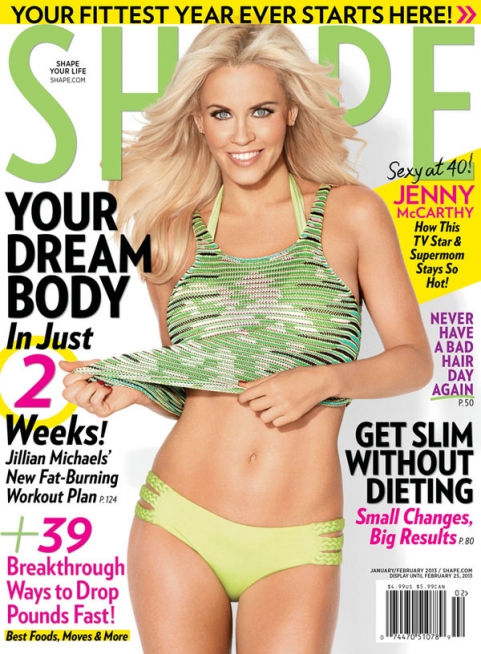 If you're new-ish to celebrity gossip and find yourself baffled as to why we dislike Jenny McCarthy, you can read these three stories for background. She trashed her ex boyfriend, Jim Carrey, for not visiting her son after their breakup, even though the boy is not Carrey's biological son, and even though Carrey reportedly gave her a nice cash settlement (which was unnecessary, they weren't married). Plus she regularly says things just to be shocking. I guess that's how she's always been and that's how she's carved a career for herself.
In the January 2013 issue of Shape Magazine, Jenny reveals her incredible bikini body and her secrets for staying slim. She also announces that she's going to have her own talk show on VH1. We've heard rumors in the past couple of years that Jenny was shopping some kind of talkshow, and that she was potentially going to get a deal on Oprah's network. (That fell through, although it's probably to Jenny's benefit since no one watches that network anyway.) Now it's really happening, and she's going to find a home on the network with the trashiest of the trash shows. (Although that's arguably TLC, not VH1.)
Jenny McCarthy is single and she's hoping that when she launches her upcoming VH1 talk show next year, a certain leading man comes by the couch – Bradley Cooper.

"He's my number-one crush," Jenny told Shape magazine, which features the 40-year-old celeb showing off her toned midriff on its January 2013 cover. "I'm hoping he'll be a guest on my show."

Jenny is currently single, and she told the mag she is focusing on "me" time.

"I've gone on some dates, but I'm really taking a time-out for me at the moment," she told Shape. "One thing I realized in my past relationships is that I'm the best damn girlfriend ever. I put so much energy into my boyfriends and their needs. If I gave myself that same kind of attention, who knows where I'd be at my life at this point? So for now, I'm putting everything I've got into my talk show and being a great mom."

As for that TV talker – "The Jenny McCarthy Show" — which is coming to VH1, Jenny said it will showcase all sides of her personality.

"I'm scared and excited about it at the same time," she said.

"Because it's for an adult audience, the producers are giving me free rein and have asked me to push the envelope, I get to be my true, dirty self," she added.

Jenny heads into her talk show looking better than ever, the result of a gluten and dairy free diet.

"That's the best health change I've ever made," she said. "I lost a few pounds and have much more energy. My new favorite thing is my soup diet. I make a ton of nutritious ones, like butternut squash and vegetable. When I want to drop 5 pounds quickly, I eat them for every meal for about 10 days."
Jenny has revealed her crush on Bradley Cooper before, which is strange to me. I can't imagine anyone getting hot for that guy. I feel like she just picked some random actor who doesn't get any love and decided to declare a crush so that the media would take notice. I don't get Bradley Cooper's appeal. Someone must though since he was People's sexiest last year.
As for her soup diet I've heard her say that before. She said she has Montel Williams' Health Master blender and she makes the soups in there. (You can use it to heat and everything due to how fast the blades are.) I have a Vitamix and have only made soup in it about twice. I usually use it for smoothies for breakfast. I wonder if I could do this soup diet or if it would drive me crazy. After lunch of just soup on the first day I would be grabbing a roll and scarfing it down, I doubt I could go without solid food for so long like that.
OK! has more online from Jenny's Shape article, including her recommendations for exercises, if you're interested.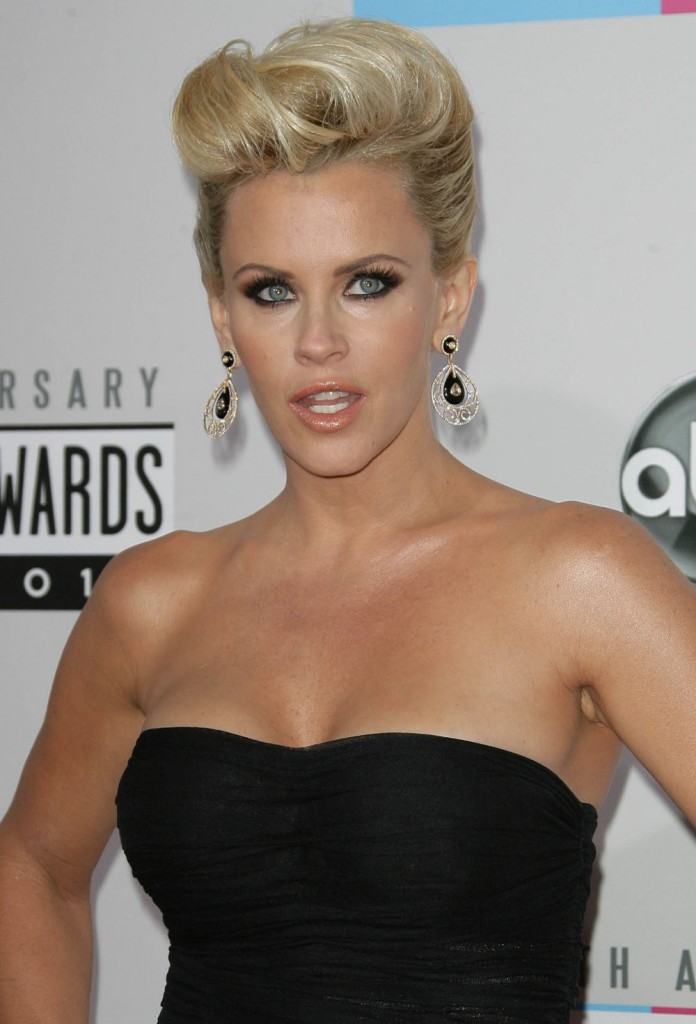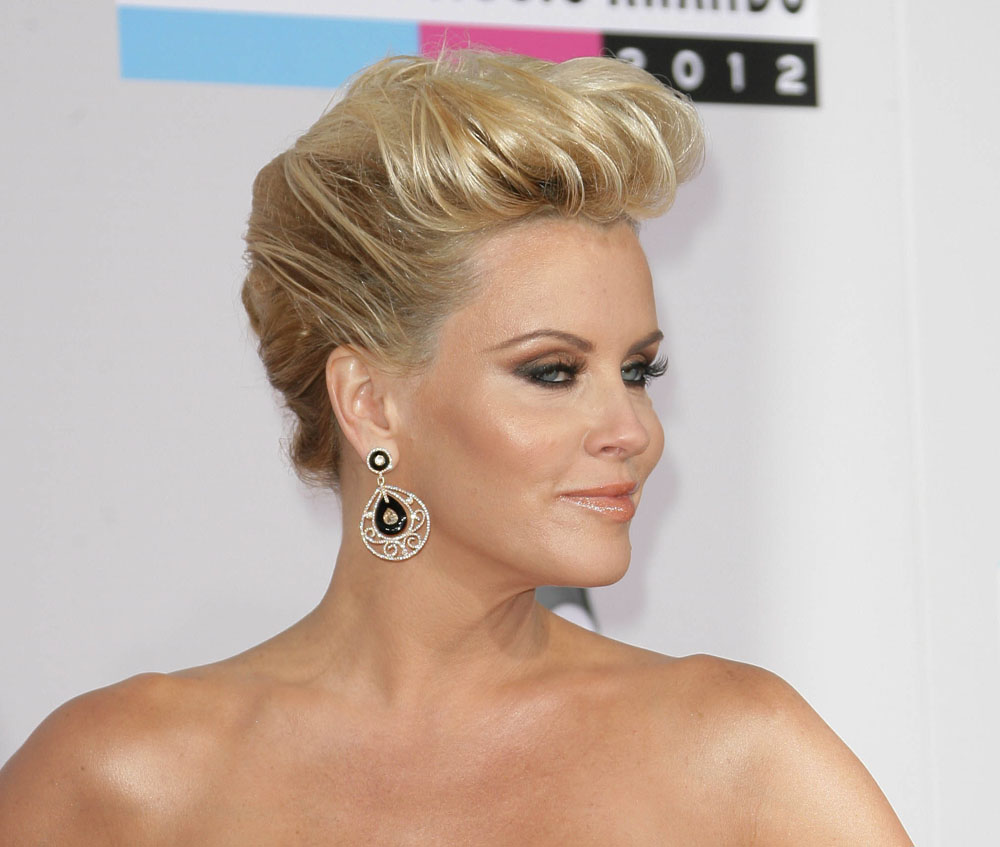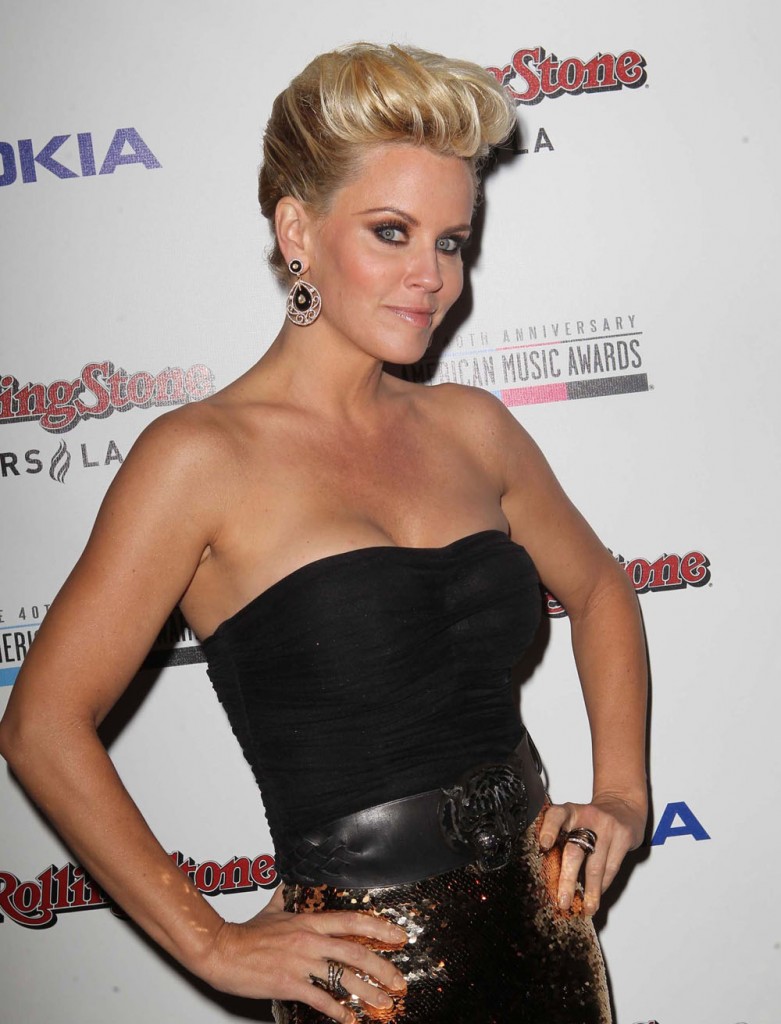 Jenny is shown at the American Music Awards on 11-18-12. Look at her hair! Credit: Adriana M. Barraza/WENN.com