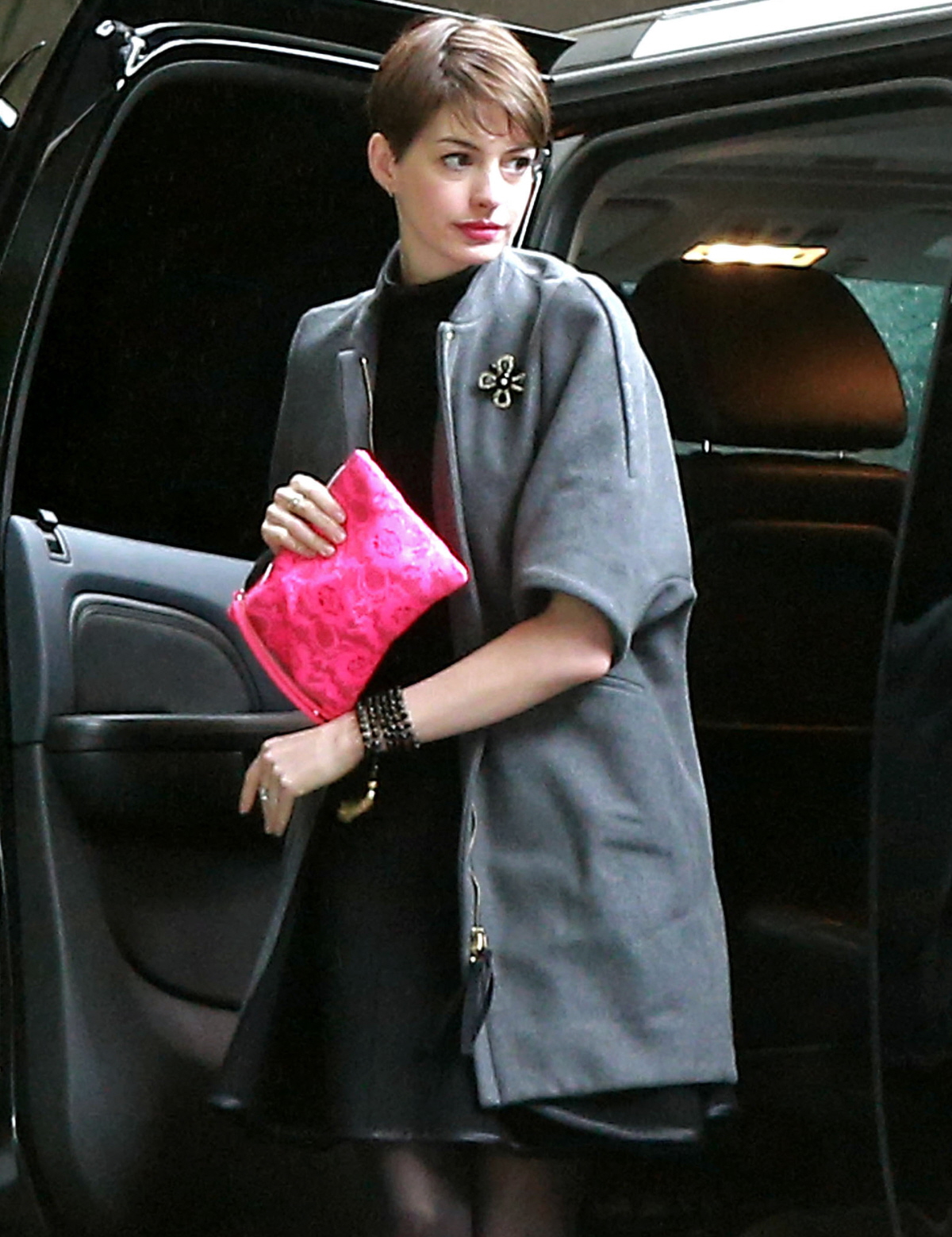 The Los Angeles Times did a long, magazine-like profile of Anne Hathaway, all part of promotion for Les Miserables and for Anne's Oscar campaign, of course. It's an interesting piece – you can read the whole thing here. The article doesn't editorialize as much as a magazine piece would, but the vibe is definitely "Annie suffers terribly because she's always trying to break out of the goody-two-shoes mold." There's also a vibe of "Annie suffers terribly because she's such a perfectionist and so, so neurotic." Which she is, in all honesty. She's a perfectionist, she's really neurotic about doing a good job and not letting anyone down, and good for her. When men have those qualities, we consider them geniuses. So I'm fine with that, but this whole "Annie doesn't want to be seen as a princess" thing is kind of meh. She has a lot of fans because women young and old think she's classy and a half-decent role model for young women. Of course, that was before Annie flashed her biscuit. Anyway, here are some highlights from the piece:
Attending Vassar and NYC (to get a BA): "I felt a certain degree of failure in going to school at first because I couldn't put it off by having a job" in acting, she acknowledged.

On the criticism for her co-hosting the Oscars in 2011: "I walked around feeling sick to my stomach for a week," she admitted.

Comparisons: "I see the sort of work that people like Meryl Streep and Cate Blanchett and Kate Winslet can do, and I want to do that level of work so badly," said the actress, who was nominated for an Oscar for "Rachel Getting Married" but didn't win (the three women she referenced all have Oscars to their names). "But I don't believe I'm as gifted as them. So the only thing I can control is how hard I work at it — how much do I commit to it? How far will I take it?"

Losing weight for Fantine: "Tom [Hooper, the director] didn't like what I was doing, but he understood why I was doing it," Hathaway countered. "No one liked what I was doing. By the end, people were hugging me and they would get emotional because I felt so frail."

She's neurotic: "If I have an extra glass of wine the night before I shoot a scene," she said, "I don't feel good about myself because of that. If I see it on-screen, the guilt is immediate. I feel like maybe I've let the scene down."

She really felt it when she sang "I Dreamed a Dream": "The second all of those feelings that Fantine was feeling were turned on me, they were savage — they were animalistic, they had teeth and talons and they were shredders," she said. "I tried not to think about myself that day because I was in a very unkind place. Fantine did nothing wrong. And I think that's where I was getting in a lot of pain because of it. She's innocent."

Inherited perfectionism: "I think I've always taken acting very seriously and almost with a certain degree of earnestness because my mother was so talented and didn't work a lot," she explained.

Her career post-Fantine: "I just feel that now I'm being viewed very differently," she said. After other roles, she said, "I'd think — 'Oh, this is the moment' — I'm playing a recovering drug addict. But there was always a kind of push back, like, 'Oh, she's not that sexy.' People were trying to put me in the good girl category or the bad girl category, and this is the first time I've ever been seen as a whole."

Marriage: "I know it sounds really eager, but I'm super psyched to be married," she said. "I feel very blessed in this moment, because I'm going through something that you could easily get swept up in, and I just want to go home and hang out with my husband every day. Letting yourself be taken care of is the most remarkable experience. I don't fall apart as much, because I know I can."
I know some of you will throw a "bitch please" at Anne for name-checking Meryl Streep, Cate Blanchett and Kate Winslet, but in her defense… she's not outright saying "I am their heir" or "I'm going to be just like them!" It feels more like she's fan-girling, and honestly asking "I'm not as good as them, what can I do to be as good as them?"
By far, the most interesting part of the story was when they go into how Anne filmed "I Dreamed a Dream". Anne kept asking the director for more takes, and she kept going and going until she had sung the song more than 20 times. Tom Hooper kept telling her that she gave the perfect take on Take 4, but Anne kept trying to be MORE perfect. Finally, Hooper told her to stop and Anne says, "And I was like, 'Fair enough.' I never bettered it." When asked if she liked the version that ended up in the film, her reply is "Eh." I mean… she's a perfectionist. She's neurotic. She IS a goody-two-shoes. But why is that a bad thing?
Here are a few photos of Anne, Adam and Esmeralda (the dog) out and about in NYC on Friday. Check out Anne's mittens!!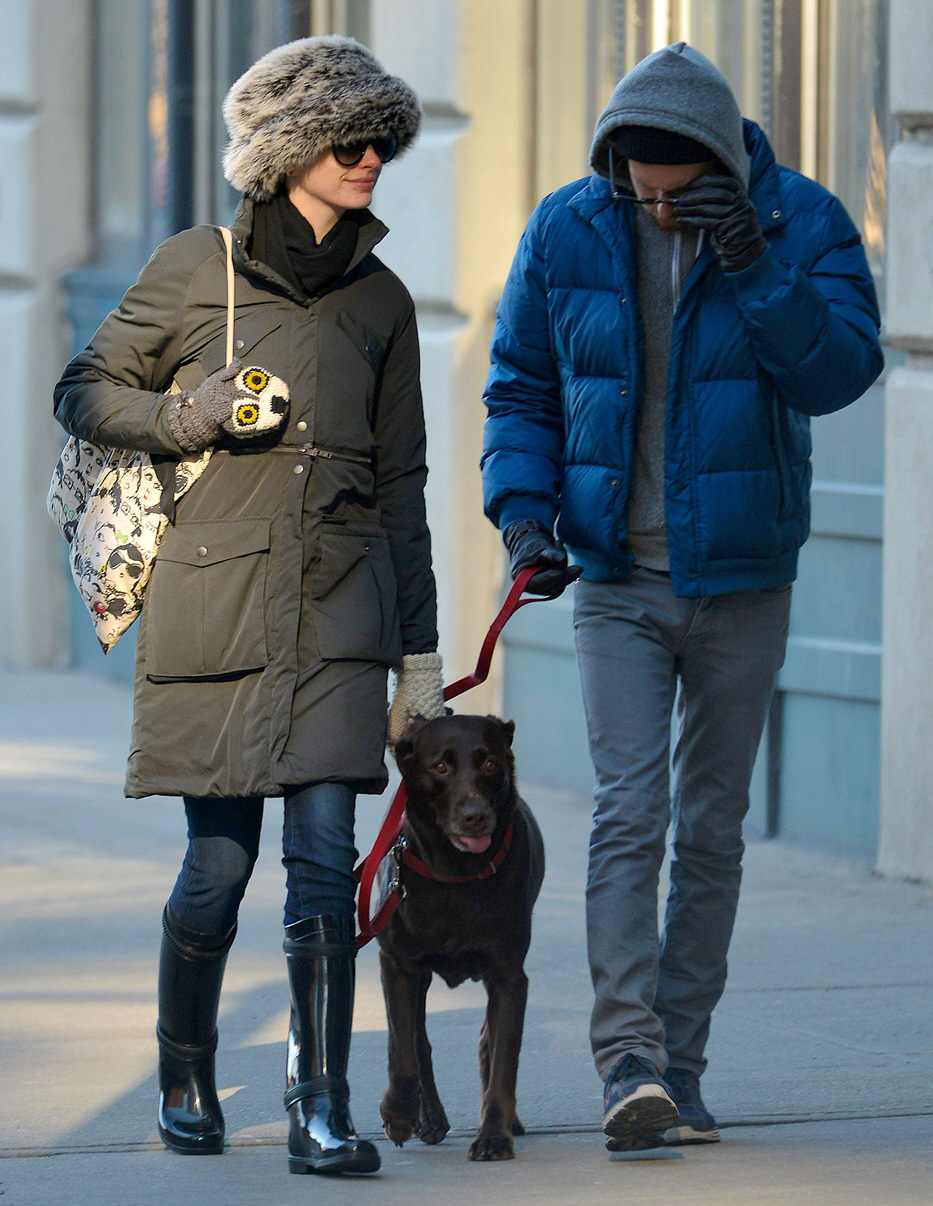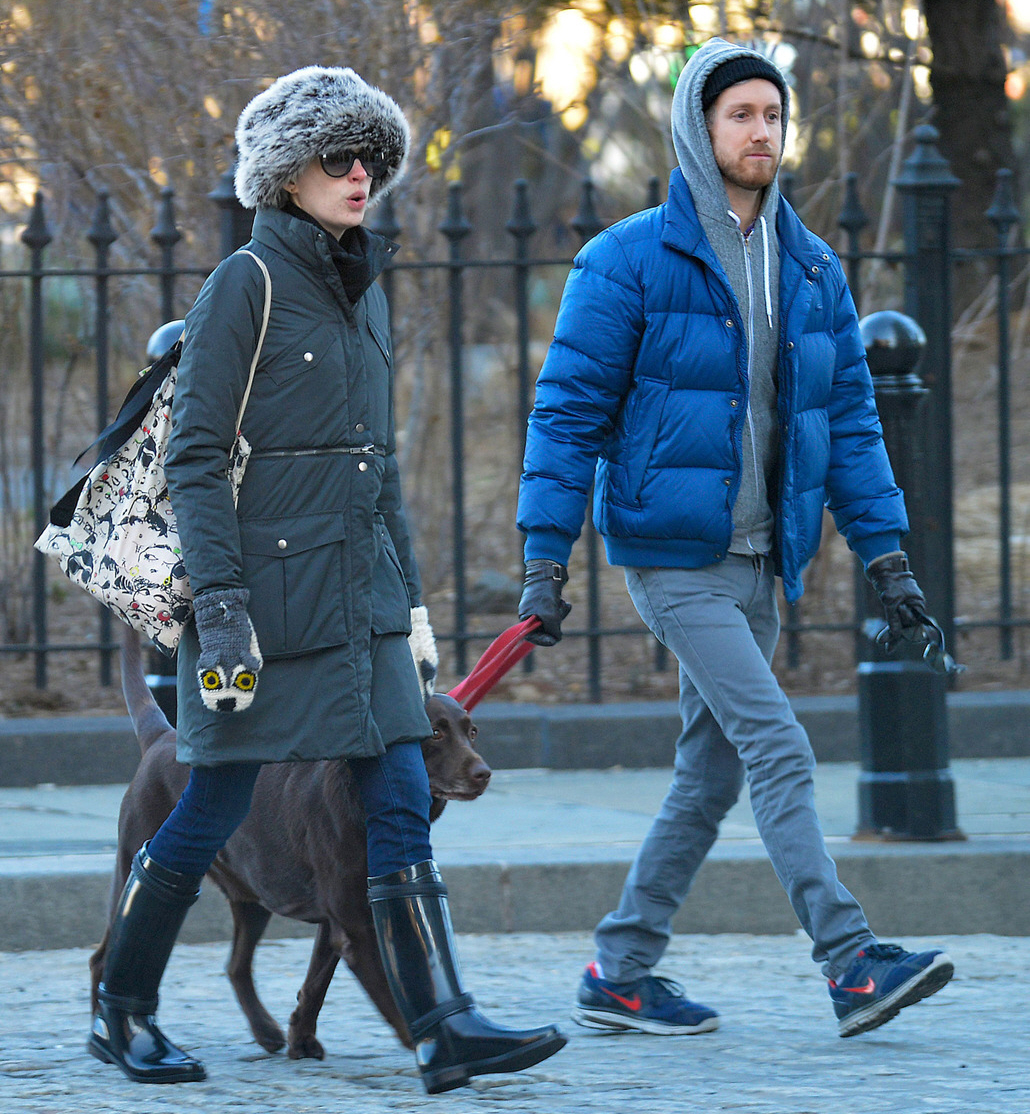 Photos courtesy of Fame/Flynet and PCN.