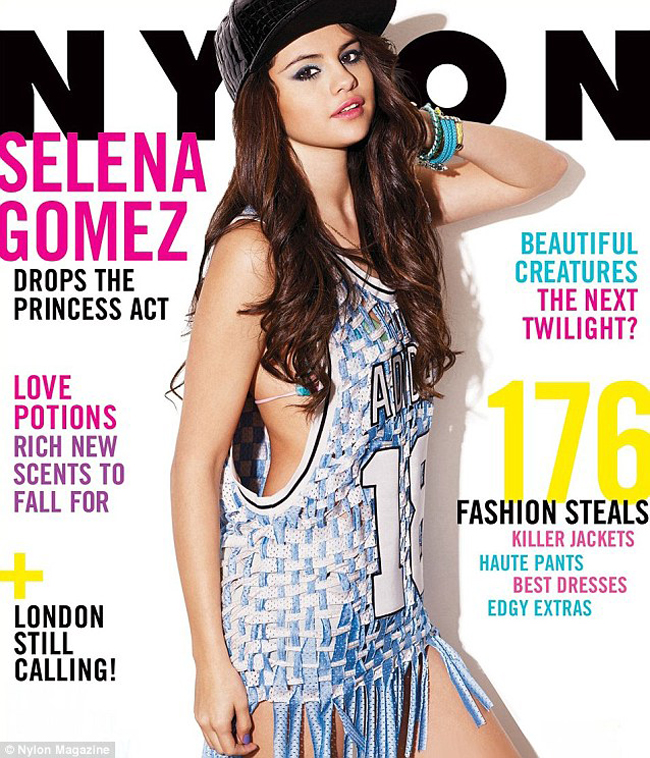 Selena Gomez covers the February issue of Nylon magazine to promote her role as one of the bikini-clad college girls who decide to rob banks (?) to fund a beach vacation in Harmony Korine's Spring Breakers. I've posted the trailer at the bottom of this post, but first let's talk about this Nylon cover. This magazine always has the worst covers, right? Always so busy with the colored, competing fonts and the dreadful clothing. Poor Selena cant be enjoying wearing a fringed basketball jersey that looks like it's woven out of potholder material. The one editorial shot that's been released isn't quite as awful though. Here are some interview excerpts: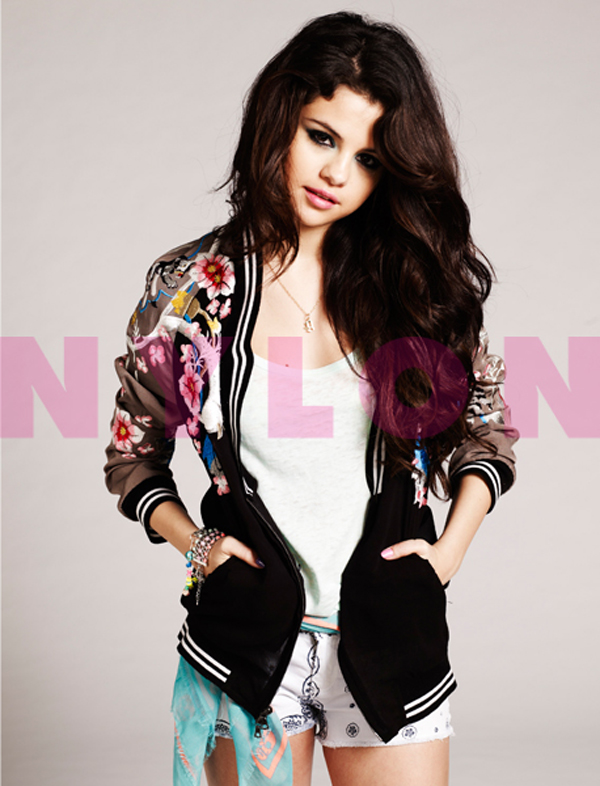 On fame: "I think [the paparazzi] are over me because I'm so boring[…] I get to Topanga Mall, and they're like, 'Why is she back at the same place?'"

On Spring Breakers: "It was my first audition in years. I definitely felt that with my first stepping-out role, I should choose something that I could understand a little more. I was really nervous, but Harmony took a chance with me. He said, 'You live in this bubble, and I'm going to take you out of it, but you have to trust me.'"

Her BFF is still Taylor Swift: "We both experienced the same things at the same time. But we've never once talked about our industry. She just became the person I'd go to for an issue with my family or boyfriend. It's so hard to trust girls, so I'm lucky to have her."

A pre-breakup summary of her thing with Bieber: "I'm having fun. At the end of the day, love is such a normal thing, and everyone deals with it. Just because it's a different lifestyle doesn't change the meaning of what I've been raised on, which is fairy tales."
[From Nylon]
Yeah, it sounds like Selena already had one well-heeled shoe out the relationship door when this interview took place. I really hope she and Bieber are done for good this time because she can do so much better. Speaking of Selena lowering herself, the first trailer from Spring Breakers is out, so let's watch and discuss below.
Just when I thought James Franco couldn't be more annoying, he has to double down on his K-Fed makeover with chrome teeth and a terrible accent. When he drawled, "Don't be spishious," I actually gave Kristen Stewart a run for her eye-rolling money. This movie looks pretty dreadful even though it's not meant to be serious. Obviously, Harmony Korine has taken advantage of the fact that former Disney starlets would welcome the chance to don bikinis, wield weapons, and shed their good-girl images. Vanessa Hudgens has already been trying to shed her High School Musical roots for a few years, but it doesn't look like this movie is going to help much. Unfortunately for her, making the transition from teen to adult actor also requires talent, which is definitely a problem area for Vanessa. She plays the fame game well, but she's not much of an emoter. As for Selena, only time will tell, but I doubt that her desire to be taken seriously as an actress will be aided by Spring Breakers.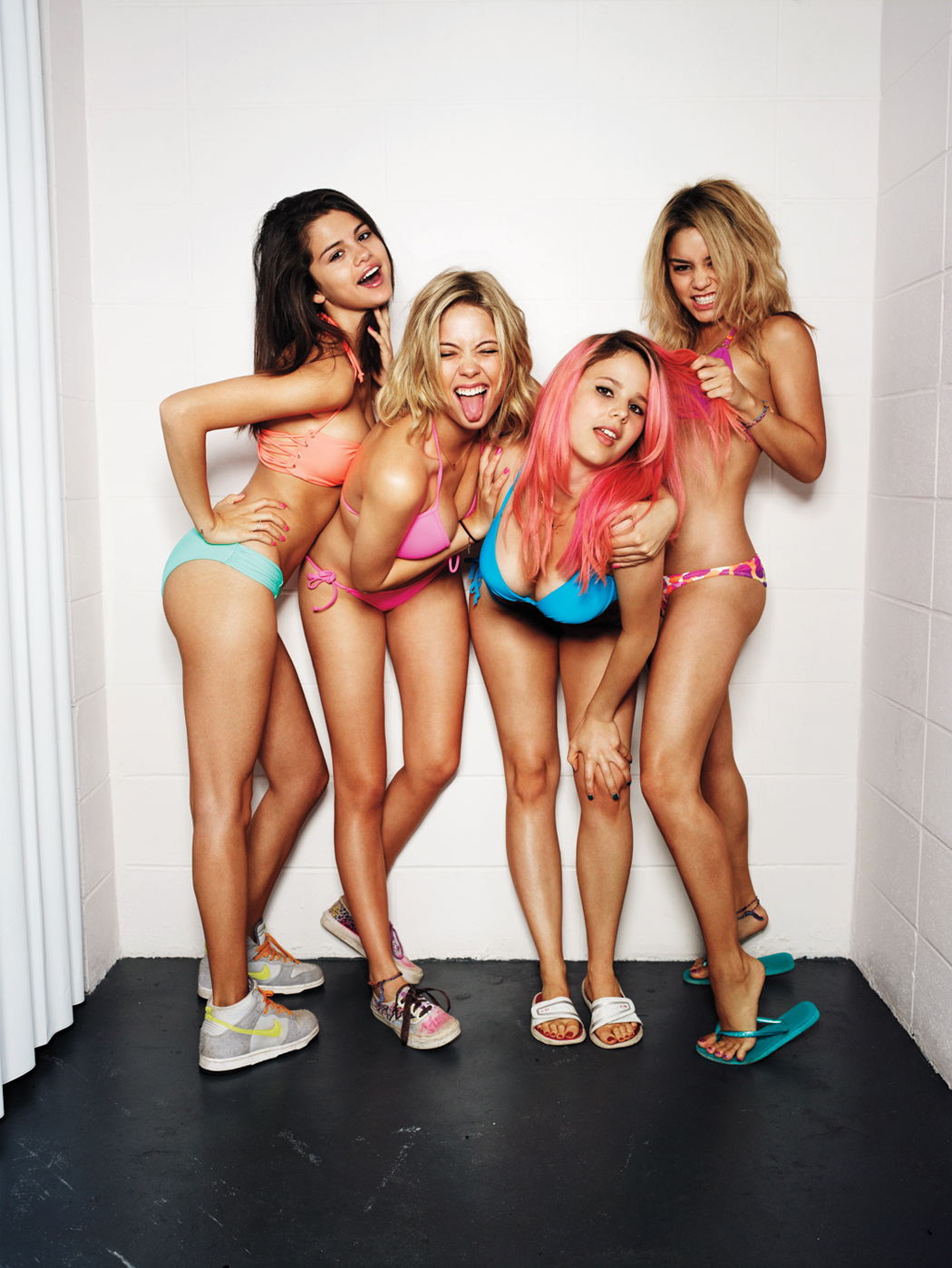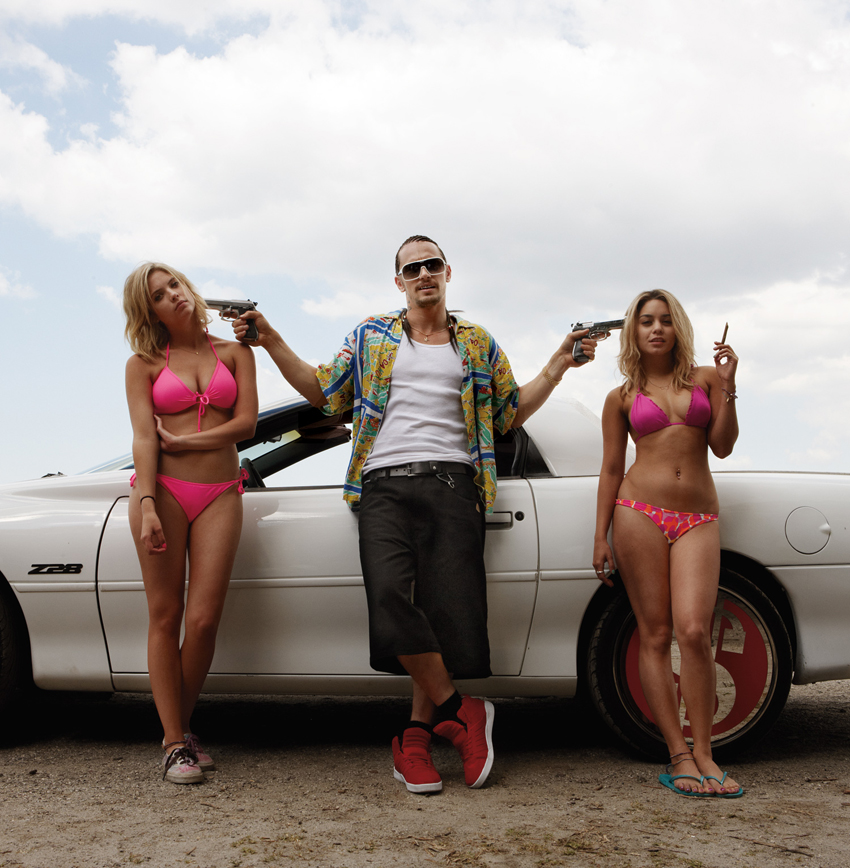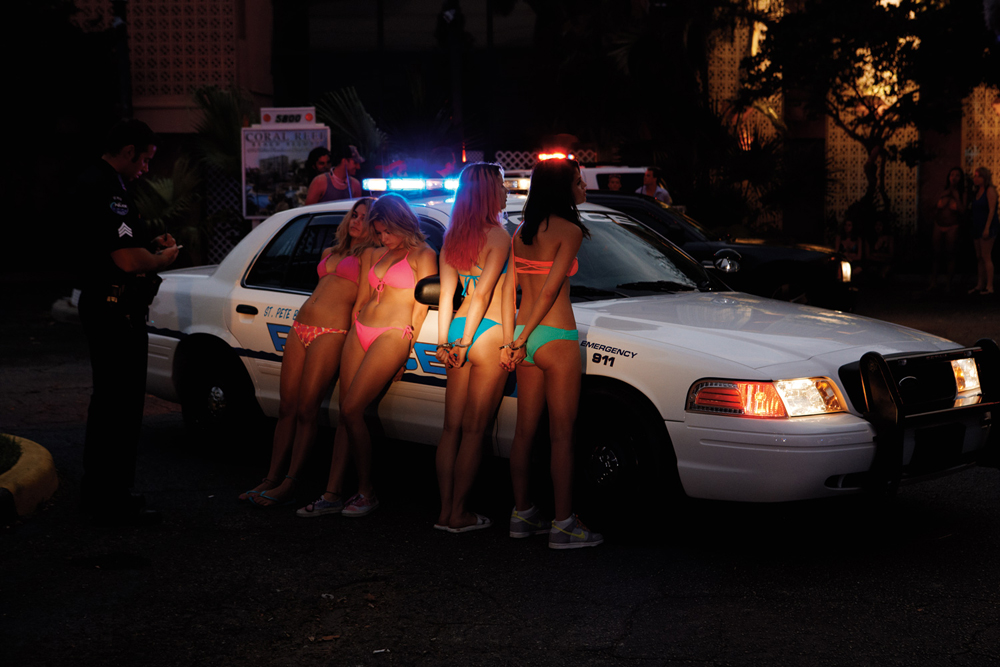 Photos courtesy of Nylon and Interview magazine