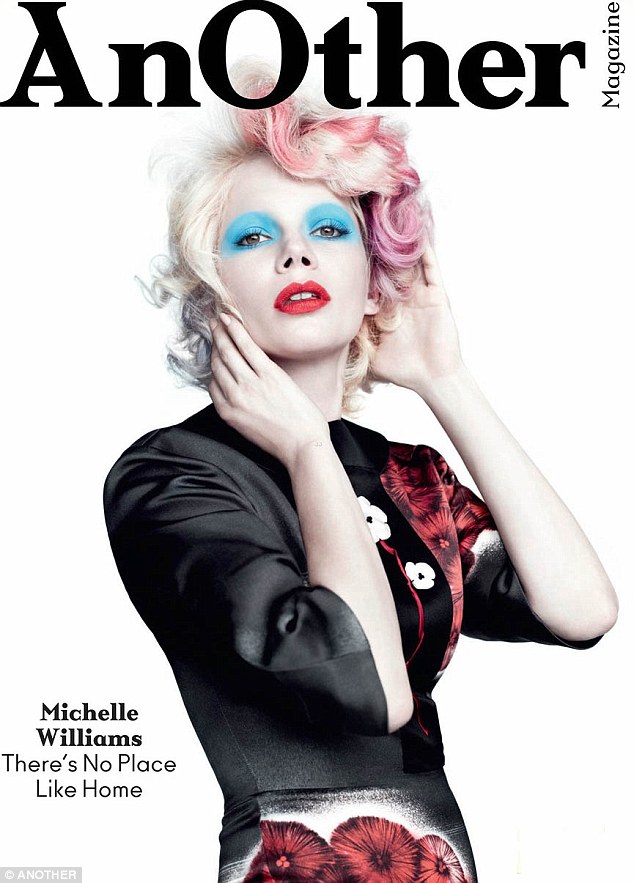 AnotherMag has a video interview with Michelle Williams, [via E! Online] and I was surprised at how "normal" she sounds. The last time I remember hearing her, she was using that affected baby voice, probably a holdover from her My Week With Marilyn prep, and I'm glad she's rid of it. (She didn't sound like that during her Oscar red carpet interviews this year, but it was so distinct that I still associate it with her.) In the interview, she answers some questions that are given offscreen and she comes across very well. You still get the sense that she's a vulnerable person, but she seems comfortable and sure of herself, and like she's giving honest answers. She talks about her insecurities about acting, about preparing for different roles and about getting into character and not being able to stay in character because she's a mom. It doesn't sound like she misses it, but that it's just a fact of life for her.
On staying in character
I think in some ways you can't help but stay in character. It's a shift, it's slight, it might even be imperceptible to other people, but you feel different all day. But I think when you have a kid, you have a duty to shed that when you come back into your home life, or at least try to.

On balancing work and motherhood
I guess realizing that there is no such thing as a perfect balance. It's not like riding a bicycle, you don't want to just figure it out and stay on track.

I find that when I'm working, there are only two things: there's my work and the kid. Everything else has to fall away.

On which mementos she keeps from sets
From Blue Valentine I kept my wedding ring. I actually kept it on for a while. After the shooting had stopped, I was still wearing it – I couldn't quite take it off – and now I keep it above the kitchen sink where I do dishes, as a little memento.

On being insecure as an actress
Every day feels like the first day, and everyday you think 'They're going to fire me, I don't know what I'm doing, I don't know how to do this, I don't know why I'm here, Everybody's going to find out.' But the comforting thing is everybody feels like that, every actor that you talk to says 'I have no idea what's going on…' the feeling is a very common one… if it felt safe it wouldn't feel exciting.

On feeling at home
I think I do feel at home on a set now. Certain sets. Most sets. There's a few places, a few settings that I feel at home in. I feel at home in my home. I feel at home in nature. I don't know… in some ways I feel like maybe that feeling is something I'm still looking for.
[From AnotherMag via E! Online]
I'm wondering if this interview was conducted before or after her split with Jason Segel and if that kind of prompted her to give that quote about "everything else falling away," as if her relationship faltered because she didn't have room for it. Even if it was before her official split with Jason they were probably on the outs at the time.
This was promotion for her role as Glinda in Oz The Great and Powerful, which is out this weekend. You know, I could have sworn that the movie already came out and that it was a dud at the box office, but I just checked Box Office Mojo and was surprised to not find any numbers. I was confusing it with Jack The Giant Slayer, which looked better than this mess (I didn't see Jack), and topped the box office with a weak $27.2 million over the weekend. So things may not fare much better for Oz. I mean James Franco is the lead, can you see it doing very well?
After I wrote this story, Kaiser pointed me to the covers for the Magazine. The Daily Mail explains that AnotherMag is a biannual British fashion magazine, and I get that they were going for very different styling looks here, but it's all kind of overplayed and bad. The feather-in-braids look is potentially offensive to Native Americans. Did Michelle see that coming at all and did she push back against that kind of styling? I mean that's on the magazine for doing that, but I wonder if she even realized it was happening and/or if she just felt like she had to go with it. The header image (above) makes her look like Scarlett Johansson. It's kind of funny that they put her in 1950s widow styling at one point. That seems fitting.