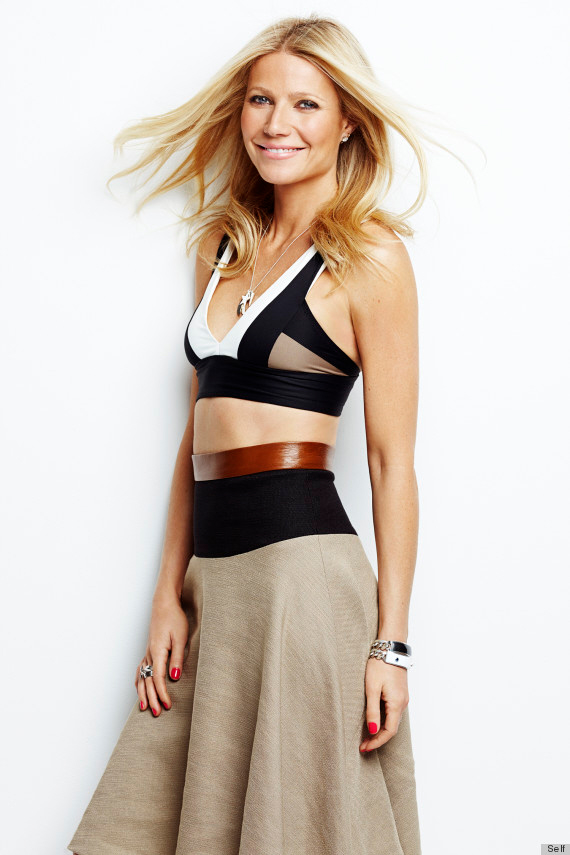 Over the weekend, I wrote up a preview of Gwyneth Paltrow's April Self Magazine interview. I hoped to have more excerpts to discuss, and bless them, they were finally released. The most startling thing about these excerpts is that Gwyneth deigns to admit that her crazy "no dairy, no eggs, no sugar, no gluten, no carbs, no potatoes, no tomatoes, no red meat, no corn, no wheat" diet is actually just something she does for three weeks at a time a few times a year. She's not currently on this crazy diet right now – this "diet" is her new version of a detox. And she's still insisting that a doctor recommended it to her! That's still the craziest thing to me – I feel very strongly that Gwyneth goes doctor-shopping and nutritionist-shopping until she finds someone who will tell her to it's okay to eat nothing at all, she can just drink wine and smoke and as long as she LOOKS skinny, she's "healthy". Because that is seriously the way she thinks. Anyway, some highlights from the interview:
Why Gwyneth changed her diet: "A couple of years ago, I got really run down. I had to sing at awards shows, which was fun but stressful. I'd have a Guinness and a beta-blocker every time. I also was constantly getting on airplanes, trying to knock myself out with sleeping pills and wine, waking up, trying to sweat it out with exercise and a steam, and then working really hard all day. Eventually, I had a panic attack. My body was like, 'What is happening?' My doctor, Alejandro Junger, recommended that I cut out basically everything: dairy, sugar, gluten, anything processed. I was like, "What the f— am I going to eat now?" That's why I made the book: to stop eating brown rice out of the fridge because I didn't know what else to eat–it was demoralizing."

When she adheres to the diet: "I probably eat this way two or three times a year for three weeks at a time. Past that, I'm not willing to make the sacrifice. Life is about balance. It's good to work in healthy food, whether it's five days a week or five meals a week. And if you're going to do it, it should be awesome food you're psyched to make. But never cut out the brownies or the wine."

How she feels on the diet: "You feel lighter and your emotions get smoother. I also was run-down because I had a lot of unexpressed anger. I made everyone else's feelings more important than my own. I'd suck it up and then be alone in my car yelling at traffic or fighting with hangers in my closet when they got stuck together. You're not learning anything unless you're having the difficult conversations. Dealing with things directly changed my relationships. Sometimes when you get clear about who you are, others get less comfortable because they liked who you were. It's changed my marriage [to Chris Martin, 36], too, but he's up for the challenge."

Her biggest stress: "When I'm supposed to be in two places at once. I try to avoid finding myself in that scenario."

Blowing off steam: "I watch Homeland or New Girl. I also like to have martinis with my girlfriends. I feel a sisterhood emerging around me. I'm less threatening now that I'm 40 and not 26-with-an-Oscar. There's a sense of love and support. I feel really lucky."

She calls girlfriends for advice: "Always. "I have a guy coming for dinner. What should I make?" or "My mother really upset me. How should I approach it?" They know I've been through a lot of pain and suffering—some public, some private—and I keep going. Or maybe it's just that I was the first one who could afford therapy!

Turning 40: "[My 30s] were happy. I came into my womanhood, had my kids. My 20s were a lot of work, and I had no big-picture sense of who I was, where I was going or the point of it all."

The point of it all: "Finding your truth. Be honest about what you feel and don't be afraid to articulate it. "To thine own self be true." It's not a platitude. It's the key to life.
God, she's insufferable. "I also was run-down because I had a lot of unexpressed anger. I made everyone else's feelings more important than my own." Goop, please. No one believes that. No one who utters the words "I'm less threatening now that I'm 40 and not 26-with-an-Oscar" has a compulsive need to take care of other people.
Does anyone else find it bizarre that we're getting so many different stories and rationales for why Gwyneth went on this radical diet? She claimed that she thought she was having a stroke, she claimed, she claimed she had all of these significant health problems, and now she's claiming that she was just rundown from working SO MUCH (because she "had to" – like she had no choice in the matter?)! I guess it could be a combination of all of those things. Or it could be that Gwyneth was just looking for a new angle for her second cookbook and she's struggling to create an appropriate backstory. Whatever is going on, I think it's wildly irresponsible that we're only hearing NOW that her ridiculous diet is something she only adheres to a few weeks at a time every four months.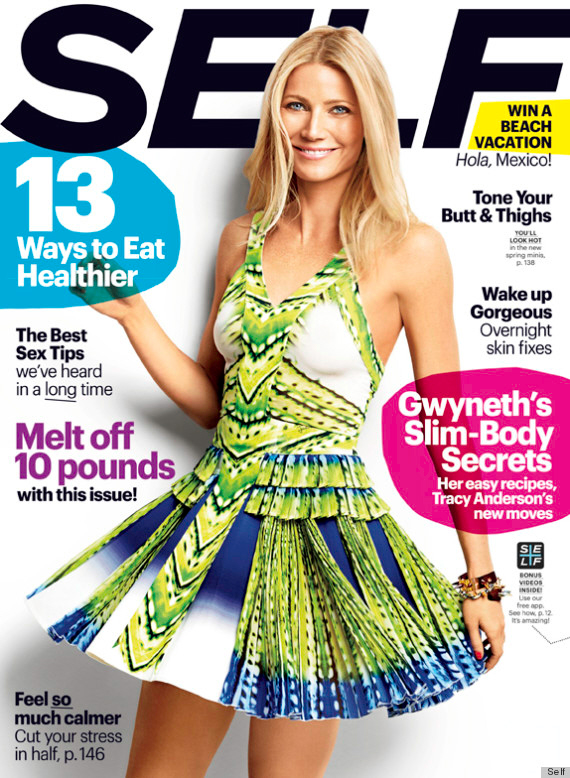 Photos courtesy of Self.