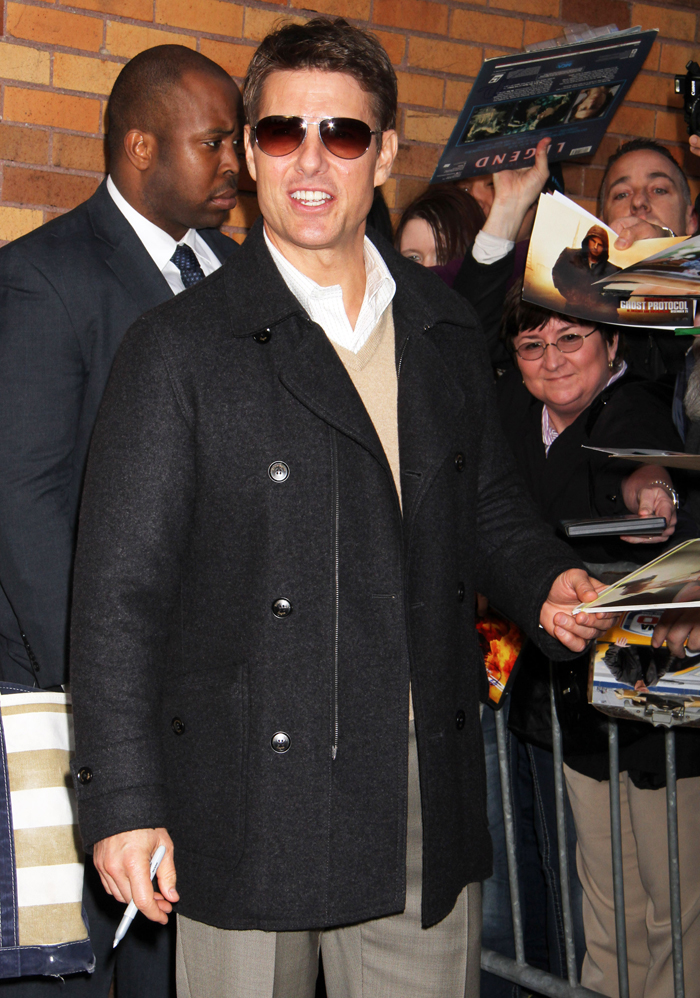 You may find it hard to believe that I try very hard to resist these Tom Cruise recaps, but here we are again, lift lovers! Tom is still making the rounds to promote Oblivion, and here he is outside "The Daily Show" yesterday afternoon while working the crowd. I know some of you thought it was actually cool (and somehow not creepy) that Tom showed up to the Los Angeles premiere five hours early so he could fist pump with his fans, but look at what he's doing in these photos. He's not even interacting with these people or making eye contact with them at all — he's merely staring at the camera with a "Look at what a generous guy I am!" expression on his face.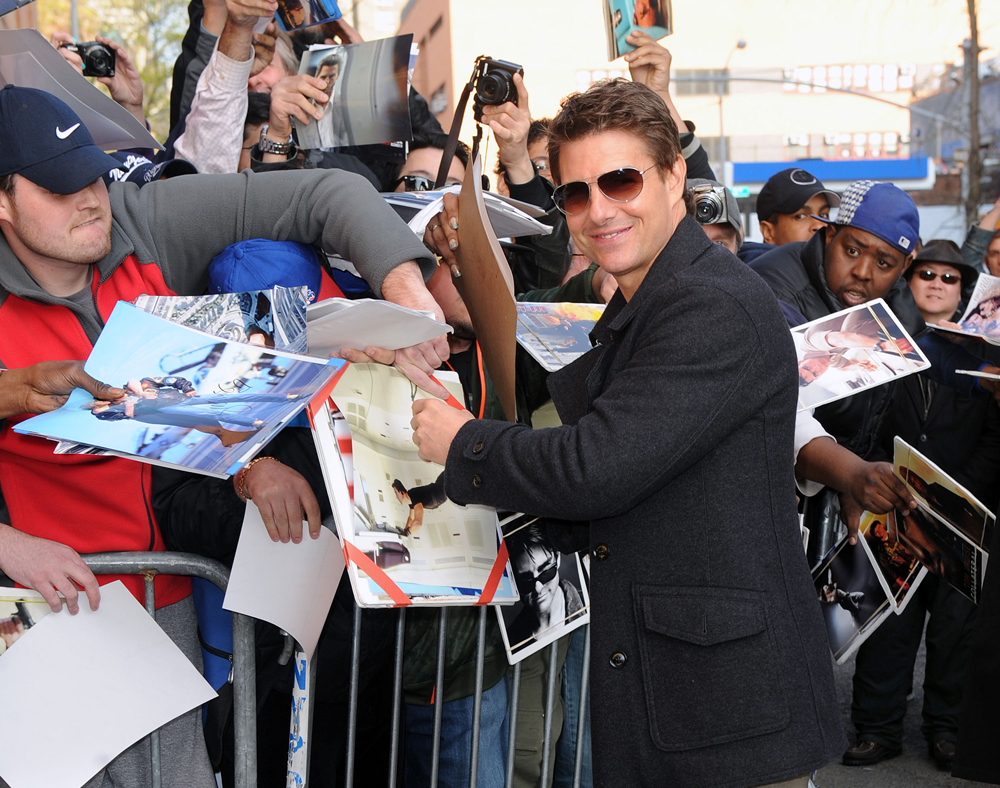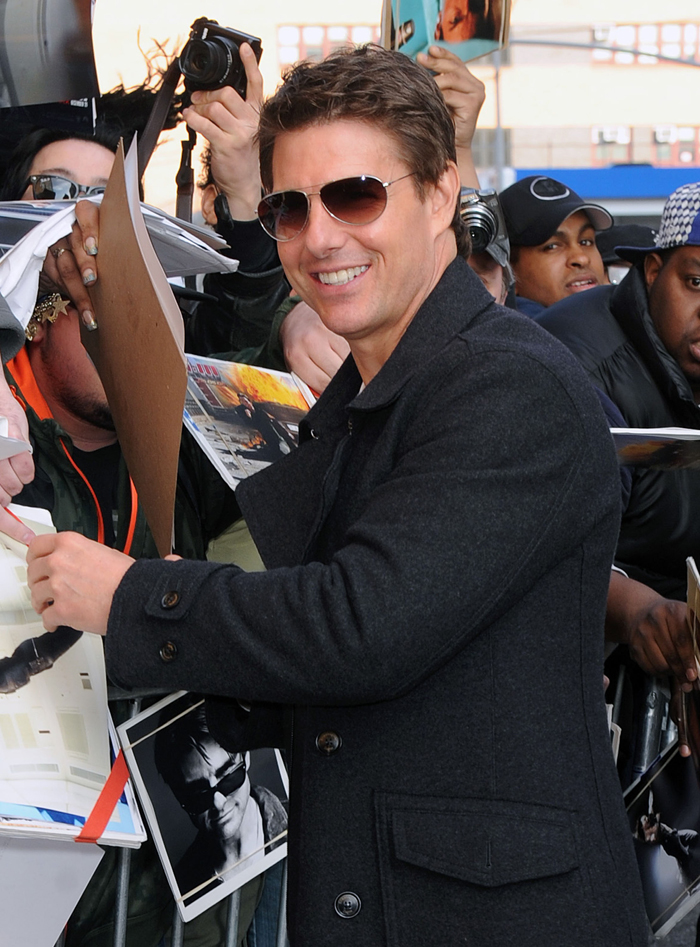 Jon Stewart interviews Tom with aplomb, as always, but Tom is even weirder than usual. He's still wearing his bad Burt Convy sweaters, but his pants are distractingly tight here. Gross. He also admits to sometimes taking Advil for pain relief after a hard day of shooting. Somebody call Xenu!
In that clip, Tom tells Jon that he makes these stunt-laden movies because "I want to entertain the audience. Something I think will be exciting." Meanwhile, there's the question of just how well Oblivion will fare stateside because there's been very little interest based upon the film's underwhelming trailer. So far, the strategy (like most recent Cruise pics) is to surreptitiously release the film overseas where not everyone realizes what a freaking lunatic Tom Cruise really is, and then the subsequent soft US box-office isn't such a big deal. That's why Jack Reacher will get a sequel.
Of course, Cruise really is in a career rut even though he'd never admit it. The dude doesn't do indies — he's beneath anything that isn't planned as a major blockbuster, but people don't want to see him do anything really serious like Lions for Lambs, and people are tired of him trying to be funny and unironic like with the Rock of Ages failure. As such, he's stuck in action mode now and forevermore, and in particular, he's fixated upon sci-fi flicks based upon alien invasion stories (ahem, Xenu). In addition to Oblivion (which deals with the aftermath of an invasion), he'll soon be seen crapping his pants in All You Need Is Kill where he fights off aliens in a time loop. Now he's also signed onto kick more alien ass in Yukikaze according to Deadline:
EXCLUSIVE: With a $61 million opening weekend overseas on Universal Pictures' Oblivion, who could blame Tom Cruise for wanting to stay in science fiction mode? He's just made a deal to become attached to star in Yukikaze, a big-scale film based on a series of Japanese sci-fi novels by Chohei Kambayashi. Warner Bros acquired the novel series and will finance and distribute. The author has been called Japan's answer to Isaac Asimov, and the film will be produced by 3 Arts' Erwin Stoff and Tom Lassally, who developed and produced the sci-fi film All You Need Is Kill that Cruise starred in for Warner Bros and director Doug Liman. Viz Media's Jason Hoffs will also be producing.

Yukikaze unfolds in the early 21st Century, three decades after the alien force JAM invaded earth through a dimensional porthole that appeared over Antarctica. While humans beat back the attack, they form a special combat force to eradicate the alien threat on its home planet.
[From Deadline]
Tom is so huge in Japan, so I have to admit this is a smart move. I forgive my Japanese ancestors for loving Tom so much, and I guess it's only natural for Tom to do projects that will be readily embraced by other cultures since he's not terribly welcome here.
In other talk-show developments, Tom visited Jimmy Kimmel a few days ago, and Kimmel had him deliver a series of one-liners in a "movie star" way. Tom delivered all of them in exactly the same "intense Tom" manner.
Then Tom made an appearance on Jimmy Fallon's show, and the two of them played Egg Roulette. It's just as ridiculous as it sounds (Fallon was clearly getting signals from Higgins the egg carrier), and I can't believe Tom was gullible enough to (spoiler alert!) crack two raw eggs on his head. Everyone knows you spin the egg to find out whether it's raw or hard boiled. Everyone except Scientologists.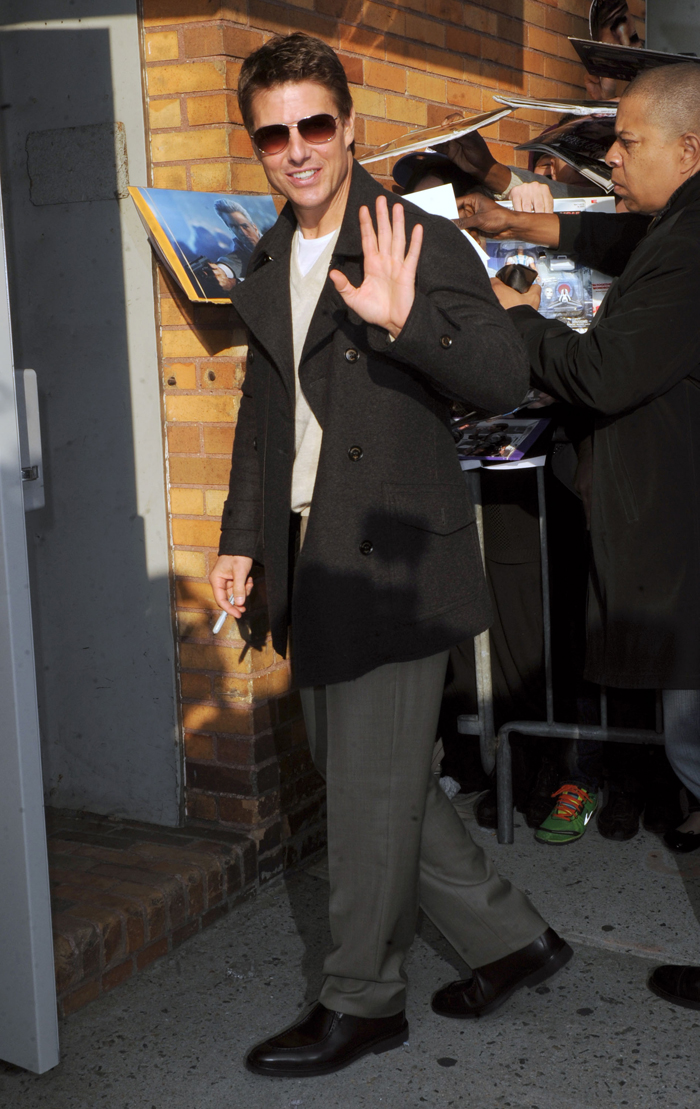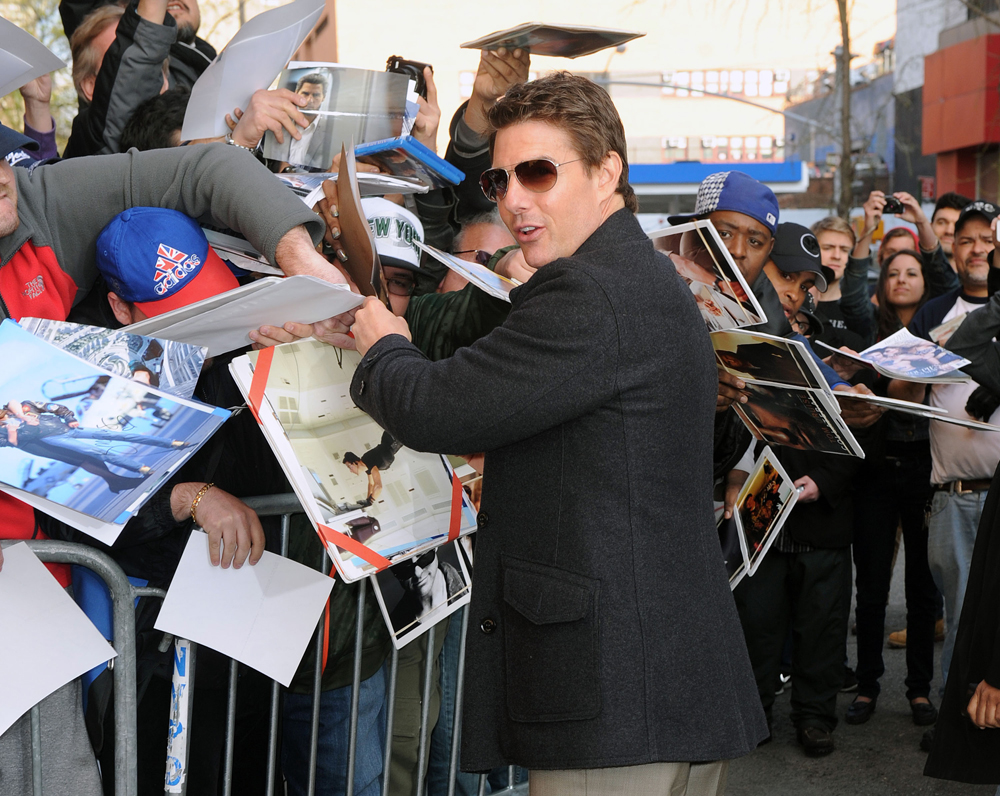 Photos courtesy of Fame/Flynet