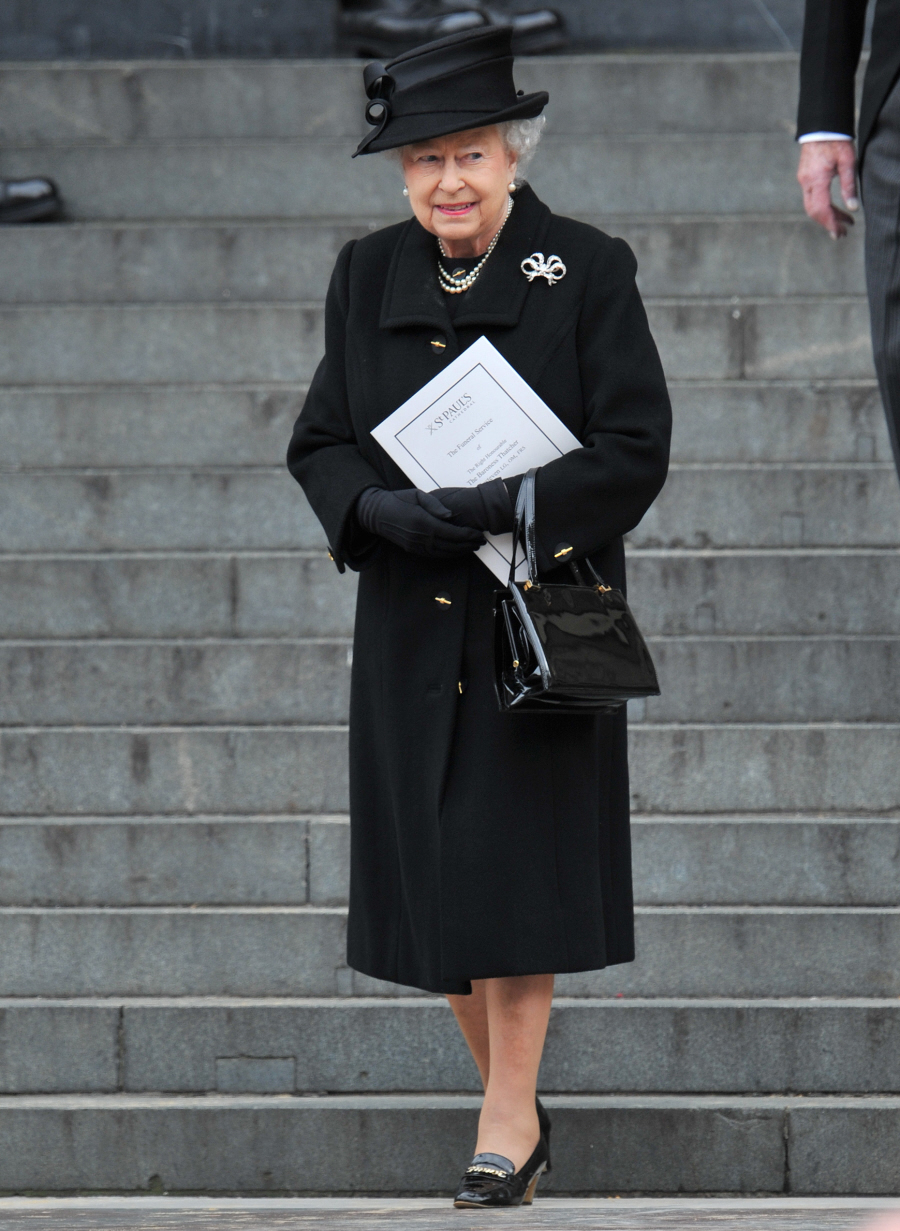 I wasn't going to cover any of the photos from Baroness Margarget Thatcher's funeral yesterday, but then I saw these photos of Queen Elizabeth and I changed my mind. Please don't think that I was merely picking and choosing the odd moments when the Queen happened to be greeting someone she liked – this was her expression in nearly every photo. I swear to God, the Queen was practically giddy. She was super-jazzed to be attending a funeral. I'm not trying to be mean or call her out or anything – God knows, the Queen can do whatever she likes. I just thought it was funny. Margaret Thatcher was such a controversial figure (and we don't really need to get into WHY she was so controversial… yes, her policies were divisive and at times God-awful, but the woman is still dead, you know?), and here we have the monarch, the head of state, Her Majesty the Queen, smiling up a storm at Thatcher's big state funeral. Here's a tad more about the Queen's appearance:
The Queen made a rare appearance at the funeral of a so-called commoner today as she attended the service held in honour of Baroness Thatcher at St Paul's cathedral. Baroness Thatcher was the Queen's eighth and longest serving prime minister and the former PM's friends and allies were said to be delighted the monarch decided to attend.

Traditionally the Queen does not attend funerals of so-called commoners. The only other time she has broken with tradition was in 1965 when she attended the funeral of Winston Churchill.

The Queen, wearing black wool coat and hat with a triple string of pearls at her neck, sat with Prince Philip at her side as she listened to the heartfelt tributes paid to Britain's first female prime minister.

The decision for the Queen to attend was made last week at a top-level Government meeting to discuss plans for the farewell to the Iron Lady. Palace officials then confirmed the monarch would join mourners at St Paul's Cathedral.

As reported by the Daily Mail's Royal Correspondent Rebecca English, the Queen and Margaret Thatcher, born six months apart, were two women very much making their mark in a man's world. But, Rebecca says, the Queen is often said to have had a less than easy relationship with Margaret Thatcher, her eighth – and longest-serving – prime minister.

'Always mindful of her constitutional role and cordial to the last, the monarch is nevertheless said to have personally disagreed with some of Mrs Thatcher's more divisive policies and privately expressed her alarm over issues such as unemployment and the miners' strike.'
I've heard that too, in reading various royal biographies. Thatcher was a monarchist, of course, but the Queen was not (and is not?) a flat-out Tory. When Thatcher was serving as prime minister, some even described her relationship with the Queen as "icy". The Queen allegedly thought Thatcher was a big phony too. Maybe that's why Ol' Liz looks so thrilled? No, probably not. She probably looks so happy because nearly everyone at the funeral is her age and she knows all of these old farts. You can see more photos from the funeral here – there were lots of pearls and fascinators!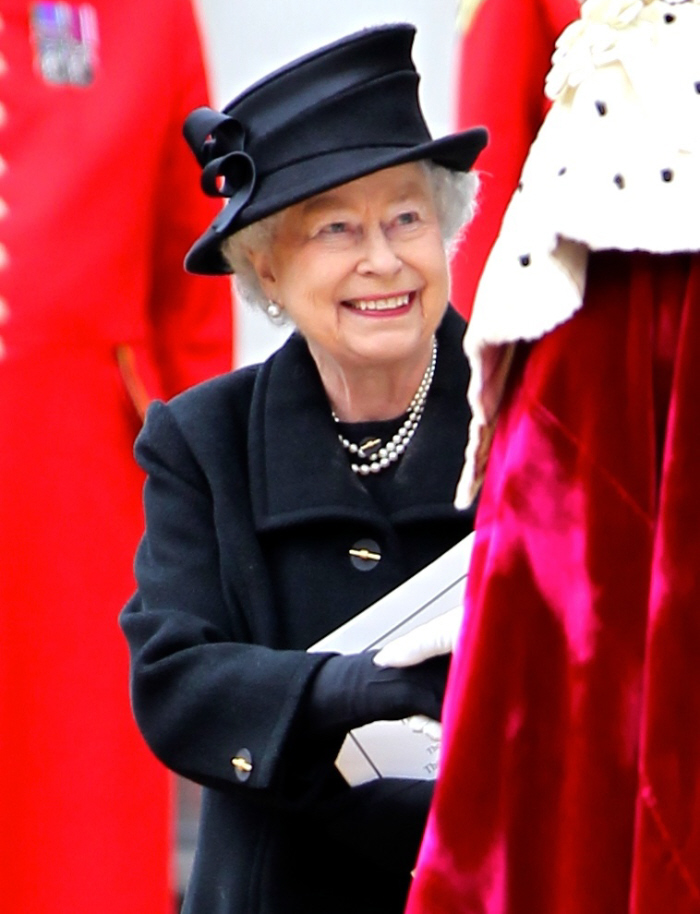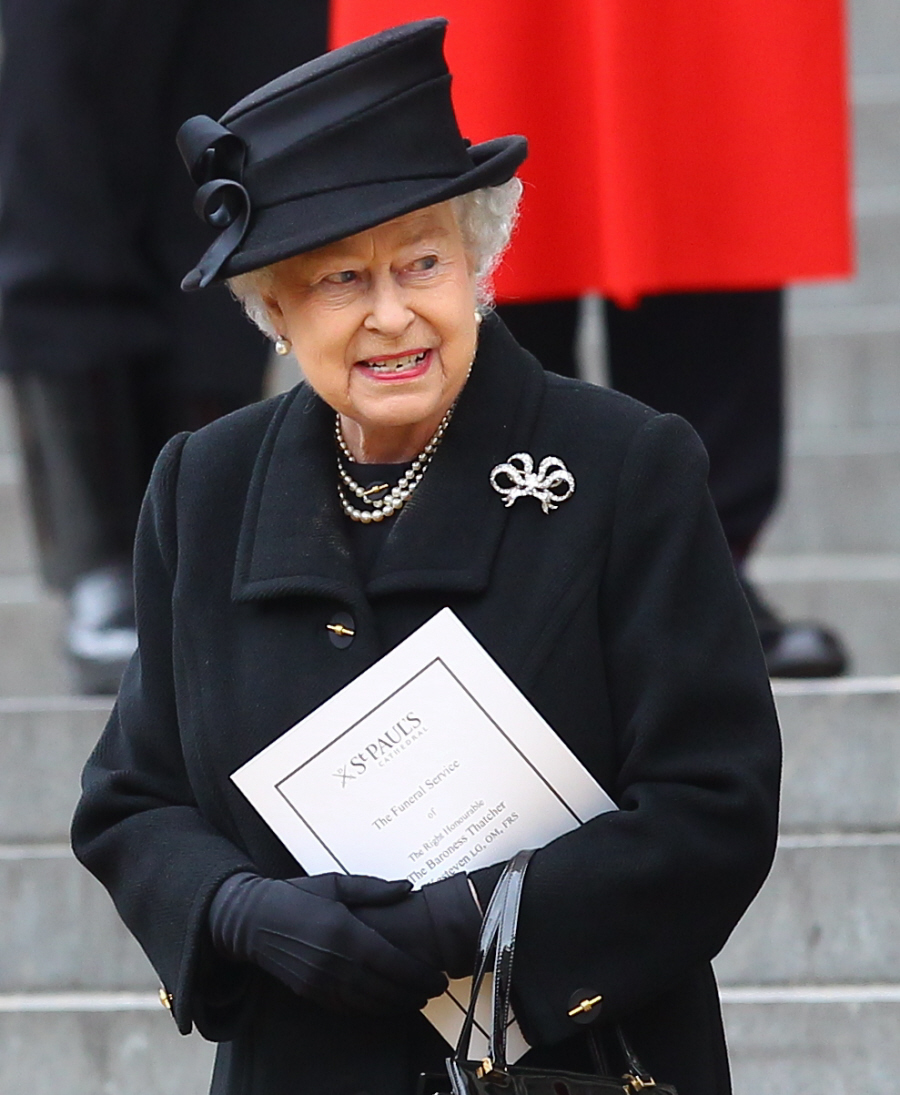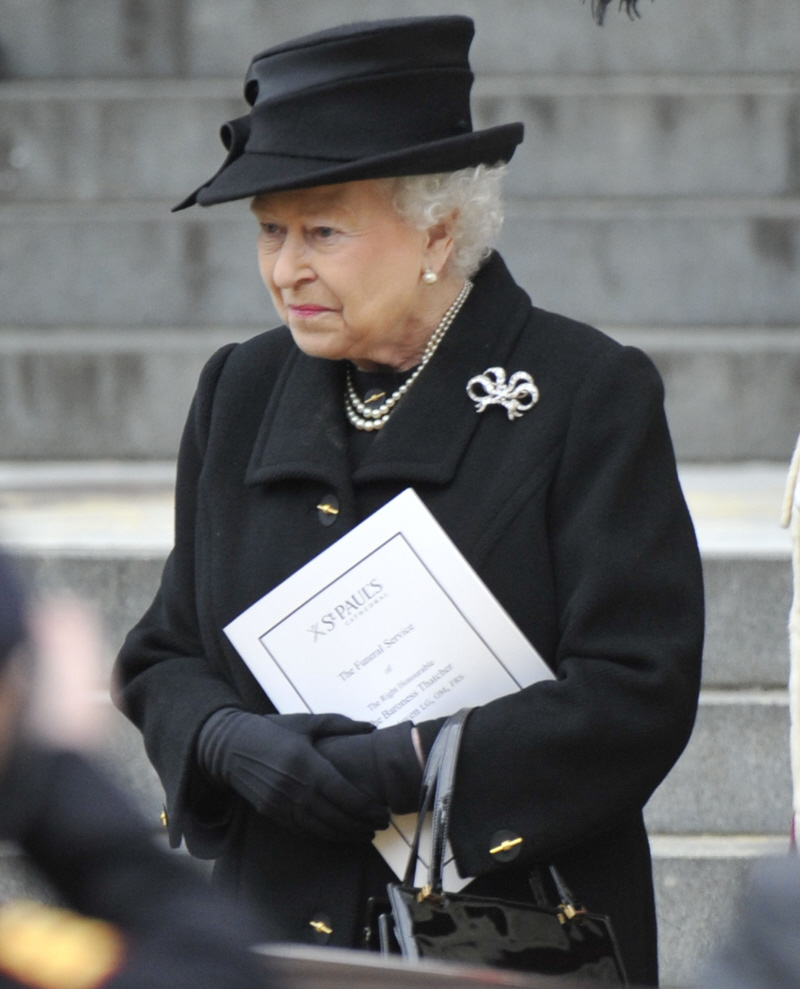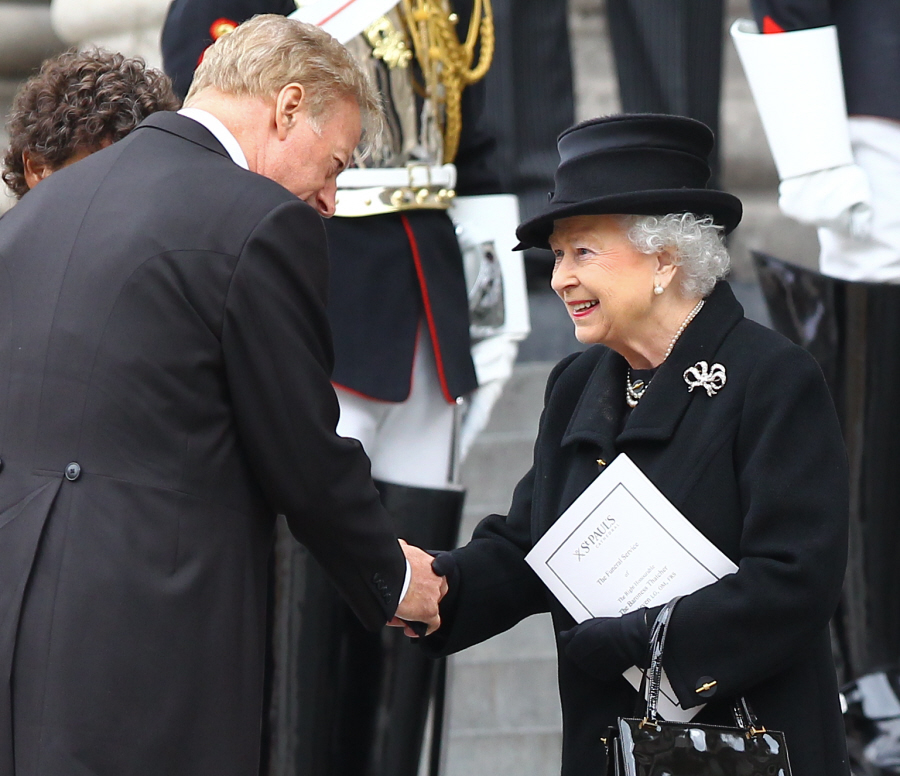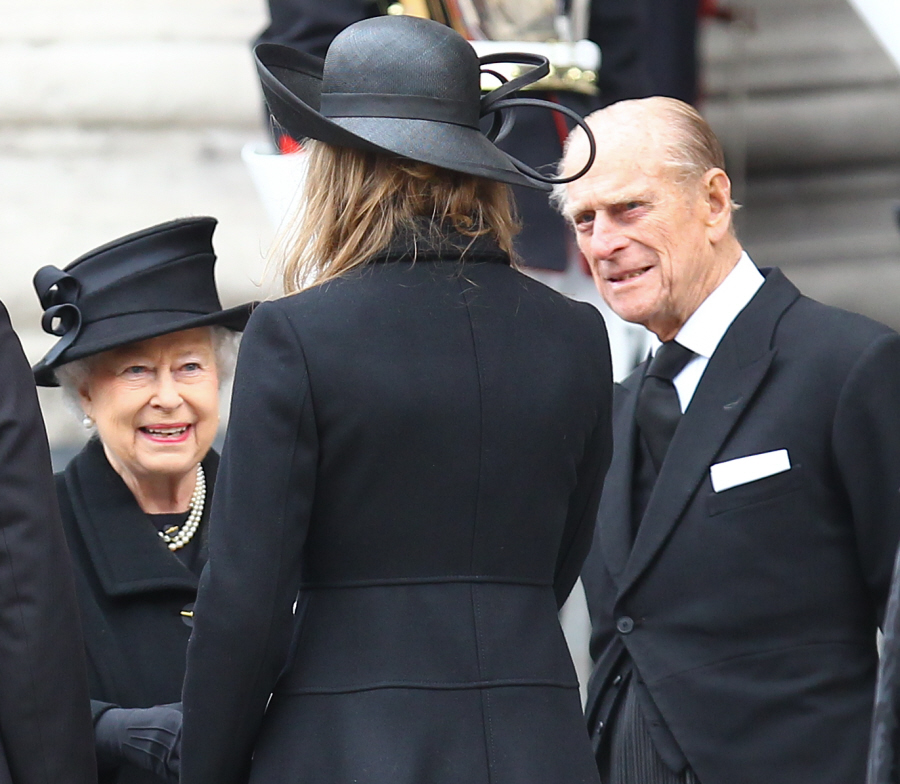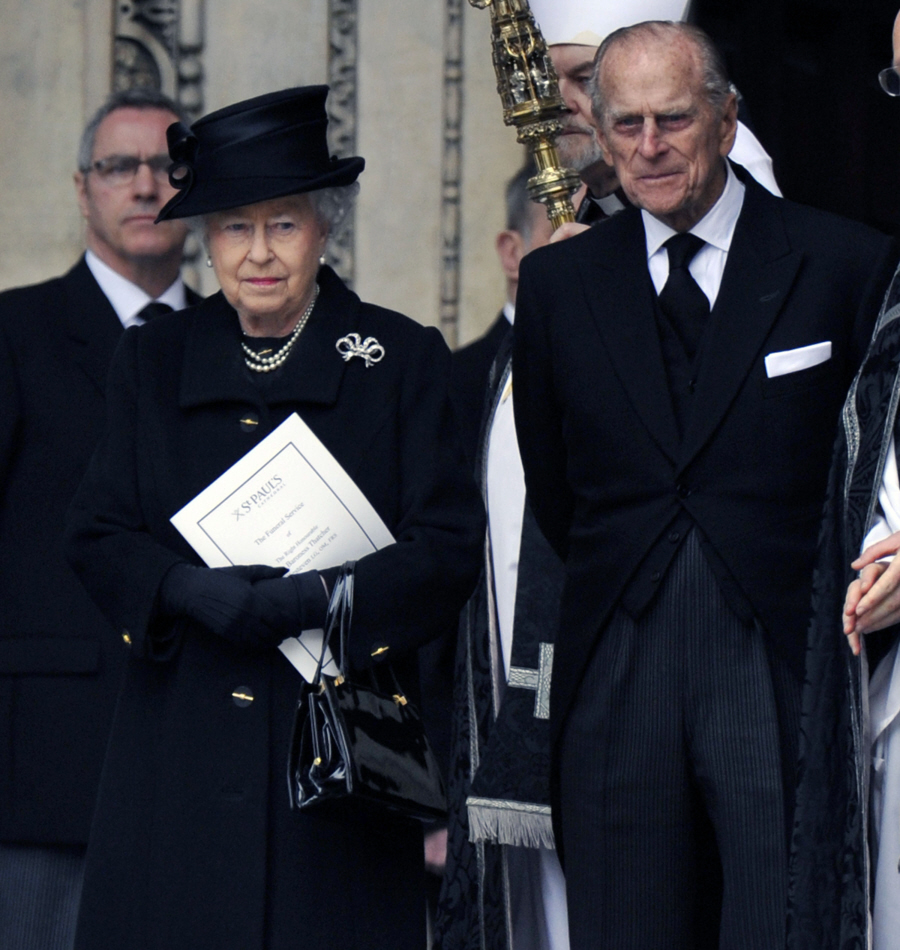 Photos courtesy of WENN.