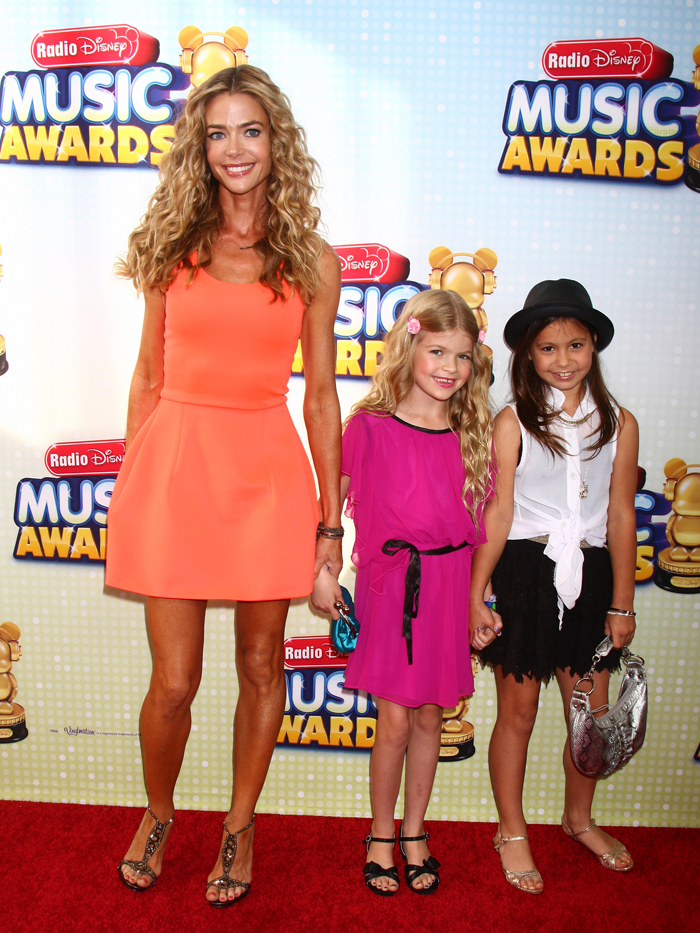 Here are some photos of Denise Richards at the Radio Disney music awards on Saturday evening with daughter Sam and a little friend. Those kids look positively adorable, but Denise has reclaimed her addiction to tanning lotion like Russell Brand hitting the shagging scene again after he divorced Katy Perry. I don't know if there's a 12-step program for tanning, but something needs to be done about this orangey stuff. I know there's a certain ingredient in some self-tanners that reacts with people's skin in different ways, but you'd think Denise would be savvy enough to sniff out the better brands that actually bronze skin and looks more natural than an orange tint. Oh well.
Denise is still looking pretty thin in these photos. Back in February, we covered a Star story that labelled her "scary skinny" based upon a certain set of photos that revealed slightly gristly (in a Madonna sense) arms. A lot of you disagreed with my assessment that Denise looked fit and mostly healthy even though I suggested that stress (raising three daughters as a single mother and being an ex of Charlie Sheen) could also be a factor in her shrinking figure. She has a very low percentage of body fat although I'm not sure whether Denise is naturally thin or is actually starving or over-exercising herself to get there. She was curvier during her fleeting Bond girl days, so I don't know what's going on with her. For her part, Denise is really tired of all of the judgmental attitudes concerning her body. Here are her words from the red carpet: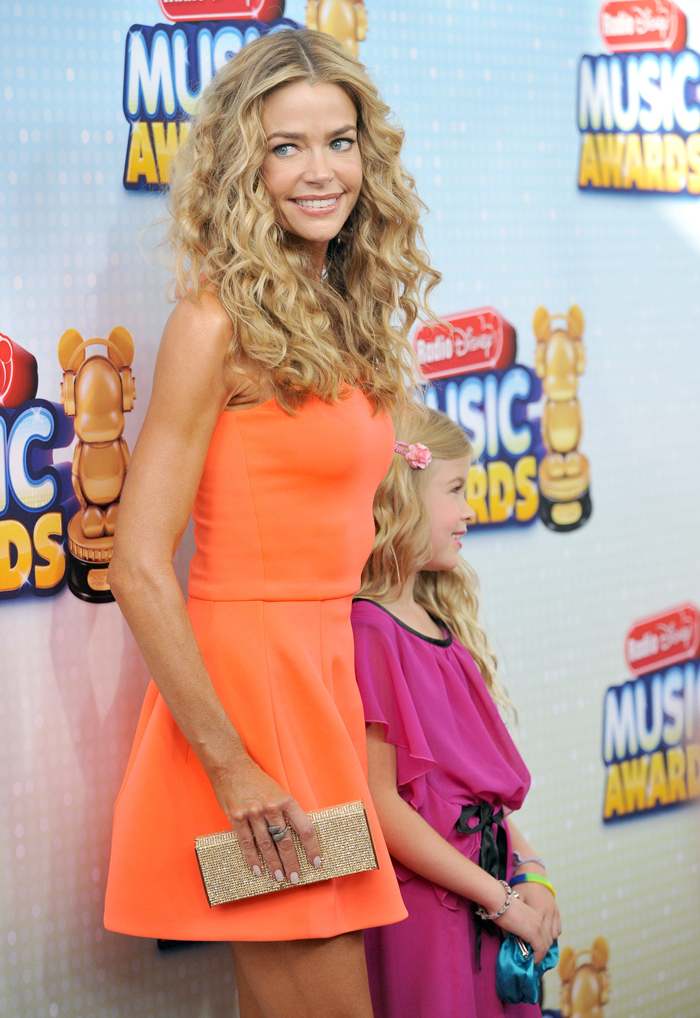 Denise Richards isn't wasting away, despite rumors to the contrary. In recent weeks, the Twisted actress has been criticized for supposedly looking "painfully thin" and "extra skinny" by several media outlets, including The Sun, Radar Online, The Daily Mail and E! News. The 42-year-old mother of three defended her athletic build during the Radio Disney Music Awards in L.A. Apr. 27.

"I don't know why lately I've been getting so much flack for it," Richards told Extra. "I have a very healthy lifestyle and I'm busy."

The Pilates devotee added, "What bothers me is I have three daughters [Sam, 9, Lola, 7, and Eloise, 22 months]. I'm such an advocate for health and fitness. . . In moderation, we eat ice cream all the time. I had grilled cheese before we got here!"

In fact, at Carbon Audio's launch party for Zooka in West Hollywood on Aug. 3, 2012, Richards told Us Weekly her girls are healthy eaters by choice. "They actually like to cut up fresh vegetables with ranch dressing on the side. That's their favorite!" she shared. "They love helping. They like making salads because they like chopping things up and rinsing the lettuce. Nothing too fancy!"
[From Us Weekly]
Like I said, Denise is under a fair amount of pressure with her largely solo childrearing responsibilities. She often cares for Charlie's twin boys from his ex-wife Brooke Mueller in addition to caring for her three daughters, so Denise has a full plate, so to speak. Perhaps she really burns a ton of calories while running around after all those kids, or maybe she's just not eating enough. Who knows. I still don't think she's too thin, but prove me wrong, people.
What I do know is this … OMG, Botox.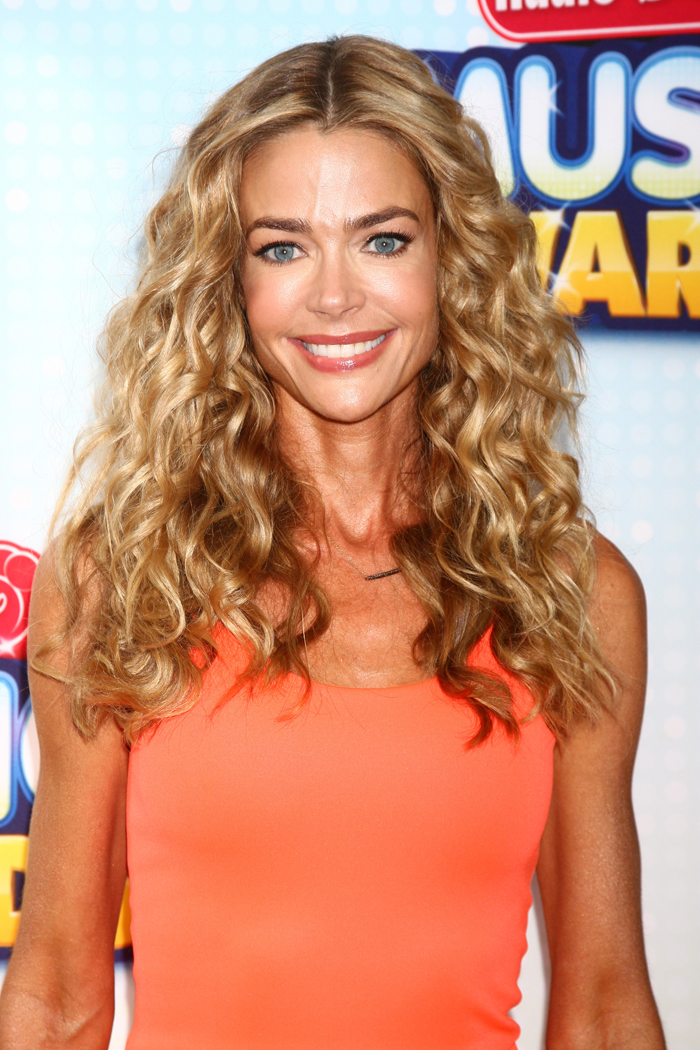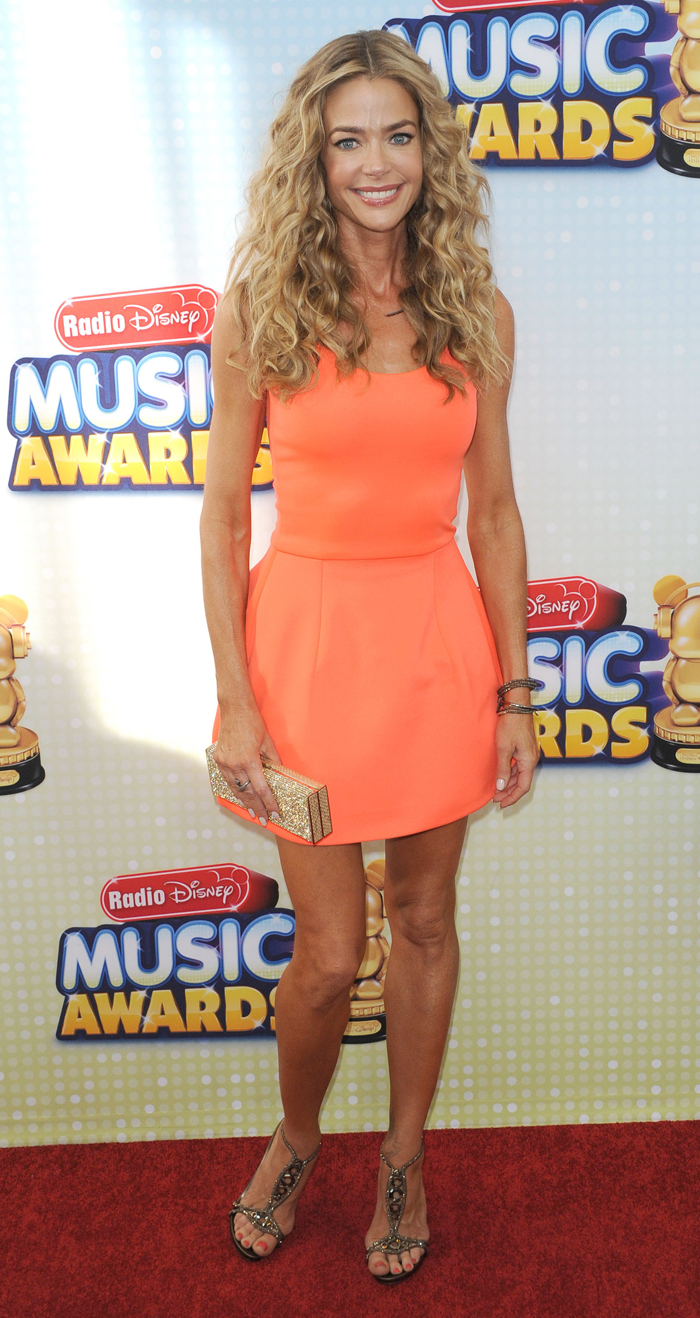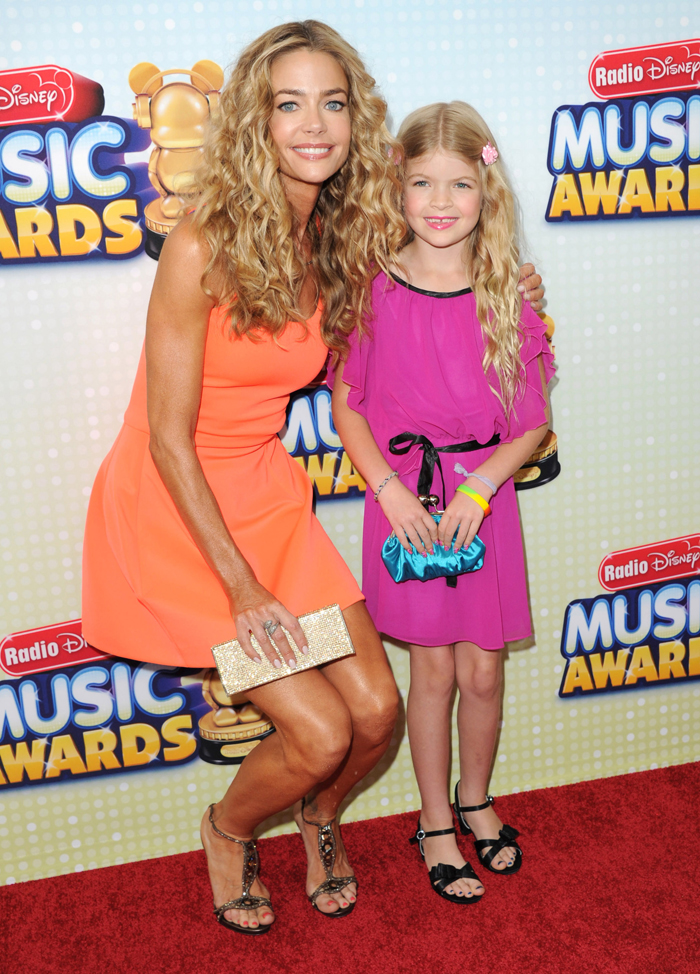 Photos courtesy of WENN