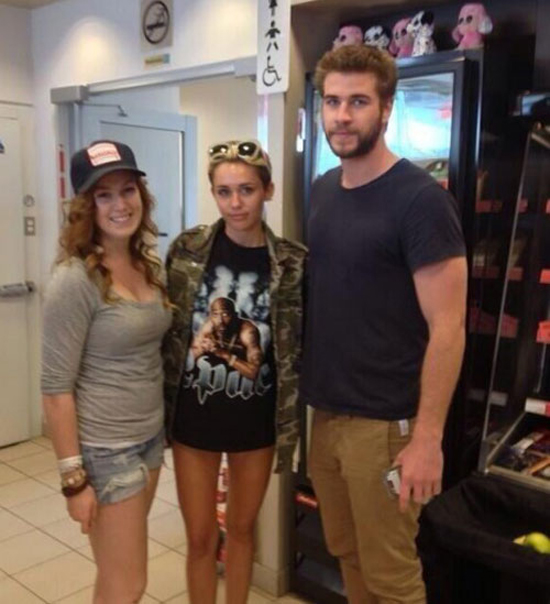 Miley Cyrus has shown us, y'all. She may have spent the Fourth of July in the Bahamas without her man, but she's now in Alberta, Canada with Liam Hemsworth. This fan photo is circulating the internet to the point where the third party has been forgotten, and I'd love to source the original Twitter account that it came from, so if anyone knows the identity of this lovely lady, please let me know!
This latest development follows six months of exhausting back and forth between Miley and Liam complete with cheating allegations, supposed family interventions, a total lack of photo ops, and complete silence from Liam while Miley persisted in making a fool out of herself on Twitter with wedding dress selfies. Then in mid June, the two were actually spotted on a date together, but it didn't look like a happy occasion. Miley in particular seemed dressed down and subdued while clinging to the arm of Liam, who looked like he was completely over it. But now they're together in Canada where Liam is working on his latest flick, and they're supposedly going at it like twerking rabbits. Gross:
Miley Cyrus was telling the truth! After weeks of insisting that her relationship with Liam Hemsworth was still going strong despite rumors of a split, Miley was spotted reuniting with her man at the Jasper Park Lodge in Alberta, Canada, on Monday, July 8.

According to multiple eyewitness reports, the couple checked in to the luxury hotel on Sunday afternoon, and were not seen again until Monday, when hotel guest Katie Reinprecht spotted them hiking in the mountains nearby.

They also took time to pose with a fan elsewhere on the property, and Miley was spotted at a local Starbucks Monday afternoon as well.

The last time they were spotted together before this reunion was on June 17 at the Arclight movie theater in Hollywood.

Talk of a split had intensified last week, when Miley chose to vacation solo in the Bahamas after finishing promo for her new album, instead of heading up North, where Liam is filming Cut Bank.

This came on the heels of a rocky spring for the couple. Miley was spotted without her engagement ring many times after Liam was accused of cheating with January Jones.
[From Radar Online]
Once again, I find myself starting to question this entire "break up" fiasco and wonder if we've all been played as a means to publicizing Miley's new music. Sure, they're young, but how long can these kids keep breaking up and getting back together? Unless they've really been together all along. Who knows.
Oh, and did you see that Jay-Z is throwing some mad props in Miley's direction? During an online Q&A, someone asked him if he liked Miley's twerking, and he answered with the following missive: "Yes! she represents an old worlds worst nightmare. Black neighbor, and the daughter not seeing color. Miley is a GOD." What does that mean?
Meanwhile, Miley really likes that Tupac shirt she was wearing in Canada. Here she is wearing it outside "Jimmy Kimmel Live!" last month. Clearly, pants are optional.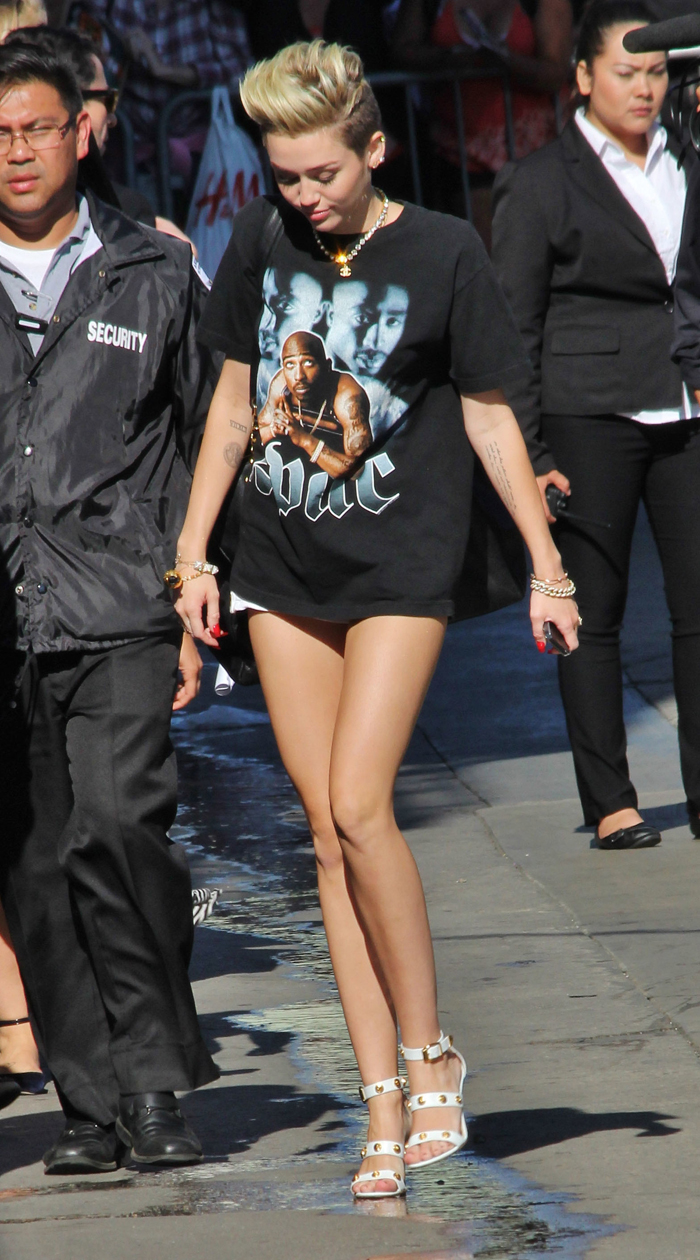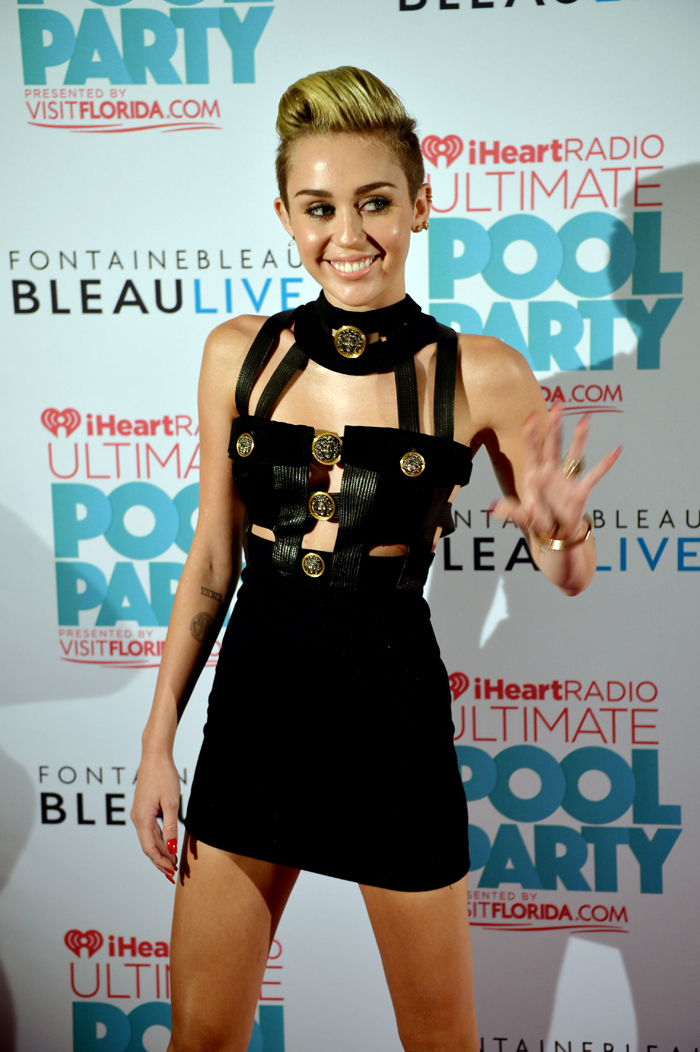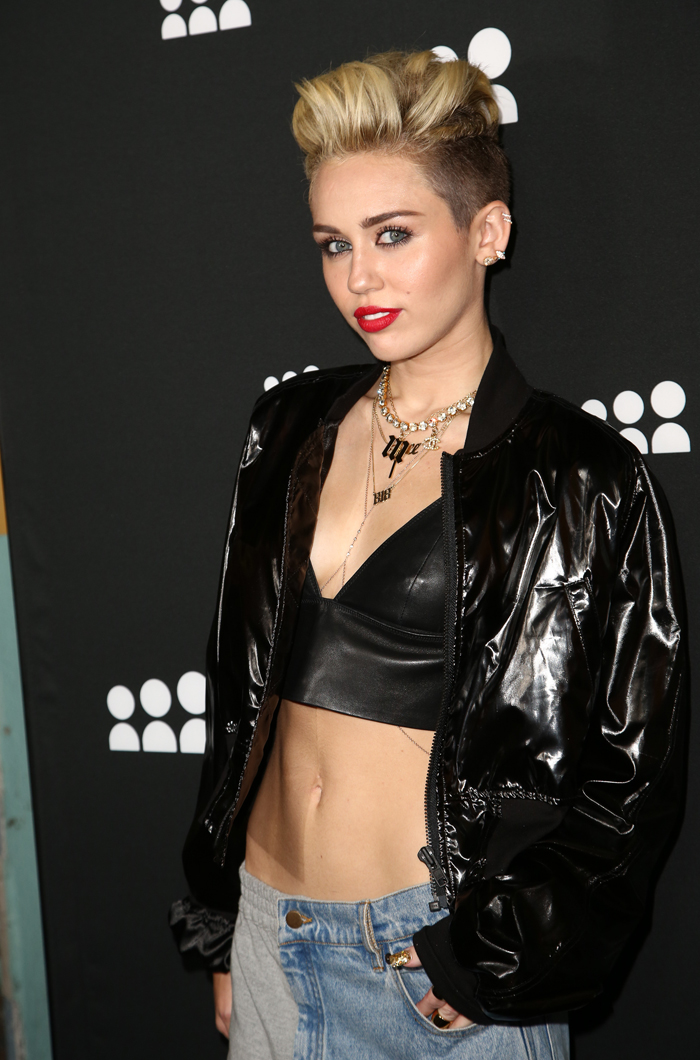 Photos courtesy of Twitter and WENN