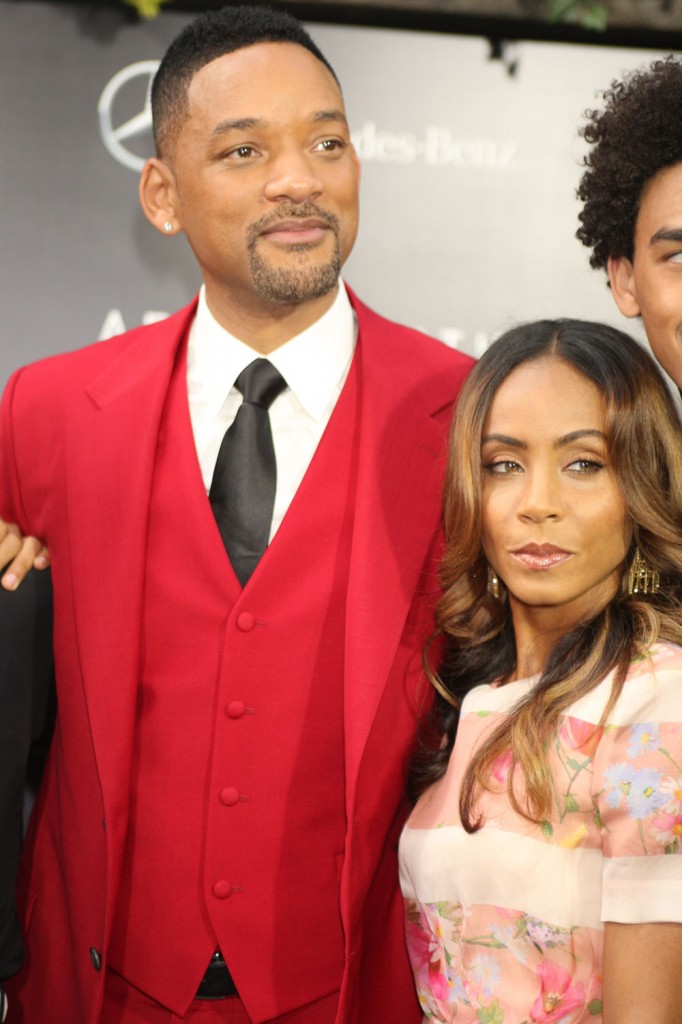 This news was covered in the Scientology watchdog blogs earlier this month but was just picked up by Star and The National Enquirer this week. It's new to us, and apologies if you've already heard. Back in 2008, Will and Jada Pinkett Smith founded a small private school in Calabassas, CA called the New Village Learning Academy. The school did not bill themselves as a Scientology school, but it relied heavily on Scientology teaching methods including "Study Tech," an unproven educational concept developed by Scientology founder L. Ron Hubbard. What's more is that many of the staff, including teachers and management, were known Scientologists. In fact the original principal was fired and replaced by a Scientologist when she started to question the use of Scientology teaching methods.
Well Will and Jada's school has closed after five years of operation, which was about how long the building was leased for. The couple poured $1.2 million of their own money into founding the school, which then tried to survive on donations. There were only about 40 students at the $12,000 a year school, which helped it stay under the radar of accreditors but wasn't enough to keep it afloat.
We have confirmed directly with a member of the academy's board of directors that the school has closed down.

The school achieved notoriety for having been supported by generous donations from actor Will Smith and his wife Jada Pinkett Smith, whose children attended classes there (but haven't for some time). Tax records show that the Smiths also were on the school's board of directors. New Village Leadership Academy was a non-profit, independent school for kindergarten through sixth grade.

Although the Smiths play down their connection to the Church of Scientology, New Village Leadership Academy made use of Scientology founder L. Ron Hubbard's "study technology," which is a part of what every church member must learn.

As described in its tax returns, the school took in $1,235,000 from the Smiths' WJS Trust to get the academy going in 2008. According to press reports, $889,000 of that was used to lease a facility for three years — previously, it had been the site of a public high school.

Roger Friedman, who keeps a close eye on Smith's charitable giving, noted more recently that the Smiths' donations to Scientology-related entities are way down.

According to the school's most recent tax return, in 2011 the school had taken in $2.1 million in contributions, down from $2.8 million the year before. A source familiar with the academy's history tells us that the Smiths had financed the first three years of the school, but had hoped it would become self-sufficient after that. Despite numerous fundraisers, NVLA was unable to raise enough money to keep going.

In 2009, the Smiths fired the woman who had been hired to run the school, Jacqueline Olivier, reportedly because she had clashed with the couple about the use of the Hubbard materials. She was replaced by Franca Campopiano, also known as Piano Foster. She was still listed as the head of the school in the latest tax return.

Our source who taught at the academy told us that not only were the children at the school learning Scientology's "study tech," but also concepts of Scientology "ethics" were being introduced to students. (The church's "ethics" generally contain policies that reinforce Scientology's systems of interrogation and control.)

We put in a call to Will Smith through his production company: We later heard back that Smith had no comment.
It sounds like an issue of money, not religion, although there are surely some disappointed parents. I was digging around in the WhyWeProtest forums and found this comment by a former parent who feels like she and other non-Scientologists were duped by the school.
I can assure you the school is closed. The 'spiral – up' logo and name are gone.

In keeping with the fraud and hypocrisy that were hallmarks of NVLA, the founders – The Smiths – and the administration, Ms Piano Foster, Ms Carolyn Roberts, Mr. Dave Hendry, Ms Julie Griffin, among others, 'acted' their way through graduation and year end ceremony knowing full well that the school would not be open next year. Then, in an act of cowardice equal to their character, mailed notices of closure home that were delivered on, or about, 15 June.

I will post mine when cleared by my lawyer. But it is true.

Note please that not all of the families were Scientologists. Many, like mine, were duped into attending what we hope would be an uplifting educational institution. Many others were professional athletes, in the film and entertainment business. Other still on scholarship. The parents are gathering together now that the truth has been reveled. (and yes, we feel guilty and stupid). Legal action pending. However, the school benefited from well counseled (un)ethics. They, under the guide of Ms. Piano Foster kept enrollment low enough to qualify as a 'home school' thereby staying under the radar of the state and accreditation institutions, all the while plying the community for funds to "increase enrollment". Hendry, the head of curriculum, was paid as a contract hire.

He is now with ABC mouse, among other 'educational' companies. So he will continue to infect his horrific ideology via covert – op crap onto the youth.
[From WhyWeProtest, requires registration]
Can you imagine putting your child in an expensive private school only to learn that they were being indoctrinated into a cult? I would be livid.
What I want to know is if the Smith's kind of undercover "faith" in Scientology is waning. They've never come out as Scientologists, they only have "ties" to the cult, including that clunker of a non-starter summer movie, After Earth. Many people thought the film was thinly-disguised Scientology propaganda.
The National Enquirer claims in their latest issue that the school was Jada's idea and that Will "told Jada from the start that opening this school could be a legal nightmare." He's said to be "flipping out and unhappy with Jada for the humiliating closure." I doubt Will is "flipping out" over the Scientology connections, however. He made it clear during the After Earth media tour that he was more than down with the Scientology hands-off parenting approach. He probably thinks their teaching methods are brilliant.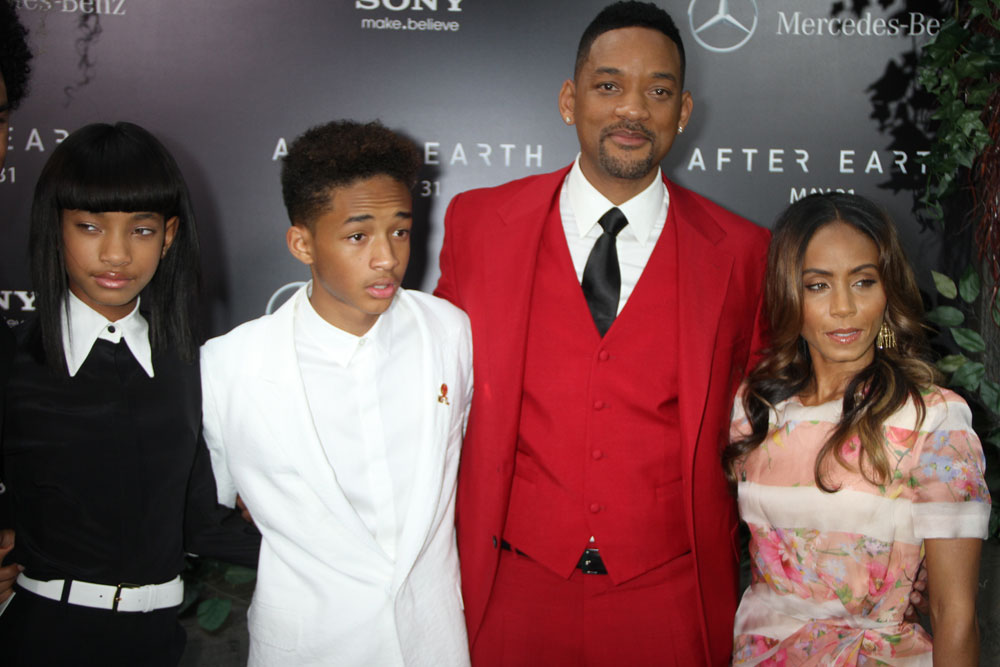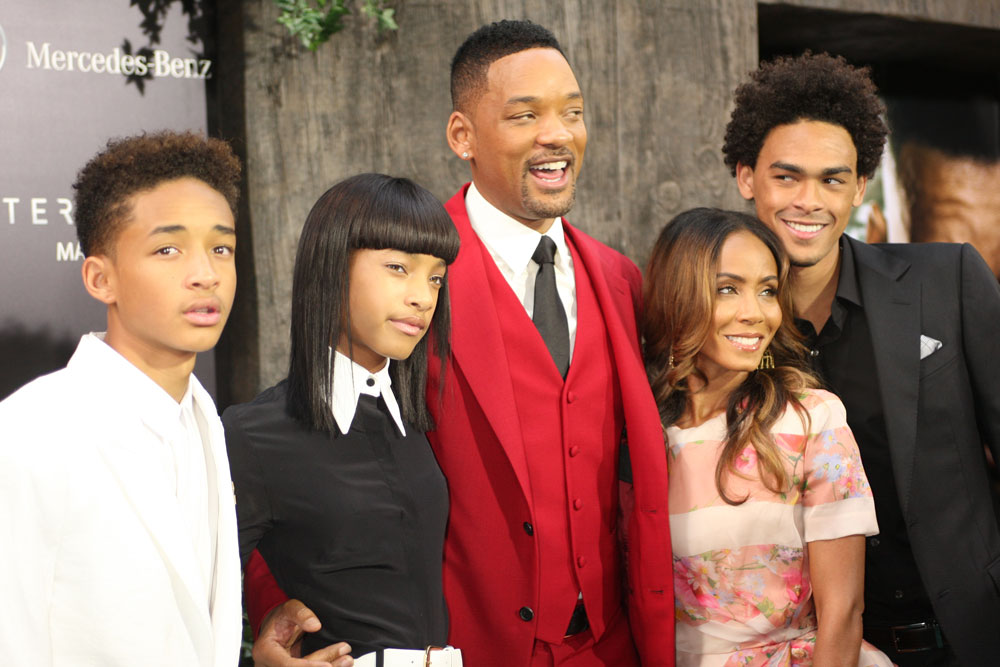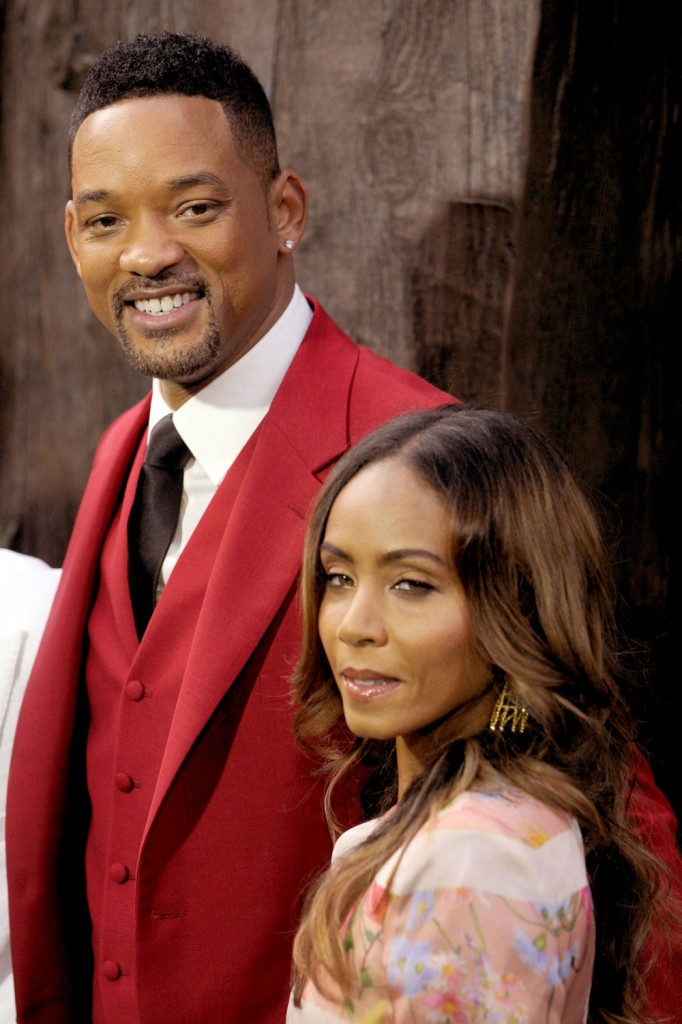 Photos are from 5-29-13. Credit: WENN.com