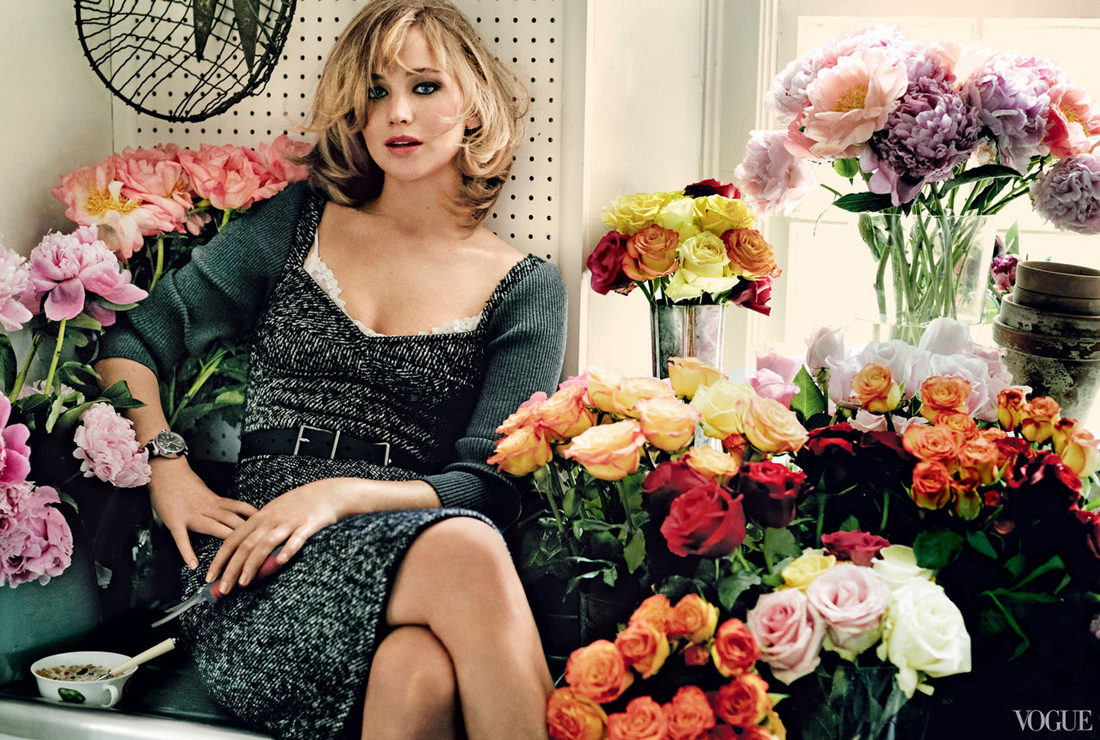 Yesterday, we covered the cover and preview for Jennifer Lawrence in the September issue of Vogue. I think most of us were in agreement that the cover was much better than her Vogue UK turn from last year, but the jury is still out on whether this is a true "Vogue" spread, especially for the big fall fashion issue. Now that the full editorial has been revealed, I don't know what to think, which is tough for me to admit as a die-hard JLaw fan. Magazines still don't know what to do with this girl! Here's my main issue with this shoot — doesn't it look like Vogue has photoshopped Jennifer's left thigh into oblivion? I mean, those are nice satin knickers and all, but that leg looks ridiculous.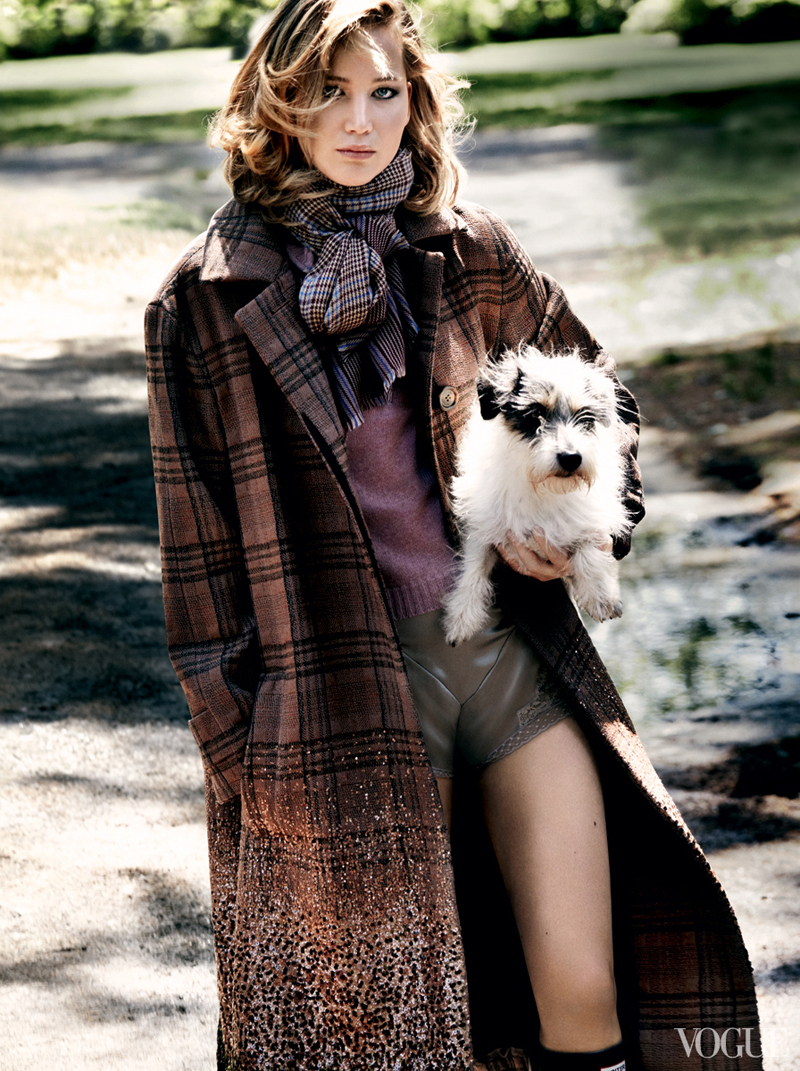 Otherwise, Jennifer looks like quite the classic beauty in this shoot with full, bouncy (and presumably real) hair to boot. The coats are absolutely gorgeous, and the styling is pretty good too. What I don't get is why Vogue is hiding the clothes by accessorizing JLaw so prominently with puppies. Far be it from me to complain about seeing my favorite species in photographs, but shouldn't the focus be on the clothes?
The interview is kind of weird too. Jennifer's Silver Linings and Catching Fire directors weigh in on how she's "like a lot of great athletes" in her ability to switch between on-and-off-screen personas. I would agree that this is one of her strengths as an actress. She loves to joke around and keep things light, but she knows when to be a professional. Unfortunately, there are a few statements towards the end of these excerpts that might rub some people the wrong way:
David O. Russell on JLaw: "When she first showed up on the set of Silver Linings, she was asking Bradley Cooper and Robert De Niro what it's like to have people come up to you on the street. That wasn't really happening to her. People didn't really know who she was. But by the time the film was released and we did an event in Santa Barbara, it was like being at a Beatles concert."

David O. Russell on BCoop on JLaw: "I remember Bradley Cooper and I saying, 'Is this kid even paying attention?' Because she's goofing around or eating my potato chips or making fart jokes. And then all of a sudden, she comes in, and bam! She's like a lot of great athletes. You see that they stay loose, and that's how they can be so in-the-moment while under enormous amounts of pressure. If there's two minutes left in the game, they can come in and do something extraordinary because their jaw is not getting clenched. Jen stays loose. And then she hits a three-point shot from some ridiculous distance and we all just look at each other and go, 'Wow.'"

Francis Lawrence on JLaw: "It's all spontaneous; it all comes out of her gut, in the moment. I've never seen anything like it."

She knew it all along: "I've never said this before because there is no way to say it without it being completely misunderstood… But I always knew" — here she lowers her voice — "that I was going to be famous."

Fame sucks: "I am just not OK with it. It's as simple as that. I am just a normal girl and a human being, and I haven't been in this long enough to feel like this is my new normal. I'm not going to find peace with it. If I were just your average 23-year-old girl, and I called the police to say that there were strange men sleeping on my lawn and following me to Starbucks, they would leap into action. But because I am a famous person, well, sorry, ma'am, there's nothing we can do. It makes no sense."
[From Vogue]
Oh, noooo. I do hope that Jennifer — who has never complained about fame before — isn't going down that slippery slope of beginning to complain about how being a huge star is so ridiculously awful. It sounds like her tone was lost in translation here and that she was merely being candid about how she feels normal behind closed doors and simply isn't prepared for the glare of the flashbulbs. We've already heard whispers of her feeling overwhelmed, but I hope she never pulls a full KStew.
In other news, is anyone surprised that BCoop was initially taken aback by Jennifer's fondness for on-set fart jokes? Bradley seems pretty uptight like that, but I have to admit that it's kind of odd to see a fart reference in Vogue. Models fart too, but we're not supposed to know it happens.
Here's Jennifer with more dogs for the rest of the editorial. Instead of noticing the clothes here, the effect is "cuuuute puppies."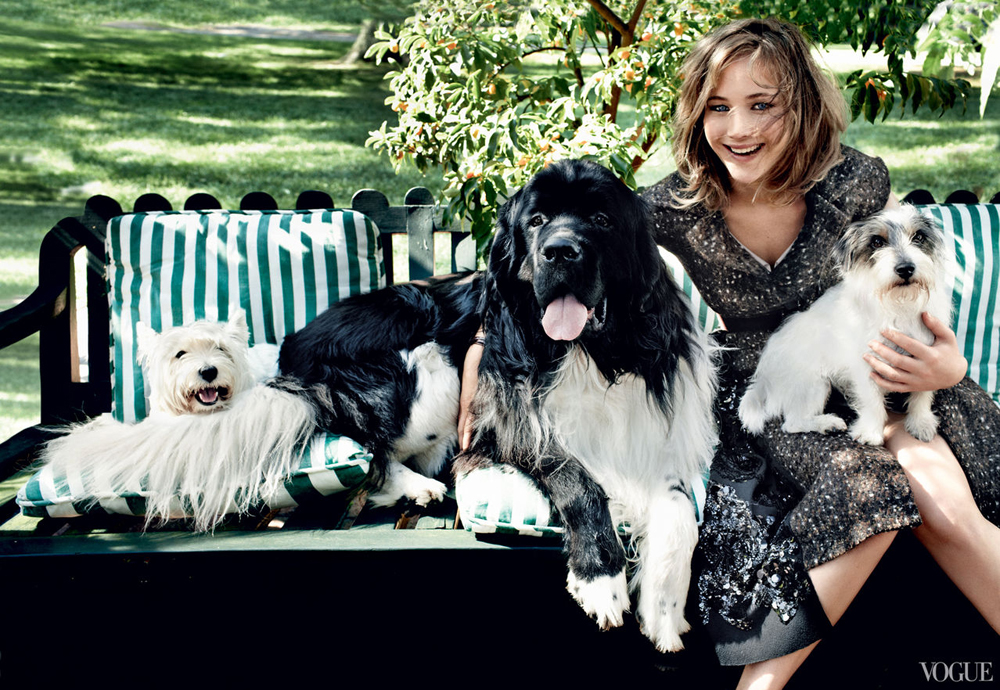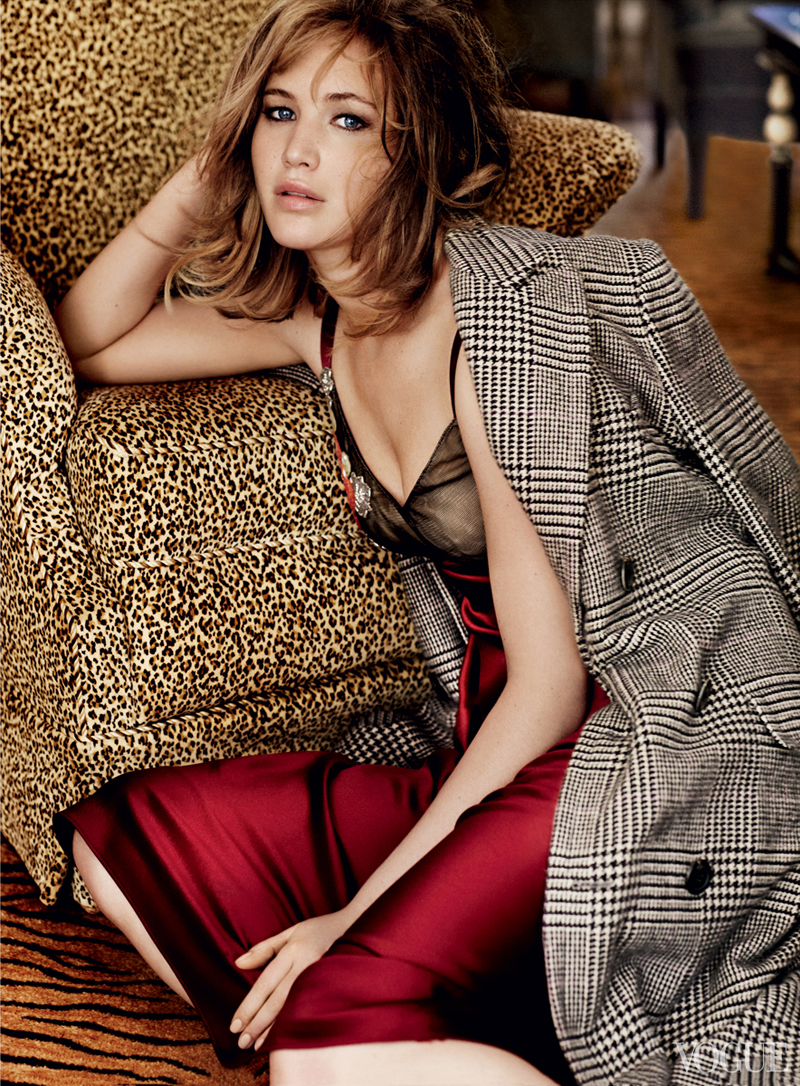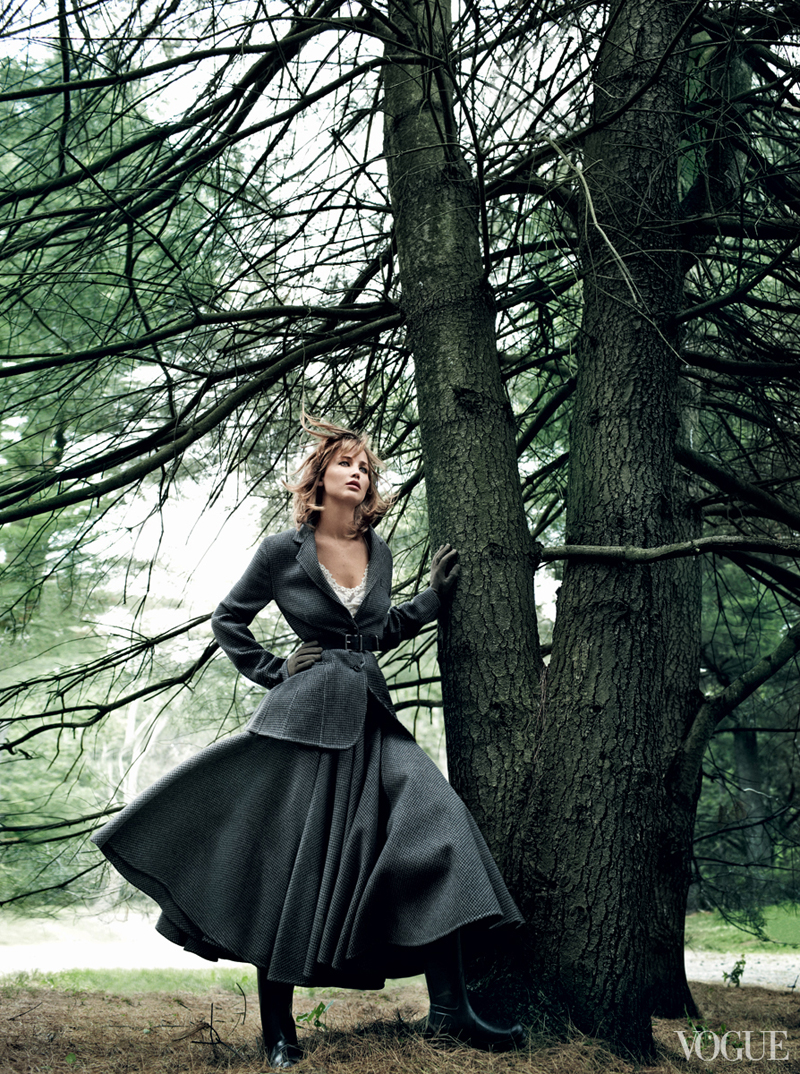 Photos courtesy of Vogue