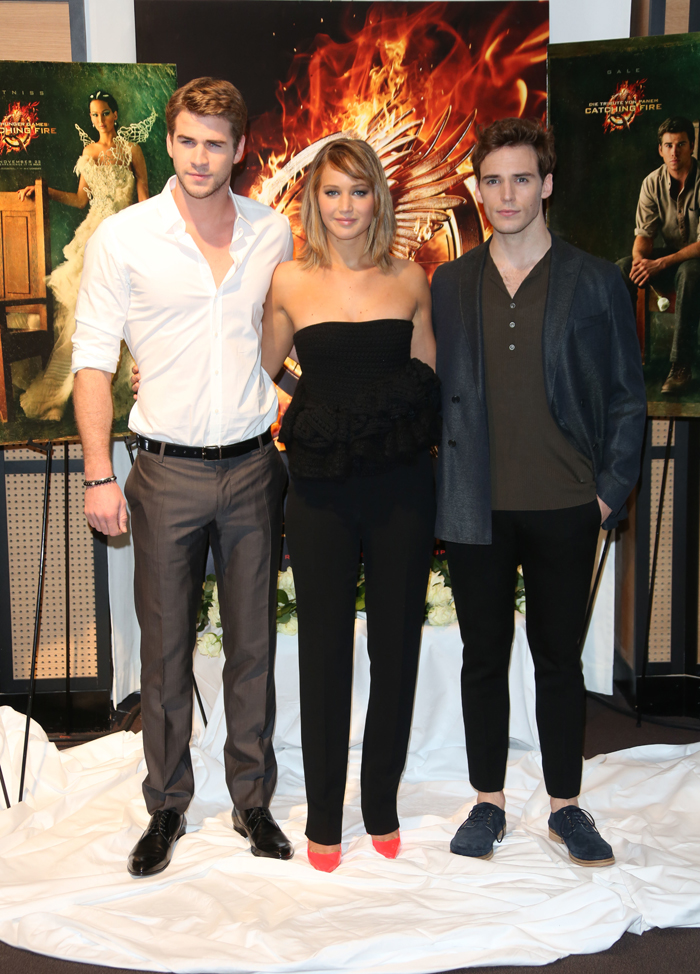 Before I get into the topic of this story, I'm going to mention something related to Jennifer Lawrence by way of Catching Fire. JLaw's co-star, Sam Claflin (who plays Finnick although you barely see him in the new trailer) has married his girlfriend, Laura Haddock, in a private ceremony. Hopefully, this will stop the tabloids from trying to hook up JLaw and Sam in the future, but I don't know that it will. They loooove to fix her up with co-stars.
Now onto the tale at hand. Just witnessing JLaw's schedule over the past few years has been exhausting. The girl has made several movies and is headlining a franchise. In the past few months, she's gone straight from an Oscar win to Hunger Games reshoots before hitting Cannes, juggling her Dior duties at Paris fashion week, and then straight into full body paint for the X-Men sequel. Talk about hectic, but I guess it's nice to be in demand.
Now JLaw is appearing in new Oscar bait, which will undoubtedly start the cycle anew. There were rumors last season that JLaw was irritable and grumpy due to Oscar exhaustion, but she swiftly got over it by smoking some well-deserved weed on a Hawaiian hotel balcony. Now the Enquirer is claiming that JLaw wants to take some time off real soon, and I wish her good luck with that: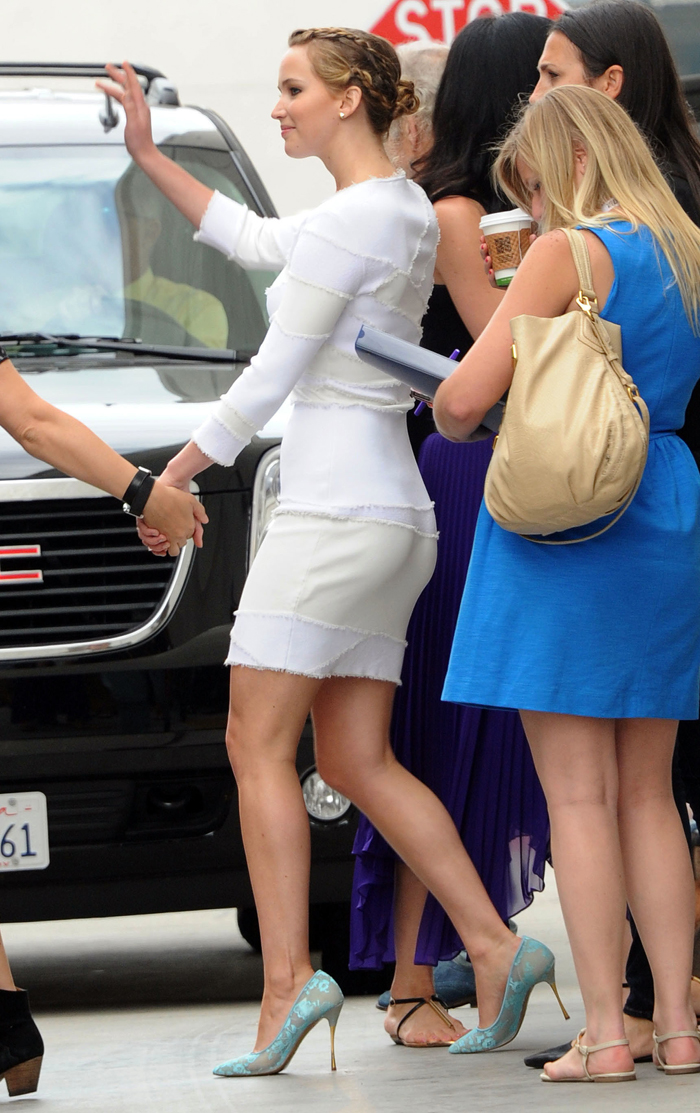 Oscar winner Jennifer Lawrence feels so overworked and underloved that she's ready to ditch her red-hot Hollywood career before she suffers a nervous breakdown, say friends.

Still just 22, the gorgeous Silver Linings Playbook star has done seven films in the past two years alone and is now shooting a sequel to the hit X-Men flick. In additon to filming, she's run herself ragged promoting the movies.

"It's all been too much, too soon for Jennifer," a pal told The Enquirer. "She cried one night, saying she barely feels human. She feels like her family and close friendships are slipping away."

In January, Jennifer split from British actor Nicholas Hoult, just two years after they fell in love while co-starring in X-Men: First Class. This summer, the two reunited while shooting the movie's sequel, and Jen is telling friends she wants both her boyfriend and her life back.

The actress first raised alarms earlier this year while on location in Hawaii. She was spotted downing wine and smoking what appeared to be marijuana with a pal on a hotel balcony.

"Jennifer says she doesn't have a substance abuse issue but finds it difficult to decompress after her heavy work schedule," explained an insider. Vowing to slow down, the super-hot star is booking no new projects, and sources say she's planning to take at least a year off from the Hollywood grind.

"Jennifer sees the warning signs that she's pushing herself too hard," said her pal. "She doesn't want to get swallowed up by her own career."
[From Enquirer, print edition, August 12, 2013]
Well, I can't blame JLaw if she feels like taking some time off although I'm sure her team is urging her to stay active and strike while she's hot. Surely it wouldn't hurt her to cut back a little bit and have a few solid weeks of downtime. All JLaw really wants to do is to take some time off and sit around making fart jokes for a lengthy measure of time. Let her have it. Soon enough, she'd probably decide that she's bored and get right back to work, but an enforced packed schedule is only going to create burnout.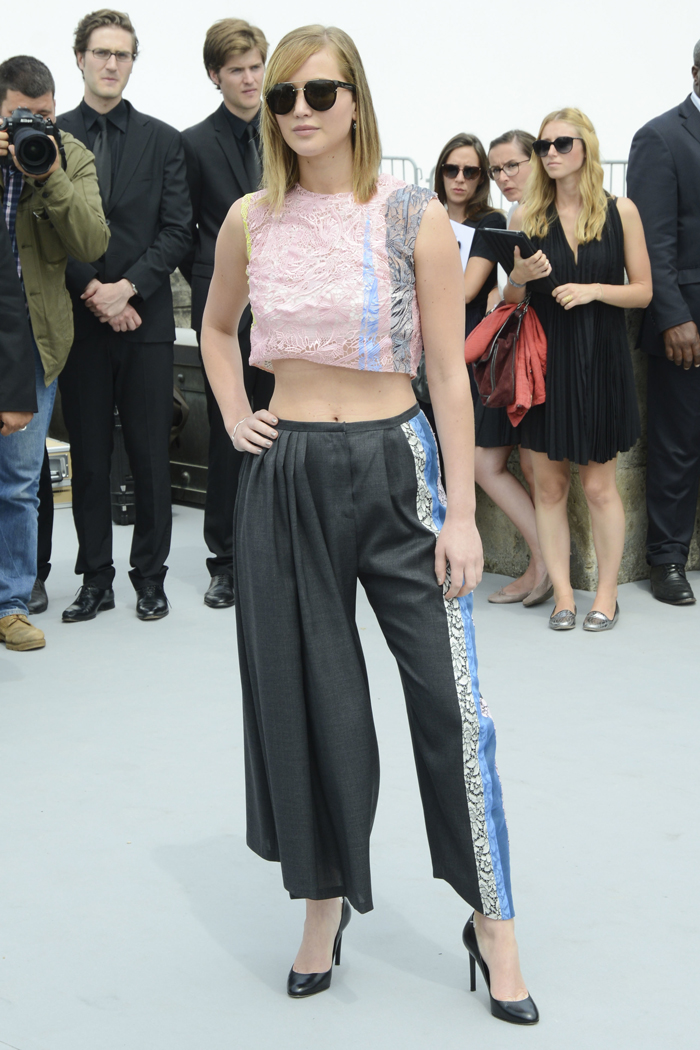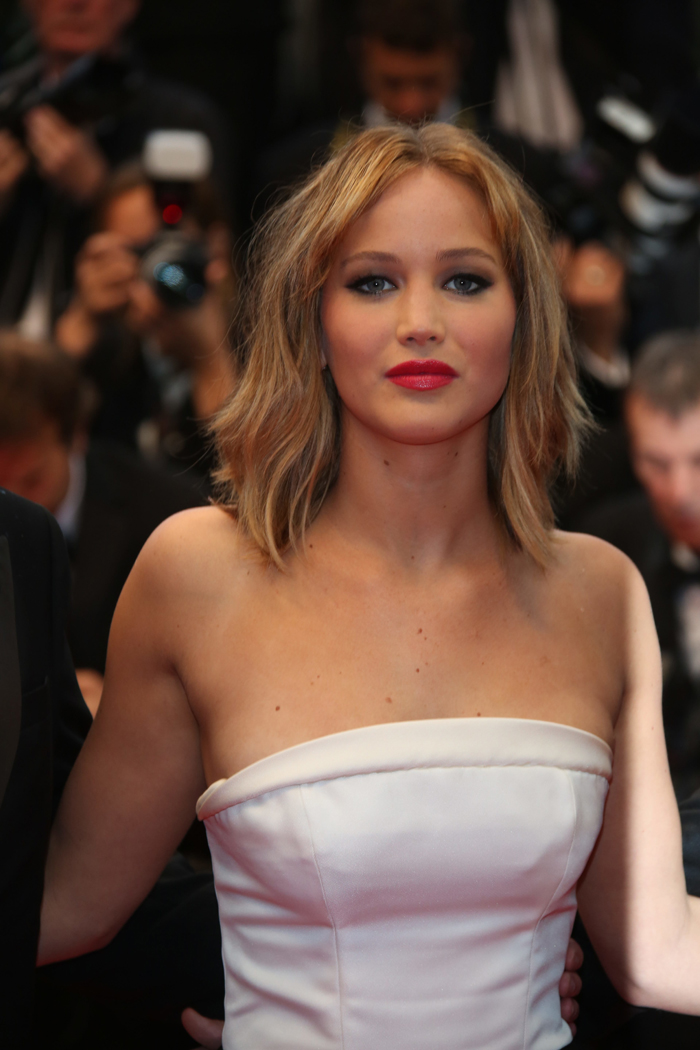 Photos courtesy of WENN