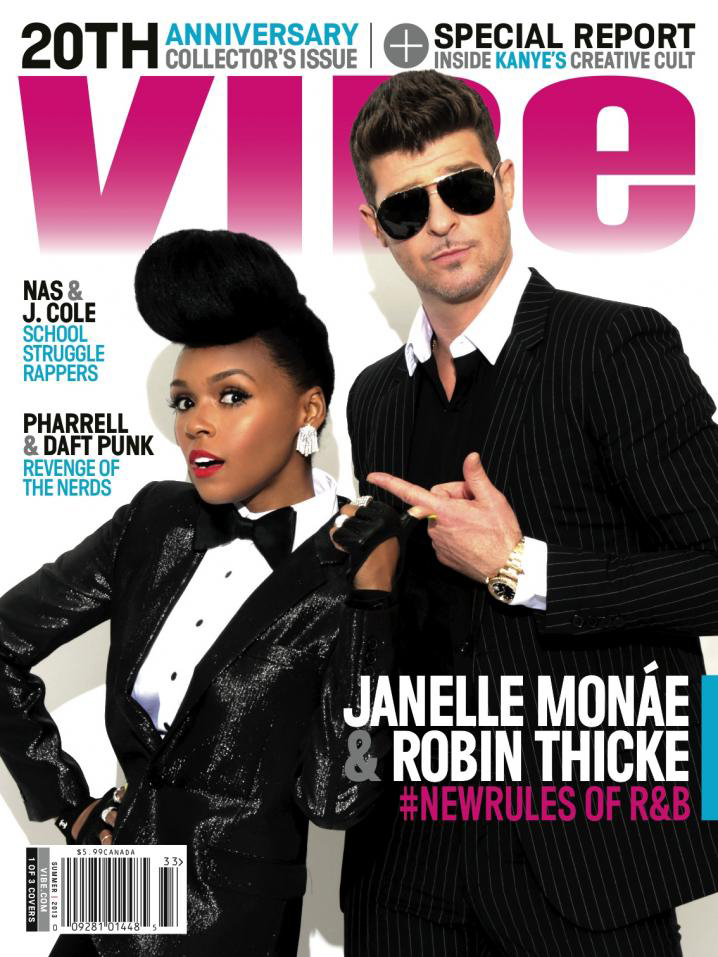 Robin Thicke covers the 20th anniversary edition of Vibe magazine alongside Janelle Monae. This photoshoot looks characteristically dorky. I can't help but love "Blurred Lines" (despite all accusations of "rapey" lyrics) because it's a fantastic running song — perfect beat, catchy lyrics, just the right length in duration. Aside from this smash hit, Robin is that big geek who just happened to be born with an amazing voice and a smooth groove. Having a famous father didn't hurt his rise to fame either. Seriously, Robin looks like such a hot dork to me, which I guess means that he's my own personal Tom Hiddleston.
There's a corollary that I wanted to mention. In 2008, Robin did an interview with Billboard about how he tried to get a Vibe cover, but they turned him down. He claimed, "Their response was they don't have white artists on the cover; that the only white artist they've had on the cover was Eminem. I guess if that's what it is, it is what it is. And I respect that because I live in a house with a black woman. I won't use the word 'racism.' I will say it's a tough–but rewarding–fight" Now Vibe has apparently changed its tune on Robin, which I guess is a good thing, right?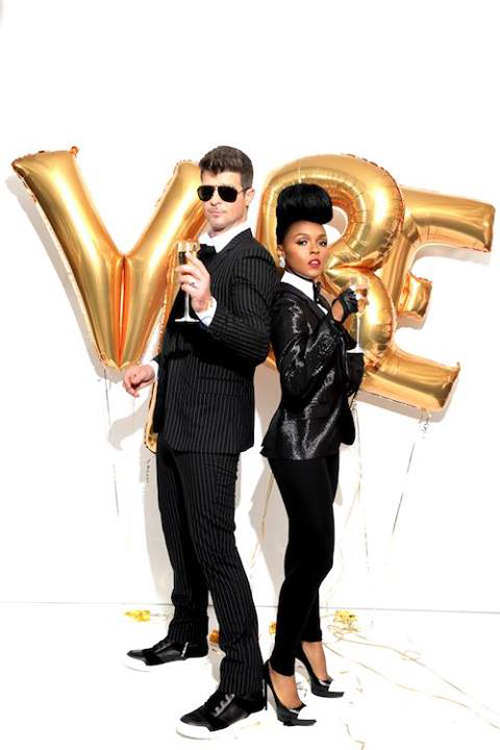 Unfortunately, the few excerpts released thus far from Vibe are rather uneventful other than Robin claiming that he and Janelle both "represent boundaryless music" and "are products of the generations of funk, soul, rock 'n' roll–and then hip-hop coming into the mix." So here are some excerpts from another recent interview that Robin did with Billboard:
"Blurred Lines" almost didn't happen: "The record company didn't get it. They didn't even pay for the video. They didn't want to support it at all. Remy Martin paid for the video. And as soon as the record company saw the video, they said, 'This is a smash.'"

On cross appeal: "The reason why 'Blurred Lines' is breaking records is because rarely do you have a song playing on all pop stations and all black stations, all of the urban stations. And because I have an urban fan base and urban audience, I wonder if it was a brand-new artist, would they play ('Blurred Lines') on black radio? I don't think so. They might not. … Someone was like, 'It's like (OutKast's) "Hey Ya!'"

Why he filmed the "naked" version of the video: "I had just enough fans to get some people into it at the beginning, and then the naked video was just so good, it was kind of the thing people immediately say, 'Have you seen this?' – which is kind of what (director) Diane (Martel) wanted to do. She's been loving my music for 10 years, she's like, 'I can't believe you're not a bigger star.' … She said, 'I think if … we do a funny, silly video with topless girls, everybody's going to have to know who Robin Thicke is.'"

On the "Blurred Lines" scandal: "For all the controversy and all this other stuff that people try to make it seem like that's more important, what's really important about music and entertainment is to entertain and make people feel good."

On his new playful sound vs. his old records: "I went into the album with all kinds things in my head like, `Why didn't my last album sell? How come?' I guess I need to freshen it up. I need to take some chances. I need to do something new. … So I did want to push the boundaries and work with some hitmakers to see if they could help me and luckily it all worked out. But the good thing is I didn't have to change who I am and what I like. And I almost did. I sang a couple songs I would not have been proud of if I released them. I loved the albums just the way they are. I have no regrets … but I figured I don't want to be one thing; I have to take some chances."

What's next for Robin Thicke? "I want to get right in the studio. I want to make a country album, a Christmas album, a gospel album. I'm like finally! I'm ready to make four albums right now."
[From Billboard]
This particular Billboard interview doesn't break any ground, but it's nice to hear Robin admit that he filmed the completely NSFW, unrated version of the "Blurred Lines" video just for attention. I agree with Kaiser about that version being a bit much because I think the merely suggestive, underwear version is far sexier. Also, the sight of braless dancing makes me wince in pain.
Anyway, what do you think of this Vibe shoot? It's kinda cool but so cheesy.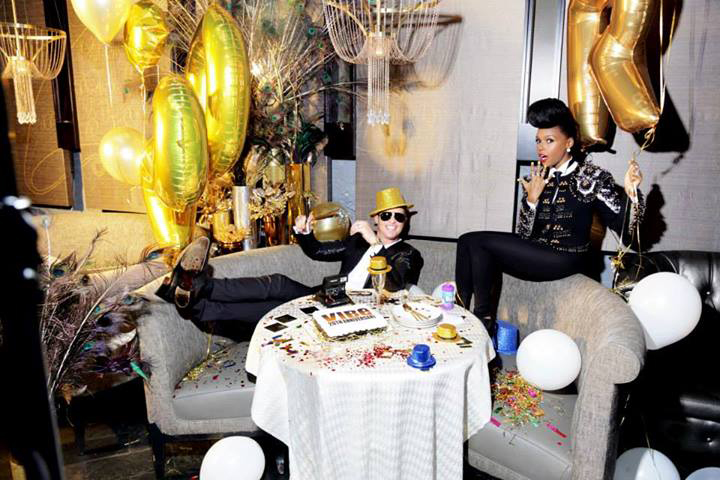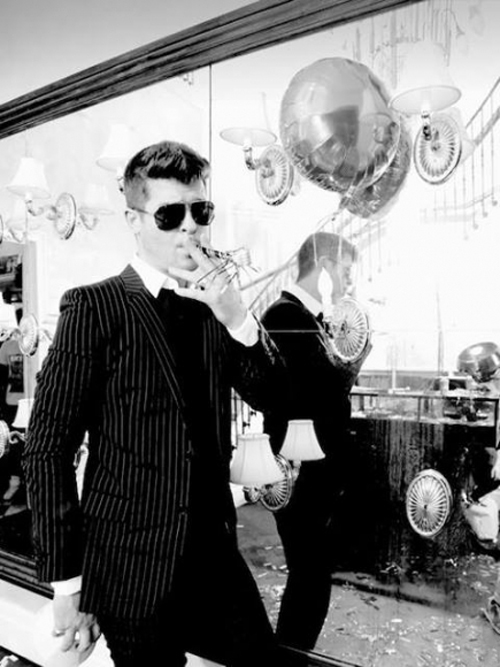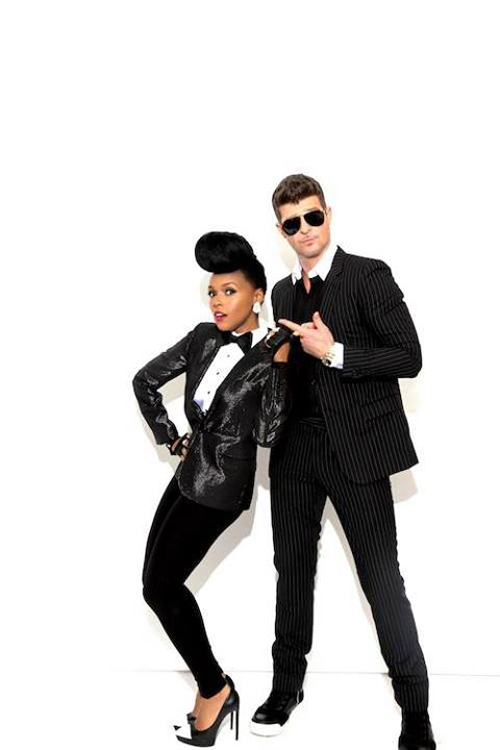 Photos courtesy of Vibe