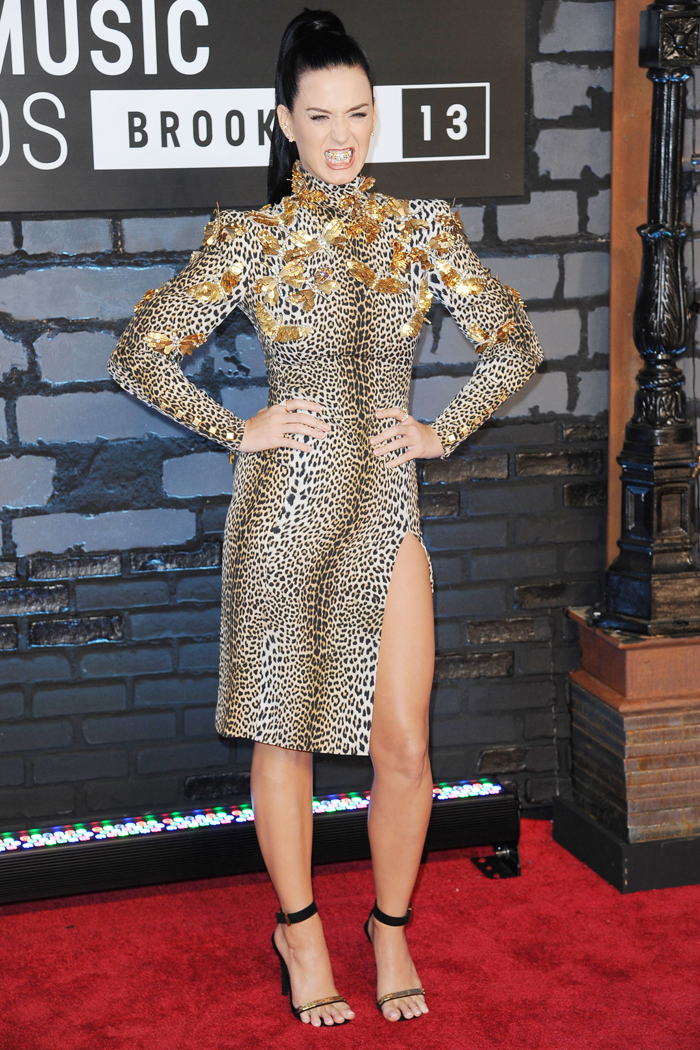 I kind of feel bad for Katy Perry right now. In her mind, last night was supposed to be "her" night and big return to pop-star glory. Katy had really worked hard for this moment, you know? All those magazine covers and vitamin regimens, and the VMAs were supposed to be her big, post-divorce return with a performance under the Brooklyn Bridge, but no one paid attention at all to Katy's "Roar" because of Miley Cyrus' antics.
Katy tried her hardest to be a hot mess though with this leopard-print Emanuel Ungaro dress that fit every nook and cranny on her body, and Katy also went with her usual flattering high ponytail (she's one of the few who looks good with a Croydon facelift), but it just didn't matter. Then Katy whipped out the final (inadequate) weapon in her arsenal last night: a rainbow-colored grill. For real.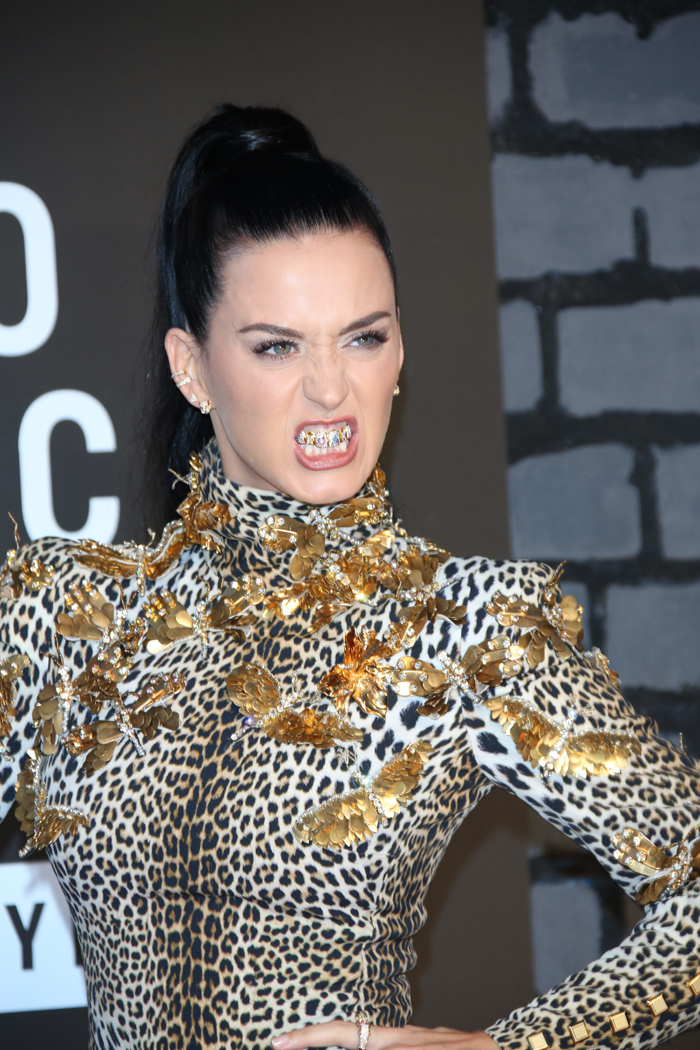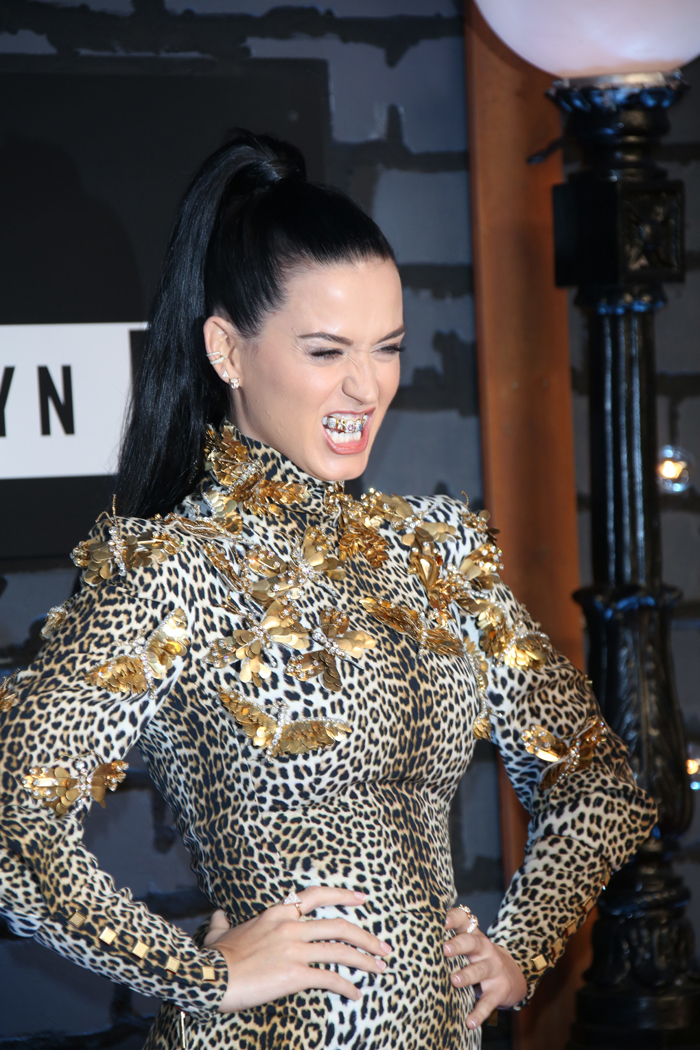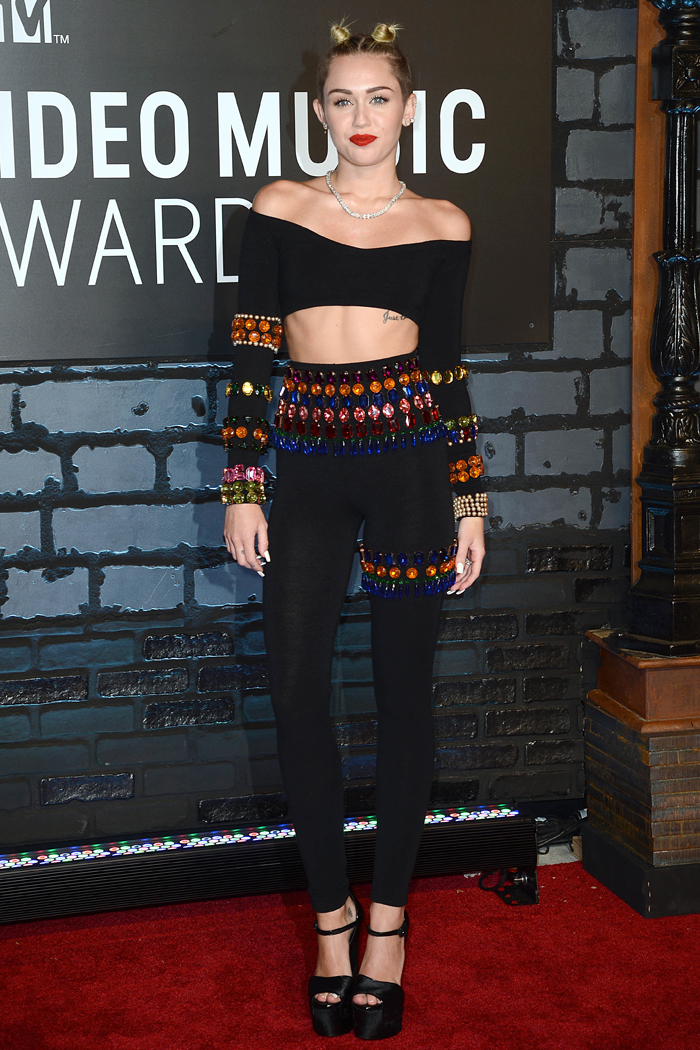 Miley Cyrus didn't win a single Moon Man statue last night even though she was nominated for four awards and completely dominated the stage show with her gross antics. I guess MTV is content to let her grab some ratings, but when it comes to handing out rewards, they're all, "Focus on the music next time." Of course, I say that like MTV has standards and hasn't become the "Catfish" channel.
In sharp contrast to her onstage vinyl wedgie of doom, Miley's red carpet outfit wasn't bad at all. She wore vintage Dolce & Gabbana in the form of a bejeweled, black crop top and pants, and if she had just kept this vibe going for the entire show, I think people would like her better right now. Instead, she has graduated to fameho extraordinaire.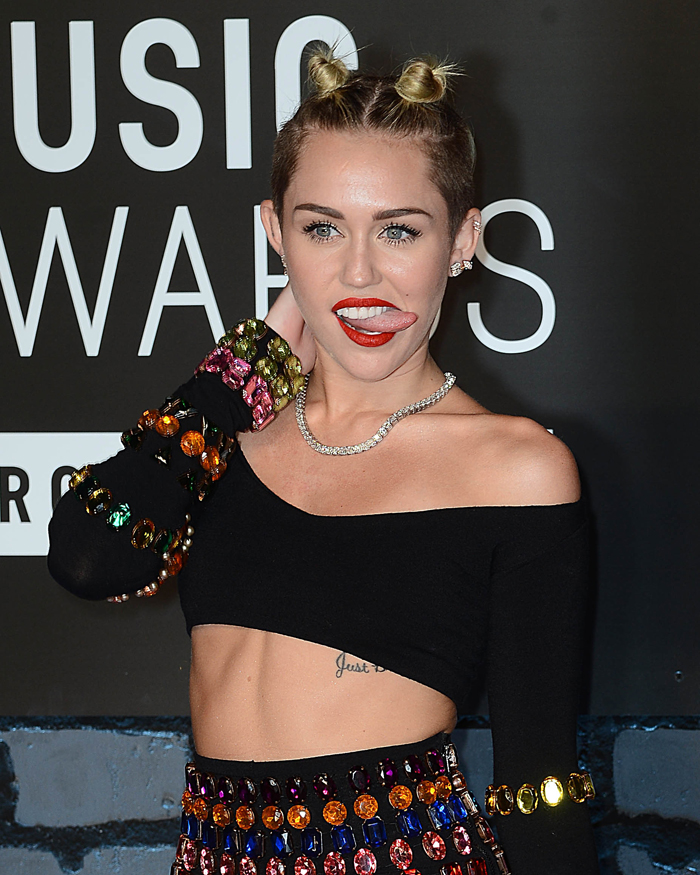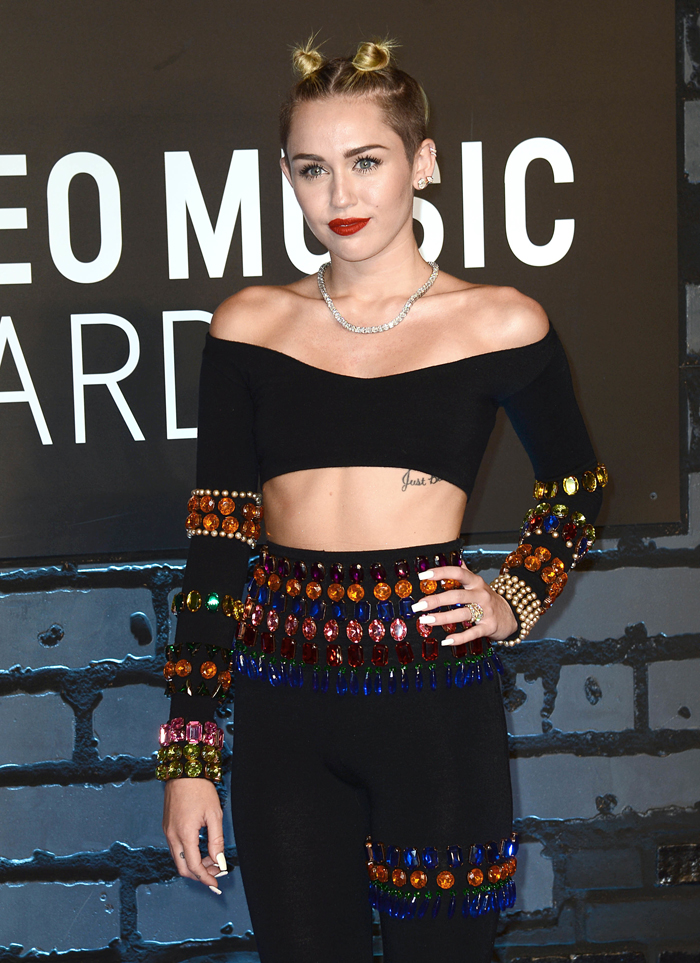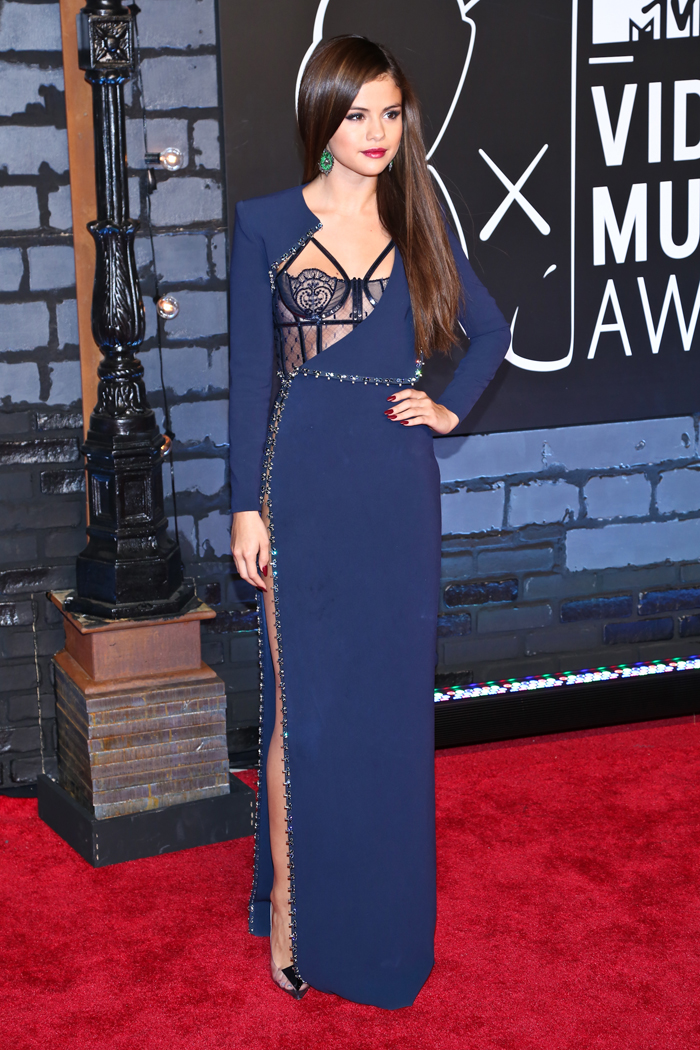 Selena Gomez looked absolutely fantastic in Versace, and she managed to look both sexy and sophisticated. From a distance and with a front view, the dress looks rather subdued, but the navy really flatters Selena's coloring and sleek hairdo. Upon closer inspection though, the dress is a lot more revealing with an intricately detailed and exposed bustier and a sexy side slit all the way up the right thigh. She's so gorgeous!
Selena also grabbed the coveted Moon Man for "Best Pop Video" away from Miley. Selena won for "Come and Get It," which wasn't a good video at all and was mildly offensive to the East Indian culture, but I'm just happy that Miley's antics haven't earned her all of the rewards that she so desires.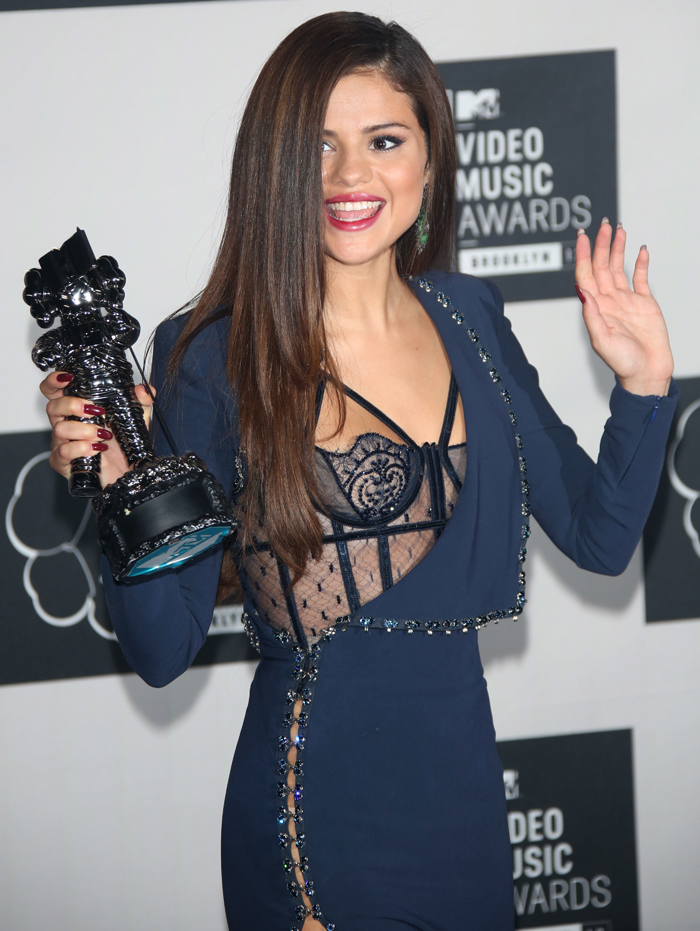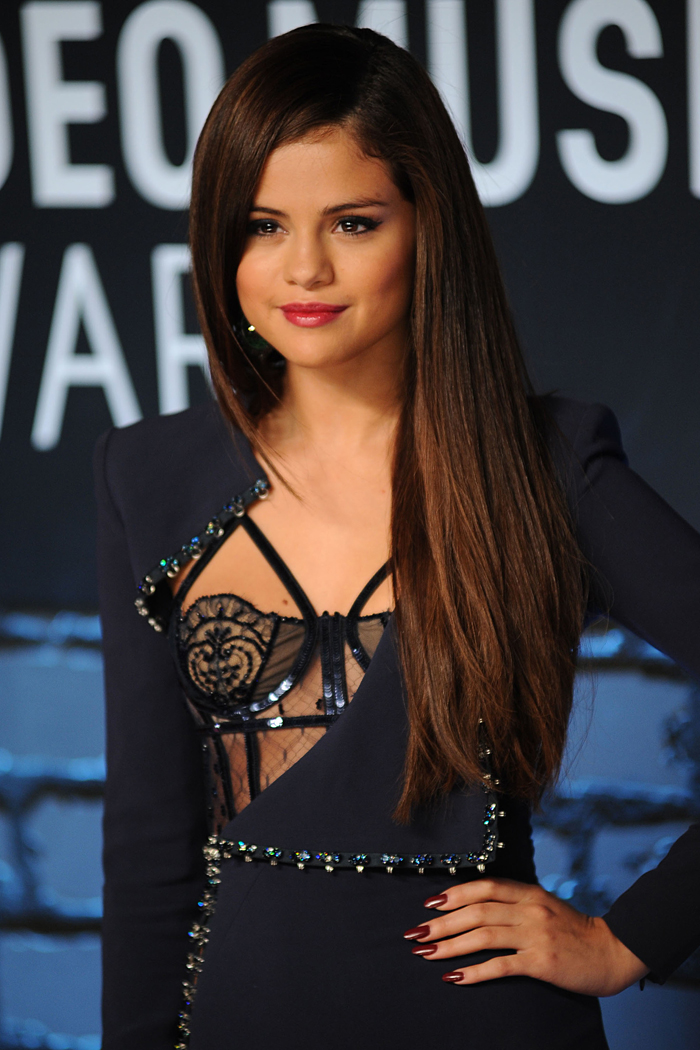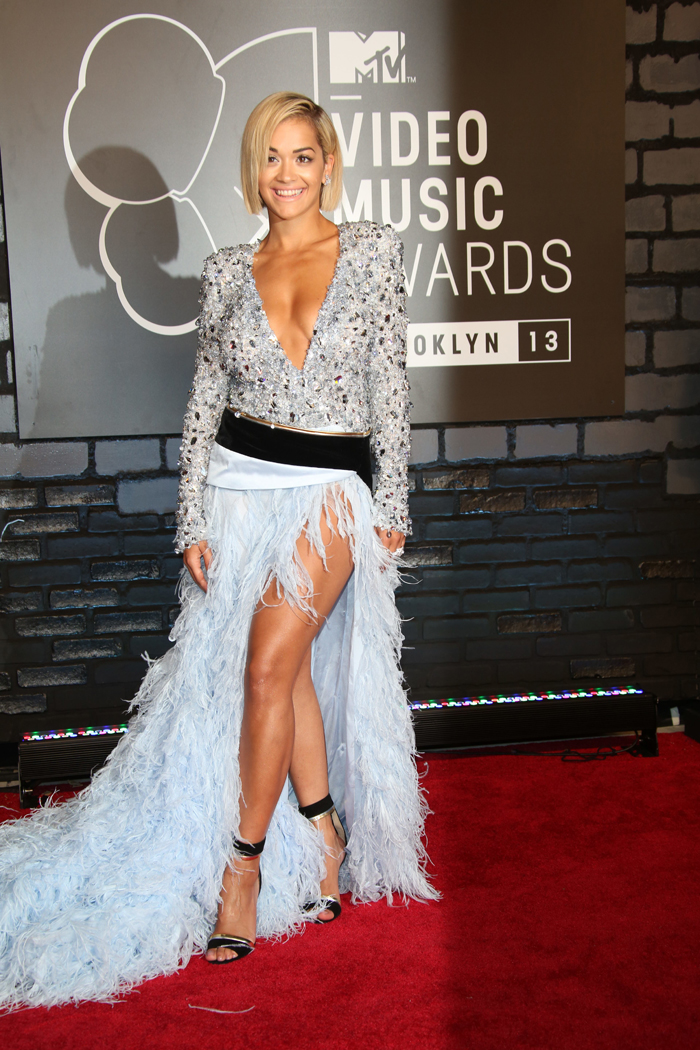 Rita Ora looked surprisingly washed out in her humongous Alexandre Vauthier Fall gown with a huge, egg-shell blue train made of feathers. The look was meant to present straight-up drama with a plunging neckline and tons of embellished crystals on the top half of the dress, but Rita gets lost in the gown. Her makeup is blah, and this train is wayyyy too much.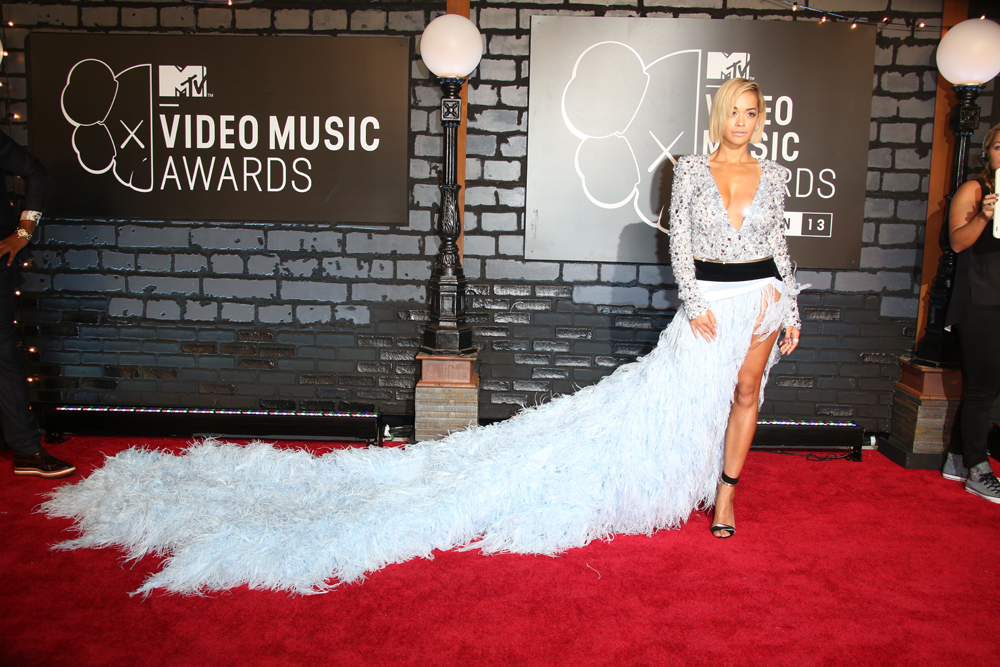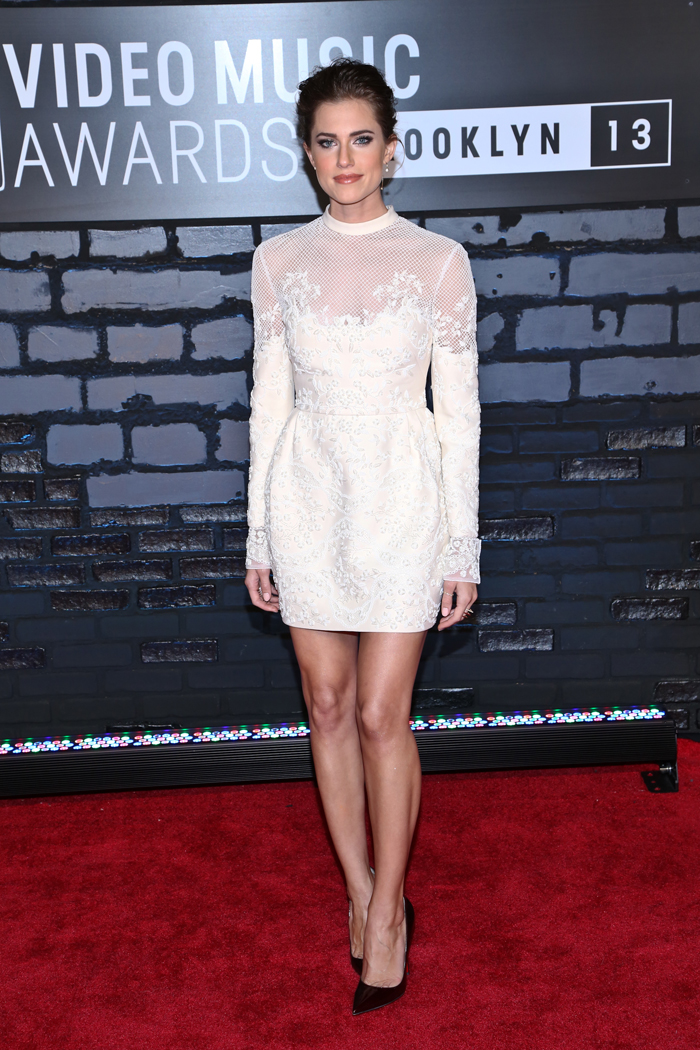 I keep trying to figure out why Allison Williams is at all these music awards shows lately other than the fact that she is Katy Perry's BFF, but Allison did present an award last night (with Joseph Gordon Levitt), so I guess that's good enough of a reason. Allison didn't exactly make an impact on the red carpet though because she seemed out of place in an elegant (and embellished) white Valentino dress. This seems like something she would wear to a premiere or screening, not to a "wild" MTV show. In a sense, I guess that makes Allison the true rebel of the evening.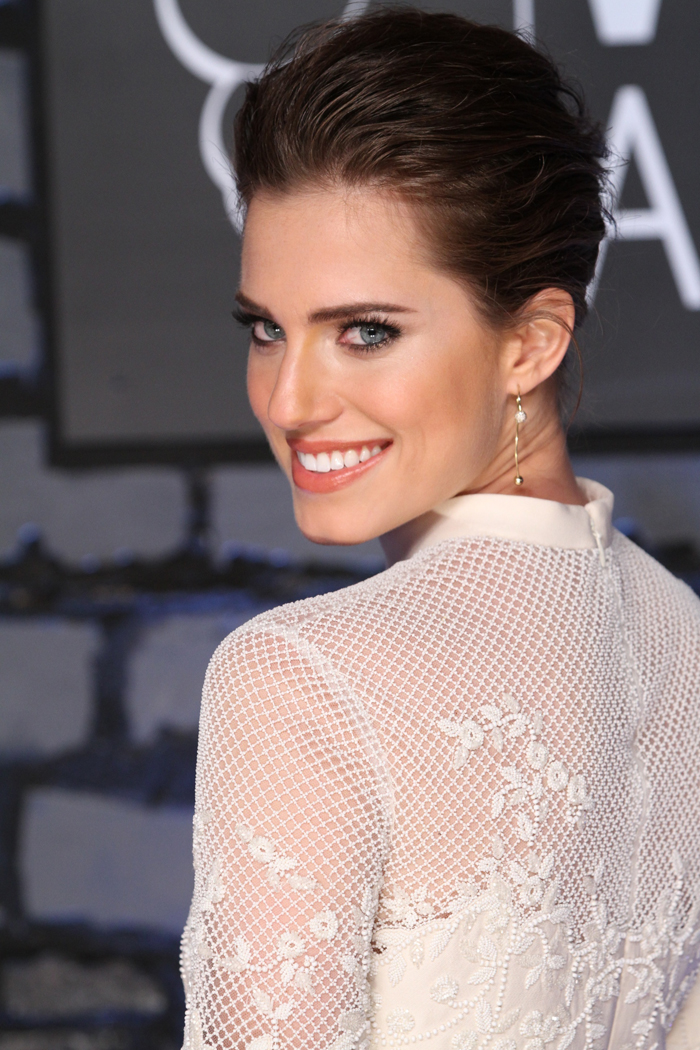 Photos courtesy of WENN