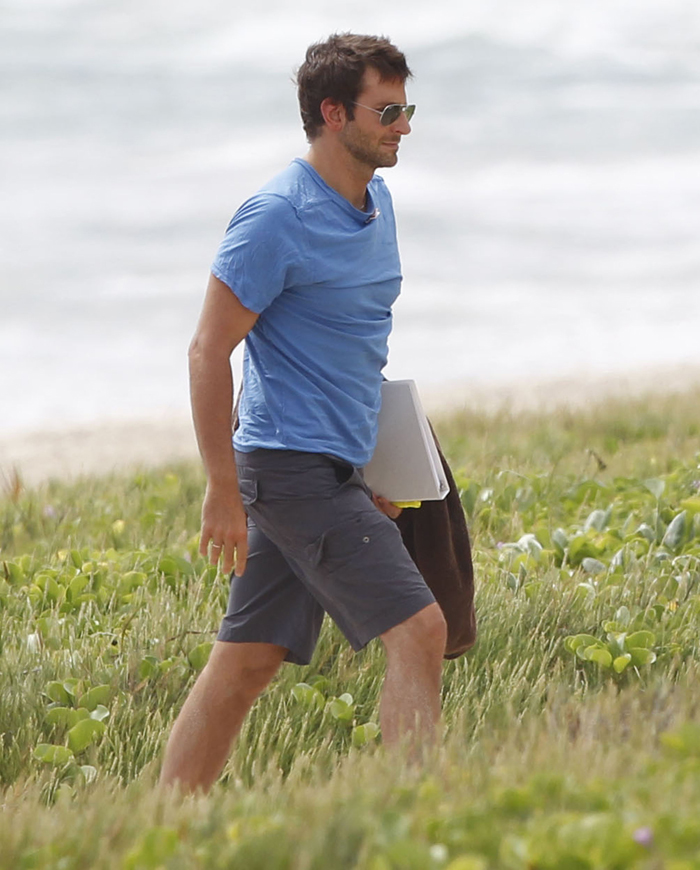 What's going on with Bradley Cooper these days? He's been keeping a pretty low profile, but I can't wait until he starts promoting his Oscar-baity American Hustle flick. BCoop's probably gearing up for the onslaught of publicity, which could be the reason he decided to fly to Honolulu on vacation. Kaiser reminded me that Suki Waterhouse is working at London Fashion Week right now, so Bradley was cutting a solitary figure on this beach. Was Bradley's mom with him on vacay? Who knows. WENN had photos (which we don't have access to) of Bradley flying out of LAX on Friday all by his lonesome.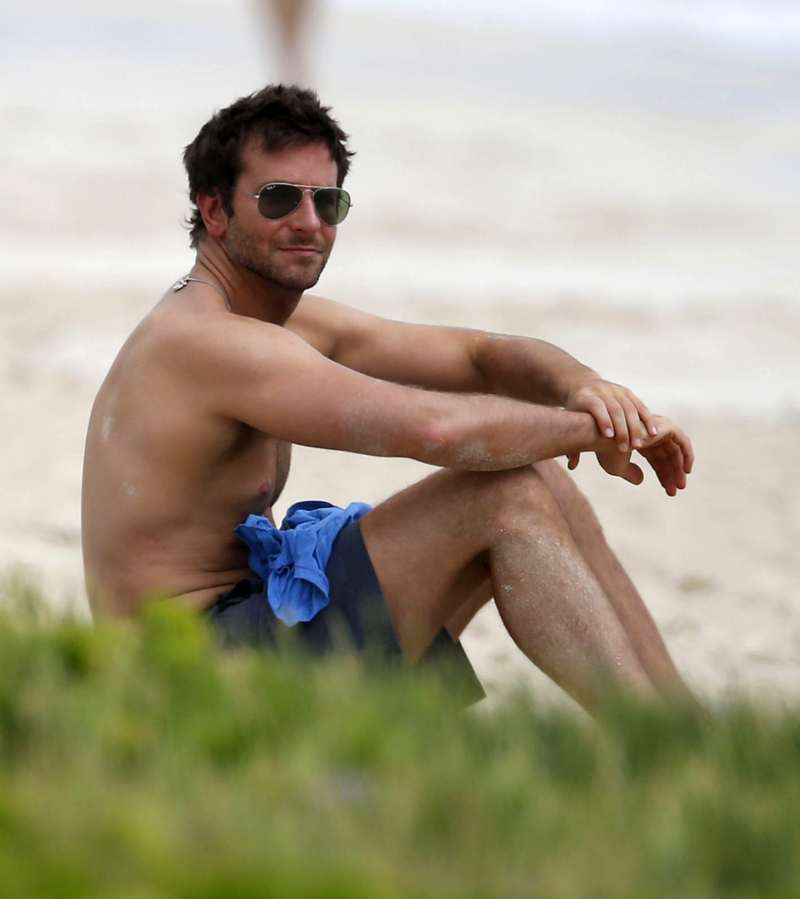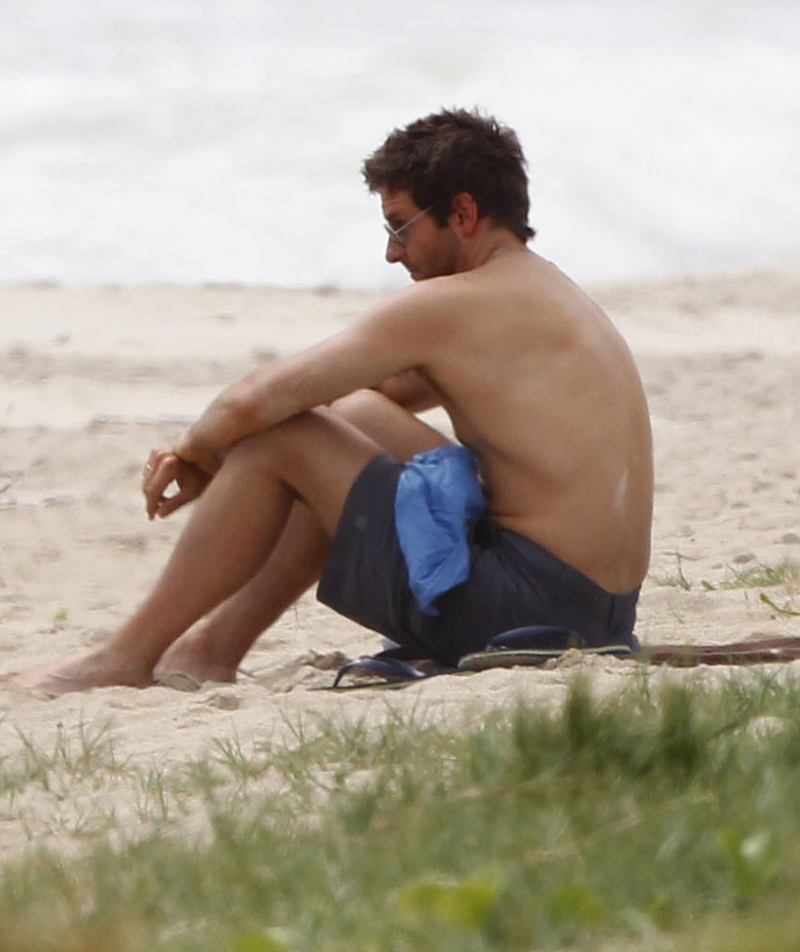 Other than this beachy photo op, we haven't heard much from BCoop lately other than him riding on his motorcycle and being gross while lounging in his 20-year-old girlfriend's lap and reading Lolita. Would I hit it? Well I probably would because I like Bradley with this shorter haircut. The wholesome look suits him well, and you know he's my favorite serial killer. I do enjoy that he looks fit but not completely muscle bound. I couldn't tell you why he's wrapped his t-shirt around his head in this photo.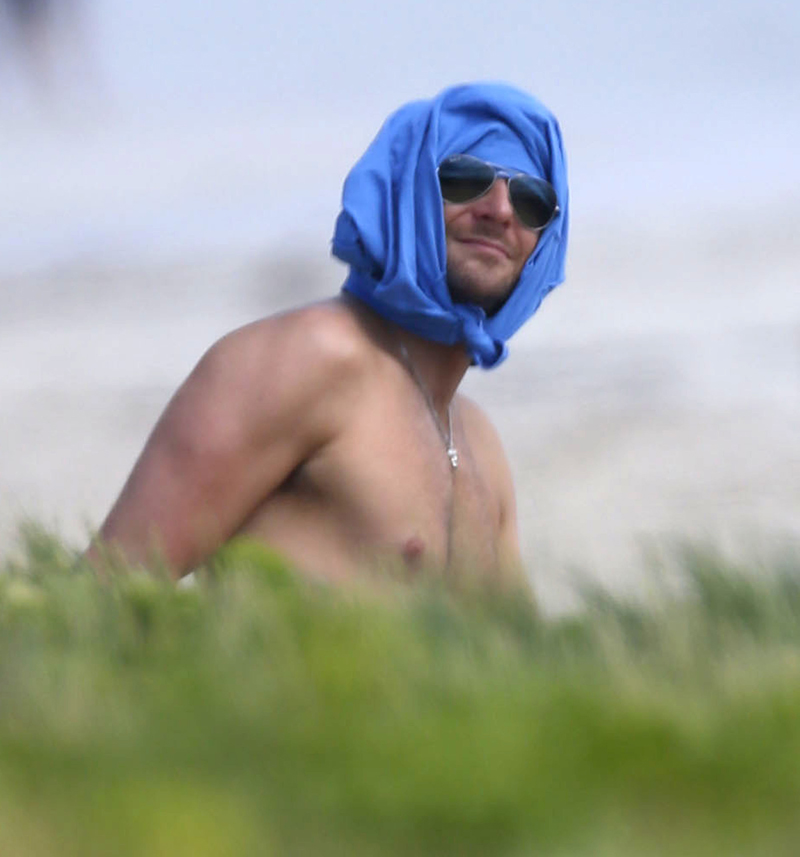 I'm feeling sorry for Bradley for getting papped looking lonely, so here's a tidbit from this week's issue of Us Weekly about how happy his ex, Zoe Saldana, is with her brand new (random) husband. Shade has been duly thrown in Bradley's direction:
Zoe Saldana plans to live long and prosper — with artist Marco Perego by her side. Sources say that the actress, 35, and her Italian-born love, 34, wed in a London ceremony in June. It's was romantic and beautiful," says one pal of the nuptials, attended by relatives and close friends. "They wanted to keep it small and private." Saldana, who ended her yearlong romance with Bradley Cooper last December, and the NYC transpland "Had been friends for a long time," says an insider. But in January, their relationship turned romantic. "He swept her off her feet," adds the pal. "They have a real connection." Though his Andy Warhol-inspired paintings sell for upward of $30,000, the former soccer pro's unassuming nature is a draw for Saldana. Notes a source, "She wanted to be with someone who doesn't care about public perception. She wanted a real man."
[From Us Weekly, print edition, September 23, 2013]
Ouch. That's not cool to imply that Bradley isn't "a real man," and the whole "public perception" angle is even more sketchy. Zoe looked just as uncomfortable as BCoop did during their relationship. Whatever.
Photos courtesy of Fame/Flynet