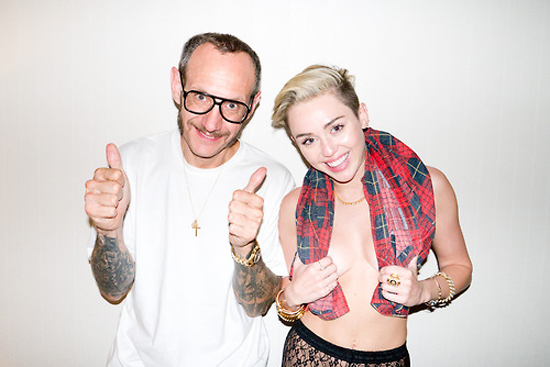 Well this is getting ugly for more than one reason. Miley Cyrus is currently in NYC to rehearse for this weekend's "SNL" episode. Every skit will probably feature Miley making fun of either her VMA act or people who criticize her for "acting black." Of course Miley made the most of her big apple time by popping by Terry Richardson's studio. (The photos are here and they are NSFW/NSFL) Miley and Terry are tight, you know. She thinks he makes "women look so strong" in his creepy photos. He directed her naked "Wrecking Ball" video. He shot her in couture for Harper's Bazaar. She spectacularly grabbed her crotch in his studio. Now she's back at the scene of the last crime. What is it with her recent fetish for giving herself front wedgies?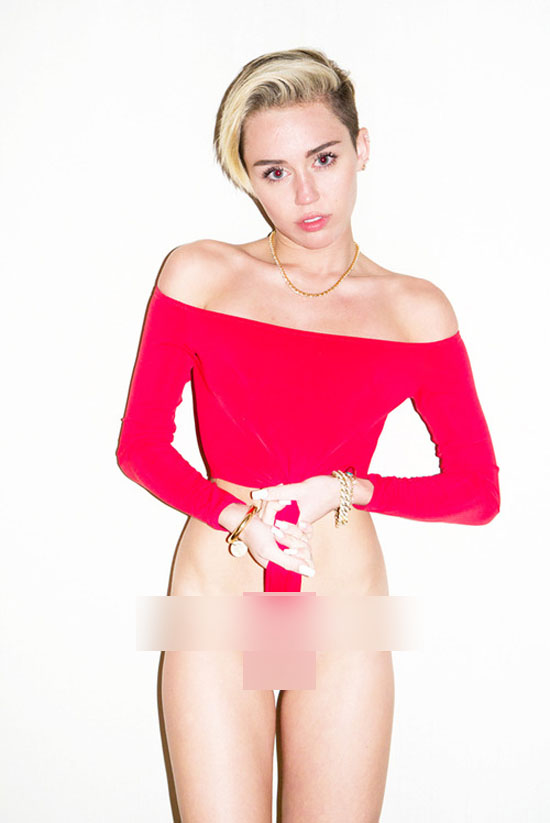 To be utterly fair, Miley does balance things out with a back wedgie too.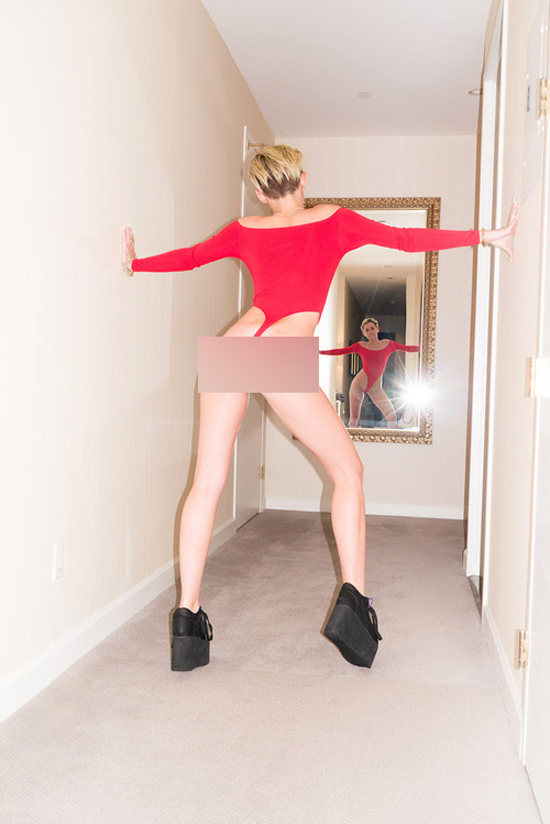 Yesterday afternoon, Kaiser, CB, and I were laughing our asses off at this shoot. We were not slut shaming. We were not admiring Miley's sexual aura. We were laughing. Because as sad as it is that Miley begs for attention by shoving her boobs and butt in our faces, this is some funny sh-t.
Now for more ugly. We's discussed Sinead O'Connor's heartfelt open letter, which expressed concern for how Miley is being manipulated by the industry under the guise of "girl power." Let us not forget that Sinead is not sticking her nose into something that is not her business. Miley is the one who invoked Sinead's likeness in the "Wrecking Ball" video, and Miley namedropped Sinead during her epic Rolling Stone interview. In return for Sinead's respectful letter, Miley displayed the maturity of a 12-year-old on Twitter: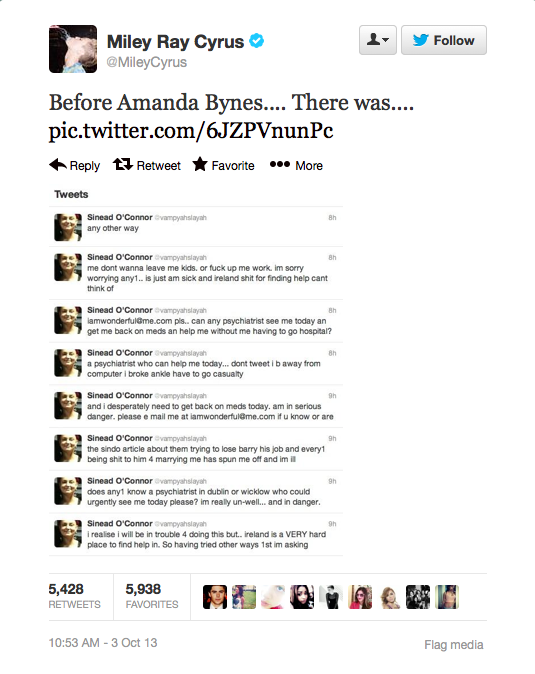 That's right. Miley decided to make fun of mental illness. What I find cool is how the replies to Miley's tweet did not pile onto her cause. People actually told Miley she was in the wrong. Not that Miley cares what anyone else says.
Well Sinead didn't leave it alone and decided to feed the internet troll. Again I will publish Sinead's entire letter because this scandal is crashing her site's server:
Miley… Really? Who the f— is advising you? Because taking me on is even more f—in' stupid than behaving like a prostitute and calling it feminism. You have posted today tweets of mine which are two years old, which were posted by me when I was unwell and seeking help so as to make them look like they are recent. In doing so you mock myself and Amanda Bynes for having suffered with mental health issues and for having sought help.

I mean really really… who advises you? have you any idea how stupid and dangerous it is to mock people for suffering illness? You will yourself one day suffer such illness, that is without doubt. The course you have set yourself upon can only end in that, trust me.

I am staggered that any 20 yr old woman of the 21st century could behave in such a dangerous and irresponsible manner as to not only send the signal to young women that its ok to act like prostitutes but also to the signal that those who have suffered or do suffer mental health problems are to be mocked and have their opinions invalidated. Have you no sense of danger at all? or responsibility? Remove your tweets immediately or you will hear from my lawyers. I am certain you will be hearing from all manner of mental health advocacy groups also. It is not acceptable to mock any person for having suffered.

It is most unbecoming of you to respond in such a fashion to someone who expressed care for you. And worse that you are such an anti-female tool of the anti-female music industry. I hope that you will apologise to Amanda Bynes and to any person who has been wounded by your mockery of those who have suffered. And I hope that you will wake up and understand that you in fact are a danger to women.

Furthermore you posted a photo of me tearing the pope's photo .. as if to imply insanity.. by doing so all you have achieved is to expose your staggering ignorance. I suggest you read The Philadelphia Report, The Boston Report, all the reports which will illuminate for you why that action of mine remains sane and valid. By mocking it you mock every child who suffered sexual abuse at the hands of priests and had it covered by the Vatican. You could really do with educating yourself, that is if you're not too busy getting your tits out to read.
[From SineadOConnor.com]
Then Miley acted like an idiot again and emphasized how busy and famous she is in comparison to Sinead.
Sinead. I don't have time to write you an open letter cause Im hosting & performing on SNL this week.

— Miley Ray Cyrus (@MileyCyrus) October 3, 2013
So if youd like to meet up and talk lemme know in your next letter.

— Miley Ray Cyrus (@MileyCyrus) October 3, 2013
This goes beyond the usual 20-year-old, young-adult rebellion. Miley is freaking rude. All of this is particularly interesting in light of Britney Spears' claim that she's not into the sexy image engineered by her handlers. Of course Britney and Miley are both managed by diabolical genius Larry Rudolph.
Update: Sinead wrote a third letter to Miley. It's posted on Facebook and asks Miley to apologize for the mental illness comments.
Here's more of Miley's rack and tongue courtesy of Uncle Terry.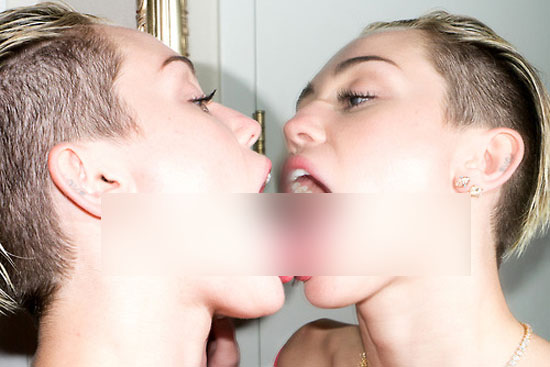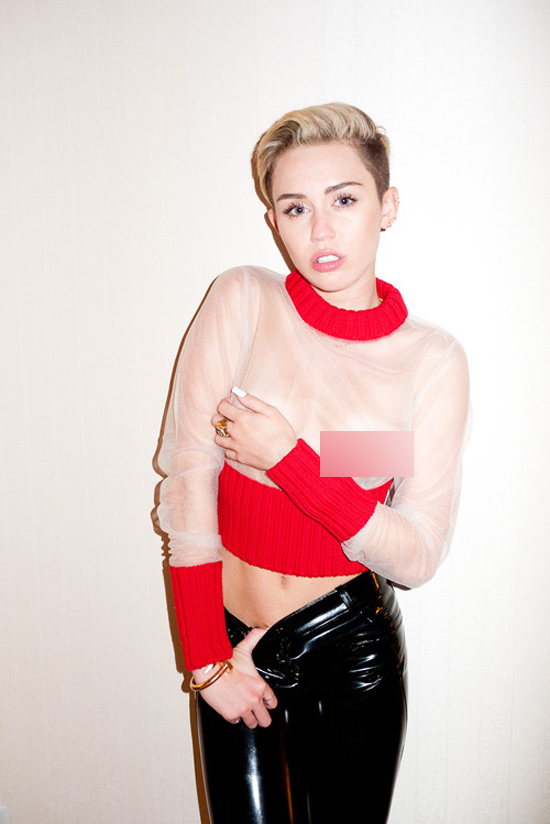 Even this ice cream cone looks gross because it came from Uncle Terry's place. God only knows what he puts in that stuff.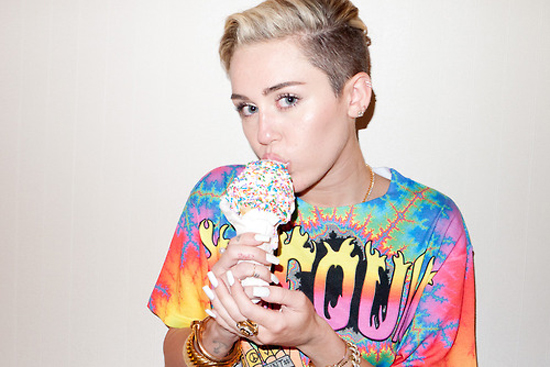 Photos courtesy of Terry's Revolting Diary