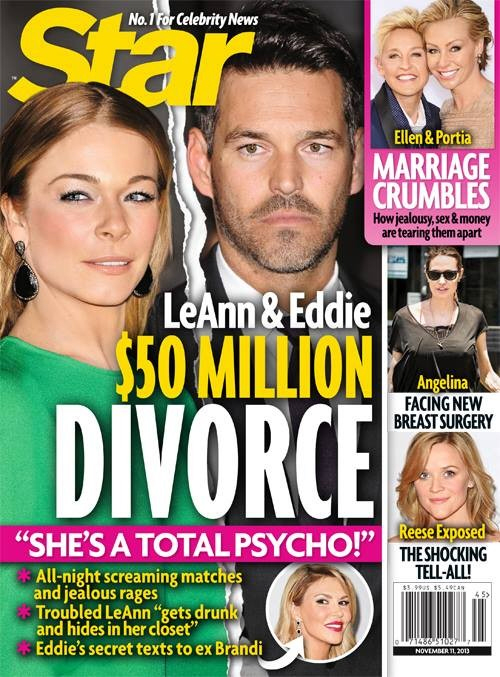 I love this cover! I hope more tabloids run breakup/divorce covers for LeAnn Rimes and Eddie Cibrian. I know that in some strange way, LeAnn will just love the attention, but I still love the cover. For what it's worth, Gossip Cop already shot down this cover story. GC spoke to Eddie's rep, who told GC that the story is "ridiculous" and a "joke" and that Eddie and LeAnn just got back from a vacation together (a vacay in which LeAnn was drunk-tweeting incessantly). But don't let me rain on this gossip parade, because some of the quotes from Star's story are just magnificent! Some highlights:
*A source claims: "They've only been married for two and a half years, but she's been driving him to distraction with her psycho behavior almost from the moment they first hooked up. It's been getting continuously worse since they made it official, and Eddie can't take it anymore. He's at the end of his rope."
*DUN DUN DUN: "Being married to LeAnn is the worst mistake he's ever made and this past year in particular has been a nightmare. He wants out," claims a source.
*Allegedly, Eddie and Brandi Glanville are on "good terms" again and "He calls and texts her regularly, especially when he's had a bad day with LeAnn. Brandi's always happy to let him unburden himself to her."
*Star claims Eddie is waiting until they finish filming their VH1 reality show and that's when he'll dump LeAnn for good. A source tells Star that "LeAnn had been increasingly bossy on the set of the reality series, pushing Eddie to the edge… She yells at him and makes him do take after take, then he reminds her that he's the actor, not her. It's just so embarrassing."
*LeAnn loves to troll Brandi on Twitter: "LeAnn goes out of her way to torment Brandi, like when she tweets about Brandi's sons (Mason and Jake) and call them 'her boys'. LeAnn also refers to Brandi as 'the drunk who sleeps around' when she and Eddie are with friends."
*Star insinuated that LeAnn has a drinking problem, and a source says she starts "drinking early in the day and into the evening" and then she picks fights with Eddie about his (gulp) wandering dong: "That often leads to fights between them in the middle of the night, when she accuses him of being unfaithful and disloyal while Eddie tries desperately to calm her down and make her see reason… On more than one occasion, LeAnn has even locked herself in the closet after drinking, telling Eddie that she wants to be left alone."
*And if and when Eddie files for divorce, he's going after her money: "If LeAnn makes things ugly for him, he'd take her for every penny he could. Eddie's attitude is: If he gets any money from LeAnn, he's more than earned it."
Um, can you see LeAnn locking herself in her closet, drunk and sobbing hysterically after accusing Eddie of fooling around? I can picture that perfectly. And while I think LeAnn is… not right in the head, shall we say, I don't really blame her for starting fights with Eddie about his wandering dong. He DOES have a wandering dong. It's gross. And it's making his wife even more unhinged.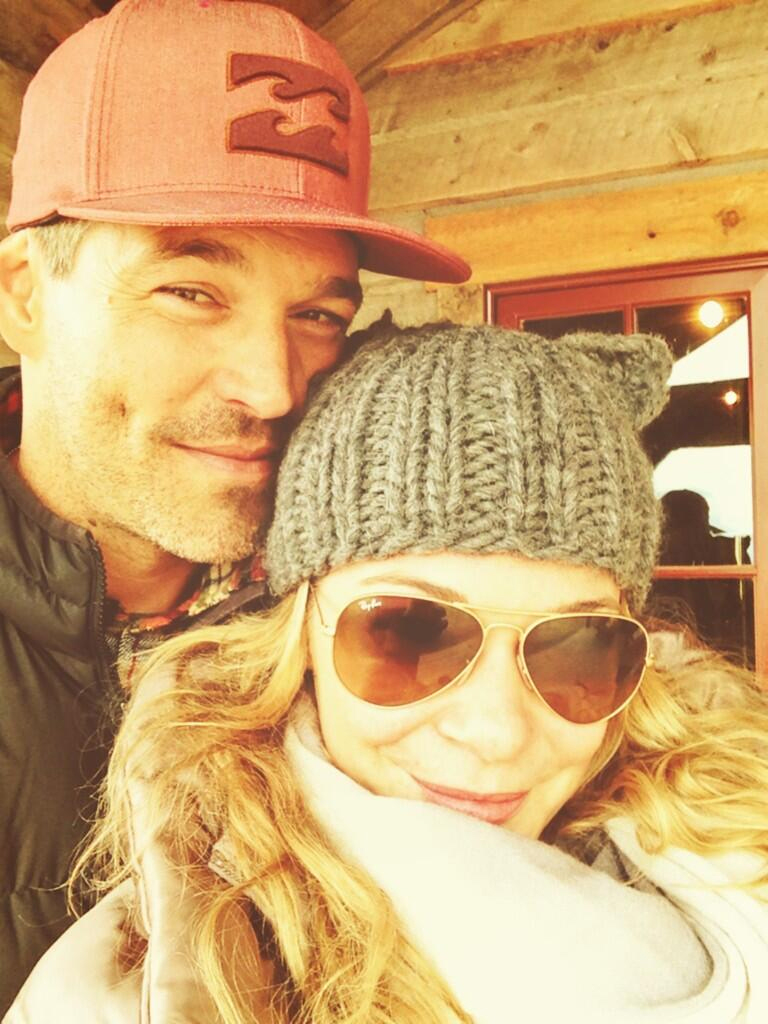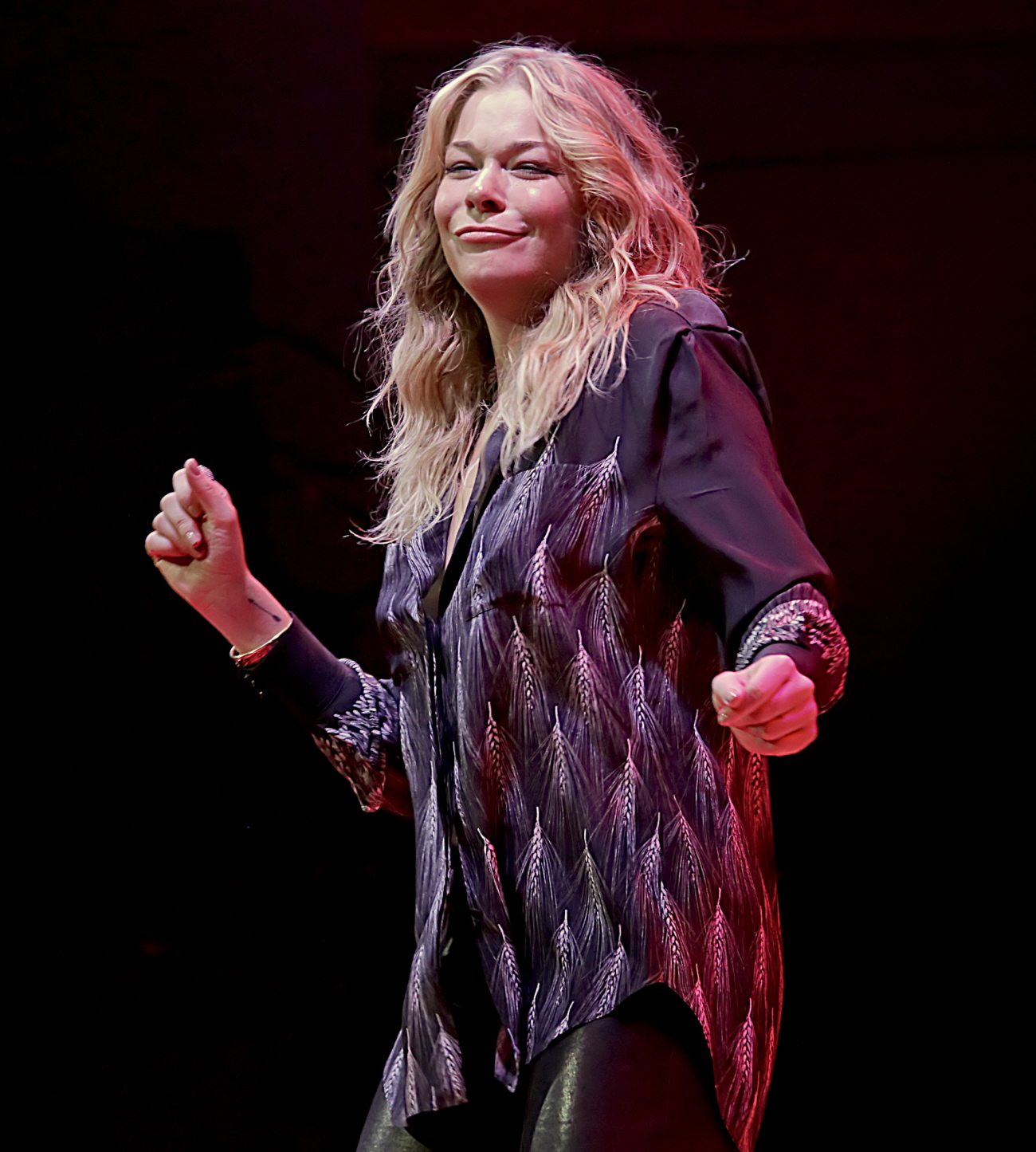 Photos courtesy of LeAnn's Twitter, WENN.