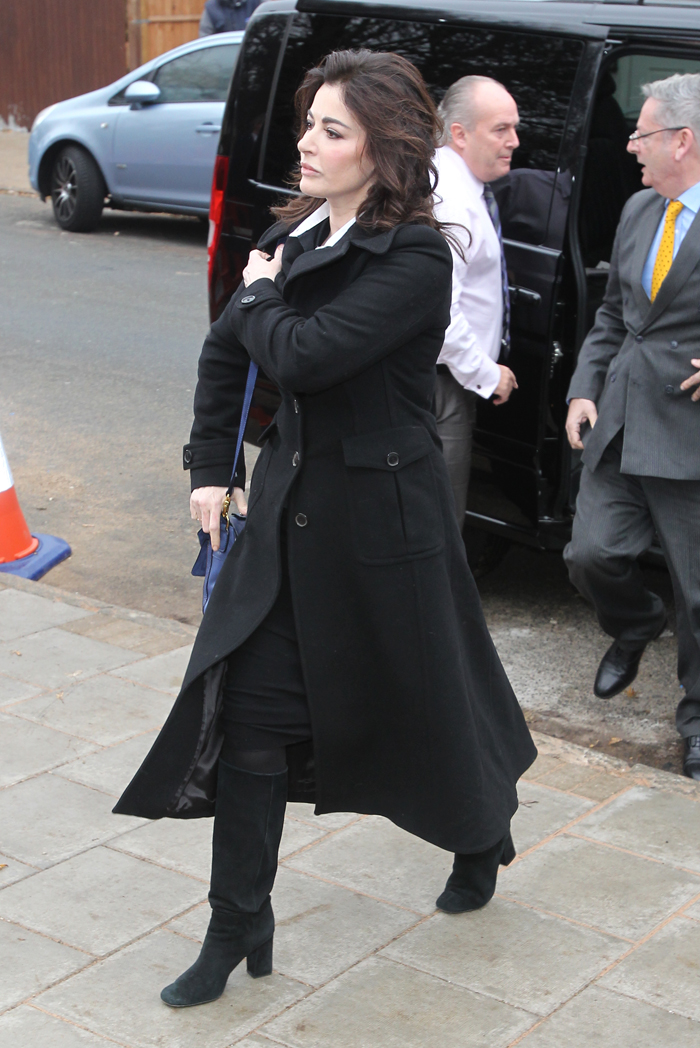 These are photos of Nigella Lawson heading into a London court yesterday to testify in the fraud case against her former assistants, Francesca and Elisabetta Grillo. We've heard that Nigella didn't want the sisters to be sued by her ex-nightmare, Charles Saatchi. Certainly Nigella didn't want to testify in the case either, but she had no choice.
By now the case has turned into the "stomp all over Nigella" public discussion. This is only my theory, but I feel like Saatchi convinced the sisters to defend themselves by turning on Nigella. They claim to have had free run with Saatchi's credit cards because Nigella wanted their silence about her supposed coke addiction. Saatchi has been playing the "heartbroken" card. But look at Nigella swooping into the courtroom like a boss. She looks tired but in control.
Nigella testified for a full seven hours yesterday, which sounds terribly exhausting. She admits to using cocaine "two times in her life." She says Saatchi's "intimate terrorism" drove her to use coke (once) and smoke pot (several times). She believes Saatchi is trying to destroy her reputation after she failed to defend him for choking her. Nigella also claims Saatchi often "shouted and swore" at her and has subjected her to a "long summer of bullying and abuse" since their split. The intimate terrorism sounds awful, doesn't it? Sort of like Saatchi was a bug that crawled under her skin. Here's the courtroom lowdown:
Nigella Lawson was yesterday forced into a dramatic courtroom confession of drug-taking. Giving evidence to a packed but silent chamber, the TV cook said she had snorted cocaine and had even smoked cannabis in front of her children. But she said she needed the drugs to cope with the death of her first husband, John Diamond, and the "intimate terrorism" of her second, Charles Saatchi.

During seven hours of testimony, Miss Lawson, 53, was asked: "Are you or have you ever been a user of cocaine?" She replied: "I have never been a drug addict. I have never been a habitual user. But there were times in my life when I used cocaine."

She said she had used cannabis this year to deal with a "summer of abuse." As well as smoking joints in front of the children, Miss Lawson said she used cannabis to help her sleep. But she repeatedly denied ever being "off her head" with drugs.

Miss Lawson complained from the witness box that she felt as if she was on trial herself — the victim of a "witch hunt" orchestrated by her ex-husband following the throat-grabbing episode that drove them to divorce this summer.

The chef told the jury that taking cocaine with her late husband John Diamond, who died in 2001, "gave him some escape" from his illness. Miss Lawson said at the time she was responsible for looking after him and the family as well as earning a living. She said: "I did speak to a doctor of palliative care because I was troubled about whether I should let John continue, and he said just let him. And so I didn't judge or begrudge."

But she said claims that credit cards and envelopes containing white powder were left around the home she shared with Mr Diamond were "completely false." She admitted that her former husband used rolled-up notes to take the drug. "John did but he carefully ironed them out," she said. "There is some misery you cannot escape."

After her first husband's death she did not take the drug again until 2010 when she claims she turned to it because she felt "isolated and in fear." She added: "There was another time I took cocaine. In July 2010 I was having a very, very difficult time. I felt subjected to intimate terrorism by Mr Saatchi," she said, before adding that at the time she felt 'isolated and in fear of… just unhappy. The idea that I am a drug addict or habitual user of cocaine is absolutely ridiculous."

After the second episode she said she went to see a doctor. "I concluded that I did not have a drug problem, I had a life problem, and I needed to attend to that and I did seek out a therapist."

Miss Lawson said that she also "smoked the odd joint" during the final year of her marriage to Charles Saatchi. "I found it made an intolerable situation tolerable. It's a false friend and not a good idea. I found the answer was in changing the situation and trying to create a tolerable situation for me and my family. I have to say, since freeing myself from a brilliant but brutal man, I'm now totally cannabis, cocaine, any drug-free."
[From Daily Mail]
Nigella also revealed her side of what happened during the choking incident. Nigella says Saatchi was not checking her nose for coke. Instead, "Someone walked by with a very sweet baby in a stroller, and I said 'I'm so looking forward to having grandchildren.' And he grabbed me by the throat and said: 'I'm the only person you should be concerned with – I'm the only person who should be giving you pleasure.'" Jesus.
It sounds like Saatchi was a jealous and abusive man while he was married to Nigella, and he continues in that same pattern after their marriage. She admits now that she was miserable for years with him. It took the humiliation of being choked in public for Nigella to finally leave Saatchi, but at least she's out now. That's all that matters.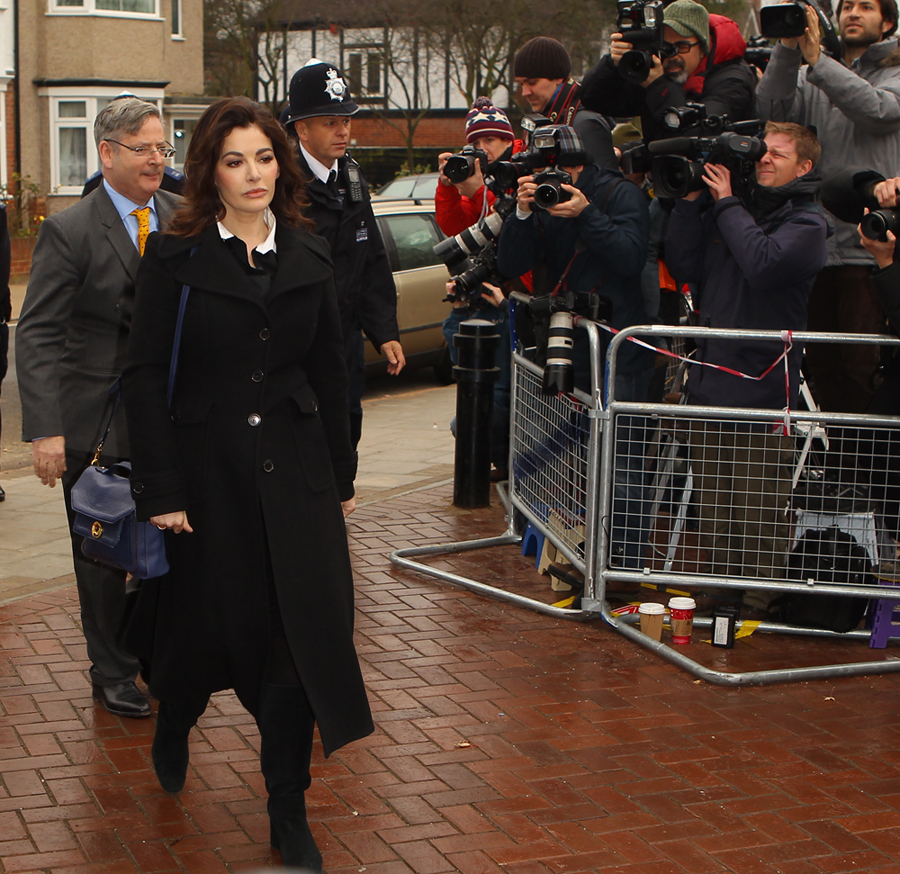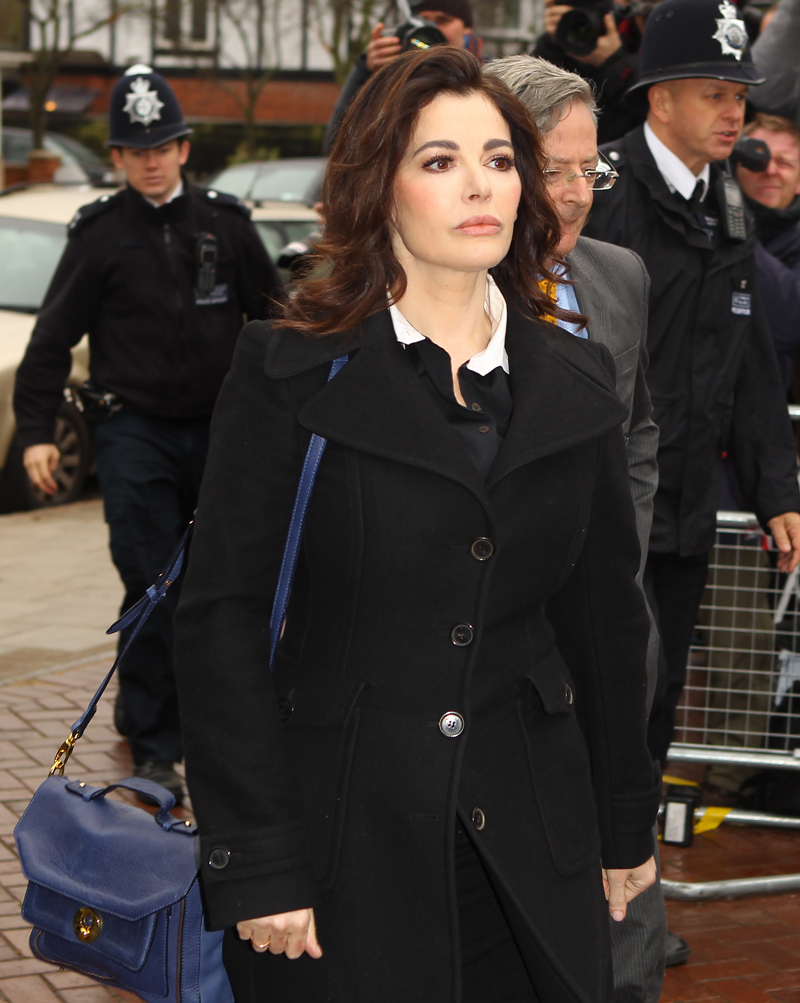 Photos courtesy of WENN