Cindy Crawford's been in regular attendance for the past few days at some warm-up events for Art Basel. Leo DiCaprio's on hand, so should be a wild party. This was the same event where Demi Moore embarrassingly grooved next to a deadpan-looking Lenny Kravitz last year. Those were the days. I've included some photos of Cindy with her husband, Rande Gerber, at the bottom of the post. I guess they're fine now despite the rumors of their demise from a few years ago.
First I wanted to briefly talk about Cindy's new shoot for V magazine. The above photo is Cindy "in menswear," which seems like a silly description. She looks fantastic and sultry without showing it all off, but there are some slightly more booby shots that you can see here. The interview touches upon how she briefly let her daughter Kaia model at age 10, and Cindy explains:
Being back in New York: "When I arrived and got to the hotel I walked to a little market to get some things for a protein shake the next day, and I was reminded of the city's energy, that buzz. I lived in New York for 15 years. I miss it sometimes. It's very different from my life in Malibu. You don't walk in Malibu…or else people think your car is broken down! In L.A. you go to dinner at 7 pm and in New York you go to dinner at 9 pm. But then in the Midwest it's 5:30 pm."

Harry Styles had a pizza party with daughter Kaia: "He stopped by to say hi when my kids and I were making pizzas. My kids were doing their own little pizzas and they couldn't slide them off the pan. Harry goes, 'Well, did you put down enough flour so they wouldn't stick?' And my husband says, 'How in the world do you know that?' and my little girl chimes in, 'Oh, he used to work for a bakery, Dad. Everyone knows that.'"

When Kaia modelled Versace at age 10: "That opportunity felt organic. I worked for Versace a lot in my career and I knew Mert and Marcus were the photographers and Donatella would be there. That's a dream team. So I figured if she ever wanted to do it this would be a good experience, and it was. We had to drive three hours to the shoot and she had to miss a friend's birthday party, and then we had to wait in the trailer for three more hours because they shot Gisele first. At the end, she thought, 'This is boring.' And I said, 'This is work.' It was a good lesson. If she wants to do it, I'm a good guide. I can help her make good decisions, but now I think she'd rather be an actress."

On aging as a model: "I'm a better model at 47 than I was when I was 22, although I wish I still had the body I had at 22! Ah, youth is wasted on the young."
[From V Magazine]
Cindy also revealed to People magazine that she won't pose for Playboy again: "I wouldn't now just because I have a son who is 14 and I wouldn't want him to be uncomfortable. I would do nudes, I just think the connotation of Playboy is a little hard for a kid. I just wouldn't want him to be embarrassed by his mother." Cindy's right. Her son would be sooo embarrassed if one of his friends saw his mom in Playboy. Hell, I was embarrassed after seeing my dad's stash of Playboys one day.
Cindy looks pretty good in these ArtBasel pictures, doesn't she? Her face has settled since last year. I can't believe she's 47.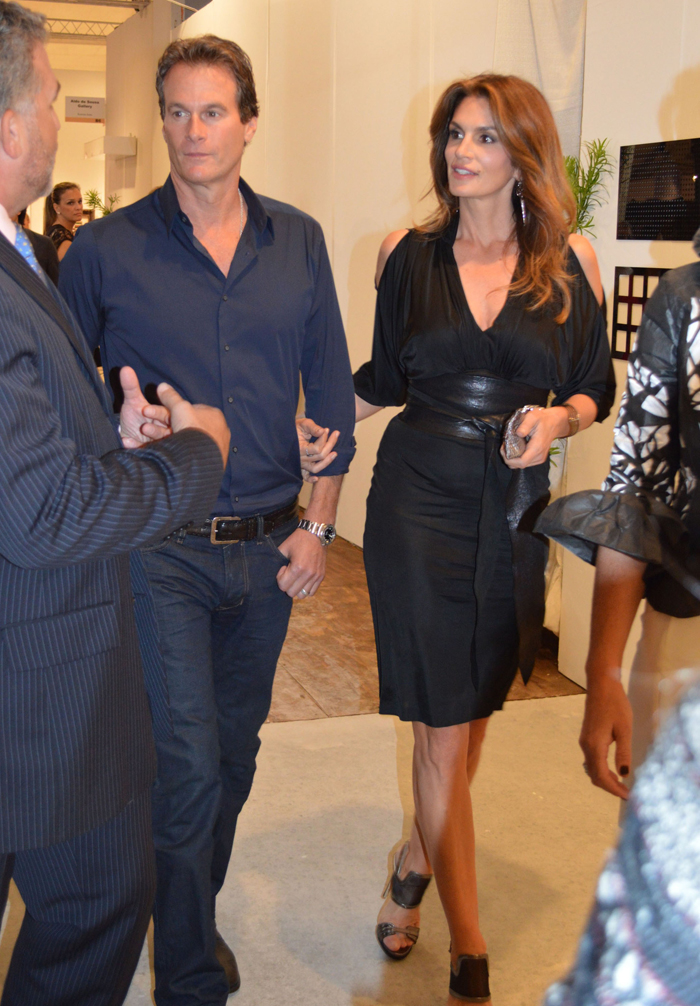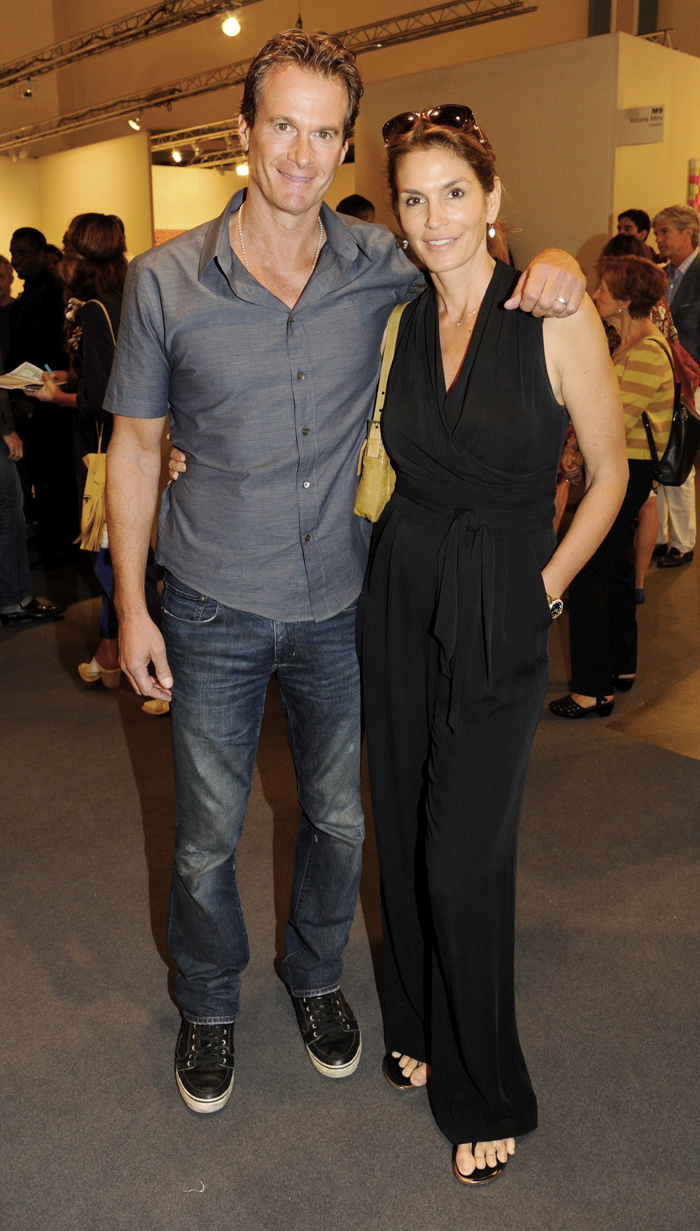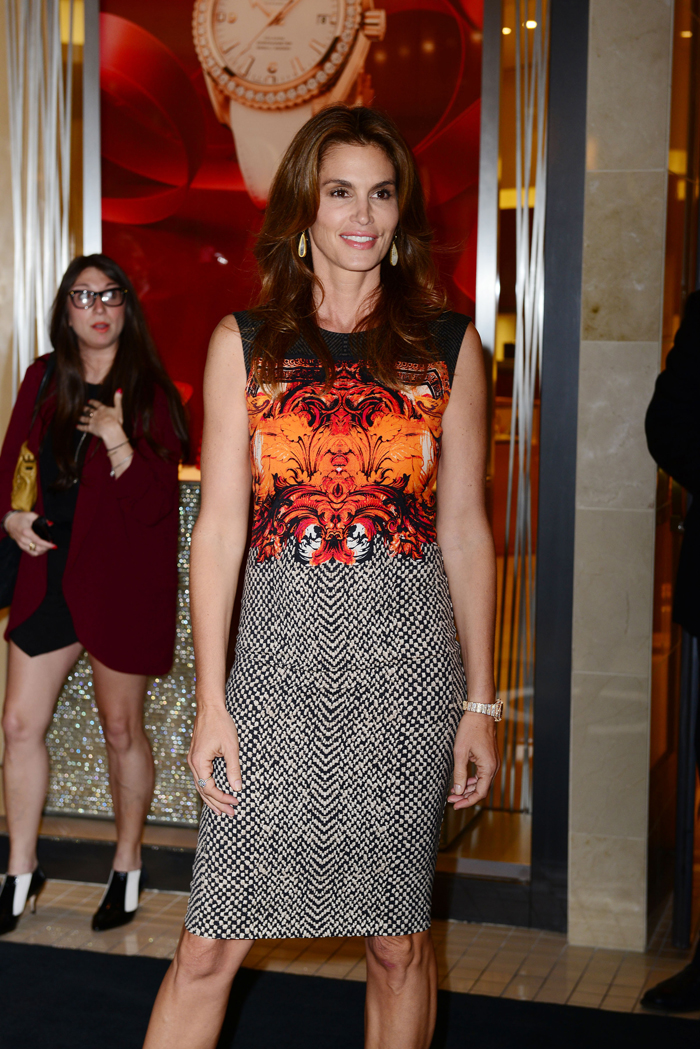 Photos courtesy of V mag, Fame/Flynet & WENN