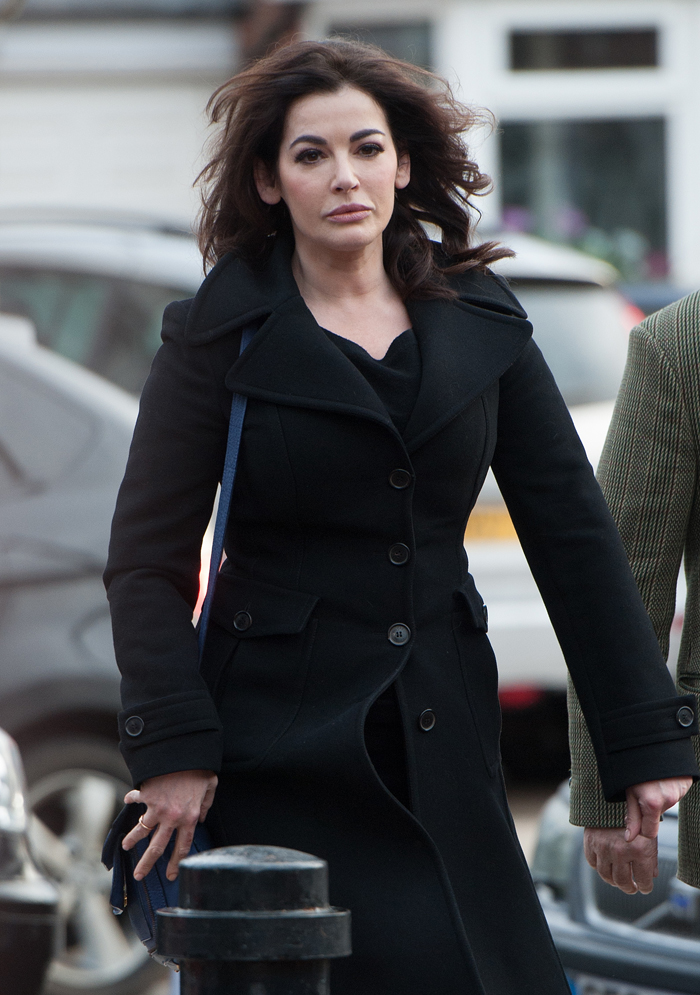 Nigella Lawson returned yesterday to a London court for her second day of testimony in the fraud case between her ex-husband, Charles Saatchi, and their former assistants, Francesca and Elisabetta Grillo. The sisters have mounted a defense that states they could freely buy whatever they wanted on Saatchi's credit cards. They say Nigella granted them the privilege so they would keep her "raging drug addiction" secret. Of course most of us see through the sisters' ruse and recognize that this is probably Saatchi's way of turning the knife in Nigella's side. He's such a sad little man.
On the first day, Nigella was grilled for seven hours and admitted doing cocaine on two occasions. She also copped to smoking pot over the summer to escape the "intimate terrorism" of Saatchi, who has mounted a public campaign to destroy her after she did not defend him for the choking incident.
New developments in yesterday's court hearing included even more discussion of Saatchi's claim that he was picking cocaine out of Nigella's nose, not choking her. There's also the claim by the Grillo sisters that Nigella often had a runny nose and stashed drugs in the family home. Plus so much more. Here are some of Nigella's statements made in open court:
Her thoughts on the fraud suit: "I am being put on trial."

On testifying: "I felt it was my duty to come. I certainly felt it would be an unpleasant experience but that's not a good enough reason not to do one's duty. I prefer to keep my private life private, but it was my duty to give evidence. I would rather be honest and ashamed … I wasn't going to be bullied with lies."

More on the "choking" incident: "Mr Saatchi was not examining me for cocaine. That's a story he made up afterwards to clear his name."

On her sparsedrug use: "I'm not proud of the fact I have taken drugs but that does not make me a drug addict or a habitual drug user. I have never knowingly met a drug dealer or bought cocaine. Do you think a regular cocaine user looks like this? They are scrawny and look unhealthy."

On Saatchi's accusations: "My husband is very unfavourably disposed to me and has used his best endeavours and contacts with the press to publish stories that are untrue and would be terribly damaging to publish."

On the Grillos' credit card use: "I think any normal person would think that someone else's credit card could not be used freely for someone else."

On giving gifts to her assistants: "It's not enough just to pay them. Everyone in life needs to feel appreciated."

On Saatchi's "eye for detail": "He would go round and point out marks he wanted removed."

On Saatchi's remote-control tantrum: "That would have made Mr Saatchi very irritable."

Her thoughts on money: "I am a lot more puritanical about money than my ex-husband. It's not okay to splash someone else's money around in a greedy and disgusting way."

On claims of a jewelry box of drugs: "No, what I have in that jewellery box was one of my paternal grandmother's wedding rings, my maternal grandmother's wedding ring, some jewellery of my mother's and I have a wedding ring when we got married and a wedding ring John got after he got ill."

On allegations that Nigella's daughter found a hollow book full of cocaine: "No, I've never heard that."

Why did she freak over losing the box & book when moving out of the family home? "I was in a state of panic because I thought I had lost my late mother's and late husband's jewellery, and my wedding ring. No not drugs."

She's not an addict: "In my everyday life I'm reliable, professional and calm, I'm in no sense a drug addict of a habitual nature. I've never been incapable of work, I've owned up to the drug use. I promise you that if I was smoking cannabis and taking drugs to the extent that you are suggesting I would not be standing here today. There are certainly very high functioning successful people who take cocaine. However, they are not generally reliable. I value my health, my children have only me as a parent, if you think I'm going to sabotage my health and run the risk of leaving my children orphans, you are very wrong."
[From Daily Mail]
If you're wondering what the "remote-control tantrum" refers to, Saatchi was revealed by the Grillo sisters to have called them (while they were in Spain) because he couldn't find the remote. As if he couldn't get up and change the channel himself or buy a new remote? He also reportedly made a habit of pointing out marks on the walls, which I guess would be reasonable if the Grillos were supposed to clean the house (they were not). He sounds like a terrible nightmare no matter how you paint him. Poor Nigella.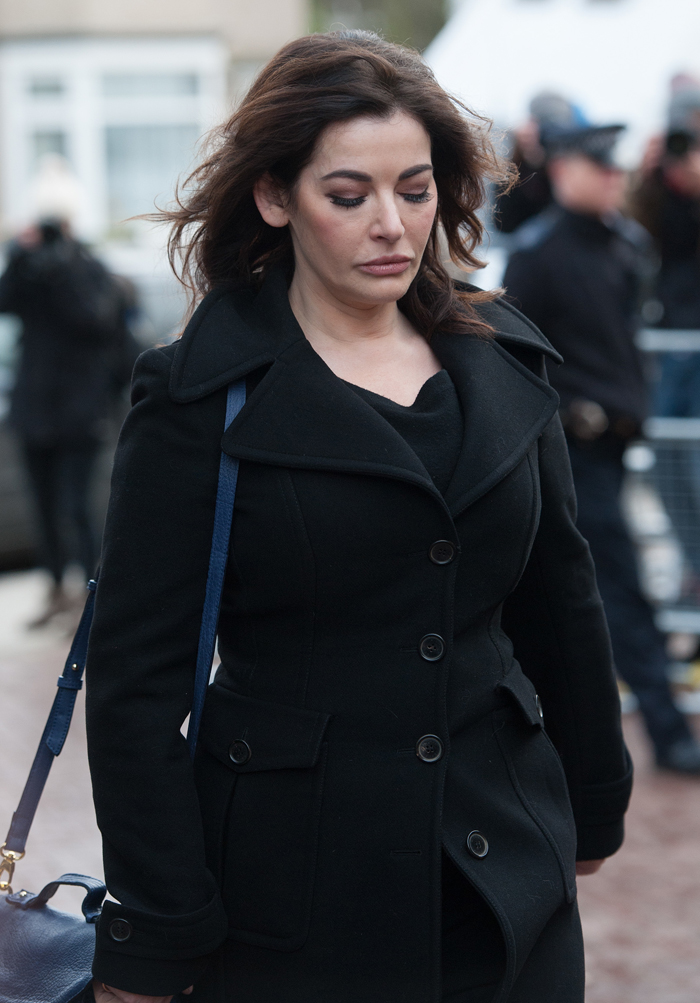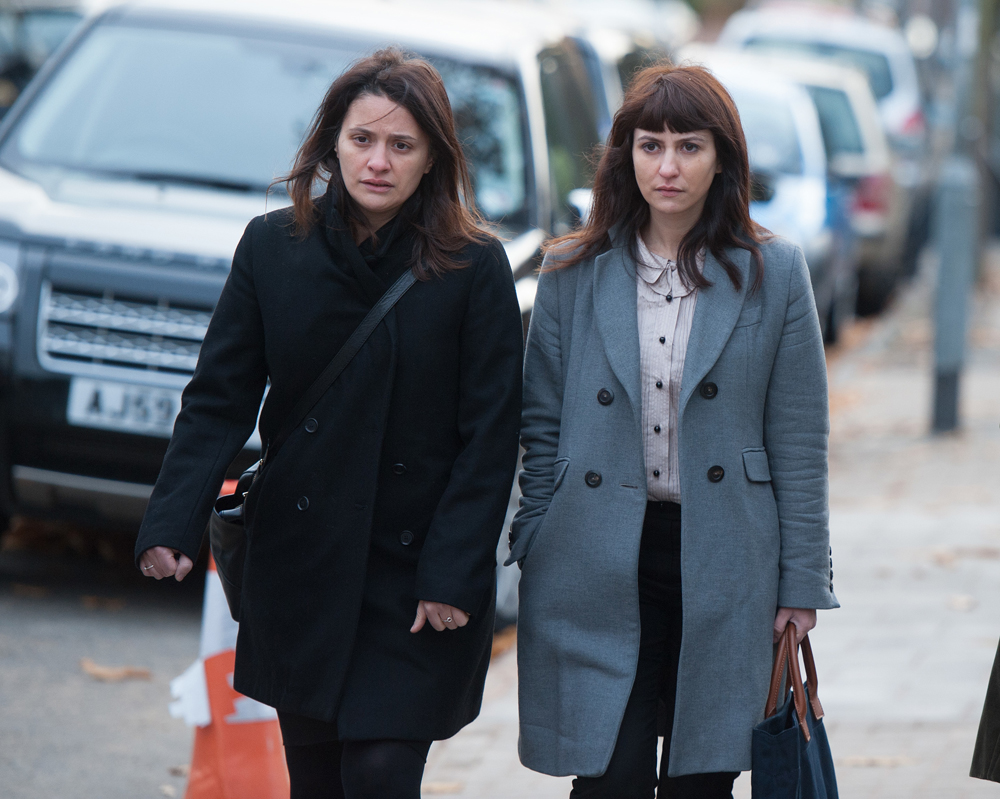 Photos courtesy of WENN