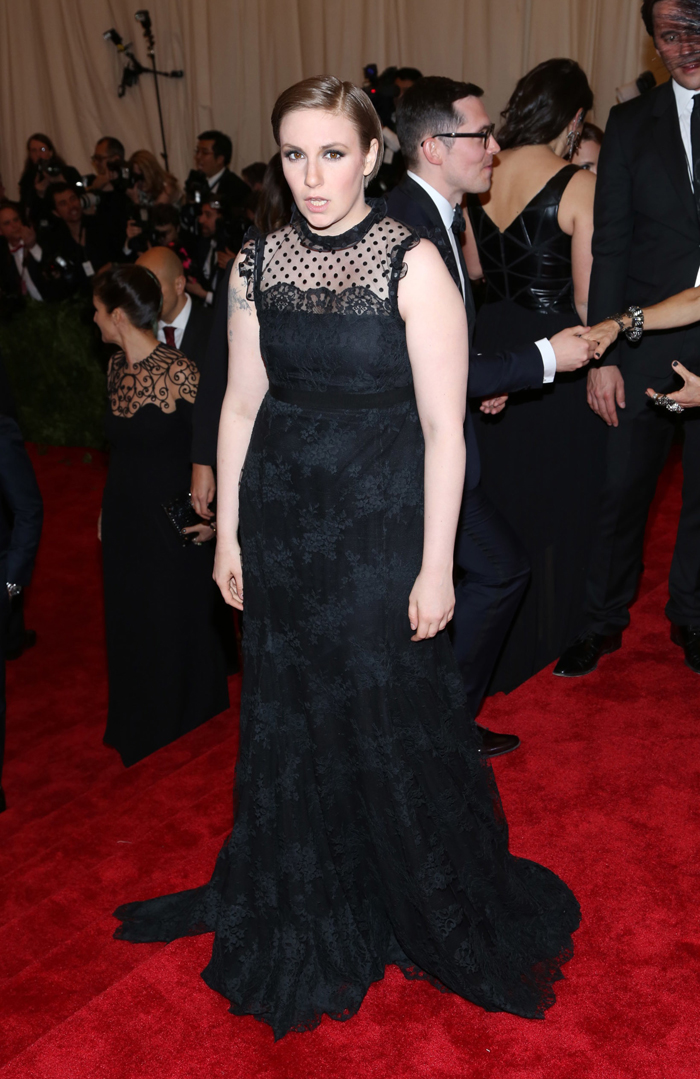 Lena Dunham. Oh Lena Dunham. I recently tried watching Girls out of sheer curiosity, and I didn't even make it through one episode. I was still warming to Lena because she's (like it or not) a woman in charge in Hollywood. I love that she tells the world to shove off when it comes to her body and standing up for herself. Lena sometimes comes off as entitled, but she was really growing on me.
Then Lena tried to deny being tight with Terry Richardson by saying she only knew him from one PR photoshoot. She conveniently neglected to mention how her BFF, Audrey Gelman, dated gross Terry for three years. Audrey tried to defend her best friend by tweeting that Lena "tried to see the good i saw in someone & we both have regrets." There is no good in a creeper like Terry. I'd love to explore why a pretty, bright, and successful young lady like Audrey would shackle herself to Uncle Terry, but that's a discussion for another day.
Lena sat down with Salon to promote the third season of Girls. Yep, she's still the same girl who once said writing for money is "weird." Let's do this:
Why she's a bit of an exhibitionist: "You know, it's funny, I think part of inquiry into that kind of stuff started when I entered high school and went from being a really tiny kid to a chubby teenager and had to figure out how to handle that shift in my body. It's interesting because I was looking at that transition and trying to figure out how to deal with my new body. It's funny, I don't know, maybe it's a selfishness thing, but when there are only a few chairs or something, I'm never the person who is like, 'I'll stand.' I always sit down, because I prize comfort highly."

Her writing process: "I want so much to be someone who sees something and writes it down in their beautiful leather notebook. The fact is that I write under duress, often in my bed, often at the last minute. I'm kind of a binge writer I would say, which I don't support. I was always kind of that way. Probably the time I was the most regular as a writer was college. It was like, what else is there to do when you're living in the Midwest studying creative writing?"

"Now I have to really guard and cherish my writing time, because there are so many other demands on it. There's what the show takes up, because the show has so many other aspects besides writing. There are a lot of other areas of interest for me, but writing time is where everything comes from. I have to make sure to be really careful with it. It's hard for me. When I had other jobs, like when I was working in a clothing store, or I was a hostess, I had this weird schedule where I would work, come home, take a nap, then write from 11 p.m. to 4 a.m., then go back to sleep. I basically figured out a schedule where I could have the strength to get something done at night.

"Now it's harder for me to go in and out of various modes, so I have to set aside days where I'm like 'I'm getting writing done today.' Because a big part of it for me is being able to dawdle, or look at things on the Internet, or take a moment to answer six emails, or walk around a circle, or go out and read the newspaper. The day needs to hold enough space for all the other stuff that goes with writing. I would say that my writing comes from more of an emotional place than an 'I'm in the street, I observe something, and I get an idea' place. I wish that I had more of that. That's like where more of my tweets come from, which is a bummer. I'm hoping that it can evolve with age, as all things do."

On Twitter: "I feel like I miss a little bit the old — I mean it was kind of pre my career — but the idea that you made something, you put out a book or you put out a movie, and then you went into hibernation. You had your experience of preparing to put the next thing into the world. And that doesn't exist, because people are blogging and tweeting. I often find on Twitter that I just want to tweet about SNL. I don't want to tweet, 'I wrote this. Go read it.' It's an interesting conundrum. But I also feel like my writing can always serve as a place to go back to. It is really comforting. I feel like in bad times or good it is a safe space to enter. It's easy to forget that, but it's consistently true. I feel lucky always to have that medium, which is as private as you want it to be and is affordable."

She's always asked about feminism & her body: "If you don't get exhausted about talking about yourself and your work, then you're a monster."

Her book is coming: "I'm almost done. I'm spending another two weeks on it, and then it goes to copyediting. I just saw some covers. I'm actually reading at Carnegie Hall tonight. The book has been a joy to write and a completely different experience than making the show."

This part is weird: "There's a piece of my book about letting guys sleep in your bed. You're not sleeping with them, just letting them sleep in your bed and what that is. It's really interesting, because I've done a lot of that in my day. And now the idea of someone sleeping in my bed with me who I'm not sleeping with is literally my worst nightmare. I'm like, 'I cherish my sleep. I worked hard for my bed.'"
[From Salon]
That last excerpt really throws me off. I was actually nodding my head at a lot of this interview, and then Lena said her worst nightmare is "literally" someone else sleeping in her bed. She's either exaggerating for effect or misusing "literally" when, as a writer, she should know better.
Anyway, this interview makes me identity a bit more with Lena. I try not to write from bed, but I'm doing so right now because it's New Year's Eve, dammit! Plus there's a cute dog on my lap who doesn't want me to move. (Excuses, excuses.) I can see where people would take issue with Lena claiming to write "under duress." Some writers need a deadline to hop into action, but her word choice makes her sound like she's "forced" to make millions by toiling away.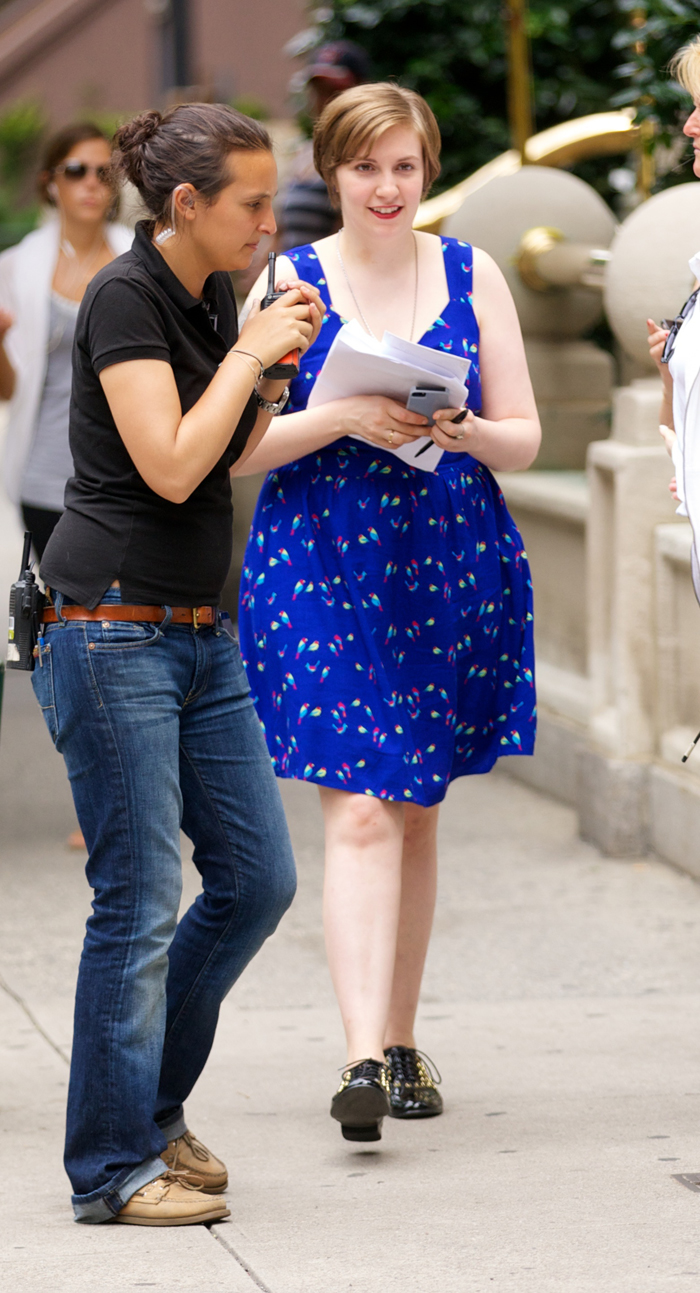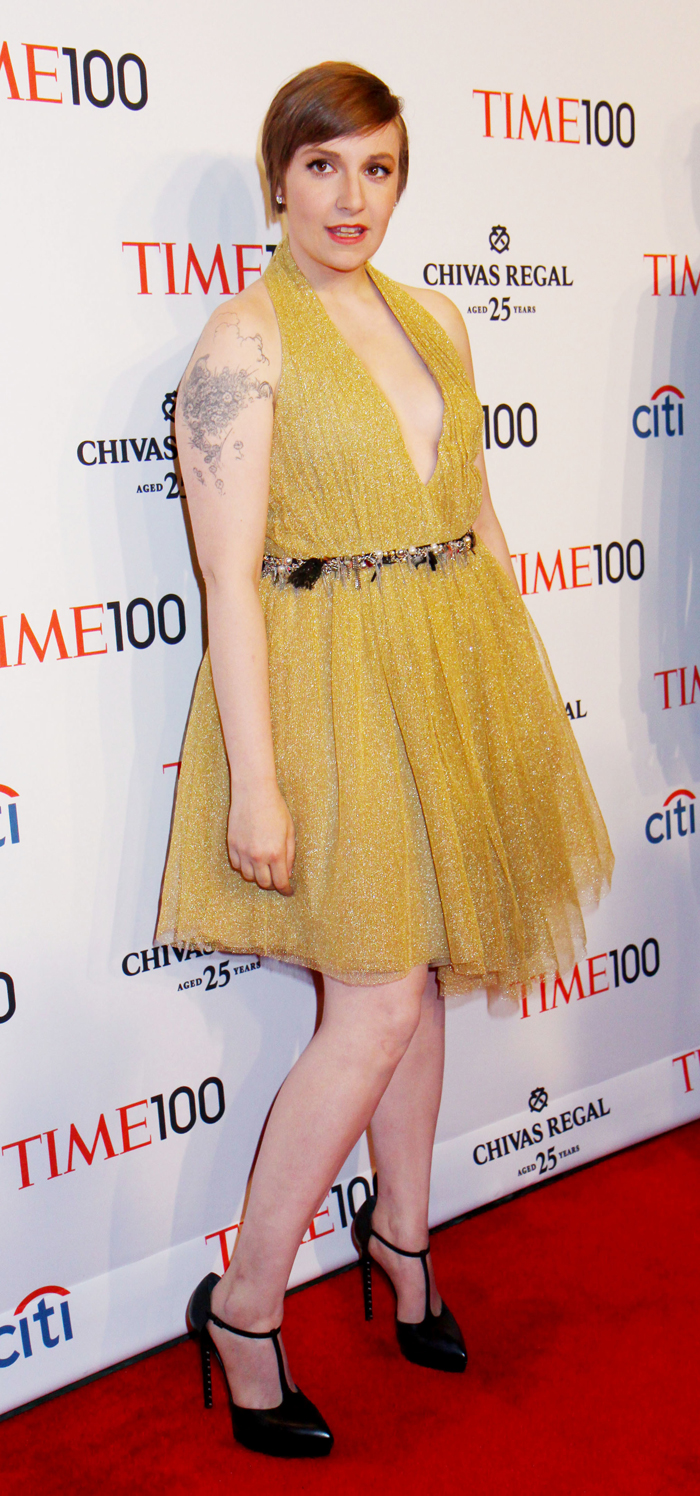 Photos courtesy of WENN