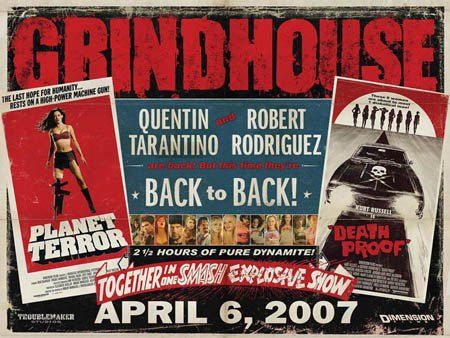 Maxim has brief interviews with three of the female hotties in Quentin Tarantino and Robert Rodriguez's new gorefest Grindhouse, Fergie of the Black Eyed Peas, Rose McGowan, and Mary Elizabeth Winstead. Fergie repeats the story when questioned about it that she got into drugs at a time when she felt trapped in her old band Wild Orchid. She says she sees a lot of young girls doing drugs and that she offers to help them out, but they usually don't take her up on it. She also claims she's hooked on Crystal Light instead of crystal meth now, but judging from her frequent displays of public drunkenness she's sure to add some vodka to that aspartame-flavored water.
Fergie says that director Quentin Tarantino is "crazy cool" and that he bit her while they were rehearsing a scene:
What attracted you to this violent movie?
I tend to be attracted to dark, demented things. I love blood, guns, and knives. I like to play with my dark side.

You've been candid about your drug problems. Where did you go wrong?
I was in a singing group called Wild Orchid for 11 years. I wanted to leave, but I didn't know how. I sabotaged it by doing Ecstasy and crystal meth. When I was getting off drugs, I wanted a fresh beginning, and the name Fergie was a symbol of that—I don't take myself too seriously.

Do you ever see other celebrities doing drugs?
Yeah. It's crazy right now. When I'm around girls who are going through what I went through, I offer to share my experiences, and if they want to hear me, they will. I'm not one to preach, because I'm not perfect. We all have our vices. Instead of crystal meth, I'm a Crystal Light junkie.

You sure Planet Terror isn't too much to handle?
It's not a big part, which is how I prefer it. I didn't want to be the lead and not be able to handle it. Robert asked me if I had a problem playing a lesbian, and I was like, "Hell, no!"

Is Tarantino as intense as he seems?
He and I would spaz out together. He came to the set and ran lines with me. In one scene Quentin got really into the character and bit me. My manager has it on his camera. I'm not going to sue him or anything, but I wanted documentation. It was crazy cool.
I wonder where Tarantino bit her and how hard it was. If there's footage maybe it'll turn up online soon as I would be interested in seeing Tarantino take a chunk out of Fergie.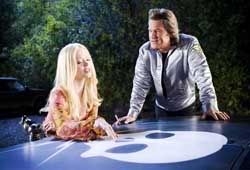 Rose McGowan comes off as bitchy in her interview, and when the journalist asks her if there's anything new since they last spoke she blurts out that she owns a taser gun and that she thinks driving a Hummer is a sign of a small pen1s. She also says that when she had to film at a real strip club to do scenes as her go-going dancing character she made them spray Windex on the pole because it must have had a lot of bacteria on it from the real strippers.
Mary Elizabeth Winstead says she's from North Carolina and enjoys her fried food and pizza. She said she's proud of her curves and it's about to go the scary-skinny route. (Like McGowan, I might add.)
There's a lot of advance buzz over this film, a horror double feature meant to capture the spirit of the B-grade exploitation movies in the 70s and 80s. Movie theaters at that time that were in disrepair and played lesser-quality films back to back were called "grind houses." Tarantino's segment of the film, "Death Proof," features Kurt Russell as a killer taunting his victims in a skull-painted car. Rodriguez's half, "Planet Terror," stars Rose McGowan as a go-go dancer vigilante with a machine gun for a leg trying to save her town from a zombie invasion. Grindhouse hits theaters on April 6th.
Here's the trailer:

And here are wallpapers and photos from the film, courtesy of AllMoviePhoto. You may have already seen these, and I was going to post just pictures of Fergie performing in London recently, but who wants to see that? I've tacked on some at the end if you're especially curious. They fit the theme of the film.