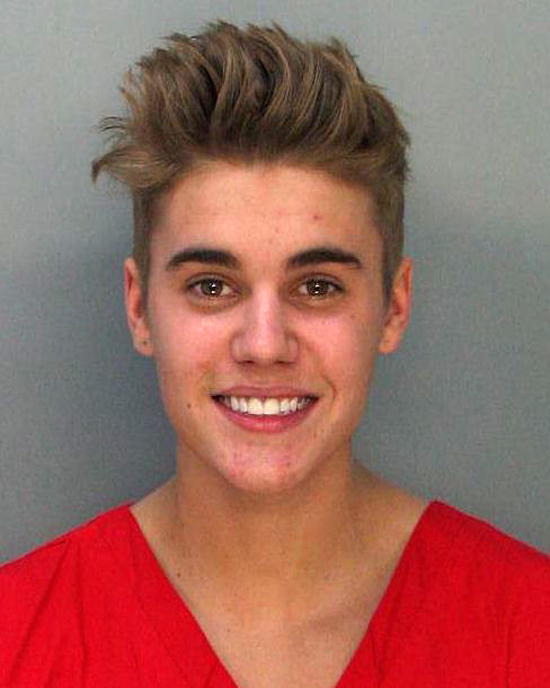 Isn't this the most adorable mugshot you've ever seen? Yesterday, Kaiser covered the big story about the little baby known as Justin Bieber. To briefly recap: Biebs was finally cuffed for the first time, which will surely not be his last run-in with the law. He was arrested for DUI and drag racing in Miami Beach. The bratty one resisted arrest. He also cussed at the cops and didn't know why he was pulled over because he thinks he's king of the world.
(Quick question: Do you think Bieber pulled this stunt on purpose to look like a badass? Now that he has a DUI, he's even swaggier than usual. Street cred, yo.)
Bieber was in custody for most of Thursday morning and afternoon. He wore a fetching orange jumpsuit, and I hope they made him squat and cough. Let's do bulletpoints to catch up on all the new details. If more stuff happens, I'll update this post:
* TMZ reports that Bieber showed off his tattoos and (baby) guns during his court appearance. Bail was set at $2500, and he smugly waved to the crowd as he left the courthouse.
* Bieber was grinning like an absolute fool in his mugshot, but his demeanor while in custody is up for debate. Radar Online says Bieber "appeared to still be under the influence" and was "giggling like a teenage girl." What an insult to teenage girls everywhere. People says Bieber was "stolid" in court and then "crying his eyes out" after bail was set.
* Bieber's lady friend, Chantel Jeffries (who was in the car when Bieber was arrested), has been revealed to have quite the arrest record herself. She's been arrested five times, including once for speeding and once for misdemeanor assault with a deadly weapon. During the last incident, she stabbed another woman in the arm during a fight. Nice manners, babe.
* Pattie Mallette is very worried about her toddler son. The Mail says Justin has been ignoring his mommy for weeks. Bieber's daddy, Jeremy, is part of his posse, but Patti wants to set herself apart as "genuinely very concerned about her son."
* Bieber has turned on his mommy. According to TMZ, when cops asked Bieber what substances he took before his arrest, baby Biebs admitted to alcohol and weed. He also said he was on prescription drugs, but he didn't know what kind "because he just takes whatever his mom Pattie gives him."
* After his arrest, Bieber was spotted popping bottles with his daddy. Good god.
* All of this is everyone else's fault except Bieber's of course. A source close to Bieber (i.e., Scooter Braun) says Bieber's friends are to blame: "Everyone around him is urging him to seek help. There is massive concern right now. The concern is, We have to figure this out. We have to fix this and do whatever it takes. They think the problem is the people he is hanging out with. He has some issues to work on. Lil Za, Milk and Lil Twist are particularly bad influences on him." You know what might actually help Bieber in the long run? If Scooter stood up to Bieber and told him he was acting like an egotistical brat. That will never happen. Scooter likes to get paid.
Here's Bieber outside the courthouse. He's loving this sh-t.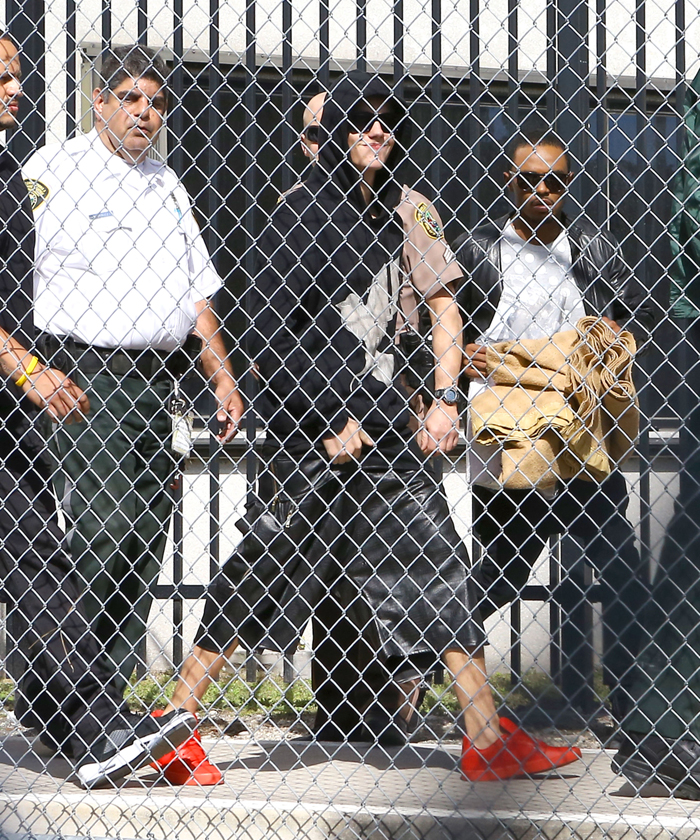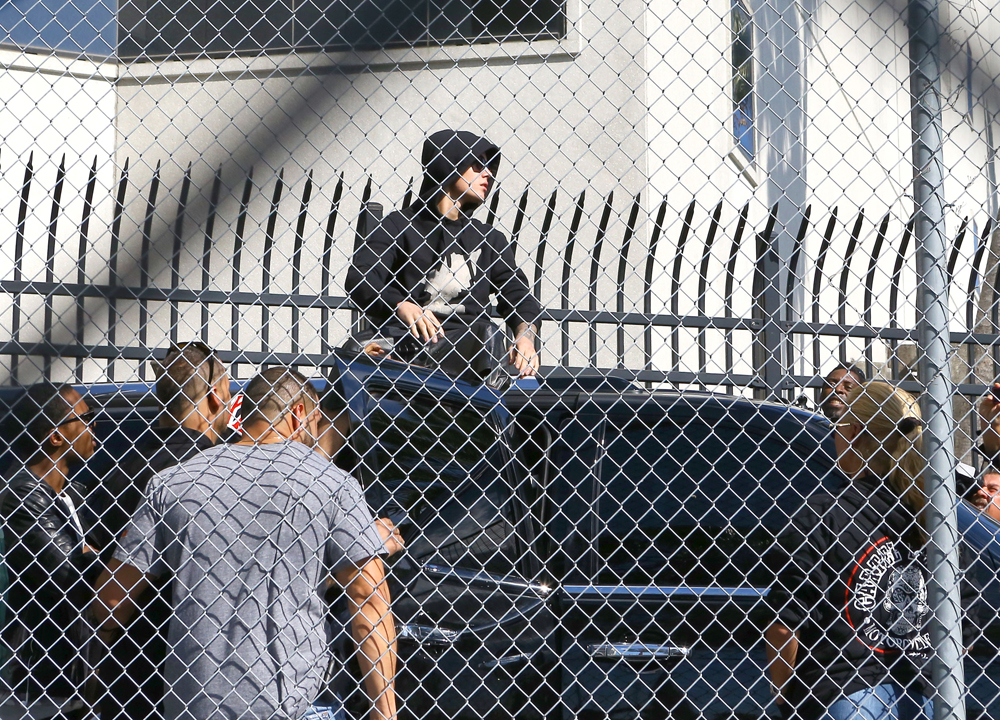 Photos courtesy of Fame/Flynet & WENN