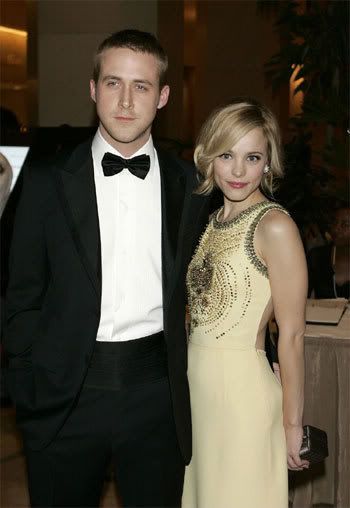 I was all ready to report that Ryan Gosling and Rachel McAdams had called it quits again, at least according to the ever-trustworthy Life & Style, but Just Jared just posted pictures of the Ryan at the airport with Rachel's sister and her boyfriend. If Ryan is having trouble with Rachel, why would he be hanging out with his girlfriend's sister and boyfriend?
The Notebook stars Ryan Gosling and Rachel McAdams were said to be taking time off because Gosling needed space. The were rumored to be having trouble back when Rachel didn't come with Ryan to the Oscars, where he was nominated for best actor for his role in Half Nelson. Gosling explained that his girlfriend was off working, though, and his mother and sister came with him as his dates instead.
Life & Style said they were taking time off, but if that was true it was short-lived:
After months of fighting and a brief reunion, The Notebook stars Ryan Gosling, 26, and Rachel McAdams, 30, are back off. "There were spending every minute together and he was feeling claustrophobic," says a friend of his.
[From Life & Style print edition, March 26, 2007, via Sammie's Effluvia]
Usually when a guy says he needs time off or space or whatever, that means he's not ready to commit, but doesn't want to split up entirely. Those are the kind of guys that aren't going to change in the immediate future. I have been in those type of stormy relationships and no matter how hard you try you can't make it work in my experience. You have to just move on and find a person that's ready for a long term relationship. Maybe Gosling and McAdams don't have that kind of rocky relationship though because they've been together about a year and a half now. Hopefully it will work out for them.
McAdams was seen with a big diamond ring on her wedding finger back in October of 2005, but if she was engaged to Gosling at that point they must have called it off.
McAdams praised Gosling in an April interview in Elle Magazine, saying that "he's very brave" in his acting choices and that "He did an amazing job" in Half Nelson.
Just Jared has the recent pictures along with a story from Gosling about his several "homemade" tattoos, including a recent one around his wrist. Thanks to I'm Not Obsessed for these pictures.